UCLA food trucks to remain a dining option for 2023-2024 school year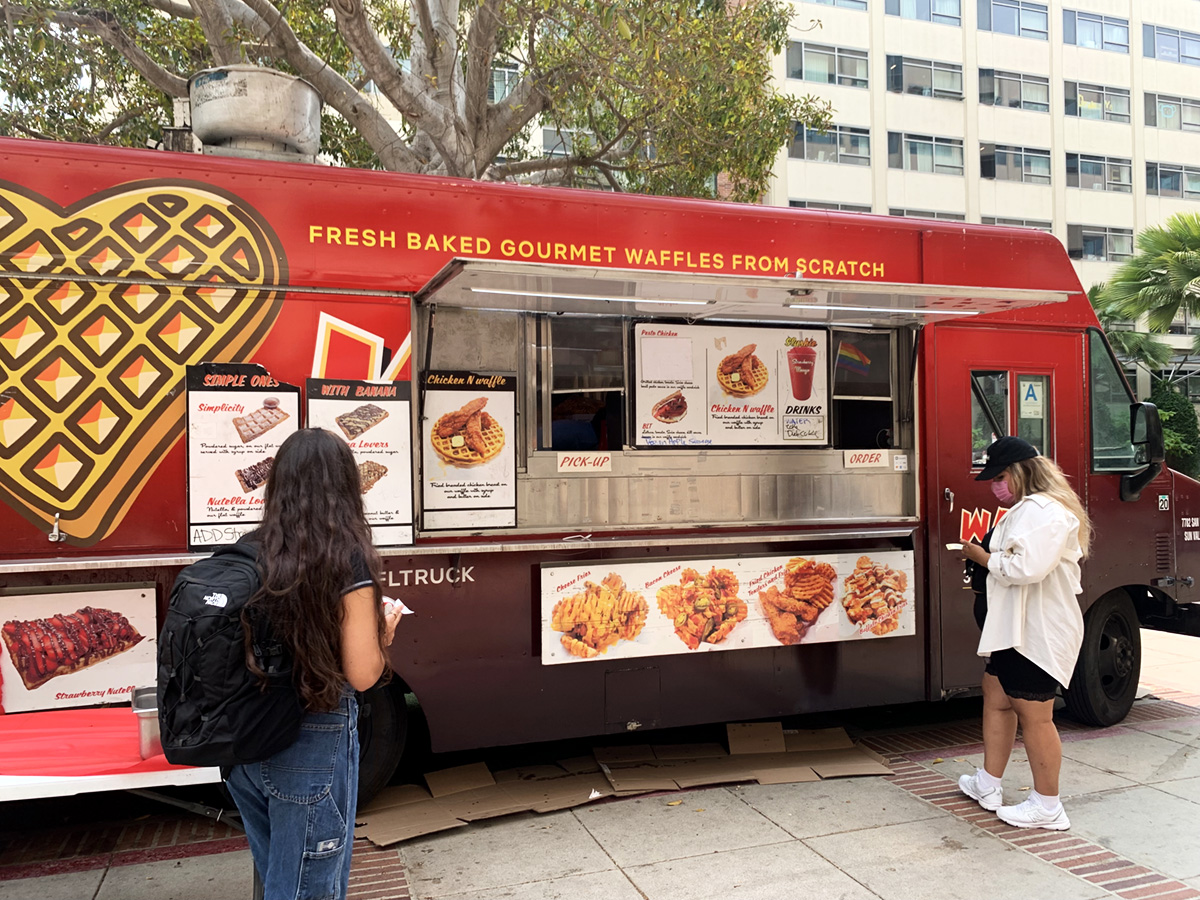 A food truck is pictured outside of Rieber Hall. The food trucks were first introduced after staffing shortages in the on-campus dining halls. (Constanza Montemayor/Daily Bruin senior staff)
UCLA has announced that food trucks will remain on campus for the next academic year in light of staffing shortages at on-campus dining halls.
The trucks – which offer meals in exchange for a coupon worth one meal swipe obtainable at residence hall front desks – were first introduced in response to staffing shortages at UCLA Dining after the COVID-19 pandemic. Feast at Rieber and Epicuria at Covel will only serve dinner, while Bruin Bowl will remain closed in September, according to an emailed statement from UCLA Dining.
In the emailed statement, UCLA Dining said difficulties in securing staffing for on-campus dining are a problem across the food services industry. Bruin Bowl is expected to reopen when the university is able to get staffing back to pre-pandemic levels, it added in the statement.
"We continue our efforts to recruit food service and culinary hourly team members; however, it remains challenging to fill these roles," UCLA Dining said in the statement. "This is an issue for restaurants and many other sectors across the country."
UCLA Dining added in the statement that food trucks were also introduced last year at the UCLA Tipuana apartments, accepting credit card payments from students who didn't have a meal plan. It added in the statement that no decision had been made yet on whether the trucks would return for off-campus residents.
To be selected to serve UCLA last year, food trucks needed to go through steps including written proposals, a menu tasting and compliance with the university's insurance, UCLA Dining said in the statement.
[Related: UCLA Dining shows resilience through the pandemic, remains No. 1 in nation]
Essie Zandi, the owner of the Bison Burger food truck, which operated on campus last year, said he first founded his food truck to serve meat that wasn't mass-produced, such as elk, venison, bison and wild boar.
"It's been a pleasure introducing alternative meats to audiences all over the place," Zandi said.
He added that though cooking fresh meals quickly in such a small space was challenging when he first came to the university, he enjoys serving food at UCLA.
"It's been heartwarming to see our numbers of servings, per se, grow," he said. "Meals are coming straight off the grill to the plate and being handed (with) all our love."
Pablo Dias, the manager of the Perro food truck, which also operated at UCLA last year, said before coming to the university, his business was struggling financially. However, he said coming to UCLA gave his business new life, as he was serving what felt like a taco every 15 seconds.
"As soon as we stepped in there, I knew things started changing. We started working more, just bringing more people into our company," he said. "Things are running great. So it's been a big blessing for us."
Dias said despite also serving food at breweries and companies – including SpaceX – UCLA was a major source of income for his business. He added that he hopes the truck will continue coming to UCLA in the future.
For Dias, his favorite memory of working at UCLA came after a rumor spread that the food truck program was being terminated in December. He said he was touched by the experience of students cheering the food truck as they left the campus for what they thought would be the final time.
"Everybody just kind of went crazy and they started coming to the truck just saying, 'Hey, I heard you guys are not coming back'," he said. "All the students … cheered us up and just said that they love Perro. That feels unbelievable, and it's just a great feeling."