Homegrown talent: UCLA Athletics hires former staff, athletes as coaches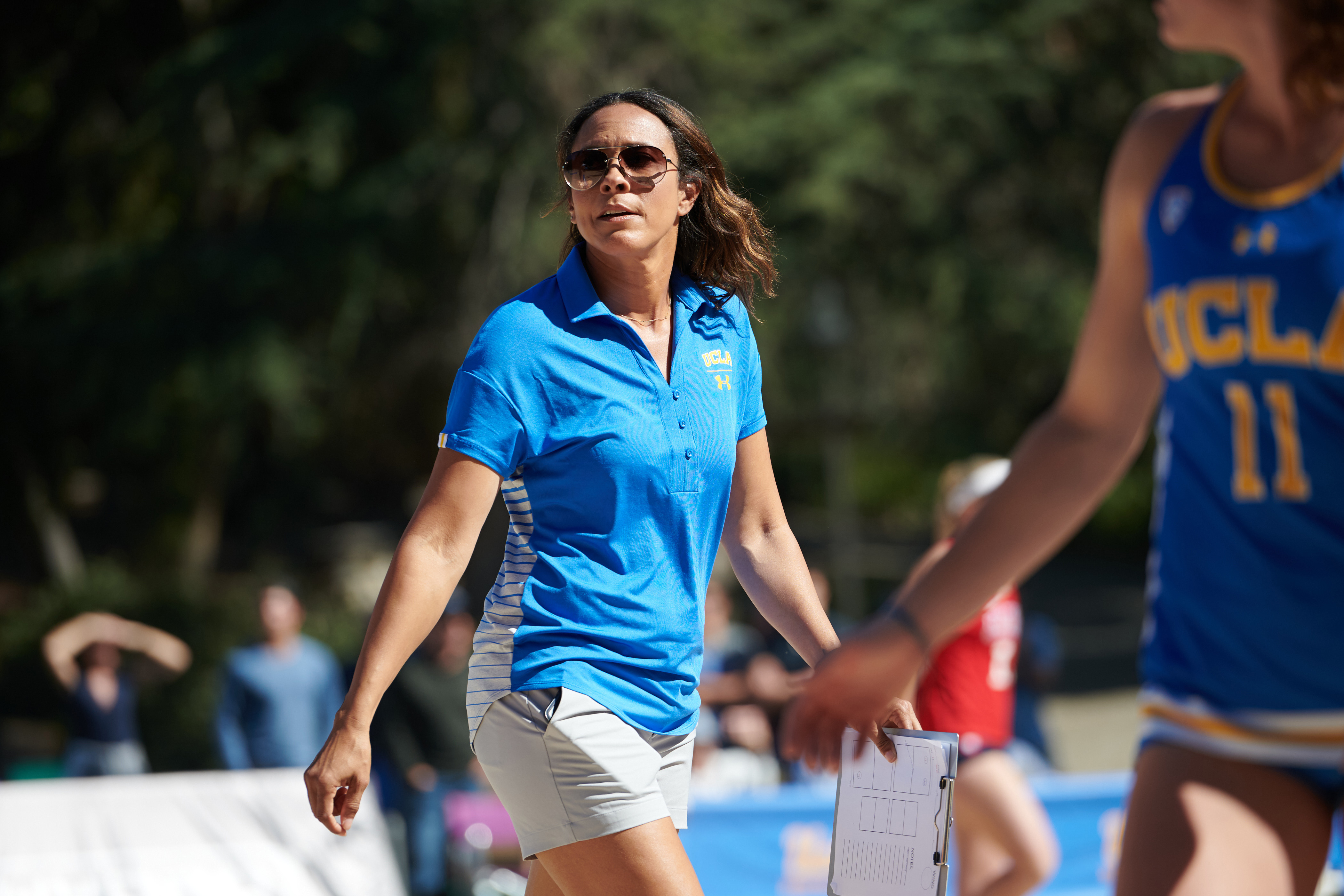 Jenny Johnson Jordan, UCLA beach volleyball's new head coach, previously served as the team's associate head coach and played for UCLA women's volleyball as an undergraduate student-athlete. (Courtesy of Don Liebig/ASUCLA)
Starting a new job can be unfamiliar and daunting.
But when an offer arises from where you spent four formative years of your life, it may seem a little easier.
UCLA Athletics recently announced the hirings of numerous new coaches for the 2023-2024 school year following several high-profile departures.
The end of the 2023 seasons for UCLA beach volleyball and women's golf coincided with the respective exit and retirement of their head coaches, Stein Metzger and Carrie Forsyth.
Instead of turning to outside prospects, the Bruins lookedto individuals already within the program. Not only were the new head coaches hired formerly assistant coaches of these teams, but they were also former student-athletes who attended UCLA.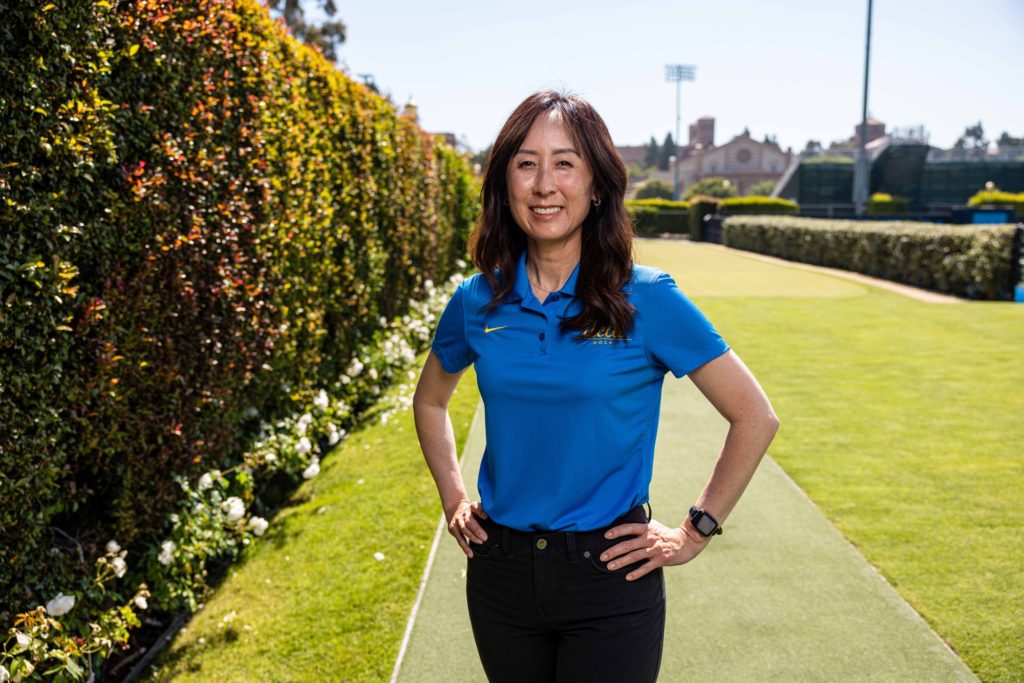 Alicia Um Holmes – the team's previous associate head coach and member of the coaching staff since 2006 – was named UCLA women's golf's new head coach. Um Holmes competed for UCLA women's golf as an undergraduate from 1997 to 2002.
When asked about her goals as head coach, Um Holmes emphasized the importance of an encouraging environment.
"I definitely want to set the culture for our program," Um Holmes said. "I want it to be something positive and collaborative."
With over 20 years passing since Um Holmes' time as a student-athlete, she said the number of opportunities for athletes has greatly increased, including the development of an on-campus practicefacility.
Following three seasons as an athlete and 17 years as an assistant and associate coach under the tutelage of Forsyth, Um Holmes said her experience helps her understand her athletes' needs.
"That's really helped me to coach," Um Holmes said. "Understand that our kids need time to kind of rest and recover in order to be the best in the classroom and on the golf course."
The coaching transition for UCLA beach volleyball will also be taken over by its previous associate head coach, Jenny Johnson Jordan.
Like Um Holmes, Johnson Jordan was a Bruin as a member of the women's volleyball squad from 1991 to 1995.
Johnson Jordan said she wants to replicate the team's previous success.
"I hope to continue to bring a lot of the same things I did as an assistant," Johnson Jordan said. "Also, with the addition of Jose and Kelly (assistant coaches Jose Loiola and Kelly Reeves), looking forward to creating some new things for a new team and continuing on the success that this program has already had over the years."
With the privileges of the position of head coach comes the ability to select new coaching staff.
The applicant pool for many of these roles also includes former Bruins who, like their new bosses, previously competed for UCLA. For instance, the women's water polo team announced former player Brooke Maxson as a new assistant coach.
Johnson Jordan completed her new crew by hiring Reeves as an assistant coach, who has previous coaching experience with Loyola Marymount and San Diego. She played indoor volleyball at UCLA and participated in its inaugural season of beach volleyball in 2013. Johnson Jordan said Reeves' mentality and experience played a role in the hiring decision.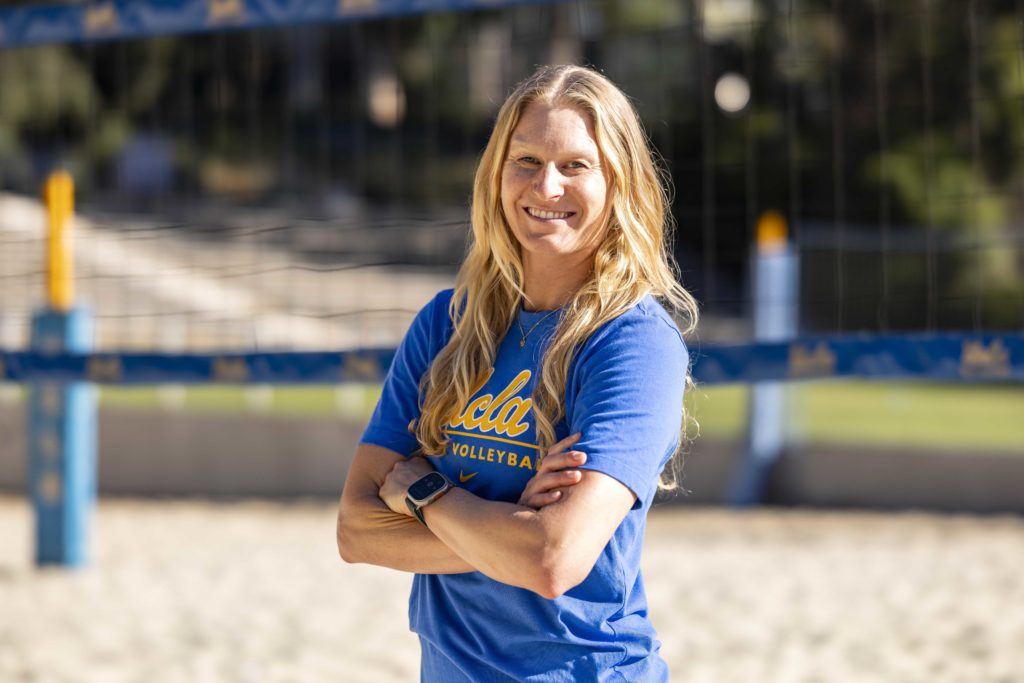 "I know Kelly is a competitive person. She's a hard worker," Johnson Jordan said. "The fact that she graduated from UCLA bodes well for her understanding of what it takes to be successful at UCLA."
Reeves added that her experience playing for UCLA helped in her decision to return to her alma mater.
"It was the perfect opportunity to come back to where it all began," Reeves said. "Once the opportunity was presented, I just seized the opportunity and threw my name in the hat."
Alongside coaching and competing professionally in beach volleyball since graduating from UCLA, Reeves co-hosts the podcast "Bet on Her" with an emphasis on empowering women in sports.
She said the focus on building community will help in her approach to this new position.
"It's just a good opportunity for us to have that conversation and just really empower women and create a community," Reeves said. "It'll be really good to be in a setting like this with the college athletics to incorporate and sprinkle a little bit of that type of mission statement."
Similarly to Um Holmes, Reeves recognized the changing tide of resources for student-athletes since her time as a Bruin. Such additions include the start of NIL deals and rise of social media.
"I didn't have that when I was a student-athlete at UCLA," Reeves said. "It's just crazy to see the growth of what that's done the past 10 years."
But throughout the years, one thing that has not changed since these coaches suited up to play is the work ethic of being in a Division I program.
"Hard work is one of the values that's been a cornerstone for our program throughout the years," Um Holmes said. "I think it's paid off for us in the past."