UCLA women's soccer prepares to play Georgia and Portland as season starts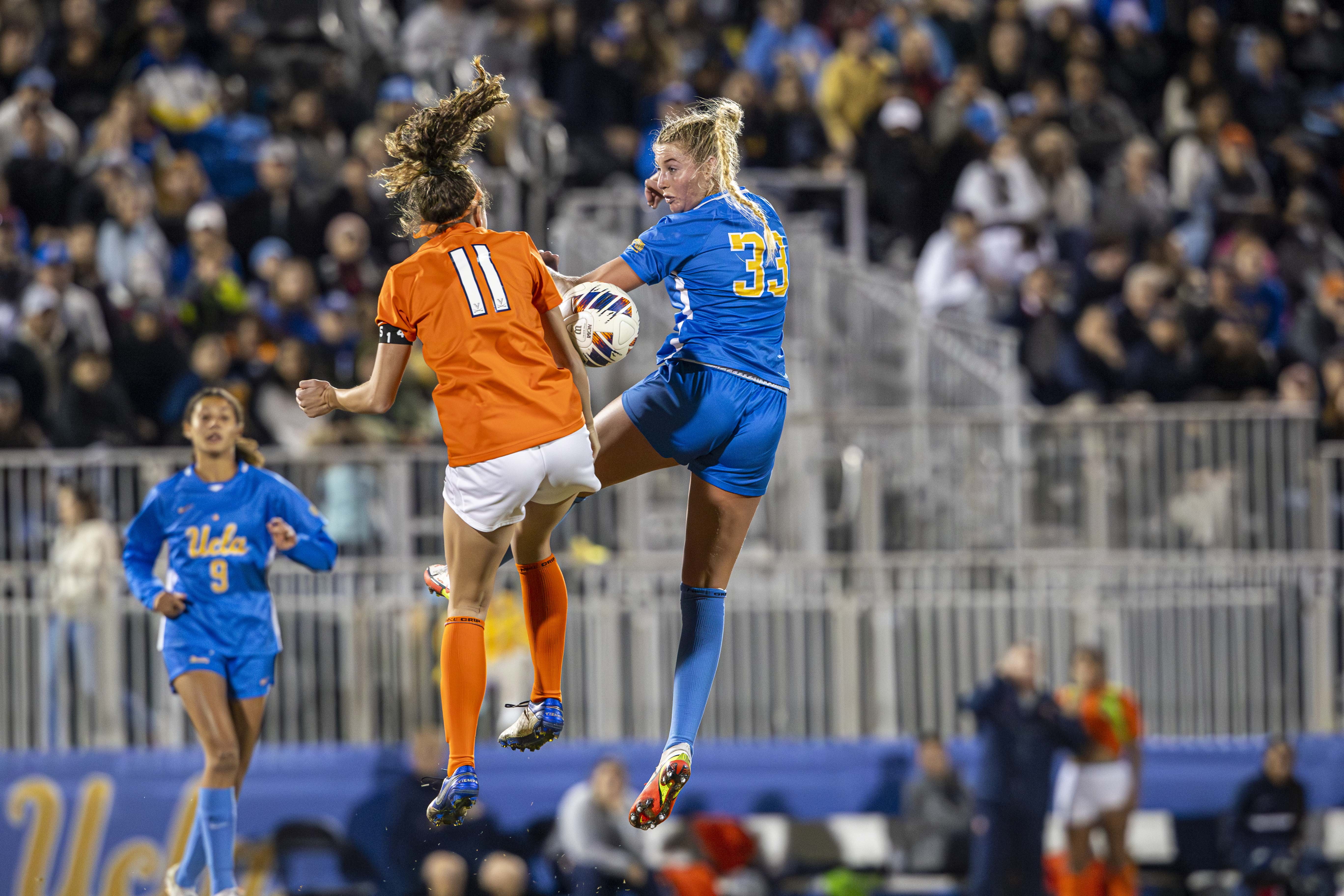 Graduate student forward Ally Cook fights for the ball. Cook's assist in overtime of the national championship helped the Bruins score the game-winning goal to secure their title. (Joseph Jimenez/Photo editor)
Women's Soccer
---
Georgia
Thursday, 7 p.m.
Wallis Annenberg Stadium
Pac-12 Networks
---
Portland
Sunday, 2 p.m.
Wallis Annenberg Stadium
Pac-12 Networks
Junior defender Lilly Reale recognizes the unique circumstances the Bruins are starting their season under.
"It'll be super special and kind of unique to have this type of pressure, which we haven't had for a very long time," Reale said.
Following a national championship winning season, No. 1 UCLA women's soccer is returning to the fray. The Bruins are heading into their first games of the season against Georgia and Portland on Thursday and Saturday, respectively.
Graduate student forward Ally Cook said UCLA is focusing on staying consistent and avoiding resting on their laurels.
"It's easy to let yourself kind of get complacent coming off a win," Cook said. "We're already where we're at, but we made sure that we remind ourselves, 'No that's just like our next starting point.'"
The Bruins have not faced off against the Georgia Bulldogs, distant competitors from the Southeastern Conference, since 2000. And while Portland hasn't visited Wallis Annenberg Stadium since 2009, UCLA will attempt to beat the Pilots, just like 14 years ago, when the Bruins claimed a 2-1 victory.
The Bruins' first matches follow their exhibition match's strong start, where they defeated Fresno State 4-0 Saturday.
Aozasa said the exhibition match was a good starting point for the team.
"I'm excited about our depth," Aozasa said. "And I'm trying to remain patient because it is the beginning of our season, but from that game I know we can be a lot better."
Coach Margueritte Aozasa said she hopes for the team to build on the style of soccer they played with in their championship winning season.
"We hope to be very effective, we hope to be efficient, we hope to be exciting and disciplined on defense," Aozasa said. "But I also hope that we're more sophisticated simply because our players have played in this system longer now. So I hope that we seem more experienced, that we seem more mature on the field."
With the start of the new season, there also comes a turnover from old to new.
Last season's end meant the departure of UCLA mainstays such as goalkeeper Lauren Brzykcy, defender Madelyn Desiano, and midfielder Maricarmen Reyes.
The Bruins, in turn, welcomed two transfer students and six incoming freshmen.
Reale praised the new additions for their adaptability, a sentiment that Cook echoed.
"They've all seamlessly transitioned into our team," Cook said. "They looked really good in the exhibition match."
Players already catching the eye of pre-season award voters made their presence known in the game against Fresno State.
Sophomore Ally Lemos and graduate student Sunshine Fontes, both of whom were recently named in the United Soccer Coaches' NCAA Division I Women's Soccer Players to Watch List for midfielders, combined to score three of Saturday's four goals.
The United Soccer Coaches, who issue the NCAA's weekly rankings, also named senior Reilyn Turner in its Players to Watch List for forwards.
The Pac-12 also recently named Reale, Fontes, and Turner in its pre-season All Pac-12 Women's Soccer team.
Reale, who is the reigning Honda Sports award winner for women's soccer and was recently named in the Players to Watch List for defenders, said the pressure that comes with high expectations is an honor.
"It's kind of a privilege to have that type of pressure," Reale said. "And I think our team is definitely handling it with grace and not really taking it lightly at the same time."
UCLA hosts Georgia on Thursday at 7 p.m. and Portland on Sunday at 2 p.m.