At LA stop, Staff the Front Lines bus tour encourages careers in public service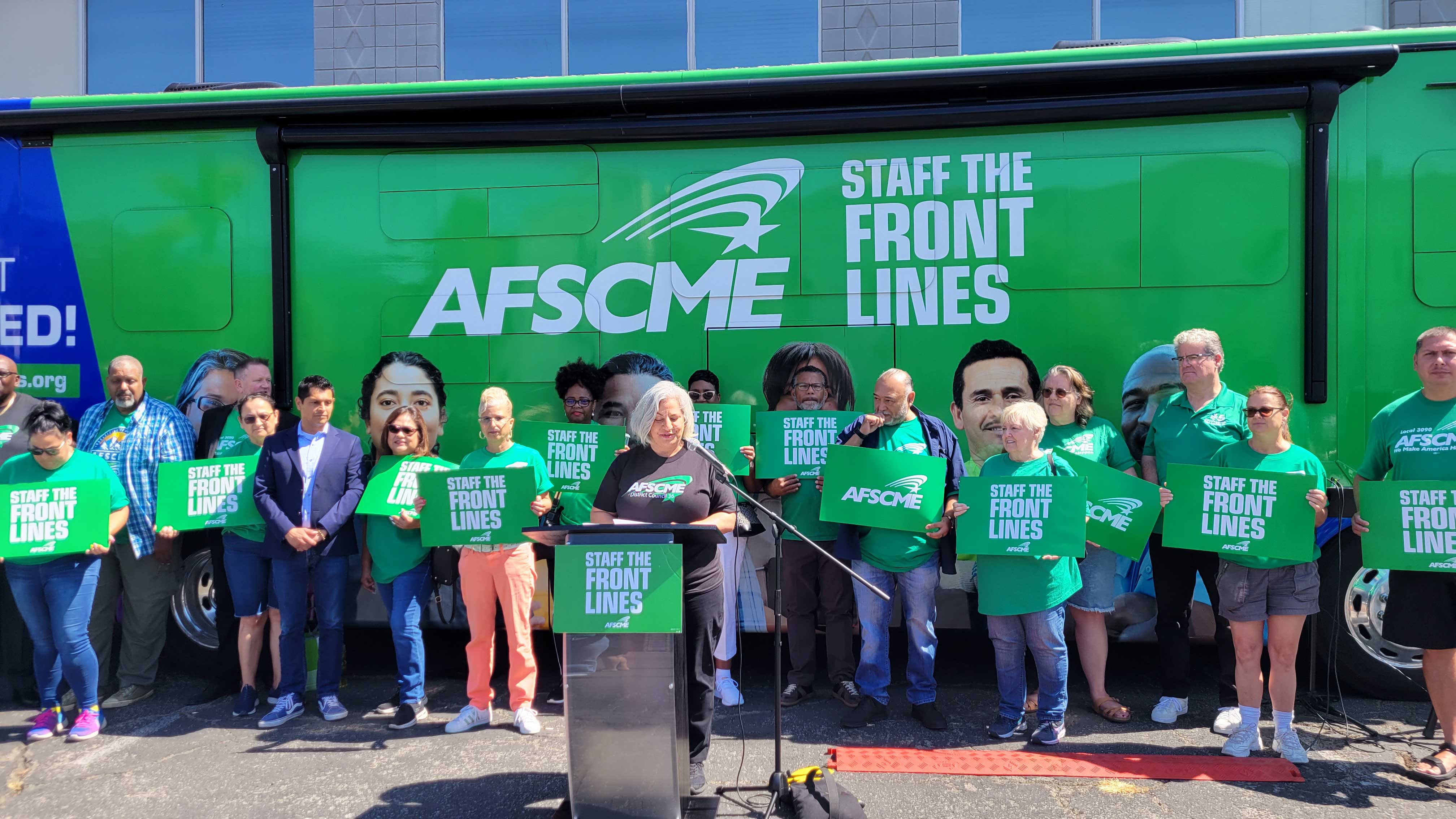 Lisa Palombi, the president of American Federation of State, County and Municipal Employees District Council 36 and a librarian in Los Angeles, speaks at an AFSCME press conference on Saturday as part of the union's Staff the Front Lines bus tour. The bus tour aims to fill vacant roles in public service by connecting with individuals and helping them with the job application process. (Courtesy of AFSCME)
A trade union launched a new initiative in July that includes a national bus tour, with a stop in Los Angeles on Saturday.
The American Federation of State, County and Municipal Employees – a trade union of public employees – launched its Staff the Front Lines initiative in July, which entails a bus tour across the U.S. As part of its bus tour, AFSCME stopped in LA on Saturday at the LA Labor Federation.
The tour aims to address the understaffing crisis in public service by encouraging qualified individuals in underrepresented communities to apply for open positions, according to a press release. Jobs in public service include those in libraries, transportation and government entities.
The bus tour includes hiring events, legislative advocacy, partnership building and a digital marketing strategy, according to the press release.
At its LA stop, AFSCME held a press conference where local public officials such as City Councilmember Tim McOsker, California State Assemblymember Miguel Santiago and union members spoke about the importance of working in public service sectors and the need to raise awareness about vacancies.
AFSCME also held a hiring hall in LA where city officials from different public sector departments explained and assisted individuals in the hiring process.
McOsker, the LA City Council representative for District 15, said during the conference that he hopes the city will be able to fill vacant roles.
"The city of Los Angeles has a little over a 20% vacancy rate across every single department, across every single classification, across every single service that we provide," he said.
According to the press release, there were 833,000 job openings across U.S. state and local governments in April.
Under the Staff the Front Lines initiative, AFSCME plans to create a national Job Training and Development Center. The center will allow an easier pathway into public service and address structural barriers to obtaining work in the field and advancing in them, according to the press release.
"Right now, our nurses, school bus drivers, 911 dispatchers, corrections officers and other public service workers are on the front lines of a staffing crisis that is threatening their ability to do their jobs," AFSCME president Lee Saunders said in the press release.
Larry Gates, the president of AFSCME 3090, which covers Palmdale to San Pedro and Ontario to the beach, said one of the biggest causes of the staffing shortage is the COVID-19 pandemic.
Because the city of LA put a freeze on hiring during the pandemic – with the addition of people quitting, getting promoted to different positions, reclassifying or leaving the city – vacancies occurred and are still impacting workers today, he said.
"That left a big hole in the city, and so we're here to fill that," Gates said.
Lisa Palombi, the president of AFSCME District Council 36 and a librarian in LA, said the shortages in the public sector have impacted public safety. She said there is a minimum number of employees required in settings such as libraries to keep guests safe and provide them with help and services.
Palombi, who is also president of the Librarians Guild, said with current staffing levels, if even one employee can't make it to work, libraries may have to open late or close early.
"We're redefining what public safety looks like and what it means, and if we are really to be helping our community members, we need enough staff to do that," she said.
During the conference, McOsker also said public service jobs can change the course of a family's life by providing fair pay, benefits and an opportunity for retirement. He added that employers also have a responsibility to hire more quickly.
"We need to make sure that we are changing procedures in the city of Los Angeles to more quickly create offers to folks so that folks can come in, to join the 21st century, and to compete with other cities but also compete with the private sector," McOsker said.