Campus organizations cook up ways to fight food insecurity, build community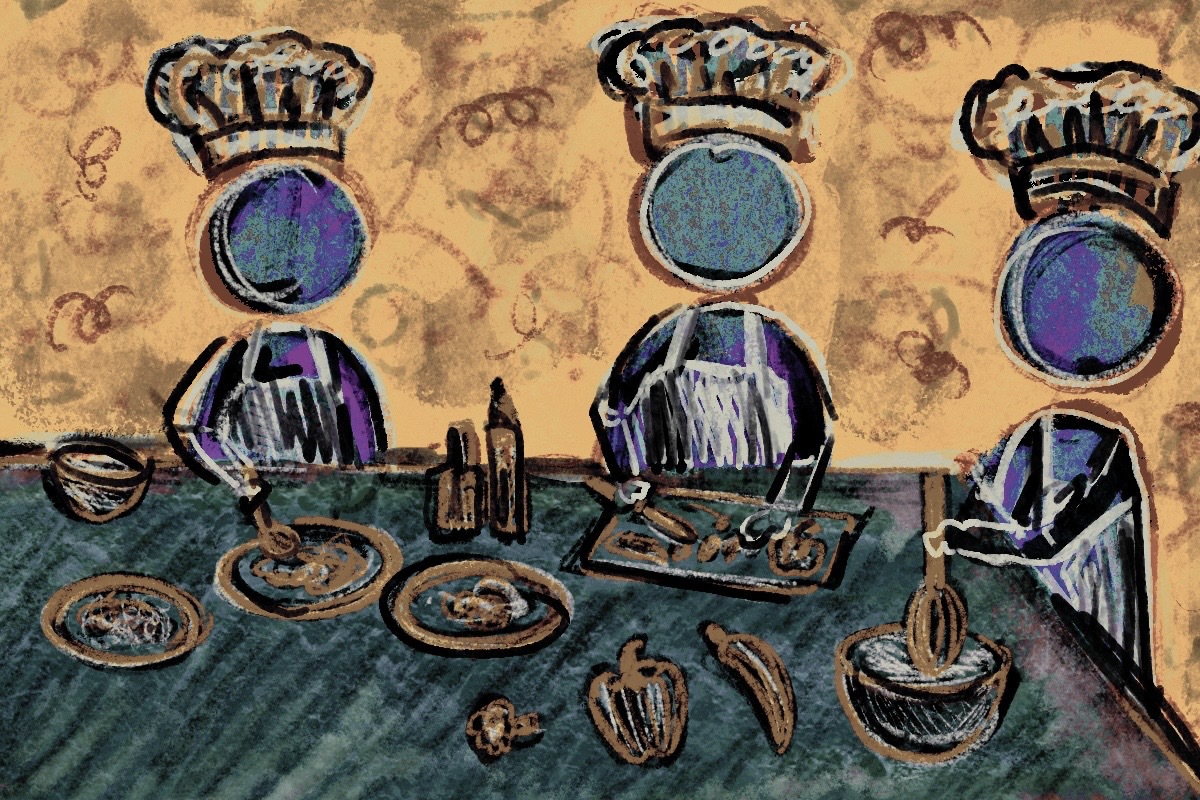 (Kimi Jung/Daily Bruin staff)
Many UCLA organizations are finding new ways to combat food insecurity for students as the cost of living and education steadily rises across Los Angeles.
According to the United States Department of Agriculture, a person is food insecure when their access to nutritious and safe food is limited or uncertain. Food insecurity, combined with the stress of college courses, can disrupt a person's academic attendance, GPA and even chances of graduation, according to reports from Health Affairs and Johns Hopkins.
Dr. Wendelin Slusser, associate vice provost for the Semel Healthy Campus Initiative Center and a clinical professor in pediatrics at the David Geffen School of Medicine and the Fielding School of Public Health, said food insecurity impacts academic performance, in addition to being detrimental to a student's physical and emotional well being.
"You can imagine why you could be distracted if you're hungry," Slusser said. "There's a ripple effect, too, because it can impair your ability to graduate ultimately. So, it's a really serious problem."
In 2020, more than a third of U.S. college students surveyed reported that hunger had impacted their ability to study at least once, according to a study by Chegg and Swipe Out Hunger. The same study found that 52% of respondents had used off-campus food banks to supplement their diets.
The Semel Healthy Campus Initiative Center works to promote healthy eating behaviors, exercise and mental health practices at UCLA. They operationalize their beliefs through seven different workgroups that promote new resources and create new health-based programs for the UCLA community.
One program that resulted from collaboration across campus organizations is the UCLA Teaching Kitchen. The Teaching Kitchen provides students, staff and faculty with the opportunity to learn how to cook nutritious recipes under the instruction of Chef Julia Rhoton, a graduate of Le Cordon Bleu School of Culinary Arts and chef of 17 years. In addition to addressing food insecurity, Rhoton works to educate students on nutrition, culinary skills and community engagement.
Slusser said the Semel HCI Center, Community Programs Office and the School of Medicine, among other UCLA organizations, helped create the Teaching Kitchen after research revealed student interest in learning more about the impact one's diet can have on their health, the environment and the economy.
"That led us to … (search for) a place where we could actually teach students how to hands-on cook … to prepare healthful, delicious, culturally appropriate foods, and that was the genesis of our first teaching kitchen in 2019," Slusser said.
While the university works to implement educational programs to better inform and assist those struggling with access to nutritious meals, many student organizations are working to fight food insecurity and build communities by sharing food.
Bruin Dine, a student organization founded in 2018, works to address food insecurity as well as food waste on campus. The organization restarted its on-campus efforts in spring 2022 after a brief hiatus during the pandemic. In the 2022-2023 school year alone, Bruin Dine recovered over 9,000 pounds of food from the dining halls and fed over 5,000 students.
"We work directly with (UCLA) Dining to get the leftover food from the dining halls at the end of a meal period, and then they package it up for us," said Amanda Mrad, a rising fourth-year physiology student and the organization's director of engagement. "We work with a team of amazing volunteers that help us transport all that food to the Student Activities Center, where we label all the allergens and organize everything."
During the school year, Bruin Dine holds its events every Tuesday, Wednesday and Thursday, starting at 10 p.m. in the Student Activities Center. Mrad said the organization plans on adding more events to its weekly calendar as the school year progresses.
In addition to Bruin Dine, there are several other student organizations that work to reduce food insecurity and promote healthy eating habits.
Dig at UCLA is a campus garden coalition that holds weekly workshops to teach students about social justice, nutrition, public health and urban planning. It donates its produce to UCLA's Community Programs Office Food Closet. The UCLA Farmers Market is a biweekly market held in Bruin Plaza with affordable, locally sourced produce, which collaborated with the Semel HCI Center previously to create a cookbook containing student-submitted recipes. Swipe Out Hunger at UCLA collects donated meal swipes from students and converts them into meal vouchers for Bruins who experience food insecurity.
The Westwood Food Cooperative sells low-cost, weekly Community Supported Agriculture boxes containing locally sourced produce. It also runs Co-op Pots, a series of potluck events where students bring their own container to fill with a free, home-cooked meal.
Juliet Cushing, a rising fourth-year human biology and society student and board member for the Co-op, said the organization hopes to make its produce boxes more affordable by supplementing costs with grants from UCLA and the office of Student Organizations, Leadership & Engagement.
"On a nationwide level, the food system disconnects people from quality food and those who experience food insecurity have even less access," Cushing said in an emailed statement. "We want to make local, nutritious produce more accessible to everyone, especially those who have to fight through institutional barriers to get it."
The organization sold over 200 CSA boxes during the 2022-2023 school year and is hoping to incorporate informational sessions into their offerings, which will cover topics such as agriculture, Big Ag and environmentalism. Kelsey Sanchez, a rising fourth-year environmental science student and Co-op board member, said the organization is also hoping to partner with Swipe Out Hunger at UCLA to collaborate on efforts to reduce food insecurity for UCLA students.
Mrad said that working to combat food insecurity is gratifying, as she can see the impact her work has on the lives of her fellow Bruins.
"It's (food insecurity) a more prevalent problem than is talked about, and I think there's more students that go without a meal in the morning or the evening than … we know," Mrad said.
With Bruin Dine's food recovery events and the Westwood Food Co-op's potluck events, students are given the chance to get free, nutritious food while connecting with other Bruins.
"The potluck events are really an opportunity to give out food for free to people who might need it, … and it's also, conveniently, an opportunity to build social connections and build community amongst people who are interested in food and sustainability and the environment," Cushing said.
Mrad said she wants people to know that each night is treated as a community gathering and everyone is welcome at Bruin Dine events, regardless of their access to food. Some attendees might be food insecure, while others might be Bruins who didn't have time to cook that night.
"It's a fun environment, come get your food and say hi," Mrad said. "Food brings people together, and you feel that at the events."