Pro Bruin Flashback: Former Bruins leave mark on US women's national soccer team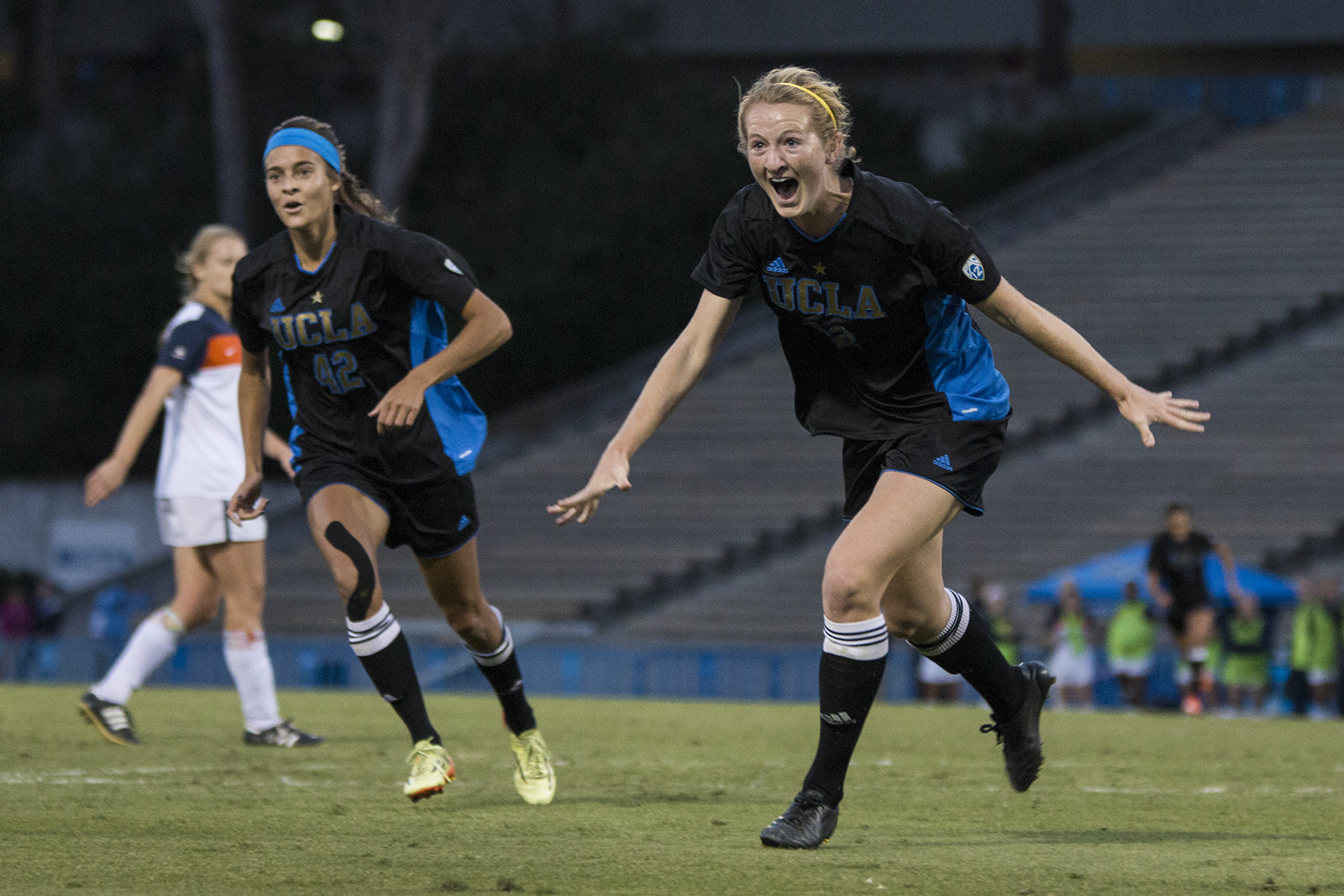 Former UCLA women's soccer midfielder Sam Mewis celebrates with teammates. Mewis played a significant role for the U.S. in the 2019 FIFA Women's World Cup. (Daily Bruin file photo)
This post was updated July 23 at 6:41 p.m.
Two-time national champion UCLA women's soccer has a storied history, producing six women's World Cup players for the United States, trailing only the University of North Carolina, Stanford University and Santa Clara University.
With the 2023 FIFA Women's World Cup starting this week and UCLA alumni Ashley Sanchez, Jessie Fleming and Teagan Micah suiting up for the United States, Canada and Australia, respectively, Daily Bruin Sports is flashing back to look at some of the all-time greats.
Here are some former Bruins who have left their mark on the U.S. women's national team.
Jillian Ellis (2014-2019)
Long before Margueritte Aozasa made history as the first-ever rookie coach to clinch a national championship, UCLA had one of women's soccer's most prolific coaches at the helm.
Before taking the reins of the U.S. women's national team, Jill Ellis was coach of the Bruins for 12 seasons, spanning from 1999 to 2010. She produced UCLA's first-ever College Cup appearance in her second season in charge. Subsequently, the Bruins reached the College Cup seven seasons in a row, from 2003 to 2009.
Ellis translated this success into soccer history on the international stage after being named coach of the national team in 2014.
She led the squad to a World Cup victory in 2015 and 2019, making her the first coach to claim back-to-back titles in the competition's history and the second ever in FIFA history. Ellis is now the winningest national team coach in both men's and women's U.S. soccer history.
Lauren Holiday (2008-2015)
Lauren Holiday played for the U.S. national team both as a forward and midfielder, solidifying her reputation as one of the most talented playmakers for the U.S.
As a Bruin, Holiday made a name for herself. After her sophomore season, she was the runner-up for the MAC Hermann Trophy, the award given to the top collegiate soccer players of each year.
She still holds the UCLA women's soccer record for goals scored with a total collection of 71.
Holiday was called up to the national team – while still in college – as a substitute for an injured Abby Wambach in the 2008 Summer Olympics, where the U.S. earned the gold medal. This made her the first Bruin to play for the U.S. internationally.
Holiday has 133 international appearances and 24 goals to her name, alongside two Olympic and two World Cup appearances. Her goal in the 2015 World Cup Final helped seal the 5-2 victory against Japan to claim the U.S.'s third title.
She announced her retirement immediately after the 2015 World Cup and now has a place in both the National Soccer Hall of Fame and UCLA's Athletic Hall of Fame.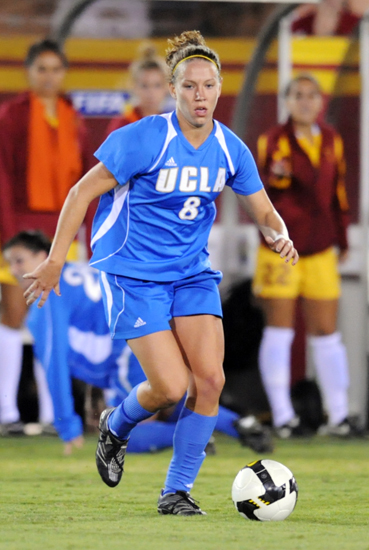 Abby Dahlkemper (2016-present)
One of the most formidable defenders in Bruin history, Abby Dahlkemper earned numerous individual accolades for her goal-stopping abilities at UCLA.
In 2013, she was the first defender in 10 years to be nominated for the MAC Hermann Trophy and was a part of the defense that tied a program record for shutouts with 19 in her senior season.
Dahlkemper was a key player in helping the Bruins win the NCAA championship in 2013 with her strong defensive skills and leadership on the field. This earned her the Honda Sports Award – which honors excellence in collegiate women's sports – making her the first from UCLA soccer to receive it.
Her first-ever national team appearance was in 2016. Dahlkemper then went on to start in every game of the U.S.' World Cup-winning run in 2019.
Despite not earning a spot on this year's World Cup squad in large part because of injury, Dahlkemper has a place in Bruin history.
Sam Mewis (2016-present)
Sam Mewis has made a name for herself as a powerful and versatile midfielder.
Part of the 2013 national championship-winning squad alongside Dahlkemper, Mewis ranks in the top 10 at UCLA for goals, assists and points. Mewis was a Honda Award winner, MAC Hermann Trophy Finalist and four-time All-Pac-12 honoree while at UCLA.
Mewis first served as alternate for the national team in the 2016 Summer Olympics. It was not until three years later during the 2019 World Cup that she truly shone for the U.S..
Nicknamed the "Tower of Power" by her teammates, her physical presence and strong dribbling skills allowed her to both score from a distance and tally a pair of key assists in the tournament. At 6 feet tall, she also boasted a strong ability to defend, tallying up 43 recoveries in the 2019 tournament, behind only defender Crystal Dunn.
Mewis is sitting out of the 2023 World Cup while recovering from knee surgery and will heal instead of competing for the U.S.
The 2023 Women's World Cup kicks off Thursday, with the United States' first match against Vietnam on Friday at 6 p.m. PST.