UCLA SETI brings search for extraterrestrial life to everyday enthusiasts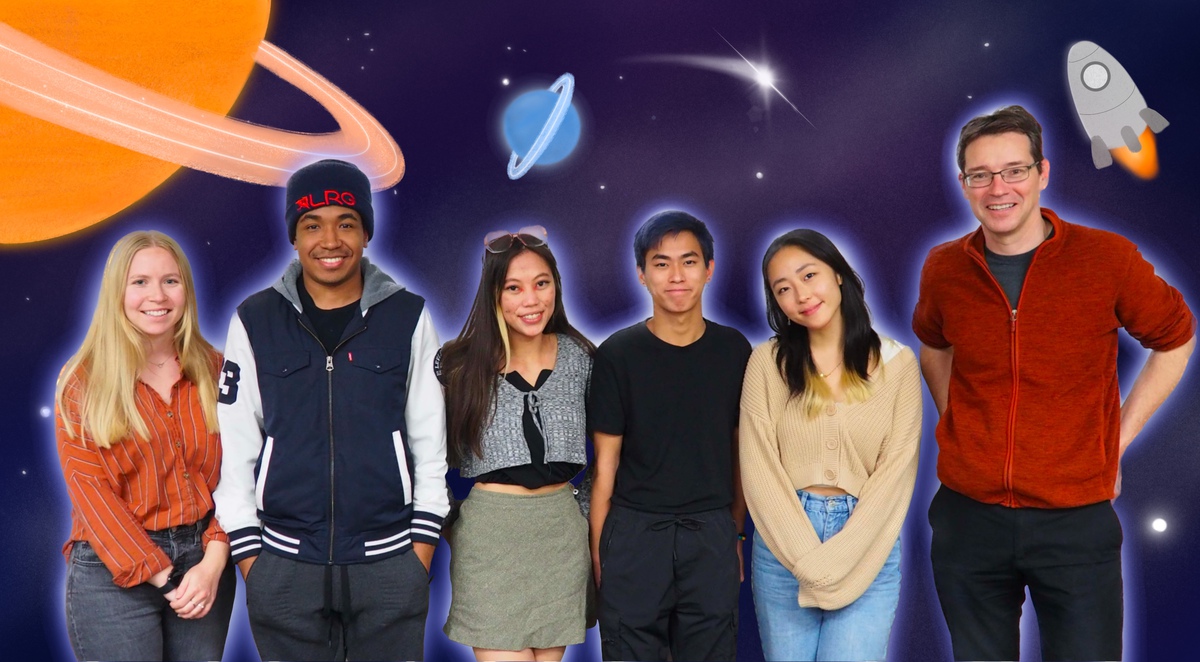 Members of the UCLA Search for Extraterrestrial Intelligence are pictured. The team's new community science project "Are we alone in the universe?" allows members of the public to classify radio signals in hopes of identifying one made by extraterrestrial life. (Photo courtesy of Ben Paul. Illustration by Ashley Ko/Illustrations director)
UCLA Search For Extraterrestrial Intelligence is inviting the public to help look for aliens.
As part of the group's community science project, "Are we alone in the universe?", members of the public analyze radio waves captured by the Green Bank Telescope in West Virginia – the largest fully steerable telescope on Earth – and identify unique patterns in the waves that may indicate extraterrestrial life.
Since launching in February, around 18,000 volunteers have used the platform to classify around 600,000 radio signals, said Jean-Luc Margot, principal investigator of UCLA SETI.
On Zooniverse – a citizen science web portal – participants are presented with visual representations of radio signals made of vertical and horizontal bands. After following a quick tutorial, they can match the signals to various given signal types. If a volunteer notices any unique or interesting signal behavior, they can alert UCLA SETI for further data analysis.
Megan Li, a data analyst at UCLA SETI, said the group has not completed data analysis yet. Although they have narrowed down the signal count from around 300,000 to around 1,000, Li, who is also a doctoral student in planetary sciences, said the remaining signals might still all be produced by sources on Earth.
Margot, who is also a professor of earth, planetary and space sciences as well as physics and astronomy, said there have been promising findings, though ultimately no extraterrestrial signals were confirmed.
"Our volunteers have certainly pointed out signals that had us fall off our chairs," he said.
One participant noticed a small, intense vertical line in the wave field and alerted the scientific team, according to the UCLA SETI March newsletter. UCLA SETI classified the blip as an 18-second narrowband signal but then identified it as the product of human technology.
Li said one of the goals of the project is to make the field of science a more inclusive environment and make science digestible to people at any level of education. Because of the popularity of science fiction media, many people are already interested in the search for extraterrestrial life, she added.
Nando Carmona, an astrobiologist in Madrid, Spain, who helps moderate the project platform and has classified more than 6,000 radio signals, said in an emailed statement that he is motivated by the search for other possible life inside and outside the solar system.
He added in the statement that discovering an extraterrestrial signal could have a remarkable influence on religions, cultures and societies.
"It would be something so impressive that it would be a before and after in the history of humanity," Carmona said in the statement.
A civilization would have to be more advanced than humans' to send a radio wave far enough to reach Earth, Li said. She added that she believes technological advancement in human society has been hindered by political and interpersonal issues, and so a more advanced society could potentially share methods to improve the welfare of humanity and the planet.
Margot said the potential for advancing human knowledge is extraordinary.
"The possibility of establishing contact with an advanced civilization gives me goosebumps," Margot said. "The possibilities are hard to imagine."
UCLA SETI's biggest challenges have been maintaining the site, reviewing suggestions and responding to questions, Margot said. The project is running smoothly with support from NASA, the Planetary Society and other partners, but the group has to support around 18,000 volunteers, he added.
The UCLA SETI team currently relies on a filter that sorts out 99.5% of the signals as Earth-associated, Li said, adding that the remaining 0.5% are the approximately 300,000 signals that are uploaded to the Zooniverse platform. As participants continue to classify data, Li said she hopes to use the data to fine-tune an artificial intelligence program that can better classify the origins of radio signals on its own.
Li said she is currently focused on responding to volunteer questions and building a project community. She said she wants the discovery of extraterrestrial intelligence to be a collective effort among anyone with passion for the project.
In the UCLA SETI May newsletter, Margot said the group received new radio data in May and will soon upload it to the platform. The new data includes 1,000 additional stars and their planetary systems, the newsletter said.
Margot said the UCLA SETI group enjoys seeing the excitement and engagement of platform users.
"We are excited whenever we get notified about a signal – a real attention-grabber that could be a potential signal," Margot said. "So far nothing has proven to be extraterrestrial in nature, but it could happen tomorrow."
Volunteers have the opportunity to make real meaningful, intellectual contributions to the search by participating in signal classification, Margot said.
"There's something so beautiful about bringing together the community," Li said.