Opinion: Music 'provides the melody' to our lives, brings people together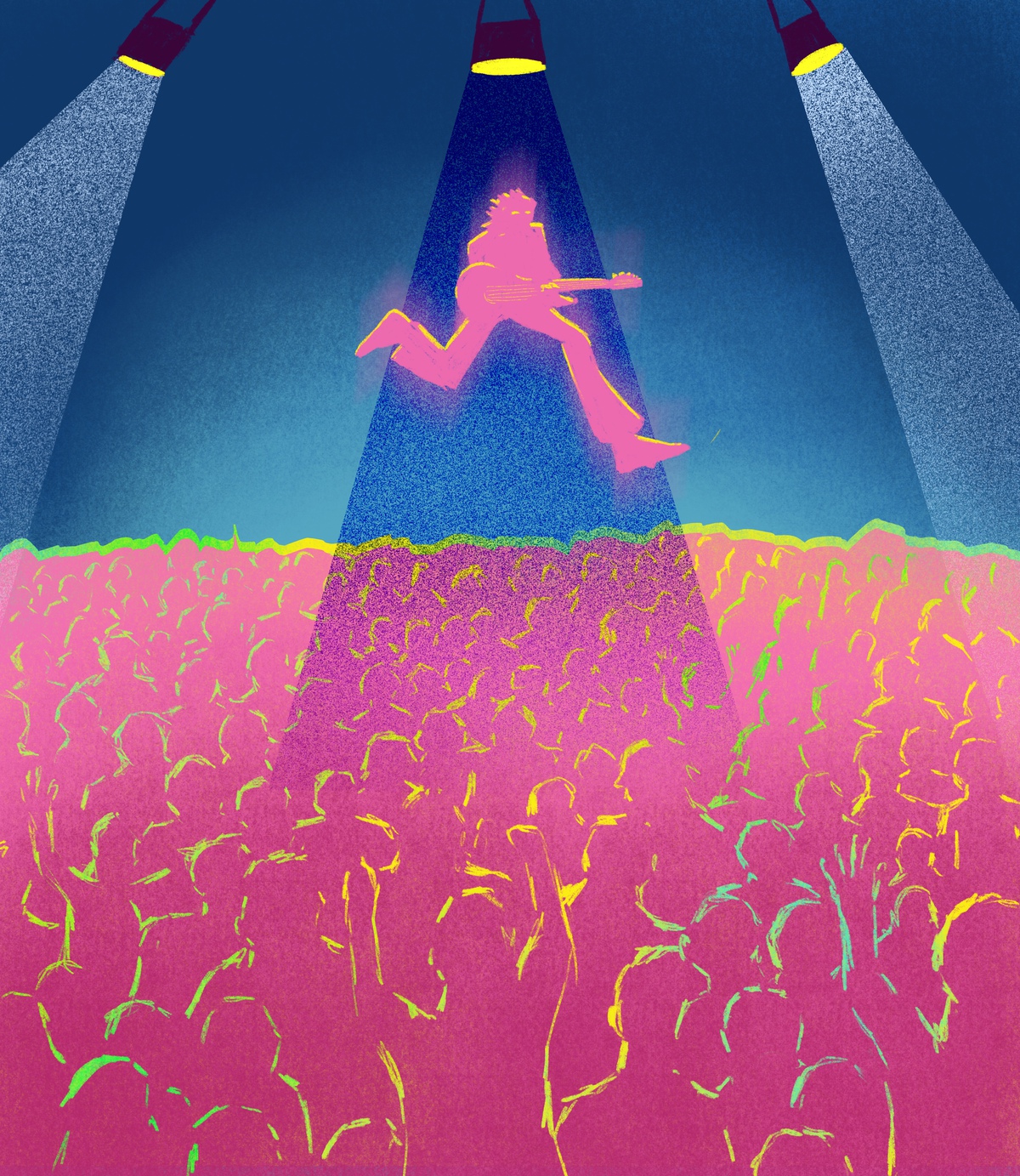 Like a burst of lightning, music illuminates our truest selves by inspiring us to embrace the present, eliciting inexpressible emotions and making us feel seen.
Los Angeles, the entertainment capital of the world, offers the opportunity to explore the metamorphic potential of music. Yet I never truly appreciated this characteristic of the City of Angels until I enrolled at UCLA and moved from the Bay Area to Southern California.
Time would teach me that engaging with live music can be a near-religious experience full of catharsis and intimacy.
My first time engaging with live music in LA was during Bruin Bash 2021, which was headlined by Rico Nasty. Singing my heart out in a crowd of my peers was the perfect introduction to campus and the Bruin community. In the packed LA Tennis Center surrounded by strangers, I felt at home.
During my two years as a transfer student, I visited various LA venues, including the Hollywood Bowl, Kia Forum, Shrine Auditorium and the Hollywood Palladium. I saw an assortment of incredible artists ranging from Mitski to BTS to Doja Cat. With every show, my love for live music continued to grow.
I was fortunate enough to witness 18 different artists share their music on stage, each leaving me with unforgettable memories. The anticipation of waiting for the artist to appear, the excitement of hearing my favorite track's opening notes and the hunger for the encore that persuades the artist to play just one more song are ingrained in my mind.
Some artists focus on providing the clearest, sweetest vocals imaginable, while others throw themselves into dynamic choreography to keep the audience engaged. No matter the style of the performance, each show has a unique flair that makes the experience indelible. I value the warmth of indie shows just as much as I cherish the intensity of hip-hop performances.
As I watched Harry Styles light up the Kia Forum with eccentric visuals, I was transported to my childhood, remembering the excitement I felt whenever One Direction released a new song. Surrounded by super fans who sang along to every word, I felt like I was on top of the world.
In contrast, experiencing an intimate performance by a lesser-known indie artist Leith Ross invoked a different set of emotions within me, and I was immensely grateful for the chance to be alive at the same time as such inspiring music. Despite the rest of the audience being strangers, we all came together, and a shared melancholy united us.
When an artist takes the stage, they allow the audience to momentarily peek into their world. Art is meant to evoke emotion and provide an outlet for the indescribable feelings bubbling inside of us. When I sing along to my favorite songs, I can feel the sentiments that were poured into the track, and I eagerly bask in the sensations.
Music transcends the physical realm, unifying listeners through lyrics and beats. Being among a crowd of concertgoers gives me the freedom to shed my inhibitions and attach to something bigger than myself.
Perhaps in another life, I am gifted with a beautiful voice and perfect pitch, but unfortunately, that is not my current reality. Nevertheless, I am honored to encounter the musicians and mirror their passion.
As I get older, I am confident that listening to a Rico Nasty track will instantly transport me to my first Bruin Bash, an experience that set the stage for my time at UCLA. I had no idea what to expect or how I would fit in, but I was nonetheless comforted by the opportunity to see an artist I associated with strength and fearlessness.
Despite all the joy that comes with attending music shows, it is certainly not as easy as simply wanting to go.
Live music comes with an extremely high financial burden, making it less accessible to individuals with low income. As a university located minutes away from the world's leading record labels, UCLA should take the initiative to host more entertainers and musicians, enabling students to experience live music at a free or reduced cost.
While it can be easy to designate some artists or genres as "good music," it is essential to acknowledge that everyone has different preferences and they are all valid whether they align with mainstream music culture or not.
I hope everyone can find music that truly resonates with them and have the opportunity to experience the sounds, vibrations and ecstatic energy live. I encourage my fellow Bruins to step out of their comfort zones and try experimenting with genres they do not typically gravitate toward.
Music keeps us alive, providing opportunities for us to share our experiences and relate to one another. Music connects communities and cultures that would otherwise have little in common. Music provides the melody to our existence, comforting and inspiring us in times of need.
So let us shamelessly lip sync to the rhythm blasting in our headphones. Refuse to be embarrassed when you are caught screaming along to your favorite song in your car. Always give an enthusiastic "yes" to that invitation to karaoke night.
Never forget the transformative power of music. After all, it is the soundtrack of our lives.