Re:SET 2023: boygenius enthralls crowd under the moonlight to close out day 2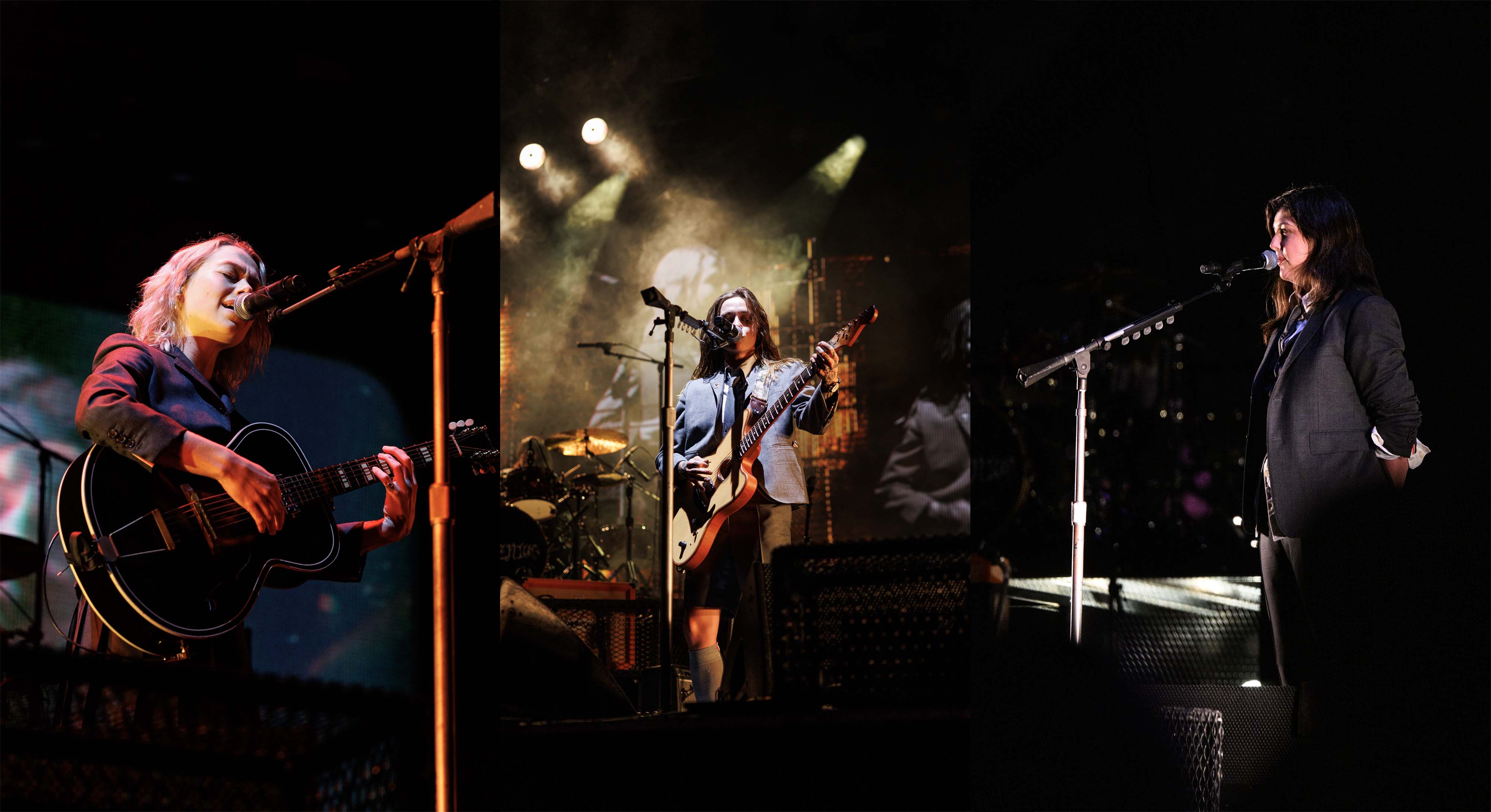 From left to right, boygenius members Phoebe Bridgers, Julien Baker and Lucy Dacus, each stand in front of a microphone. The indie supergroup headlined day two of the Re:SET Concert Series at the Rose Bowl. (Anika Chakrabarti/Photo editor)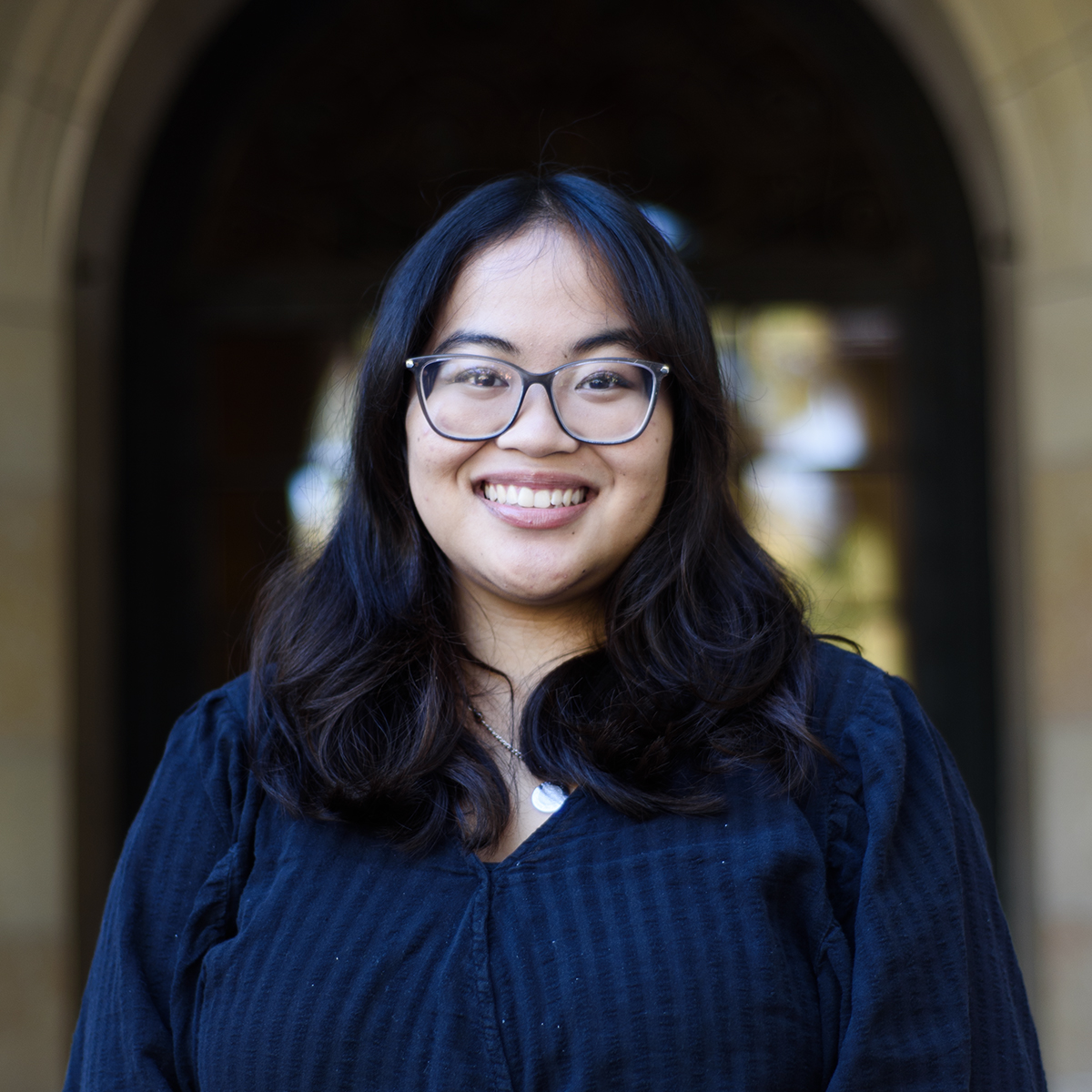 This post was updated June 4 at 4:05 p.m.
Re:SET is setting a new standard for festivals.
Concertgoers were treated to a variety of indie alternative acts on Saturday evening. The second day of the new concert series welcomed supergroup boygenius and its curated openers – Bartees Strange, Dijon and Clairo – to Brookside at the Rose Bowl.
Read on for the Daily Bruin's coverage of day two of Re:SET.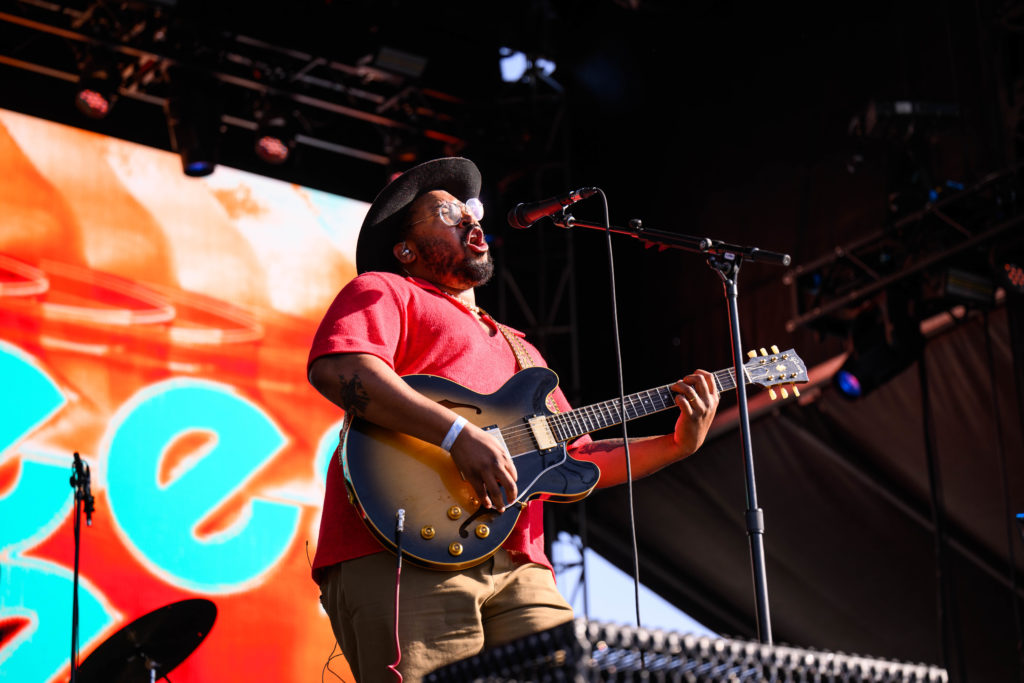 Bartees Strange
Bartees Strange is bringing indie into uncharted territory.
Bartees Cox, who uses Bartees Strange as his stage name, opened Saturday's Re:SET lineup with "Far," a guitar-heavy, folky anthem that displayed the singer's vocal control. Dressed in a red shirt with a pearl necklace and cowboy hat to accessorize, Cox's first song gradually built to a booming climax that heavily emphasized the drums.
During "Stone Meadows," Cox took his hat off for the first time, mixing synth and drums for a new sound that meshed '80s influences with modern rock. As his name flashed on the screen behind him, Cox and his keyboardist took turns head-banging to the fast-paced track. "Daily News" featured Cox on the electric guitar as he sang in a falsetto that carried over the bass and drum solos.
But for his final songs, he returned to fast, alternative tunes with "Boomer" and "Flagey God." The latter presented a departure from the previous alternative drum songs in his set, featuring a thumping electronic dance beat. As he dropped his guitar and began to dance on stage, Cox implored audience members to do the same.
After kicking off day two, Cox left with a boom.
[Related: Re:SET 2023: Steve Lacy and openers serenade the sunset on day 1 at Rose Bowl]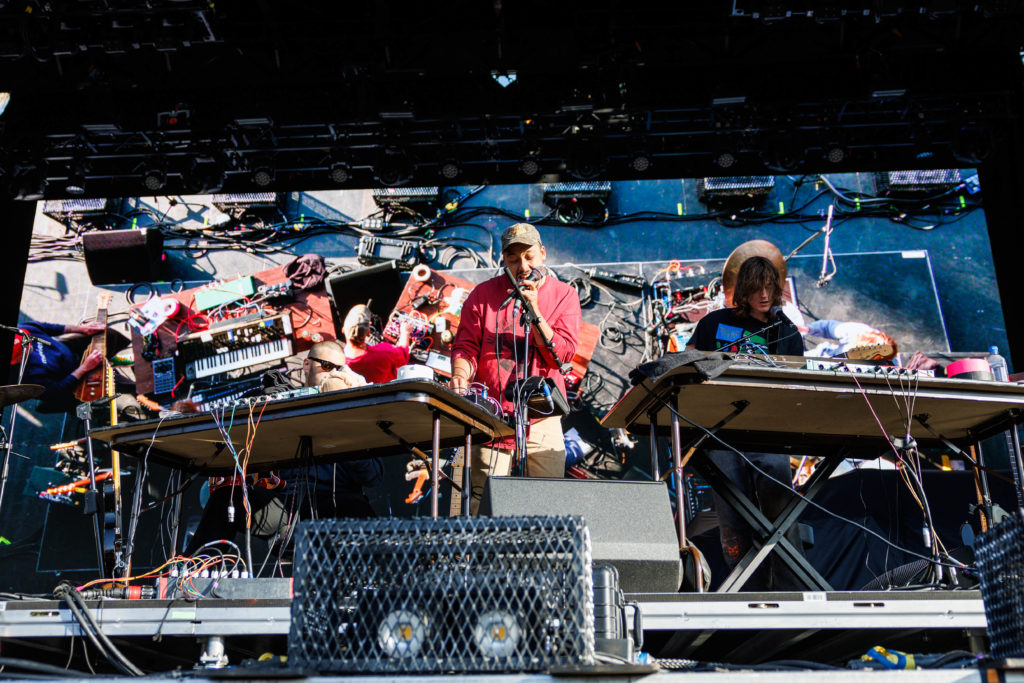 Dijon
Dijon is taking things slow.
At 6:15 p.m., Dijon Duenas, who goes by the mononym Dijon, began his set with "Big Mike's." The musician and his bandmates spent the set seated at a sprawling table adorned with soundboards, wires, keyboards and a Baby Yoda doll, which established the tone for the production-heavy setlist. Using the soundboard to create an eerie intro, Dijon utilized the equipment to layer his vocals over a slow, yet steady bass line.
After pausing his set to check in on audience members who had fainted, the artist took a step back from the soundboard with "The Dress." The R&B beat encouraged audience members to dance with one another. He continued the slow jams with "alley-oop," a love song that brought a silky, alluring sound to the Brookside.
Dijon brought energy levels back up with "Talk Down," a short yet upbeat entry that included a catchy hook, which concertgoers enthusiastically echoed back. His last song, "Rodeo Clown," was a break-up anthem that had the crowd singing in unison. As he departed, Dijon waved and thanked his bandmates.
This may not have been Dijon's first rodeo – and it certainly won't be his last.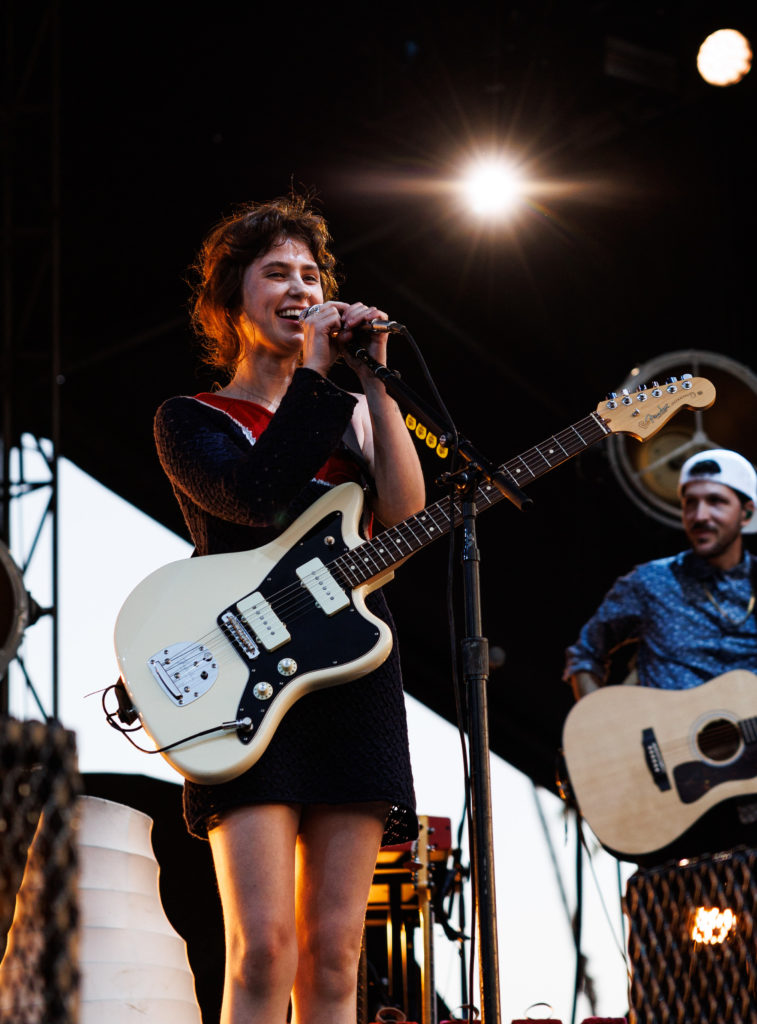 Clairo
Clairo mixed the bitter with the sweet in her funky performance.
Claire Cottrill, more commonly known as Clairo, took the stage dressed in a gray peacoat and sunglasses. As she sang the jazz-inspired "Bambi" while seated at the piano, the industrial lamps that lined the stage behind her shone a golden hue. She then switched to an acoustic guitar and removed her coat before "Zinnias," eliciting cheers as she twirled, showing off a one-shouldered navy dress with red trim.
The singer-songwriter played four songs from her debut album "Immunity." She brought her bedroom pop tracks to the festival stage, as concertgoers danced to the smooth saxophone and flute details. With impressionistic, animated visuals behind her, Clairo's vocals and her band's performance added a pop of color to the golden hour set.
She set down her guitar and swayed in time to the melodic bass line during her cover of Carole King's "Bitter with the Sweet." A tender performance of "Harbor," off her recent album "Sling," highlighted Clairo's songwriting, emphasized by stripped-down instrumentation. The artist finished her set with crowd favorites "Amoeba" and "Bags," indie-folk-pop songs that left the crowd screaming for more, even as she exited the stage.
Clairo might say she's "walking out the door with your bags" – but on Saturday, she only left with a smile.
[Related: Album review: Indie supergroup boygenius' debut album highlights members' strengths, friendship]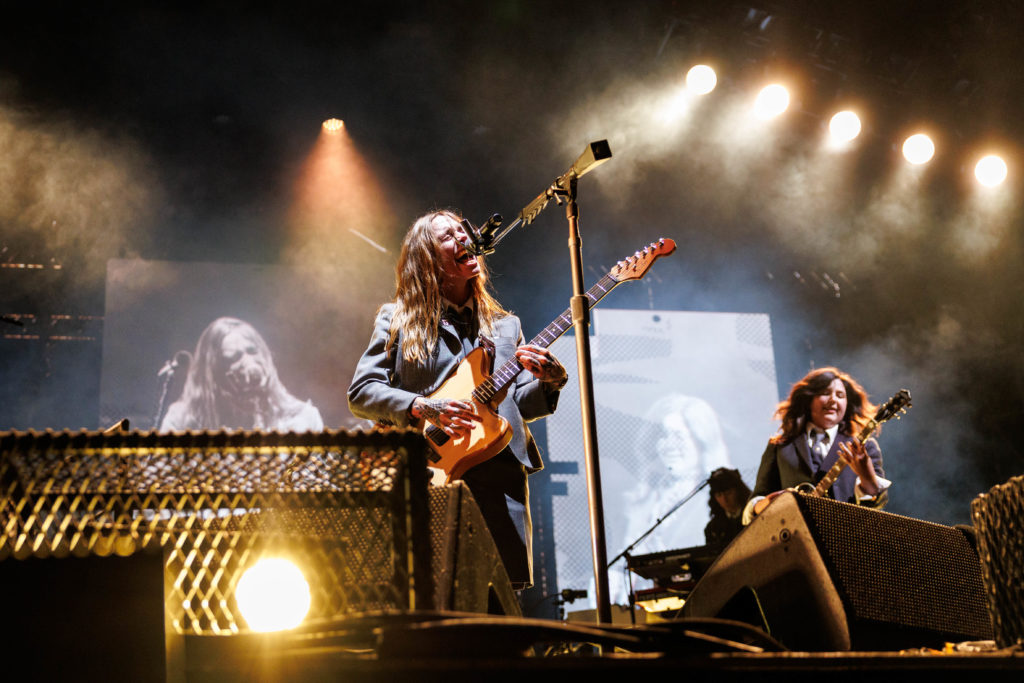 boygenius
The boys are back in town – this time, for a headlining set at the Rose Bowl.
The boygenius trio – comprised of Julien Baker, Phoebe Bridgers and Lucy Dacus – opened their set with a backstage a capella prelude of "Without You Without Them." Dressed in blazers and ties, their sweet, polished harmonies served as a juxtaposed transition into "$20" and "Satanist," Baker-led rock songs that had the crowd headbanging to the drum beats. As Bridgers belted her part of the "$20" bridge, the crowd matched her energy with their own cries.
"Cool About It" featured Baker on the banjo as the trio's voices combined for the Simon & Garfunkel-inspired folk anthem. Between songs, the "boys" bantered with each other: Bridgers, who is from Pasadena, said she played soccer as a child at the Rose Bowl – a far cry from the thousands who had gathered to see their performance.
boygenius also pulled from its eponymous 2018 EP during the middle of their set, with "Bite The Hand" and "Me & My Dog" as standouts. After the crowd, egged on by Baker and Bridgers, chanted her name, Dacus jokingly said she was "embarrassed" before she turned away from the crowd and took the lead on the ballad "We're In Love." The crowd fell silent while Dacus' voice flooded throughout the venue. "If you rewrite your life, may I still play a part?" she sang, as audience members held each other, swaying gently.
With the screens made to look like a wall of retro televisions, the audience screamed "always an angel, never a god" – the recurring bridge of "Not Strong Enough." During Baker's electrifying guitar solo in "Salt in the Wound," Dacus and Bridgers rolled around on the floor and kicked their legs, concluding the band's main set.
The trio returned for a three-song encore, with each member performing one of their own solo songs – Dacus with "Please Stay," Baker with "Favor" and Bridgers with "Graceland Too." When Bridgers sang about the moon in her ode to the group's friendship, audience members gasped and pointed upward as the moon shone brightly.
And as the crowd continued to cheer long after they departed, boygenius proved themselves to be indie rock's newest gods.
Lagrimas is the 2022-2023 lifestyle editor. She was previously an Arts contributor from 2021-2022. She is also a second-year communication and political science student from Temecula, California.
Lagrimas is the 2022-2023 lifestyle editor. She was previously an Arts contributor from 2021-2022. She is also a second-year communication and political science student from Temecula, California.