UCLA Dining to expand mobile ordering to all takeout dining locations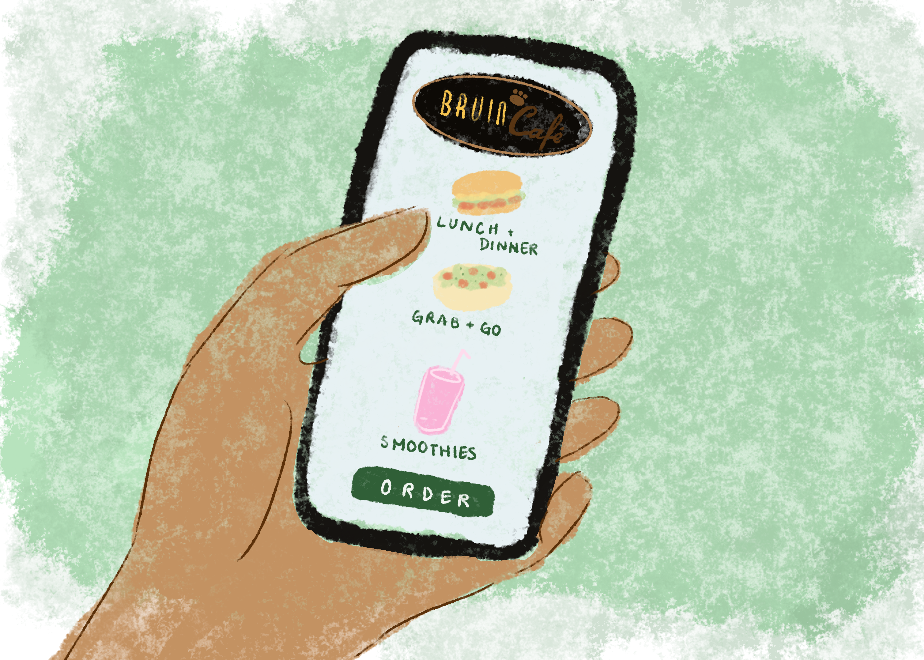 An illustration of how mobile ordering is expected to appear is shown. (Nimisha Seshadri/Daily Bruin)
UCLA Dining plans to implement mobile ordering at all takeout dining locations in the fall following a trial period at Bruin Café and Epicuria at Ackerman.
Mobile ordering can be accessed through the Transact Mobile Ordering app, which requires students to sign on with their UCLA Logon ID so that swipes can be deducted from their meal plan. Once they have ordered, students receive a nontransferable QR code they can show to dining staff to pick up their food, said UCLA Dining in an emailed statement.
UCLA Dining added that the new ordering system is intended to manage line congestion by reducing the number of students waiting at the cashier counters and pickup stations.
While credit card payments are not being accepted through mobile ordering at the current trial locations, UCLA Dining plans to integrate credit cards and BruinCard Easy Pay into the system in the fall, according to the emailed statement.
Student congestion, long lines and wait times are some common complaints among students.
Sienna Webby, a first-year biochemistry student, said she appreciates the new mobile ordering system. The convenience of being able to order in advance allows her to better manage her time, she added.
"I can be sitting in class and planning ahead what I want order it while I'm there," she said. "Once I walk to where I'm getting food from, it's just ready, which is kind of nice."
Ethan Cortez, a second-year pre-business economics student, said that despite initially finding mobile ordering confusing, he now believes it should be implemented at other dining locations such as The Study at Hedrick and Rendezvous.
However, Michelle Le, a first-year computer science and linguistics student, said she found the process of ordering tedious and glitchy. She added that she feels UCLA should improve the app to ensure it's easier for students to navigate and use.
"I would focus more on fixing the glitches on the actual app because a lot of times in line, I can't even order," she said.
Christina Abdishoo, a first-year biology student, said she feels that since mobile ordering was introduced at Epicuria at Ackerman, wait times have increased significantly.
"Ever since it got implemented, I haven't gone to Epic at Ackerman a single time because the line always is so long," she said. "Even before there was mobile ordering, the line was so long, and now it's even longer to get your food."
Abdishoo also said she felt mobile ordering could be improved by setting limits on how many people can order at one time.
Cortez said that, while mobile ordering may have both advantages and disadvantages, he felt it was an exciting development for UCLA.
"I'm a person who is very impatient so I feel like being able to get ahead of it and ahead of time, so by the time I walk somewhere there is already progress," he said. "I think I probably prefer it."