JazzReggae Fest 2023 to celebrate Westside culture with live music, vendors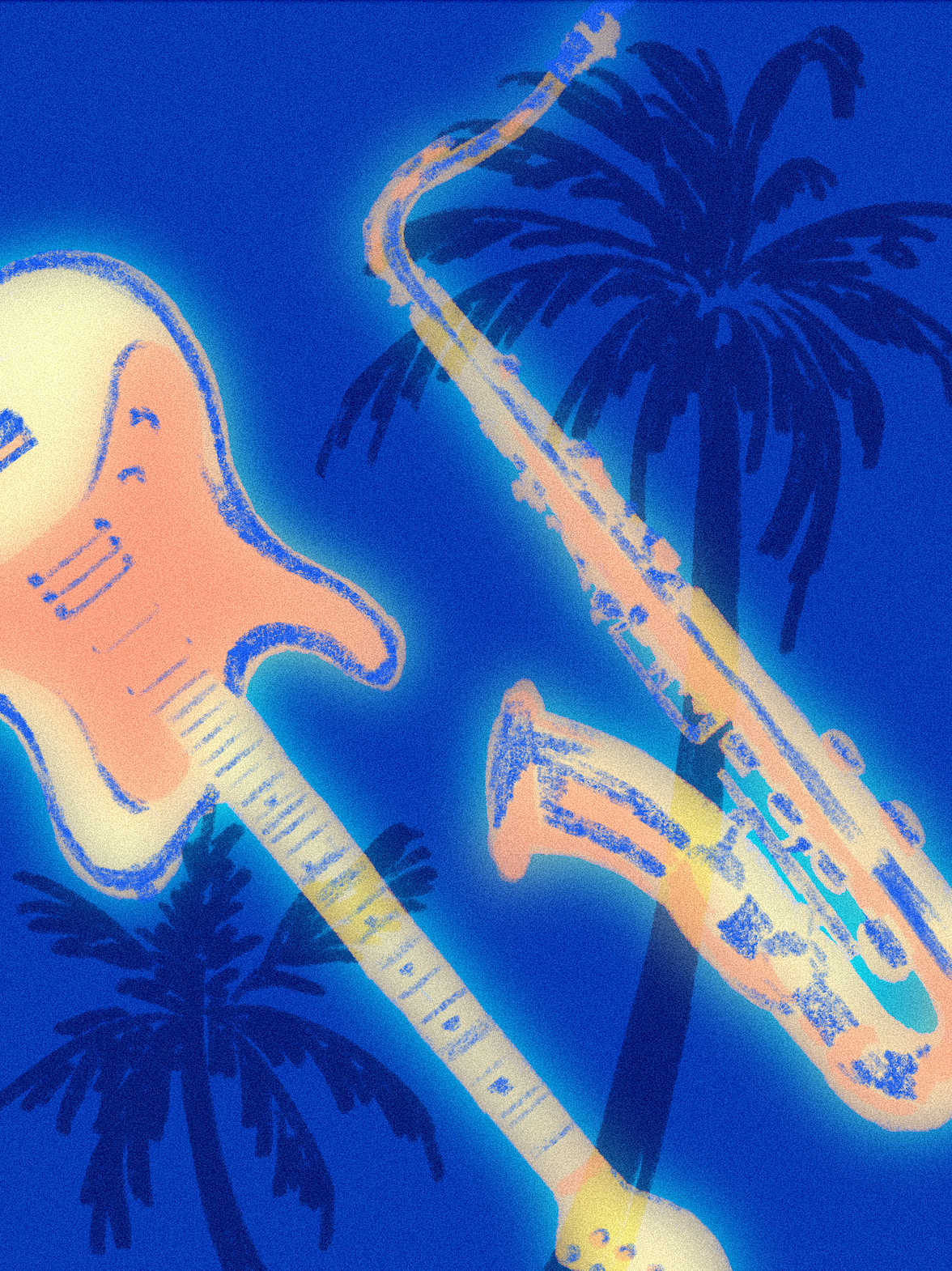 (Isabella Lee/Illustrations director)
JazzReggae Fest
Sunset Canyon Recreation Center
May 29
11 a.m. to 7 p.m.
JazzReggae Fest is showing the Westside some love with a lively celebration of culture and community.
On Monday, JazzReggae Fest will commence for the 36th year at Sunset Canyon Recreation Center. Co-director and fourth-year African American studies student, Madelyn Reasin-Bodden said this year's theme, "from the westside with love," seeks to encompass Los Angeles culture with a '90s influence. She said the theme is inspired by native Los Angeles rapper, Dom Kennedy, whose music is grounded in West Coast hip-hop. The festival will spotlight professional and student performers, Black-owned businesses and primarily LA-based food vendors, said Briajah Payton, a fourth-year sociology student and co-director of the festival.
"It'll be a fun, safe space with good food and good vibes," Payton said. "Our goal has always been to create a space for underrepresented communities to come together."
After the staff was selected in September, Payton said the team began preparing by contacting agencies and entertainment companies to find performing artists who align with the JazzReggae style. Musically speaking, jazz and reggae influence other genres such as R&B and hip-hop, which Reasin-Bodden said will also be represented in the lineup. It features Jordan Ward, Your Grandparents, Maxo Kream and Hempress Sativa, accompanied by student performers, she said.
[Related: Coastalong Music and Sustainability Festival returns with bike powered festivities]
In addition to live music, Payton said attendees are also able to enjoy a variety of food and craft vendors. The staff handpicks vendors by either reaching out to them directly or posting online applications, she said. Maintaining diversity in the types of food and business owners represented is an important characteristic of the festival, she added.
"We want everyone to have an individual shine for both food and craft," Payton said. "You see people coming in to have a good time, … eating their food, watching the performances, and I just think that's such a warm feeling."
Following the festival's tradition, Payton said JazzReggae Fest will continue to offer eco-friendly activities. Historically, sustainability has been a fundamental principle of the event, and Payton said this year the staff has organized a raffle for recyclable and multiuse items. In order to promote sustainable fashion practices, Payton said there will be a clothing swap where attendees can bring an item of their own to exchange for a different item or a raffle ticket. As an additional activity, she said the art team is curating a live-art show, in which eight visual artists will paint on 3D canvases throughout the festival.
In the current post-COVID-19 climate, Payton said restoring student awareness of JazzReggae Fest has been a challenge. Because of the pandemic, she said this year's event is only their second since 2019, and the majority of students have little knowledge of the long-established campus activities prior to that year. Nevertheless, Reasin-Bodden said she is optimistic about reaching capacity, which has increased since 2022 because of less restrictive COVID-19 policies.
To promote the festival, marketing team member and third-year design media arts student Magali Ustarroz, said they have been consistently posting content on social media platforms such as Instagram and Facebook. Ustarroz mainly deals with graphic design of promotional content, and she said this year's flyers were inspired by a sunset drive through Inglewood. As an additional marketing tactic, Ustarroz said the marketing crew personally distributed the flyers throughout Leimert Park in order to maximize face-to-face interactions within the LA community.
[Related: Jazz-fusion band Super Groove Technology seeks to spread joy to listeners]
Ultimately, Reasin-Bodden said the impact of the event extends beyond those who played a role in its production. JazzReggae Fest is a celebration that aims to foster a sense of unity among a diverse range of people and provide a space of belonging for Caribbean individuals, she said. At last year's event, Reasin-Bodden said she discovered the communal value of the festival by interacting with attendees from the LA community and reconnecting with a family member. She added that JazzReggae Fest's ability to create cultural unity through music and food is what fuels her passion for co-directing.
"We have people come up to us and tell us they are bringing their grandkids and they've come to one of the first JazzReggae's," Reasin-Bodden said. "I think just being able to see the generational effect of JazzReggae and how important it is to other people's lives … (is) what I'm looking forward to the most."