FAST 2023: Sarah Hernandez turns dreams into reality with 'Late Night Daydreams' collection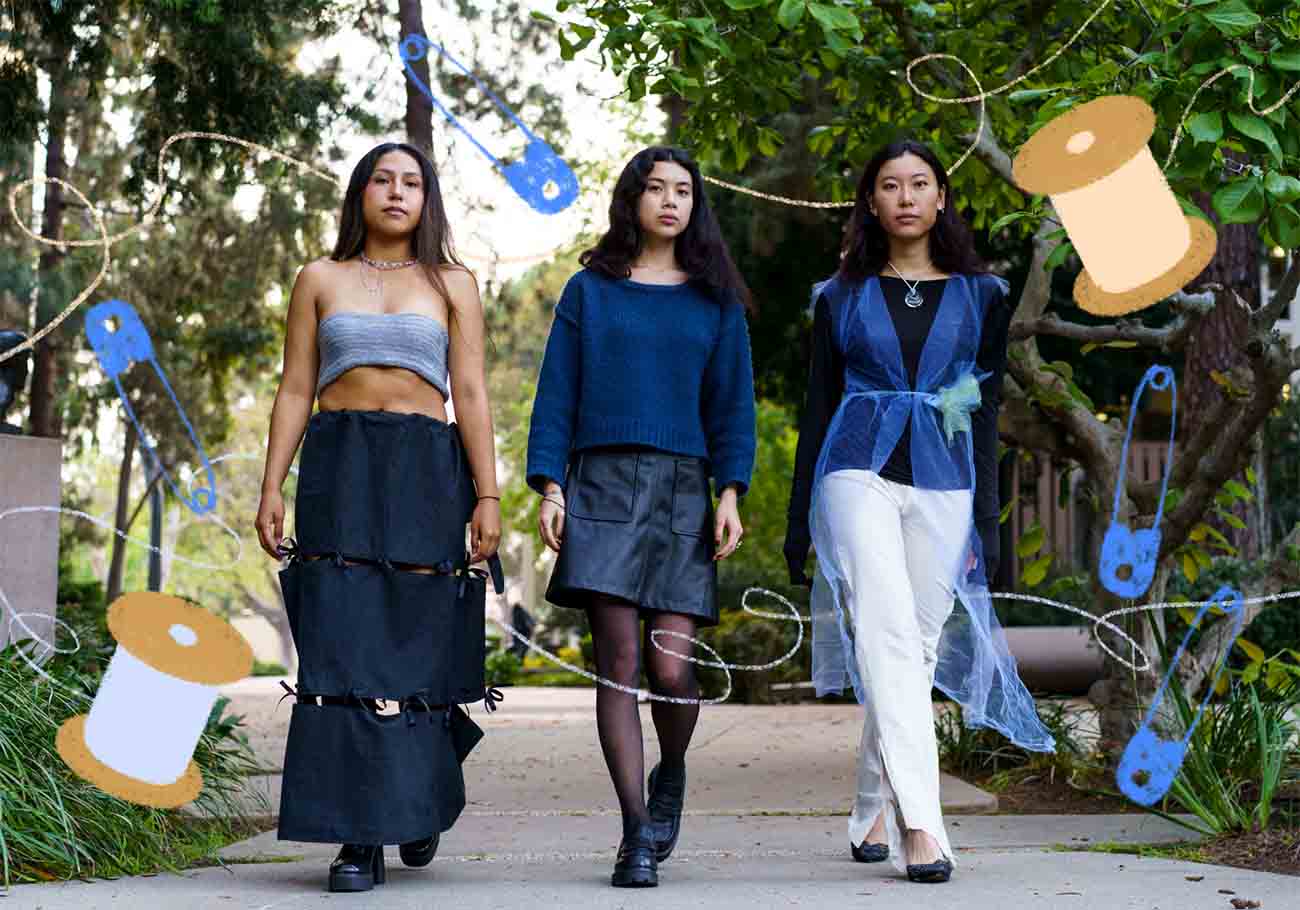 (Left to right) Micaela Estavillo, Sarah Hernandez and Kelly Ha walk next to each other in blue outfits. Hernandez's design collection is based on various natural elements. (Photo by Brandon Morquecho/Daily Bruin. Photo illustration by Isabella Lee/Illustrations director)
Sarah Hernandez is turning her dreams into reality with her newest fashion collection.
Hernandez is showcasing her second collection in Fashion and Student Trends at UCLA's spring show. The third-year microbiology, immunology and molecular genetics student said her collection, titled "Late Night Daydreams," is based on natural concepts. She said she used tulle to create flowy and open pieces that mirror graceful elements in nature, such as water and the sky. She also added that utilizing layers and colors in those ways made her designs stand out among the other artists. In addition, Hernandez said her collection features real pieces that her models can continue to wear in everyday life after the show.
"Last year was very abstract," Hernandez said. "It was more based on concepts – one of the main ones was jellyfish – and then trying to translate that into clothes versus this was more taking typical clothing items and just adding a little something to it."
The inspiration for her pieces this year came to her while she was sleeping, Hernandez said, which led to the name of the collection, "Late Night Daydreams." She said when she woke up, she immediately sketched down notes and figures because she only remembers her dreams for a few minutes after waking up.
Conceptually, all of the sketches that resulted from this process fit together well enough to create a cohesive collection, she said, even though they came from different dreams on separate nights over the span of a whole year. She said that one sketch from June, which depicts a tiered skirt with removable tied layers, was directly constructed into a real piece she will display in her collection.
"It's just very dreamy. A lot of things I've imagined – concepts, ideas that I think I've probably taken in from my surroundings," Hernandez said.
One of the models for "Late Night Daydreams," Kelly Ha, said the idea of layering is standard throughout Hernandez's designs and is one of the aspects that makes her work recognizable. Through not only tulle but also yarn and knitting and crocheting, the layers are texturally interesting, said Ha, who is also a third-year nursing student, because of their different techniques. She added that the pastel hue of the fashion line helps it stand out among others.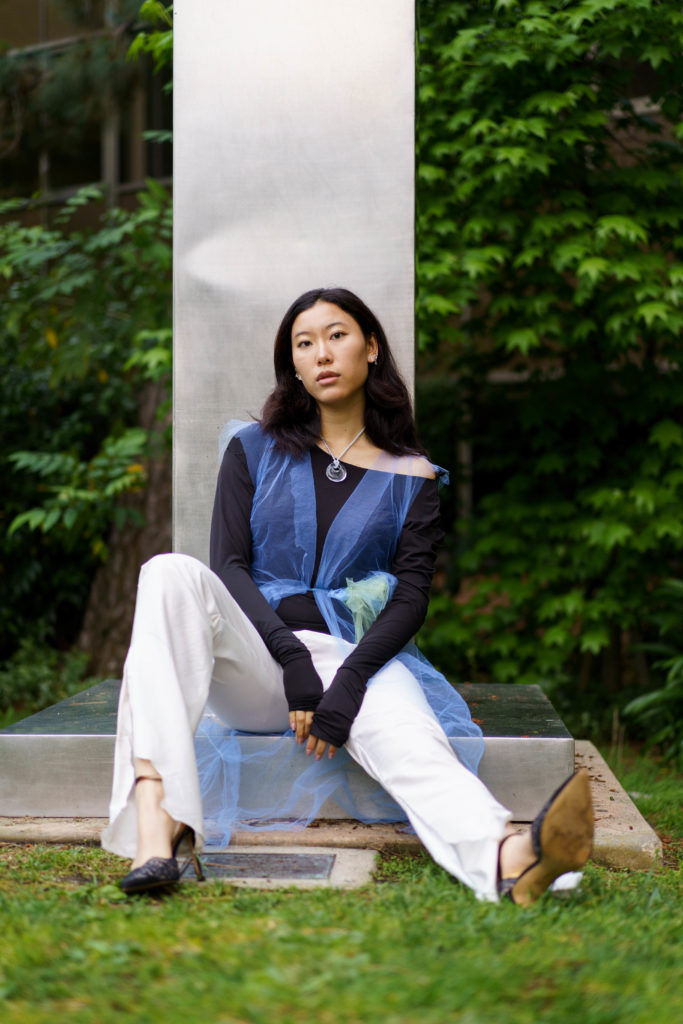 Ha said the theme of the piece is an elegant, monochrome cocktail attire with colors that are easy to look at. The other model for the line, Micaela Estavillo, said the color palette embodies the name of the collection itself. Estavillo, a fourth-year neuroscience student, said the lighter colors allude to the colors she sees in her own daydreams, while the heavy use of black symbolizes nighttime.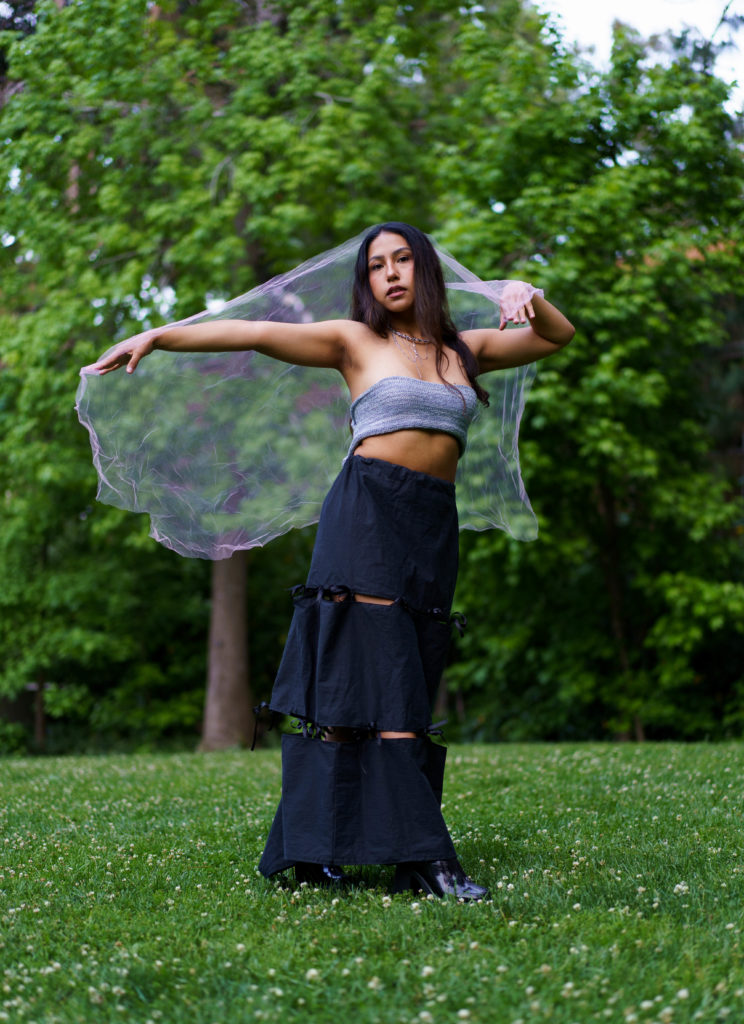 "I would say it's very pastel, feminine," Estavillo said. "So it's very girly, which I think would be great because it's different from last year."
Hernandez said last year's collection was abstract, while this year, she is focusing on adding a little pizazz to typical clothing items. This makes the clothing more wearable and natural for her models, she added. She said she is combining some of her other artistic passions in her pieces to add this extra identifiable and detailed design that separates her style from others. The pastels for her are reminiscent of watercolor, another art form she takes part in. She also started knitting in the fall, which she said has led to a significant amount of knitted pieces and yarn in "Late Night Daydreams."
The expansion and application of her new skills in knitting, art and designing are some of Hernandez's favorite things about FAST at UCLA. Hernandez said she and her mom always had a shared interest in fashion, and she wanted a forum to expand her individual skills. Ha said FAST is a good place to expand the interest of fashion on a grand and professional scale.
"It's been a good opportunity to meet people who are also interested in fashion because I think as a nursing major, it's very easy to get stuck in a bubble," Ha said. "Science is very different from artistic expression and fashion, so I think it's a really good balance of being able to explore that."
Another change in her collection from last year is that Hernandez is now working alone as opposed to on a team. Ha said this has given Hernandez free rein to display her own form of self-expression, mainly through her use of color and her decisions on materials. Hernandez said since this line is rooted in subconscious concepts, it has been difficult to make sure that the products match her original visions. Despite this, Hernandez said it has been a rewarding experience, and she is excited to see the final results displayed on the runway.
"Just continuing, I want to be able to do more stuff on my own," Hernandez said. "I feel like FAST has been a great way to set deadlines, keep me working towards a goal."