FAST 2023: Rafael Larrañaga's collection 'Epitaph' honors Inglewood culture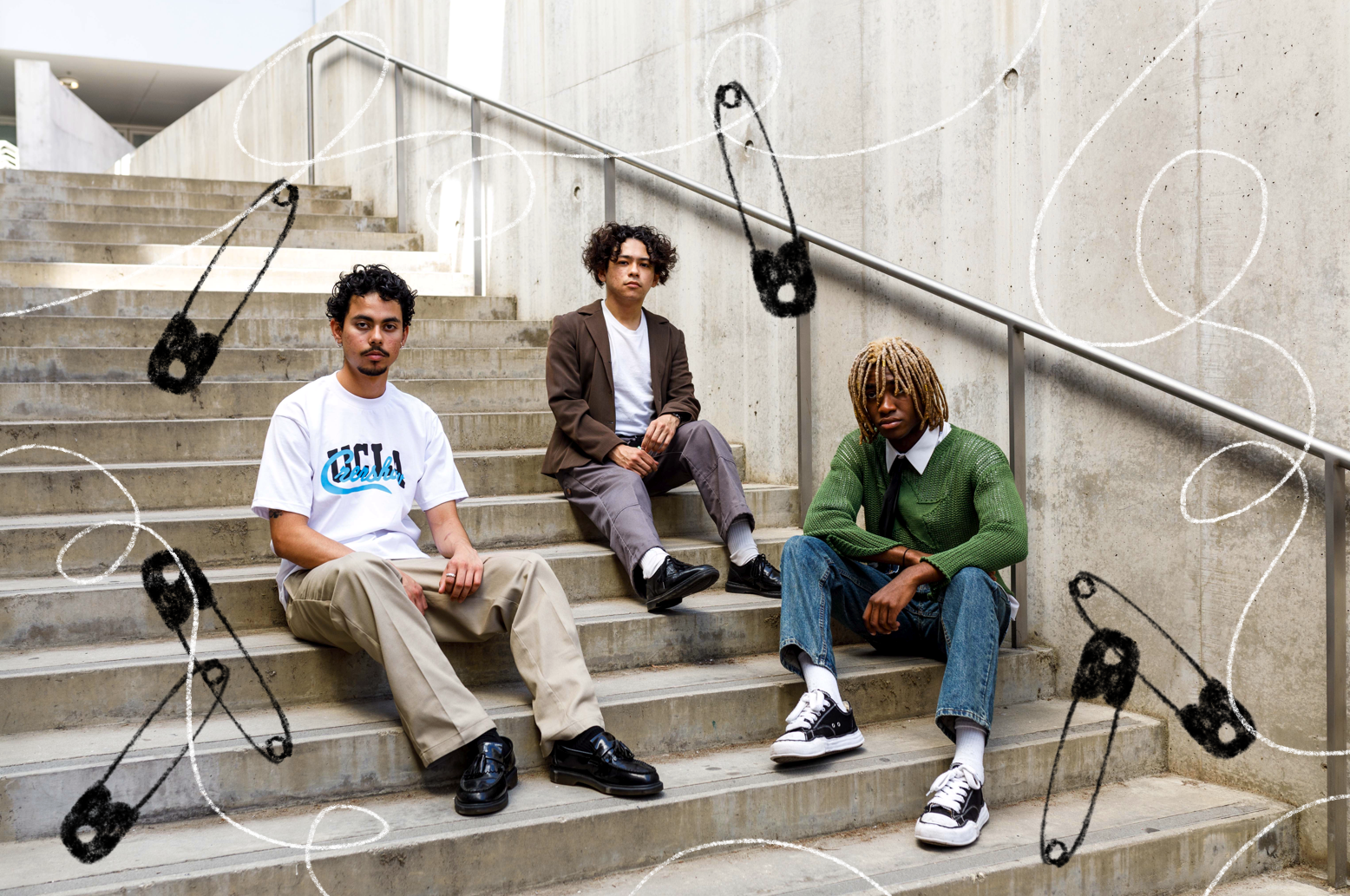 (From left to right) Albert Acosta, Rafael Larrañaga and Leian Mulatre sit on a staircase. Larrañaga's collection "Epitaph" is centered around Inglewood and Chicano culture. (Photo by Shengfeng Chien/Daily Bruin staff. Photo illustration by Isabella Lee/Illustrations director)
Rafael Larrañaga's designs are bringing Inglewood to Westwood on the FAST runway.
The first-year design media arts student will showcase his first collection, entitled "Epitaph," at the annual Fashion and Student Trends at UCLA's 2023 runway show Friday. Representing the lessons of community and survival, Larrañaga said the collection reflects his upbringing in Inglewood and the art of self-creation in his family's Chicano culture. He said he was struck with inspiration by Virgil Abloh's collaboration with Nike in high school and began teaching himself to design and draft.
"I remember being in my grandma's house … in Inglewood and knowing I wanted to do design, like I'm doing in my major and I'm doing in FAST," Larrañaga said. "Now that I have the opportunity, I design for a younger version of me that wants to see that."
Larrañaga said he discovered FAST through the UCLA Freshman Summer Program and applied in fall. Now serving on the design committee, he said his experience in FAST, as well as foundational courses in the design media arts major, has helped him make more intentional design choices.
Larrañaga's debut collection will incorporate various symbols and traditions from his family's culture, he said, from Our Lady of Guadalupe to the La Dama Lotería card. He said the Lotería look featured in his collection is also inspired by his strong-willed maternal grandmother, who made her own clothes.
Bold graphics, which are a feature in Larrañaga's studio artwork, will grace several of his designs in his runway collection, he said. He added that one look will feature a graphic lettering print of "Inglewood." After consulting his community members and peers, he said he found a shared desire to see Inglewood represented on the runway stage.
"It's a small thing, but it's really important to me to have that on the runway," Larrañaga said. "Saying, 'This could be high fashion,' … (I'm) reclaiming my city's identity in putting it in a different context."
Similarly, choosing the collection's accompanying music was both a personal and creative endeavor, as music was an influential part of his cultural upbringing, Larrañaga said. His first models will strut down the runway to "Cherry" by Chromatics, he said, followed by "Man of the Year" by ScHoolboy Q. "Man of the Year" samples "Cherry," Larrañaga said, representing the transformative spirit of art inspired by other art.
To display one of his pieces, Larrañaga chose first-year political science and psychology student Leian Mulatre, who said his goal as a model is to embody Larrañaga's creative vision. Mulatre said the baggy, fringed look Larrañaga chose for her inspired a more casual, expressive walk. Mulatre added that they always correlate their own clothing with emotion and appreciated that Larrañaga took note of their personal style during the model selection and alteration process.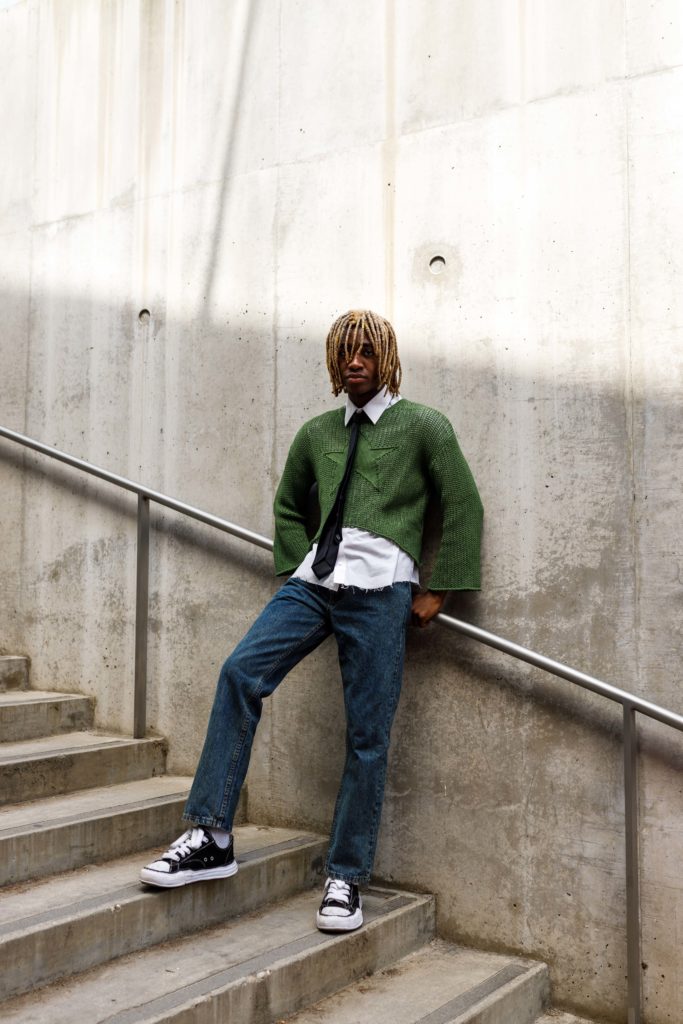 Over the course of this year's runway process, Mulatre said he especially admired Larrañaga's clear passion for design and dedication to all his FAST projects. From the FAST 2023 runway, Mulatre said she hopes audiences can apply the freedom of expression displayed in the show to their own personal style.
"There's always going to be people that see fashion (as) what you should be wearing, but it's also an art form and a form of self-expression," Mulatre said. "It's such a beautiful thing to be able to alter how they perceive you and match it with yourself."
Returning to the FAST runway for a second time, fourth-year cognitive science student Albert Acosta said he has enjoyed seeing past designers develop their talents further this year but is especially impressed by newcomer Larrañaga's many developed interests. Looking ahead, Acosta said he is excited to see how Larrañaga's style and techniques as a designer continue to flourish.
"It's very exciting to see him putting lines together," Acosta said. "I think FAST challenges people who have made clothes before but haven't actually put together a collection. I think it's cool to see that development taking place."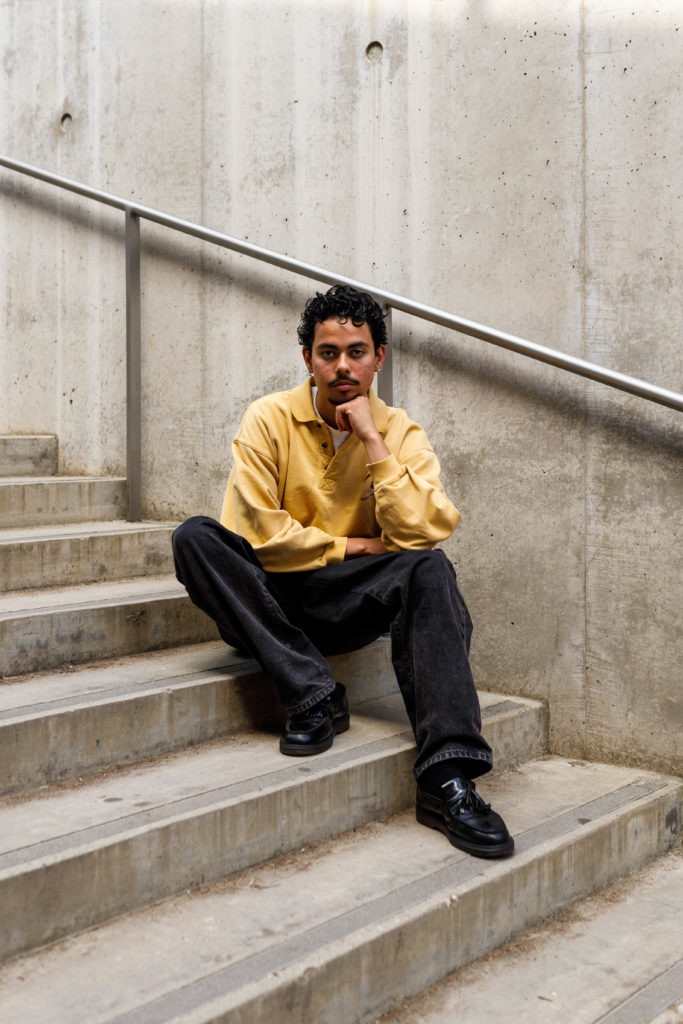 Beyond the runway, Larrañaga said he is currently working on a creative zine that archives signage of restaurants and businesses in the Inglewood area. In the face of rising gentrification, Larrañaga said he also seeks to document the community that raised him. He added that he hopes to work with student retention and cultural programs on campus that help students get involved and create their own community.
"Design comes from a lot of different places, and not everyone has the same opportunity or education in it," Larrañaga said. "So these opportunities are really important."