FAST 2023: Lisbeth Rodriguez entwines chic aesthetics with unconventional fabrics in 'Unique'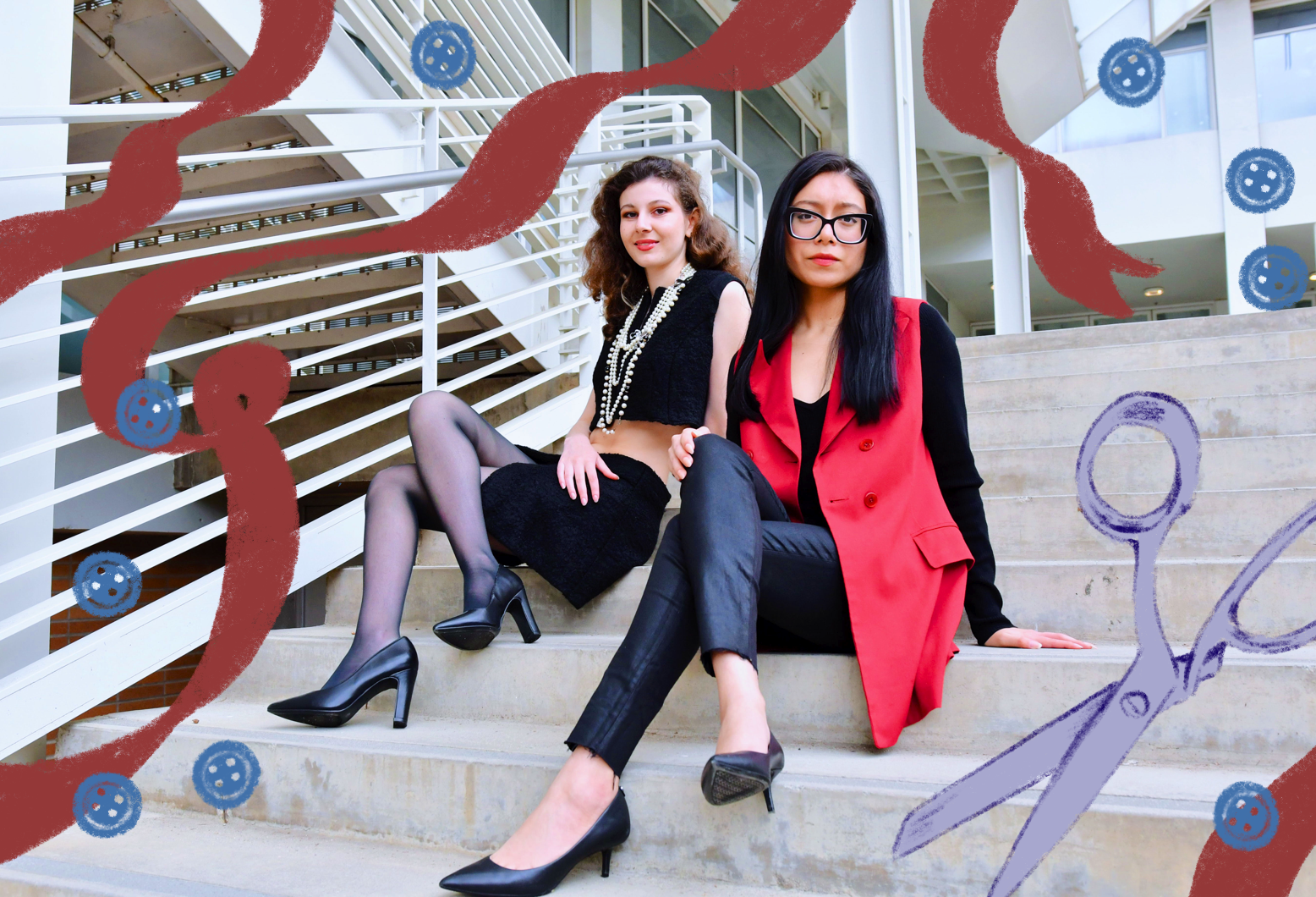 Colette Shvager (left) and Lisbeth Rodriguez (right) sit next to each other on stairs. Rodriguez, who was a model for Fashion and Student Trends at UCLA's runway last year, will be making her design debut Friday. (Photo by Alex Driscoll/Daily Bruin staff. Photo illustration by Isabella Lee/Illustrations director)
Lisbeth Rodriguez is breaking the traditional fashion mold with her collection "Unique."
The third-year Spanish, community and culture student will showcase her designs on Friday for Fashion and Student Trends' annual runway show. After initially joining FAST as a model last year, Rodriguez said she has pieced together a collection for the runway while also running marketing campaigns for FAST as their marketing director. Making her design debut for the organization this year, she has introduced the six-look collection, "Unique," which she said is chic and with out-of-the-ordinary materials and inspirations. She said she is drawn towards envisioning elegant aesthetics with an unusual twist, both in marketing and fashion design.
"I am into creating (designs) that are odd, different and just fun," Rodriguez said. "My mission was to be different or odd or not use common fabrics."
Rodriguez first developed an interest in fashion through her mother, she said, who cultivated Rodriguez's experimentation with clothing and sense of style. Moreover, she added that her mother inspired her to take pride in her unique fashion sense, which she said had a large influence on her desire to create innovative looks for the FAST runway. Following this vision, Rodriguez said her work for "Unique" is inspired by various fashion designers, including Watanabe's statement pieces, Iris van Herpen's technology-infused fashions and Moschino's unconventional collections.
Rodriguez said her collection was crafted with unconventional materials like balloons, paper mache, newspapers and more. Looking at everyday objects inspired her different choices in material, including objects like flower pots and tires, she said. The unconventionality of her design materials often resulted in discovering new ways to piece together the outfits and having to hand-sew materials together, which she said required her to use significant time and creativity to replicate her visions.
FAST model and fourth-year physiological sciences student Dina Alemayehu said Rodriguez used individual deflated balloons to form her runway look. Upon first viewing her outfit, Alemayehu said she was surprised by Rodriguez's unconventionality and attention to detail after finding out that Rodriguez had hand-sewn the balloons and used recycled materials to create chic designs for the entire line. After meeting with Rodriquez, she said admires the extensive creative visioning process and careful artistry that must have been used to put together the collection because she believes that the collection can serve as inspiration to other designers to create out-of-the-box designs.
"(Rodriguez) was determined to show that her line was different," Alemayehu said. "That you can diverge out and explore using different products to make your clothes."
While the pieces in the collection have their own distinct look, Rodriguez said she wanted to create an elegant and professional presentation of her designs by tying the pieces together through accessories. She said she chose uniform black stockings and pointy-toed shoes for the models to wear in order to create a sleek, familiar tie between the outfits.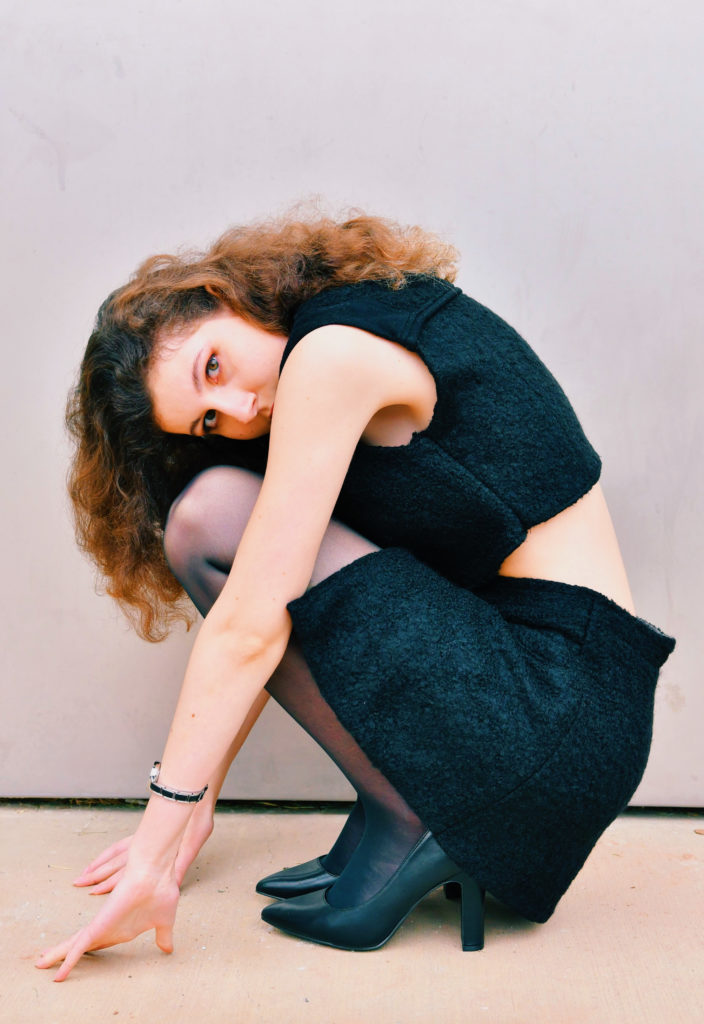 Colette Shvager, a second-year computational and systems biology student and model for FAST, said the thoughtful accessories for the collection's models created a connection between the diverse outfits on the runway. Shvager added that this helps to direct audiences to notice the outfit's cohesiveness and the features and detail of the outfits that tie the collection together.
"She wants her design to stand out," Shvager said. "So the shoes that we wear, all the accessories, all the extra details in the outfits would be the same for all the models, which would really make the like actual designs of the tops and the skirts (feel) very unified."
After finishing her second year as a part of FAST, Rodriguez said her experience designing for the organization has allowed her to gain more insight into the fashion industry, which she said has strongly contributed to her career growth and networking with a community of fashion-interested individuals. As the marketing director, Rodriguez said she likes to combine her imaginative, modern aesthetics and attention to detail in creating marketing campaigns for FAST's Instagram page and has been able to find her style in both marketing and fashion design. Her work for FAST has inspired her to potentially pursue a career in the fashion industry related to marketing and business strategy, to combine her academic experiences with her artistic visions, she said.
Looking forward to the opportunity to showcase her work, Rodriguez said "Unique" has a classy, elegant design, with simple and chic aesthetics to accompany the unconventionality of the materials used. From working with challenging fabrics to designing intriguing looks, Rodriguez said she is unafraid to step out of the box to create art that aligns with her imaginative visions. She said she hopes her collection encapsulates the self-expression and acceptance she has experienced through fashion for the runway audience.
"One message I want the audience to grasp when looking at it is: don't be afraid of standing out," Rodriguez said. "Don't be afraid of being judged on what you're wearing or if it looks out of the norm."