FAST 2023: Graduating designer duo combines fashion and function for post-apocalyptic society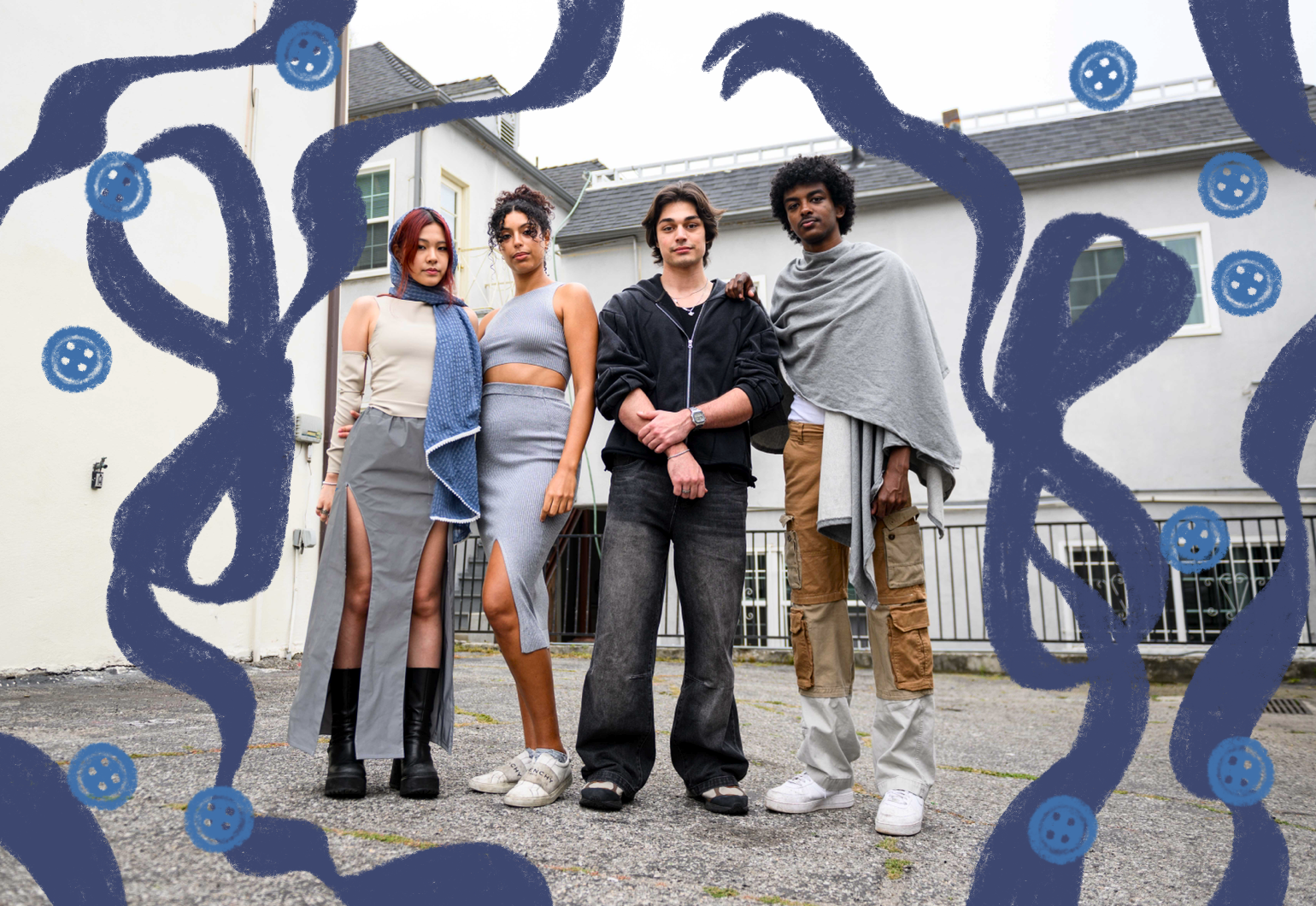 (From left to right) Yuyi Tzeng, Ella Schindler, Maxwell Manning and Caleb Adefris stand together. Schindler and Manning are collaborating on a collection for the Fashion and Student Trends at UCLA 2023 runway show Friday. (Photo by Jenny Xu/Daily Bruin. Photo illustration by Isabella Lee/Illustrations director)
Ella Schindler and Maxwell Manning are paying homage to the dystopian sci-fi world they love.
The annual Fashion and Student Trends runway show is set to kick off Friday at Pauley Pavilion, and designers Schindler, a fourth-year computational and systems biology student, and Manning, a fifth-year aerospace engineering student, have designed a nature-themed dystopian collection, titled "Epilogue," that they will also model themselves. While Schindler didn't think she was very good at other mediums of art, she said fashion was her connection to her creative side.
"Fashion for me was just … my creative connection to the world and how I would communicate nonverbally," Schindler said.
Schindler said she joined FAST after the COVID-19 pandemic as a way to explore her own interest in fashion and to connect with like-minded people. As such, Manning said his and Schindler's designs were inspired by their shared love for the sci-fi genre in film and literature, and thus, they will emulate a post-apocalyptic society where clothes have a function in human survival.
Schindler said she and Manning designed their line for three different environments – desert, forest and snow. The outfits were conceptualized with the environment in mind and to serve a tactical use, Manning said. Schindler said the underlying tone of the designs depicts what someone would wear if they had to rebuild their planet after facing an apocalyptic event.
"Dystopian sci-fi movies were always my heart and soul as a kid," Schindler said. "Now, I'm creating a real-life version of that with clothes."
The chosen materials resemble what would be useful in each particular environment, Manning said. He added that lightweight, netlike fabrics made out of natural fibers were used in the environments that seemed most appropriate. In sourcing the fabrics, Schindler said they upcycled and thrifted clothing and perused JOANN Fabrics for hours to get exactly what they needed.
The fabric choices also serve a purpose, as the fabric designed for the forest is meant to simulate camouflage, Manning said. For the desert, he said he thought about how people would adapt to a post-apocalyptic world, so he created sand-resistant looks that were heavily influenced by his favorite book, "Dune." Lastly, Manning said the snow outfits have thicker fabric to protect from the cold and capes to shield from snow and frost.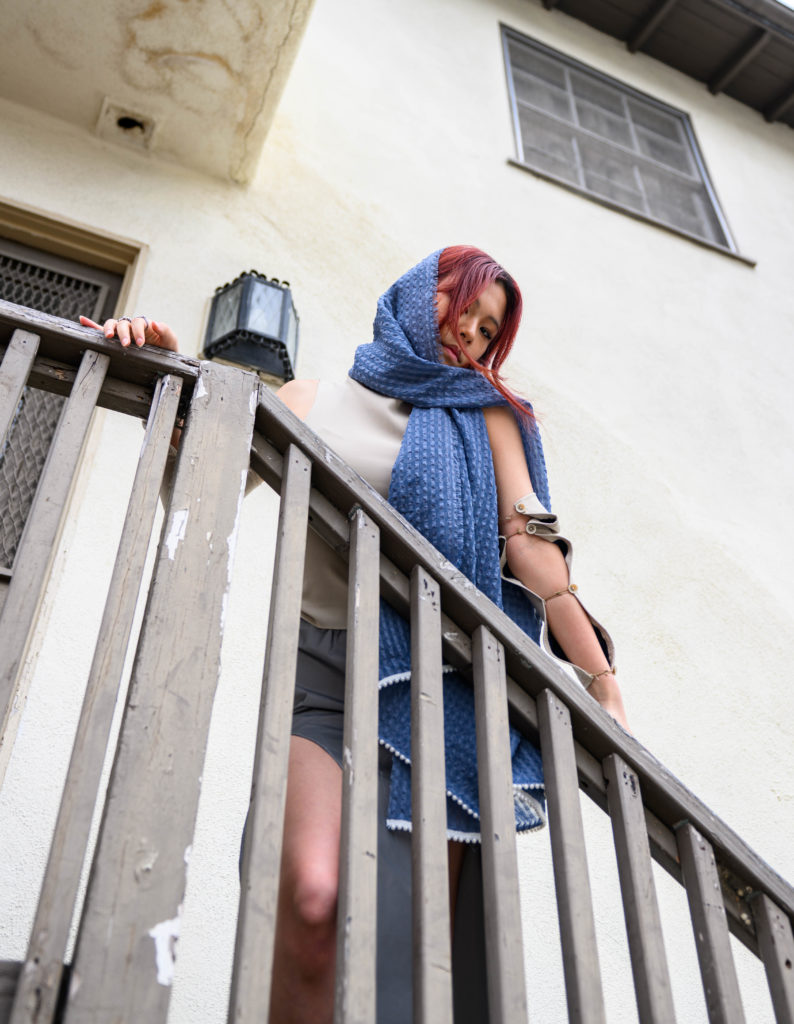 Growing up in London with a particular style, Manning said designing this collection helped him expand his knowledge and skillset as well as explore his creativity with more intent. But aside from personal development, he said the collection is also a tribute to those that helped him create it.
"It is an expression of thanks in a way, both for my friends and for UCLA and the opportunities that I've been able to pursue here," Manning said.
Dawn Ikezue, one of the models, said she joined FAST because of her longtime love for fashion. The third-year psychology student said she would always put on her own fashion shows with her siblings and has had an interest in the industry ever since. While this is her first time modeling on a runway, she said she is excited to take on the endeavor and execute Schindler and Manning's vision.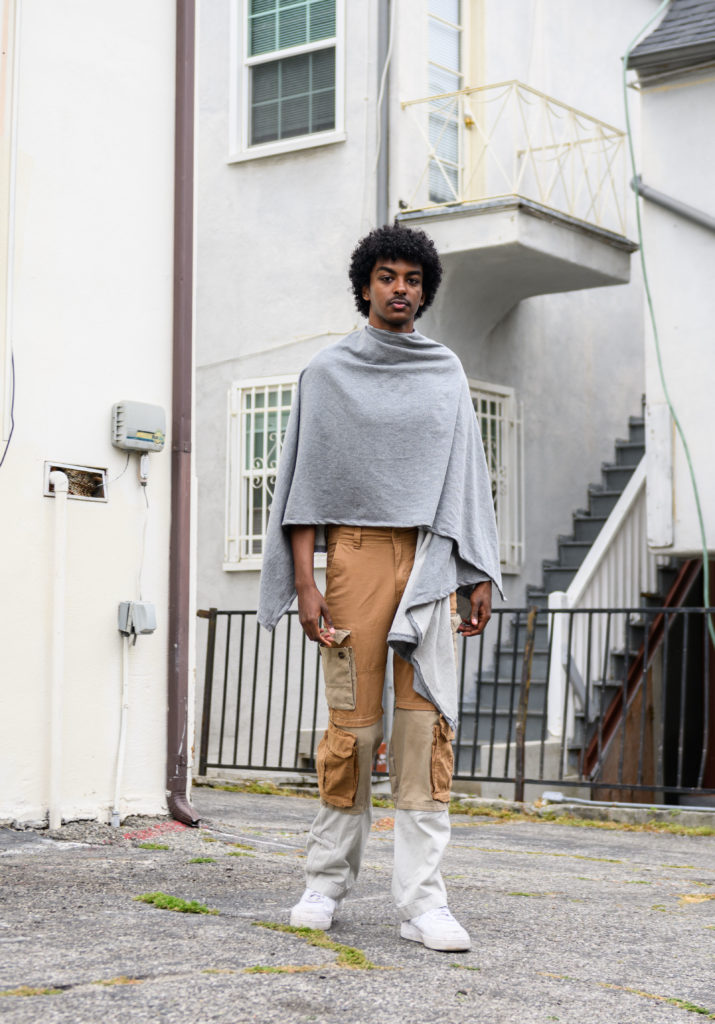 Third-year psychology student Caleb Adefris, another model in the show, said he started using fashion as a way to accentuate his personality after he was scouted to model for some commercial work his senior year of high school. As for his FAST look, when he first saw his desert design, he said he enjoyed the mismatched tone of the colors and how the entire ensemble looked simultaneously creative yet simple.
For the snow designs, Schindler said she will be modeling the outfit for women, which involves a fur-inspired cape and is meant to resemble a misunderstood hero character. Manning said he will be modeling the snow outfit for men, which is inspired by "Blade Runner." Because Schindler and Manning are best friends that are graduating this year, she said she wanted to spend their last year creating a unique memory by modeling their own collections together.
"It's a way to touch UCLA how UCLA has touched me. I'm giving something to them," Schindler said. "We're both graduating this quarter, and then Max is one of my best friends. So I get to say I've done that with my best friend – that's so sick we created a fashion line."