FAST 2023: Gabriel Discipulo returns to the runway show with subversive fashion line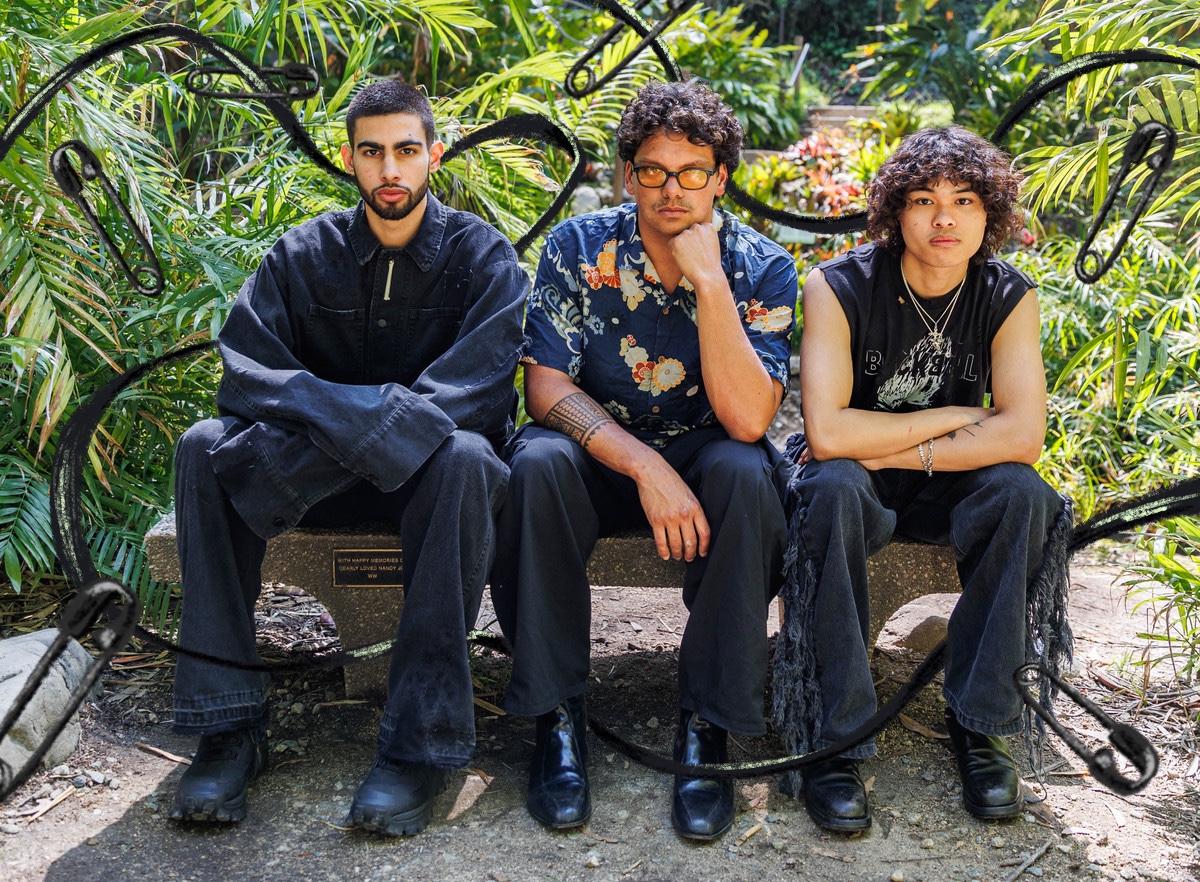 (From left to right) Marcus Vidaurri, Gabriel Discipulo and Robby Wong sit on a bench together. Discipulo, a fourth-year sociology student, will be bringing a new collection, titled "PCH CARFIRE" to the Fashion and Student Trends at UCLA runway Friday. (Photo by Grace Wilson. Photo illustration by Amber Lee)
Cohesion and Californian fashion collide in Gabriel Discipulo's latest collection.
The fourth-year sociology student's creations will be returning to the Fashion and Student Trends at UCLA runway Friday. Discipulo said he was initially exposed to the fashion industry by his father, who worked in clothing development and production and taught him the rudiments of design. Discipulo said his upbringing in Santa Cruz has also influenced his work, especially his upcoming menswear line, titled "PCH CARFIRE," for FAST 2023.
"It's pretty counterculture, … kind of strange, … and it's not until I moved out of Santa Cruz that I realized that that's not really normal," Discipulo said. "So I feel like I express some of that in my design. I think it gave me this need to always try to approach something from a different angle or look at something in a new way."
Inspired by personal experiences, Discipulo said the collection is an antithesis of the idealized Californian summer. It embodies the classical art theme of memento mori, he said, suggesting that even in an idyllic place like Southern California, things can go wrong. Discipulo said he created distorted, darkened versions of iconic Los Angeles styles such as blue denim and Western flair. Despite the cynical interpretation, Discipulo said he aims to convey a positive message of mindfulness and appreciation of the present moment.
Reflecting on last year's FAST runway, he said his biggest takeaway was to prioritize cohesion between each look. Discipulo said his previous work was experimental and less structured, whereas this year, he focused on identifying a concept and then breaking it down into smaller elements applicable to each individual outfit. By doing this, he said he was able to create a sense of continuity throughout the line, thereby connecting each piece to the larger whole. In addition, Discipulo said his presentation will be complete with six looks, which is one less than last year, to ensure each piece receives the level of detail and attention it deserves.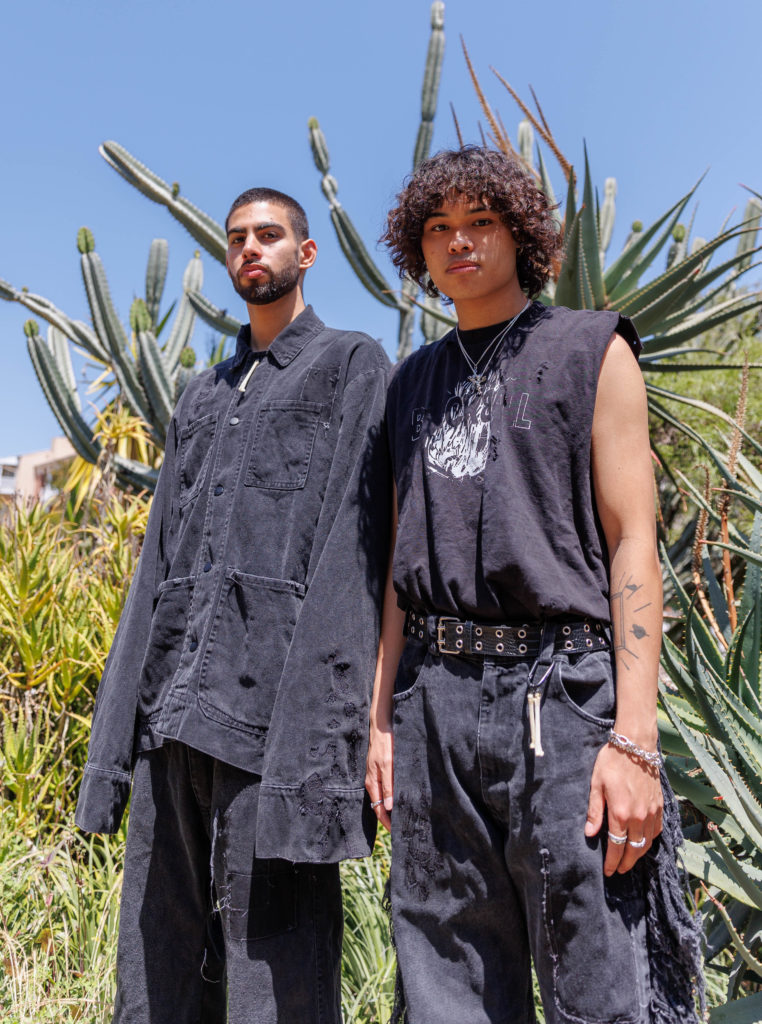 Returning to the runway as one of Discipulo's models is Marcus Vidaurri, a fourth-year mechanical engineering student. Vidaurri said his outfit is a darker approach to streetwear – a matching dark denim set of flared jeans and a long-sleeved overshirt texturized with a distressed finish. Vidaurri said the look, which is characteristic of Discipulo's craftsmanship, carries a distinct sense of durability and weight.
"Everything feels very powerful, and so trying to convey that through the walk is definitely going to be a priority," Vidaurri said. "Every decision he makes for this world he's creating is intentional, and I think it all works to come together to create this feeling."
Known for his commanding walk, fourth-year sociology student Robby Wong said he will also be modeling for Discipulo. Wong said the urgency of his walk complements the macabre aesthetic of the clothing line and his primary objective is to showcase the designer's art in motion. Wong said the FAST runway is an important opportunity for lesser-known creators to share their artistry with the world and have their talent recognized.
Another valuable characteristic of the show is its ability to provide productive professional relationships, Discipulo said. The fashion industry is less structured than other fields, he said, and a designer's success is heavily reliant on the connections they are able to form. At last year's FAST runway, Discipulo was introduced to fellow designer and second-year business economics student Ethan Cortez, and he has since partnered with him on several projects.
Ultimately, Discipulo said he wants to share his ideas and passion for design with the world. He said that as a result of the subversive nature of his collection, his pieces should elicit an initial feeling of shock from the audience. Nevertheless, his designs are subjective and open to individual interpretation. He said that by participating in projects such as FAST runway, he is furthering his career in fashion with the long-term goal of becoming a creative director or the lead designer of a brand.
"I Iove design, I love art, it's really what makes me feel like me," Discipulo said. "In the industry like this, it's never that straightforward. … You keep working and putting in the hours and the reps and your path becomes a little more obvious as you keep going."