Reselling secondhand styles, UCLA Vintage captures Bruin nostalgia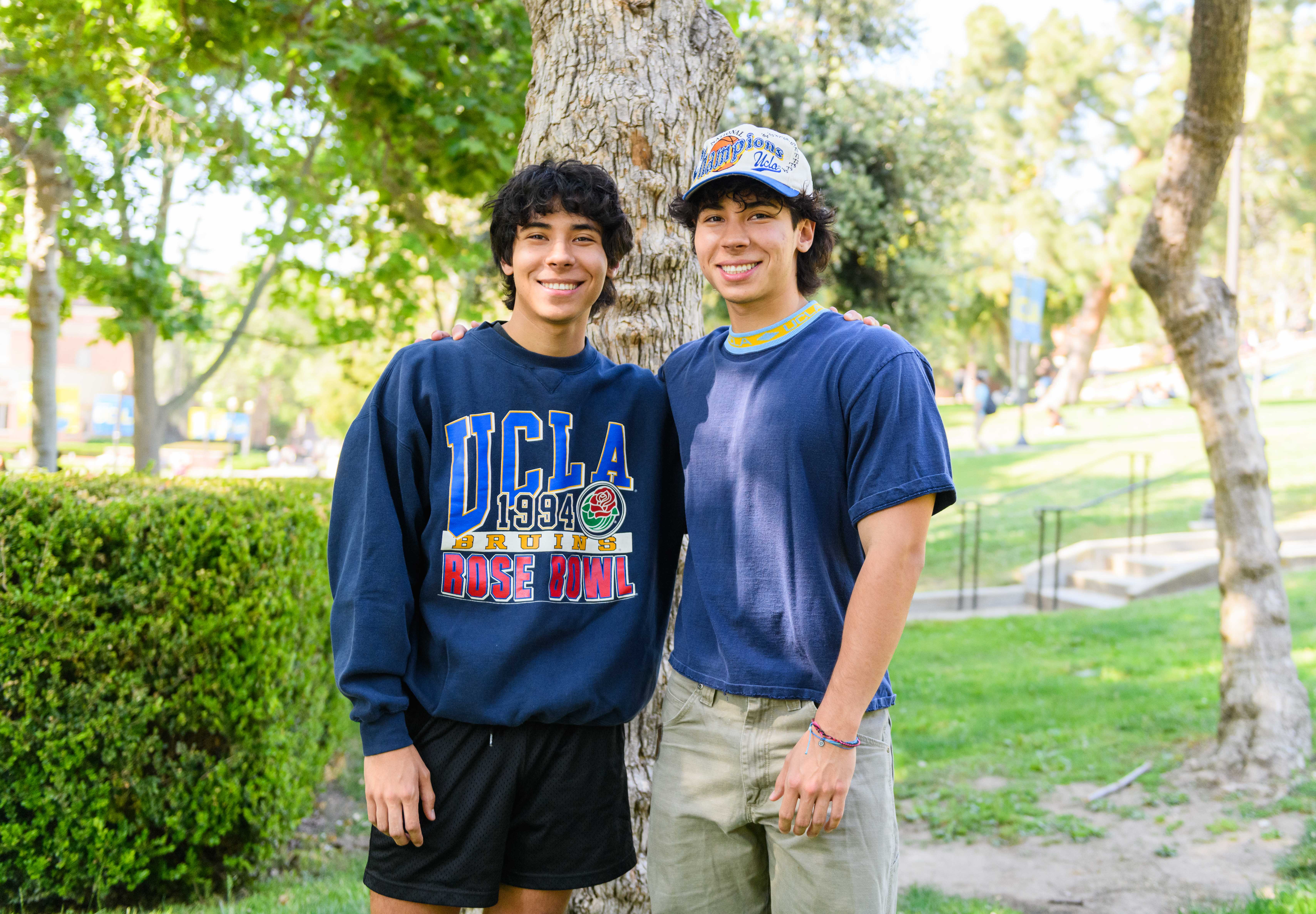 Donning items from UCLA Vintage, founders Jake (left) and Max (right) Santaniello stand in front of a tree. The second-year twins started the shop because of their love for vintage clothing. (Alice Yang/Daily Bruin)
UCLA Vintage is back in style.
Owned by twin brothers Jake and Max Santaniello, the UCLA Vintage shop curates a collection of second-hand clothing and accessories that embody the style passed down through former generations of Bruins. Featuring everything from nylon satin jackets that capture the essence of the '80s to split-design baseball caps that evoke nostalgic memories of the '90s, the store resells a diverse array of vintage pieces.
"I would describe it as … the coolest stuff of all time that I want to make more accessible to UCLA students," said Jake Santaniello, a second-year business economics and cognitive science student.
Jake said it was a love for vintage clothing that became the inspiration they needed to form and begin promoting the brand. Before opening up the business, he said he and Max would sell all types of vintage clothing on platforms such as Grailed. Upon the realization that a friend's brother ran the counterpart shop USC Vintage, Jake said they revived the previously inactive UCLA Vintage Instagram account.
Max Santaniello, a second-year psychobiology student, said the brothers acquire their collection of vintage clothing through a variety of means, including eBay. Max added that alumni occasionally contribute by shipping old items to UCLA Vintage, with the parents of current students chipping in from time to time. In other cases, Max and Jake also obtain pieces by approaching vendors at flea market events – whom they strive to foster strong relationships with – to ask about UCLA-specific merchandise, Max said.
"Each piece is super unique – so when we find something, it's featuring over 20 years ago, which means we'll probably never find that same exact piece again," Max said. "Because we post everything individually on our Instagram before we sell it, everything gets its own spotlight before it's sold to a customer."
Once a piece is ready for sale, Max said they begin the auction process, where one of the business partners will manually respond to every incoming Instagram message, notifying potential clients of the highest bid. Jake said in addition to online transactions, they strive to plan as many in-person events – including a recent stand at First Thursdays – as possible in order to engage with customers directly and converse about the history behind their pieces.
While the store's success in bringing in customers has brought immense satisfaction to the Santaniello brothers, Jake said running the store has been rewarding in other aspects, as well. Driven by school spirit and pride, he said he enjoys donating clothes to friends, who often eagerly wear the merchandise to game days. On the other hand, Max added that his passion for the store simply aligned with his general interest in vintage clothing.
"I don't really do it for the fact that I'm trying to run a successful business," Max said. "I actually really like all the pieces I sell. … It doesn't even feel like I'm really running a business – it's more just sharing a hobby of mine with other people."
Second-year molecular biology student Noah Behrendt said his friends, Jake and Max, have always harbored a love for this niche facet of fashion – and moreover, have developed a community of friends from the love. Behrendt said UCLA Vintage has helped connect individuals within the Bruin community, UCLA Vintage to a larger network of similar businesses in Los Angeles, and even just friends to each other. In time, he and the Santaniello brothers all came to feel a sense of belonging that stems from UCLA Vintage, Behrendt said.
As the store continues to bring people closer together, Jake said he is excited about its expansion – particularly to an in-person market located in Ackerman Union. Meant to be a space for Bruins to meet new people and spend time together, the shop will hopefully be an opportunity for students, parents and alumni alike to peruse the merchandise, Jake added. In the long run, Behrendt said he could see UCLA Vintage's future potential to expand on a much larger scale.
"The promising part is that you could see this being passed down to the next generation of students when we graduate and then onwards," Behrendt said. "This company will last a long time."
Wang is the 2022-2023 Opinion editor and an Arts, Enterprise, News, Photo, Quad and Sports contributor. She was previously an assistant Opinion editor.
Wang is the 2022-2023 Opinion editor and an Arts, Enterprise, News, Photo, Quad and Sports contributor. She was previously an assistant Opinion editor.