Breaking down UCLA women's soccer's odds at replicating its success in 2023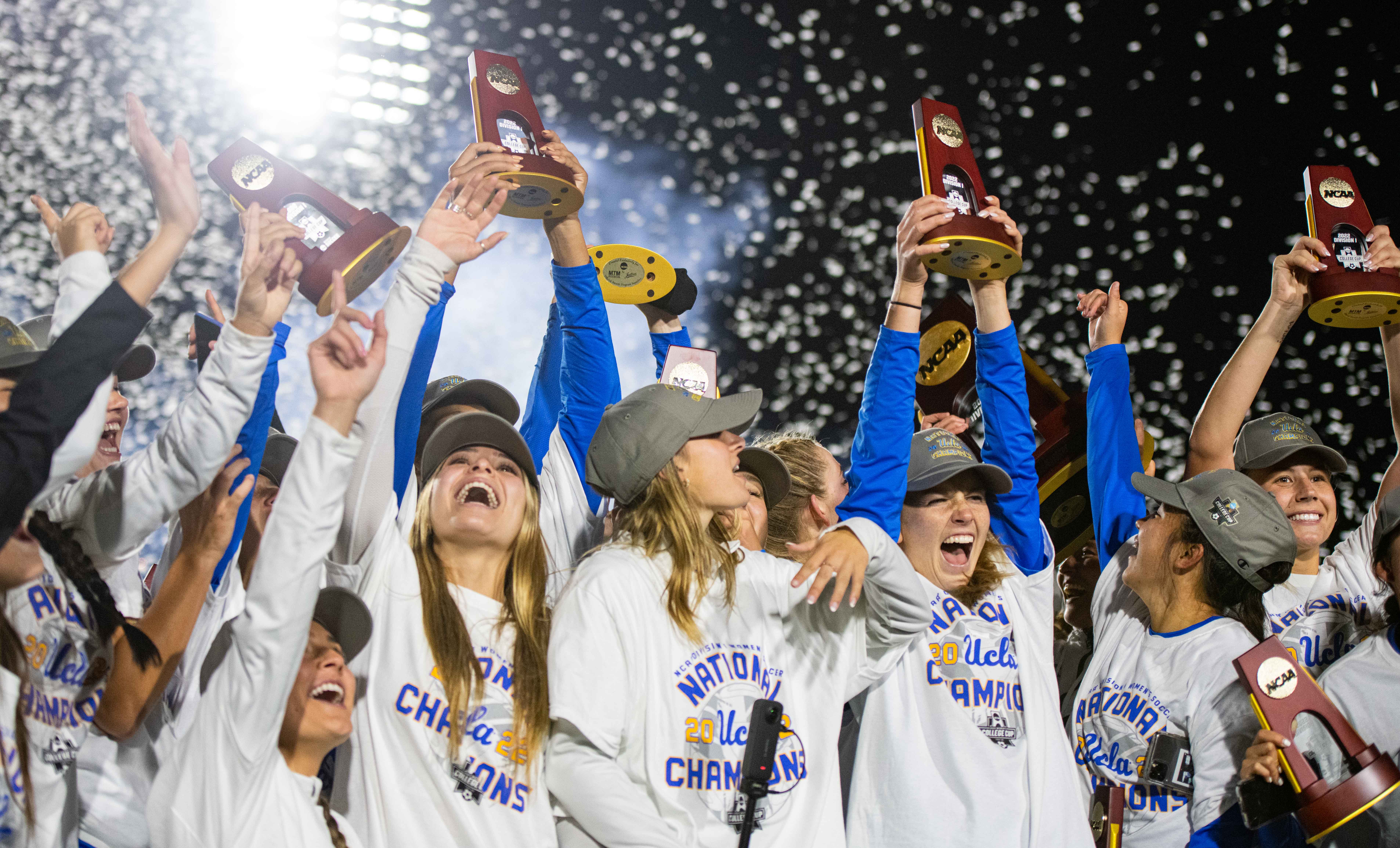 Members of UCLA women's soccer hoist their trophies after winning the national title. This came after overcoming a 2-0 deficit against North Carolina. (Christine Kao/Daily Bruin staff)
This post was updated May 25 at 10:03 p.m.
It's difficult to recreate a formula that generated a national championship.
The Bruins had a perfect storm of newcomers, fresh coaching and veteran experience to guide them to their second-ever title.
Will UCLA women's soccer be able to perfectly replicate last season? Most likely no, but that doesn't mean the Bruins can't find similar success.
On the foundation that coach Margueritte Aozasa has built for the Bruins in her first year at the helm, UCLA has the tools it needs to remain at the top again next season.
This is where the team currently stands.
Who is leaving
UCLA is set to lose several key players who frequently started last season. These athletes were widely spread across the field, leaving several different openings to be filled.
Arguably the squad's biggest loss is the departure of graduate student goalkeeper Lauren Brzykcy, aptly nicknamed "Brick Wall Brzykcy." As one of the toughest goalies in the Pac-12 with five years of playing time with the Bruins, it was hard for any forward to put a goal past her, as she allowed an average of 0.65 goals per game. Whoever steps up to replace Brzykcy and tend to UCLA's goal has big shoes to fill.
Graduate student Madelyn Desiano, a versatile defender who could both score and play multiple positions, will also be departing. Desiano proved her adaptability, playing both left and right back at one point for the Bruins. Desiano assisted all over the field, defending the goal while also running up to create chances for goal-scorers and occasionally even scoring goals of her own – such as her left-footed shot into the corner against Alabama to send the Bruins to the championship last season.
The Bruins are losing another veteran player and playmaker in graduate student midfielder Maricarmen Reyes. Reyes was not only a centerpiece of the Bruins' midfield but also a goalscorer for the Mexican national team and now plays for Las Tigres. This move comes after capping off a five-year run with UCLA that culminated in her overtime go-ahead goal against North Carolina to give the Bruins their national title.
Who is staying
Despite losing three vital players in its title success, UCLA women's soccer is returning most of its starters from its 2022 championship season.
Reilyn Turner is the dynamic junior forward whose header saved UCLA in the waning moments of the national championship to keep her team's title hopes alive. Returning for her senior season, this playmaker is sure to make more highlight reel-worthy goals. With a combination of speed, agility and fearlessness that tied her for the squad's most goals last season, Turner will spell out more success and excitement for Bruin fans.
Sophomore forward Lexi Wright doesn't receive as much credit as she should for her clutch goals. Although Turner's clutch goal in the national championship ensured an eventual title for the Bruins, the foundation for those events was laid out by Wright. Trailing North Carolina by two with barely 10 minutes left, it was Wright who rebounded off of a shot from senior midfielder/forward Sunshine Fontes to bang in the Bruins' saving grace. Wright has proven herself to be a speedy and technical player, and I predict even more success from her next season.
Fontes didn't make her name known until last season, as she stepped up big time to tie Turner in goals scored. Fontes has incredible control of the field as well as keen ability to read plays and insert herself where needed to score. Not only did she tie Turner for scoring leader with 11 goals, but she also notched eight assists – demonstrating her ability to create opportunities for her teammates. In what will likely be her final season with the Bruins, Fontes will continue to progress after hitting her stride last season.
Sophomore defender Lilly Reale is arguably the best defender in collegiate soccer. Named the Pac-12 Defensive Player of the Year and Honda Sport Award winner, nothing gets past this center back. Her ability to clear the box contributed in large part to UCLA's 0.55 goals against average, its lowest in eight years. The defender has already been called up to serve playing time for the U-23 national team, making a name for herself on the national stage as well. Alongside fellow sophomore defenders Jayden Perry and Quincy McMahon, Reale will keep the Bruins' goal well-defended, making the next goalkeeper's job much easier.
Not many players start every single game in their first season. Arguably fewer keep their composure in serving the perfect corner kick to tie a championship game in its final seconds. Freshman midfielder Ally Lemos, however, did both. A cool, calm and collected player with wisdom and insight beyond her years, Lemos proved why Aozasa started her in every game last season. With only one season behind her, Lemos will assuredly create more chances for the Bruins, particularly in her creation of set pieces to score goals off of.
Who to watch
In addition to welcoming back nearly its entire championship-winning squad, UCLA boasts a roster full of depth, featuring many incoming top recruits and players who hold national playing experience.
With Bryzkcy gone, all eyes are on who will be the Bruins' last line of defense. Out of the remaining three goalkeepers on the roster, freshman goalkeeper Neeku Purcell has the most playing time and only allowed a single goal in the minutes she played. As one of the top-25 recruits from her freshman class, Purcell already has the composure and experience necessary to play such an instrumental role, recording multiple shutouts during her time playing for the U.S. National Team during the U-20 2022 CONCACAF tournament.
UCLA is also receiving some of the top recruits in the country as part of its 2023 freshman class – one being defender Milla Shafie. Another gap to fill on the team is that of Desiano, who usually played the counterpart to McMahon. This means the Bruins will need a player on the right side who defends but can also play up the field more offensively and help create goal opportunities. Shafie was listed by her high school as 5 feet, 4 inches tall, meaning two things: She likely won't play as a center back, and she is probably a fast runner. Shafie could be a potential starter for Aozasa and take over right-back duties.
Final thoughts
The Bruins, despite losing various important veteran players, have the roster depth necessary to recreate last season's championship run. With most of the talented starters returning and a deep bench that Aozasa can pull from, more success is to be expected from this squad.