'The masculine machine': Student theater production 'Sharty' explores vulnerability in male spaces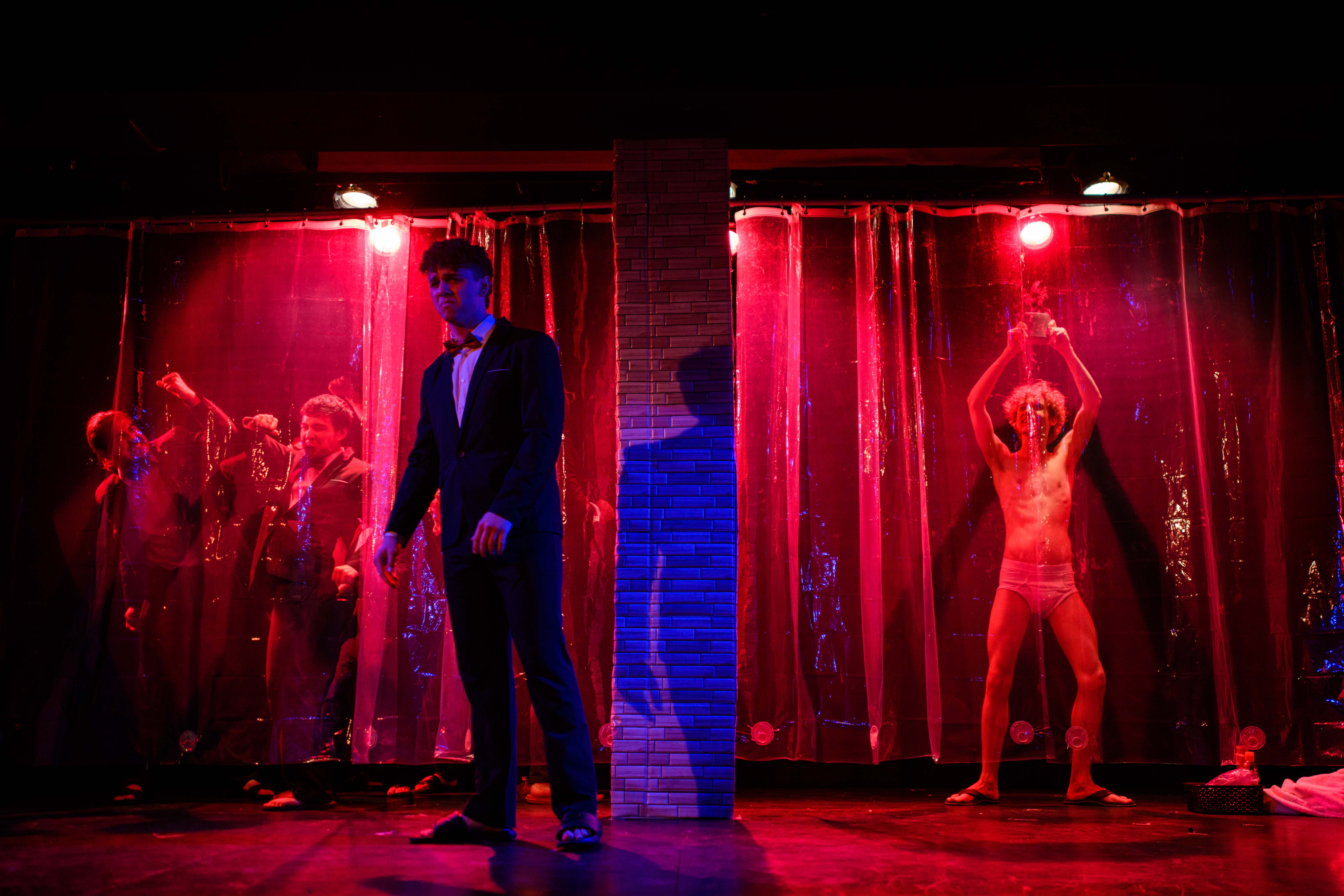 The cast of "Sharty" performs on a red and illuminated stage. The play will run from May 19-21. (Nicolas Greamo/Daily Bruin senior staff)
"Sharty"
May 19 - 21 
1330 Macgowan Hall
Free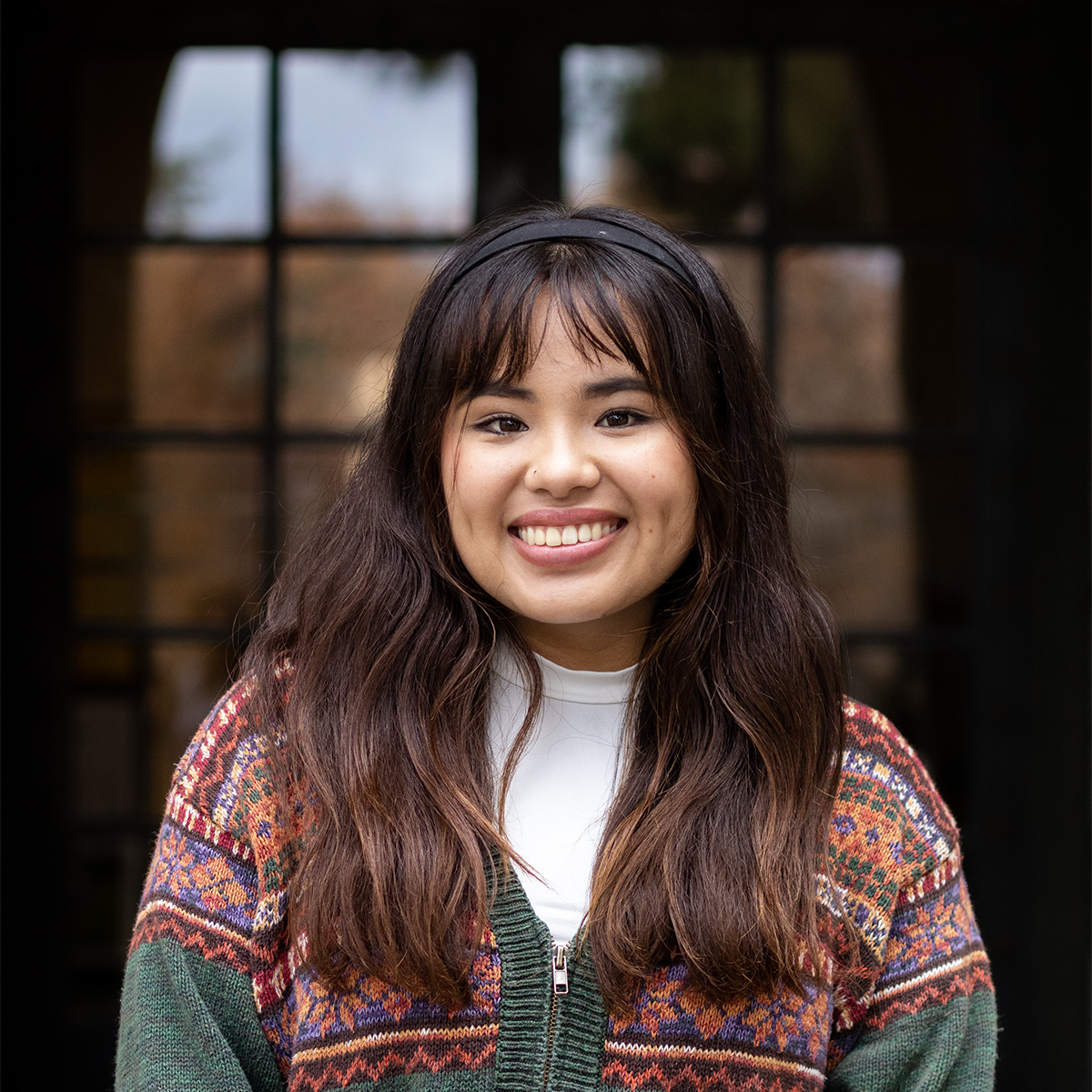 "Sharty" is turning on the nozzle for a soirée of social hierarchy and masculinity.
Untitled Theatre Company's production of "Sharty" will be partying on the stage in 1330 Macgowan Hall beginning Friday. Written by third-year theater student Preston Schoenherr, the coming-of-age comedy follows college freshman Douglass as he meets an exclusive group of tuxedo-wearing shower partiers in his dorm's communal bathroom. Schoenherr said he aims to explore masculinity and male relationships through Douglass' attempt to craft the perfect playlist and officially join the "Sharty."
"The part that's vaguely based on true events is that there were these two guys that I met in the showers in my dorm last year through the music that I played," Schoenherr said. "Then, we would coordinate when we would all go shower so that we could listen to music at the same time."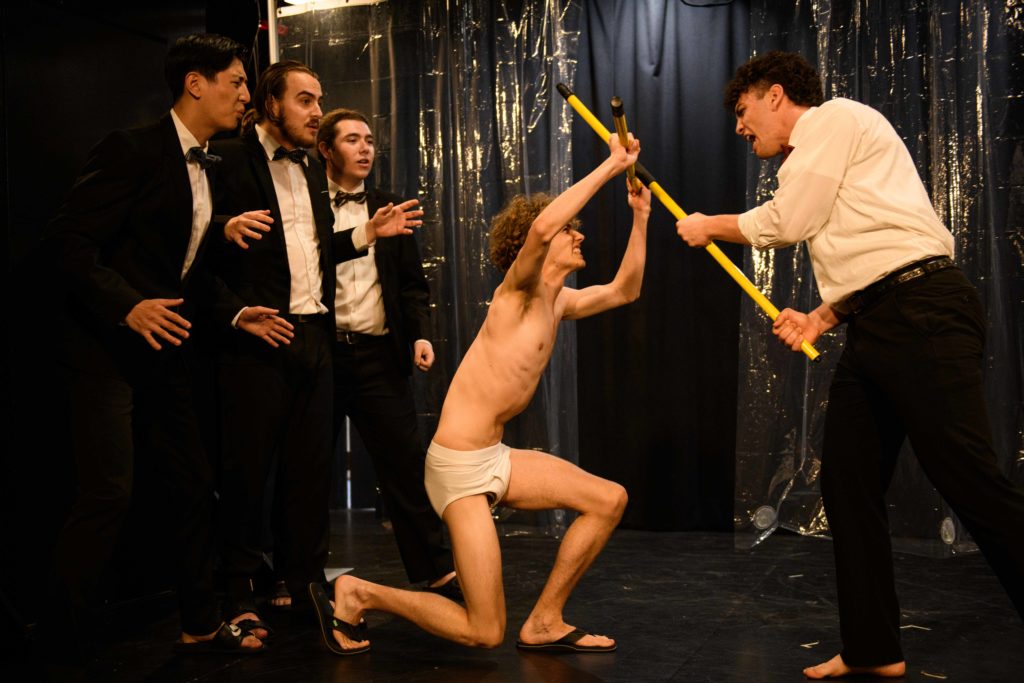 [Related: 'Spamalot' aims to find 'Holy Grail' with irreverent musical rendition]
As a freshman in college, Douglass begins his journey socially isolated and struggles to make meaningful connections with his peers, Schoenherr said. It isn't until he gains the approval of the Sharty community through his music taste that Douglass begins to develop a sense of social acceptance, Schoenherr said.
While the eight boys within the group remain dressed in tuxedos, Schoenherr said Douglass wears minimal clothing throughout the play. He said he decided on the contrast of wardrobes to convey a metaphor about vulnerability, particularly in male spaces such as a communal shower.
"He's emotionally available," Schoenherr said. "He's willing to talk with people about his feelings, but he learns that he has to hide and cover up and clothe that part of himself if he wants admission to this group."
Director and third-year theater student Tristan Brousseau said Douglass' struggles are ones that many students also face, specifically those who are freshmen and those who were impacted by remote school as a result of the COVID-19 pandemic. While so many strive to find their place among a campus of thousands, Brousseau said this can lead to feeling coerced to put on a rigid, socially acceptable facade – simply to be a part of a larger circle.
"A lot of other social structures, like fraternities, have that appeal as organizations that can guarantee to being a part of something," Brousseau said. "And definitely not all of them are like this, but within a lot of fraternity and fraternitylike organizations, there's definitely a trend toward conforming to a specific vision of masculinity – one that doesn't necessarily leave room for vulnerability or for other wide suite of emotions."
With music being one of the driving elements of "Sharty," Brousseau said he and Schoenherr listened to alternative hip-hop artists such as MF DOOM and Tyler, The Creator to help with character and scene building. Kung Fu movies, namely "Kung Fury" and "Kung Fu Hustle," were also a source of inspiration behind the limited fight choreography that takes place, he said.
Another core theme that shows within the play is father-son dynamics, Schoenherr said. All three main characters, he said, face a certain paternal pressure to meet the specific college expectations laid out by their respective fathers, whether they be social, academic or professional.
"It's very much about expectations and trying to meet them and the way that affects how we treat the other people in our lives and ourselves, which I think is something that everybody of all genders experiences in college. But I wanted to examine specifically the masculine machine of it all," Schoenherr said.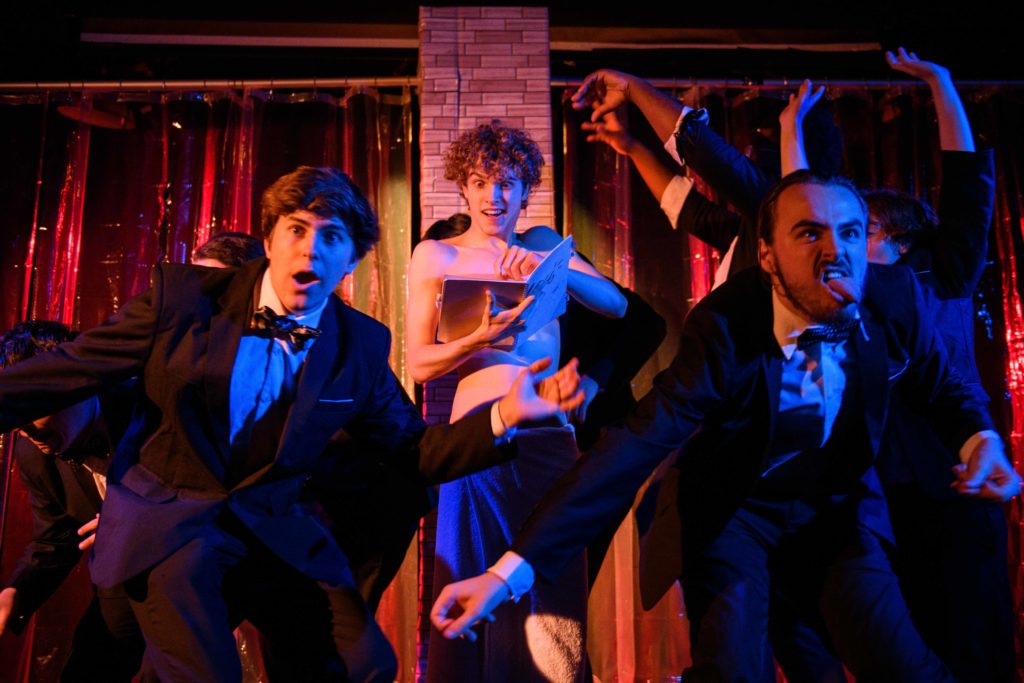 [Related: Student play 'The C Word' explores femininity through visual art, surreal humor]
For first-year theater student and lead actor Zach Hoffman, playing Douglass required an in-depth examination of his character's psyche to justify his actions, he said. For example, Hoffman said Douglass abandons his sole sincere friendship to instead join the Sharty boys.
"I had to really explore what does it mean to belong to a community and how important is that community rather than individual connections," Hoffman said. "It was difficult at first trying to figure out why he would conform to it, but there's so much pressure on him, especially from his parents, to make sure that he's succeeding and he has a group – a sense of belonging. He just couldn't figure out that you can belong with one person. It doesn't have to be a whole group."
Doubling as the production's lighting designer, Brousseau said his approach was to emphasize the distinction between the experiences felt by the characters and those felt by the audience members through the stage's atmosphere. He said another key aspect of the lighting of "Sharty" was its bold color palettes filled with hues of blue and red to portray the party aspect of the play's narrative.
Despite the relatable and honest subject matters discussed in his script, Schoenherr said he does not want to direct audience members on a path of black-and-white thinking. He said he ultimately wants them to leave the performance with an understanding of the complexities of the male world and to see how Douglass' situation can pertain to their own lives.
"I don't like to write things that have a clear or explicit moral to them," Schoenherr said. "I'm not here to write fables. I don't want to tell people how to think or how to live. … I just want people to draw their own conclusions about what it means about your own relationship with your parents, your own relationship with your friends and your social circles."
Sajor is the 2022-2023 theater | film | television editor. She previously served as an Arts contributor from 2021-2022. She is a second-year communication student.
Sajor is the 2022-2023 theater | film | television editor. She previously served as an Arts contributor from 2021-2022. She is a second-year communication student.