Nelson's Noggin: With window closing, title time is now for UCLA softball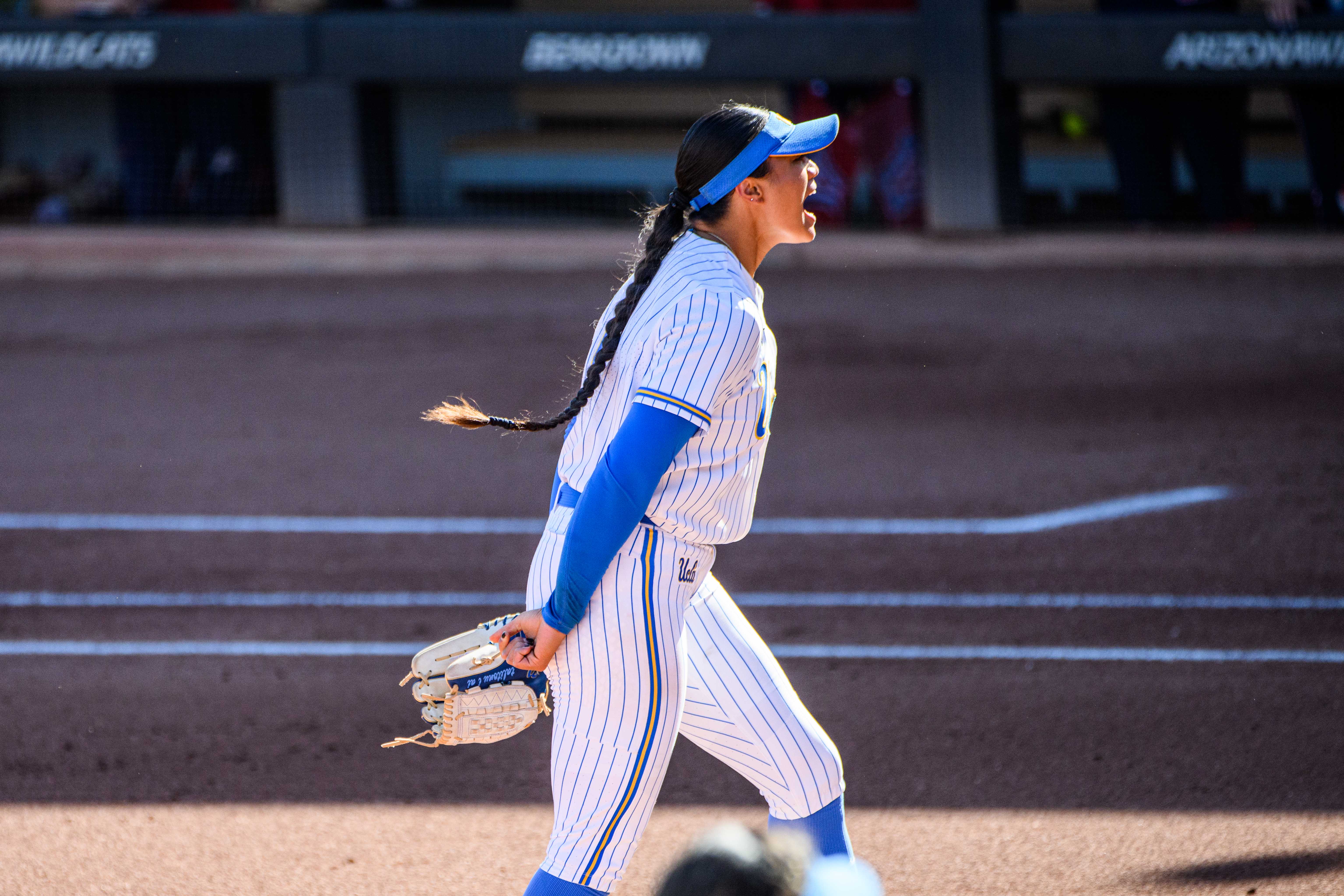 Redshirt senior pitcher Megan Faraimo of UCLA softball yells after getting an out. Faraimo has been the Bruins' main ace for two seasons, currently ranking No. 12 in the nation for strikeouts and No. 2 in wins. (Nicolas Greamo/Daily Bruin senior staff)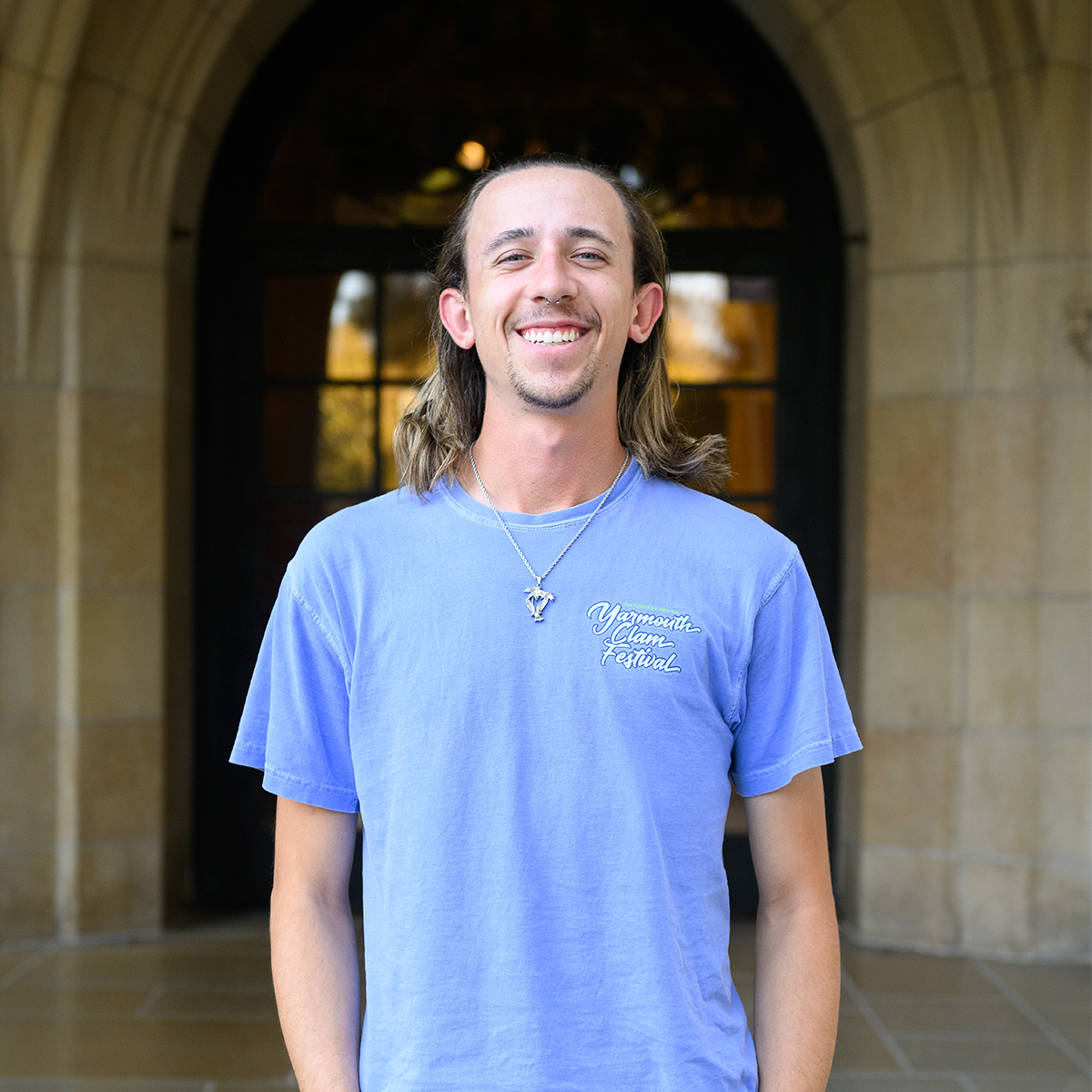 This post was updated May 19 at 4:25 p.m.
The perfect storm comes along every now and then.
It entails a potent mix of coaches and players as well as a blend of opportunity and execution. And, just maybe, a sprinkle of luck.
UCLA softball has exactly those ingredients, putting it in position to pull off true greatness should some fortune come its way. Many teams before it have squandered such chances, ultimately failing to achieve what was within reach.
The Bruins would do well not to join them. This storm is fleeting, and the next one is far from visible.
The Pac-12 regular-season champions enter the NCAA tournament coming off a stellar campaign even by their lofty standards, racking up their most conference wins since 1999 and winning all eight Pac-12 series for just the second time since the turn of the millennium.
Carrying the Pac-12 coach, player, pitcher and freshman of the year, the Bruins' roster reads like an all-star team. They've consistently delivered against ranked opponents and in tight situations – they're the closest they've been to perfection since the title-winning 2019 squad.
And if they don't return to the pinnacle in 2023, it will be a steep uphill climb to come close again.
But batting lineup turnover should be of little concern. The Bruins have responded remarkably well to losing their top three offensive contributors from a season ago, improving from No. 13 to No. 2 nationally in team batting average.
Graduate student outfielder Aaliyah Jordan and redshirt senior utility Anna Vines are the only starting position players not projected to return. While they've carved out key roles as a slugger and defensive wall, neither sit in UCLA's top three when it comes to batting average.
It's in the circle where the all-or-nothing feel of this team is truly apparent.
Redshirt senior Megan Faraimo and sixth-year Brooke Yanez form one of the nation's top one-two pitcher punches, possessing ERAs of 1.33 and 2.02 while holding opposing batters to .171 and .179 clips, respectively.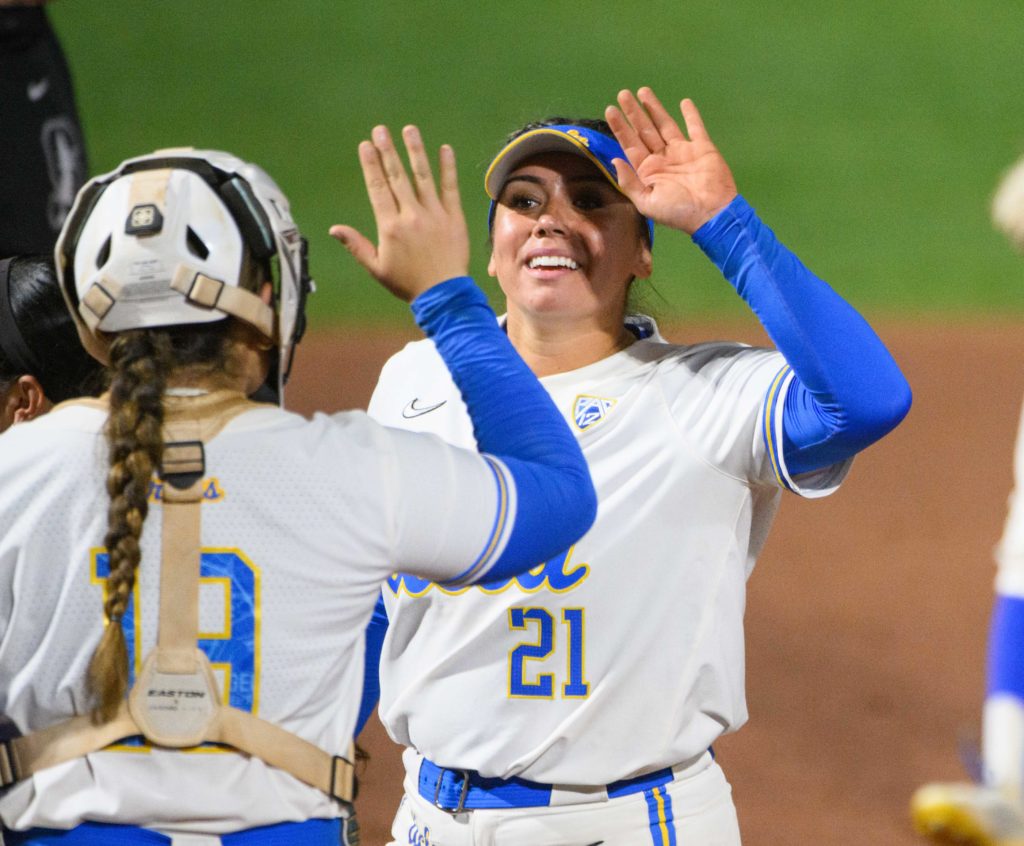 But the duo is also one of the oldest. Both Faraimo and Yanez are in their final years of eligibility, and after the last exit of the 2023 Women's College World Series, they'll be out of the picture.
This is also the final hurrah for graduate student pitcher Lauren Shaw. Despite sitting at the bottom of the depth chart, she carries a valuable veteran presence and experience. Losing her in addition to Faraimo and Yanez only rubs salt in the wound.
That leaves freshman Taylor Tinsley as the only current Bruin pitcher set to return for next season. The class of 2023's No. 5 recruit Kaitlyn Terry will arrive in the fall as support, but even then, UCLA will have to rely on Tinsley's small sample size and an unproven newcomer to carry its staff.
Rarely has there been a period of instability for this historical pitching powerhouse. Before Faraimo was Rachel Garcia, before Garcia was Ally Carda and so forth. Those aces each overlapped at one point or another and were able to pass the torch effectively, which has also been the case with Faraimo and Tinsley.
Coach Kelly Inouye-Perez has lauded Tinsley as the future, and her 1.47 ERA and 1.08 WHIP through 13 starts show promise. Mentorship from an entrenched star helps, but Tinsley will need a breakout sophomore season to put UCLA in the winning position that her predecessors did.
That being said, Inouye-Perez likely will explore the transfer portal to help bridge the gap. Unless those acquisitions hail from regular WCWS contenders though, the Bruins will be considerably lacking in experience when it matters most.
Strength in the circle is critical come June. Inouye-Perez would be the first to say that, as her pitchers have allowed a combined 25 runs in the games that ended both UCLA's 2021 and 2022 campaigns.
The Bruins had to settle for imperfection each of those past two seasons, unable to cash in on deep postseason runs – twice running into Goliath without a David-like effort to push them over the top. They followed with a strong campaign in 2022, and in that same vein, have outdone themselves thus far in 2023.
Oklahoma – that very Goliath – is still stomping around, and UCLA may have to settle once again. But with major pitcher turnover soon to come, the stakes are different.
Coming up short again will cost them.
Nelson is currently an assistant Sports editor on the softball, men's tennis and women's tennis beats. He was previously a contributor on the men's tennis and women's tennis beats.
Nelson is currently an assistant Sports editor on the softball, men's tennis and women's tennis beats. He was previously a contributor on the men's tennis and women's tennis beats.