UCLA alumnus Alivia Brown inspires with anthropology YouTube channel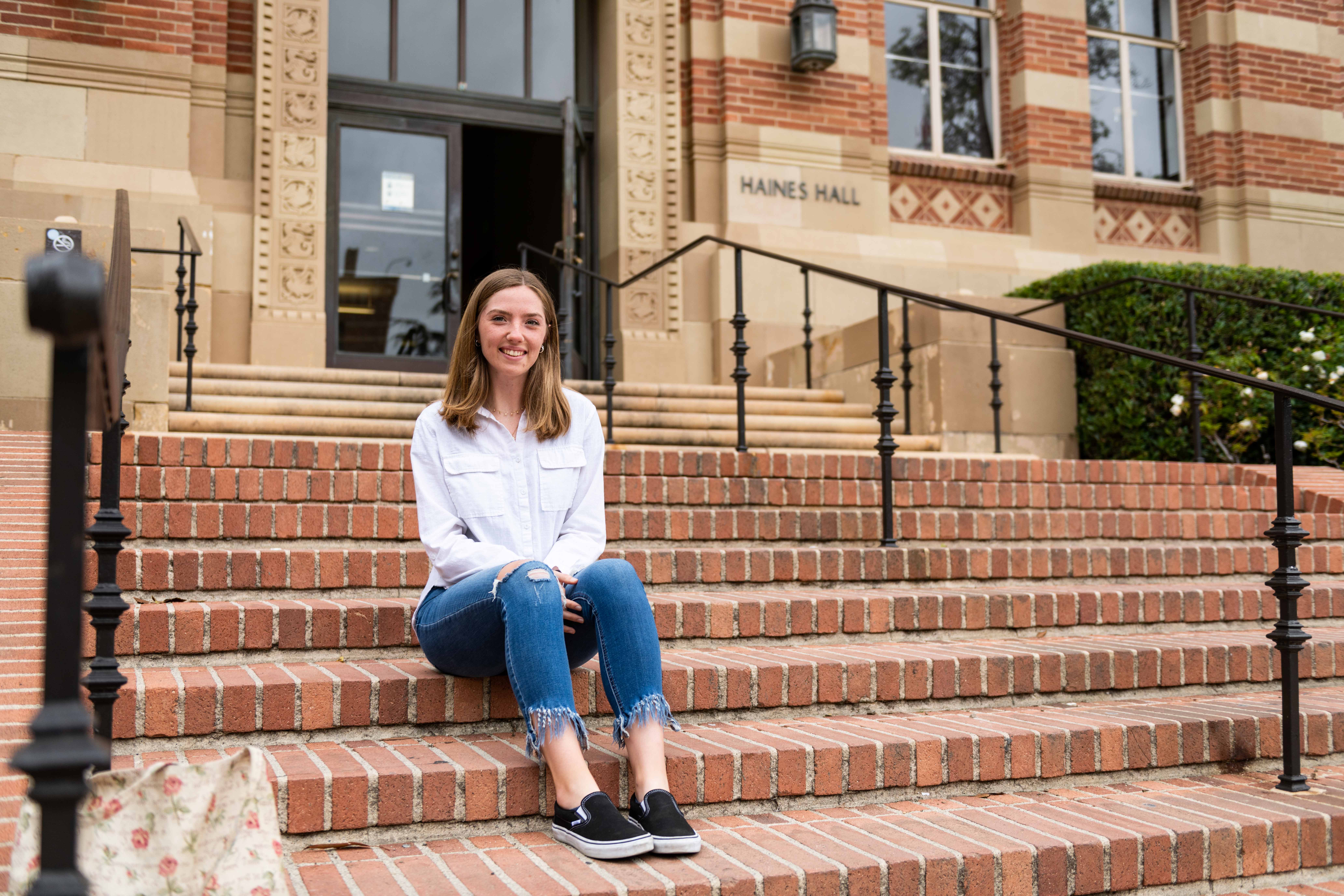 Alivia Brown sits in front of Haines Hall. The alumnus runs "Anthropology by Alivia," a YouTube channel where she creates videos related to anthropology and career advice. (Myka Fromm/Daily Bruin)
Correction: The original version of the main photo caption for this article incorrectly referred to Alivia Brown's YouTube channel as "Anthro by Alivia." In fact, it is called "Anthropology by Alivia."
This post was updated May 17 at 3:46 p.m.
UCLA alumnus Alivia Brown is assembling anthropology-inspired YouTube videos, filling a rare niche.
The alumnus said she started her channel in 2020, where she posts 10-minute educational videos regarding anthropology terms, introductory topics, key figures, personal experiences and opportunities in the field. After graduating, she said she was trying to decide her next steps as an anthropology student and was unable to find resources online regarding anthropology-related careers. Brown said she decided to become that resource for others and now releases a new video every Monday.
"The general goal has always been just spreading the word about anthropology, because it is a field that I think is relatively undiscussed and pretty misunderstood," Brown said.
During the COVID-19 pandemic, Brown said she had extra free time with which she was able to turn her hobby into her passion. She was interested in film and video editing in high school and had always liked watching YouTube videos, she said. By creating videos, she said she can educate others on anthropology while also pursuing a topic she enjoys.
In the anthropology field, Brown said she has built connections with others online. Her viewers are mostly anthropology students from all over the world, she said, and she has also reached anthropologists and professors who share her videos with their students. Creating a network in the field was not something she expected when first creating a YouTube channel, but it is an added bonus, she said.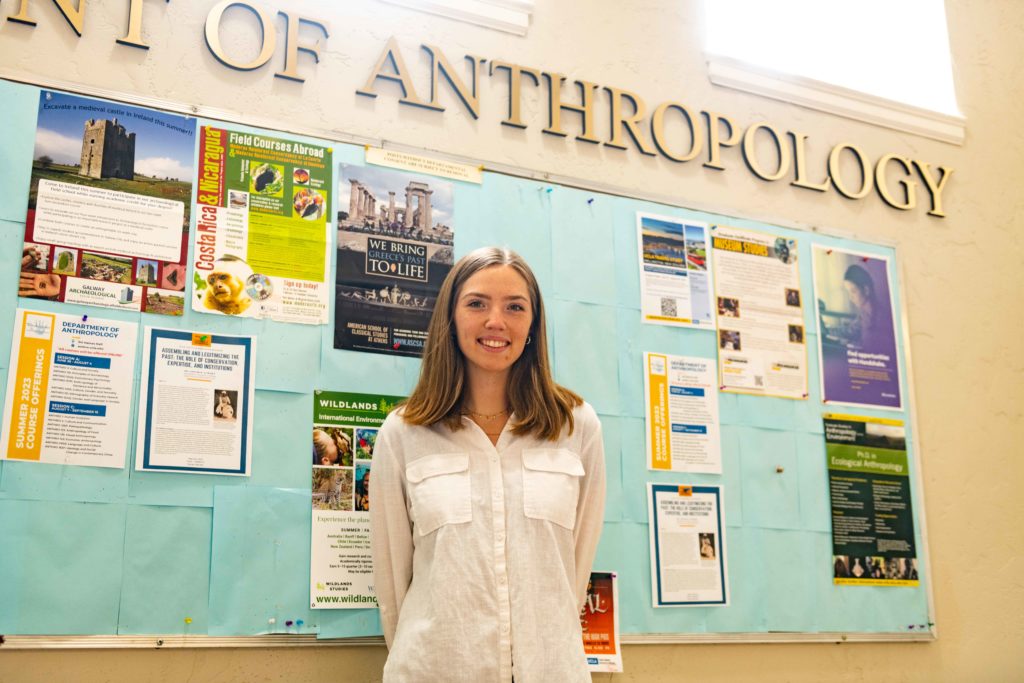 [Related: Diversifying her portfolio, student Stacy Kim fuses content creation and business]
Brown said she has about 9,640 subscribers, and the views on her videos vary from a few thousand to about 50,000. There is a new wave of students who watch her videos regarding key terms each year, she said. She also makes popular culture videos, she said, such as her most viewed video regarding her reaction to a new TV show about anthropology.
In building a niche for her channel, Brown said her older videos are anthropology-adjacent topics, including career development and personal videos. After noticing that her videos regarding anthropology got the most views and interest, she realized that they did so well because no one else was making videos about anthropology, she said.
"After a few months of making little videos here and there, I ended up really committing to anthropology because I saw that that's what people were interested in and what they wanted to see," Brown said. "As time goes on, every single one of my videos ultimately becomes about anthropology, the key terms, the books I read, the classes I took, … because that's what I saw that people had questions about, and I wanted to do my best to answer those questions."
To create her videos, Brown said she starts by researching a topic and collecting sources. Then, she creates an outline and practices her ideas by speaking through the so she does not sound like she is reading off of a script and can present the information conversationally, she said. Brown will film the video and edit it, adding text, photos, transitions and colors, and lastly, she said she uploads the video and creates a thumbnail.
Alumnus and Brown's former roommate Grace Horton said she has been a viewer from the start and has witnessed the progression of Brown's videos. Brown used to film on their bedroom floor with her laptop on top of a box, but now Horton said Brown uses a tripod, a backdrop and a better camera microphone to improve the quality of her videos.
"You can see her passion in the way that her channel is so approachable and the information that she puts forward," Horton said. "It's easily digestible, and it's not intimidating the way some academic sources are. She makes it really easy to understand."
[Related: Messaging app Zapshot brings a voice to daily communications for Generation Z]
Ever since Brown was younger, her sister, Lillie Brown, said Alivia has always been interested in anthropology. She said Alivia's confidence has improved through her channel. In the beginning, Lillie said Alivia was more shy, but now she has made many connections and reached out to others in the field, such as professors and anthropologists.
Alivia's channel has also grown, Lillie said, as her subscribers have increased exponentially. Lillie said Alivia has become dedicated to making videos, editing and helping others through her videos. Her favorite video is one that Alivia made regarding the television show "Outer Banks," Lillie said, as Alivia connected anthropological concepts to the show.
Alivia said that since beginning her channel, she is now more comfortable on camera. She did not know the full scope of the field and where it could lead her, she said, but her channel allowed her to document the progress of her learning as well. She said she has also been able to spark an interest in others, which has validated her initial reason to create the account.
"I get a lot of comments from people saying that I answered their question, or I sparked an interest in the field, or now they know what they want to study," Alivia said. "It's been really cool to find myself and my own interests through the channel."