Student fashion account spotteducla fosters community of creative, bold style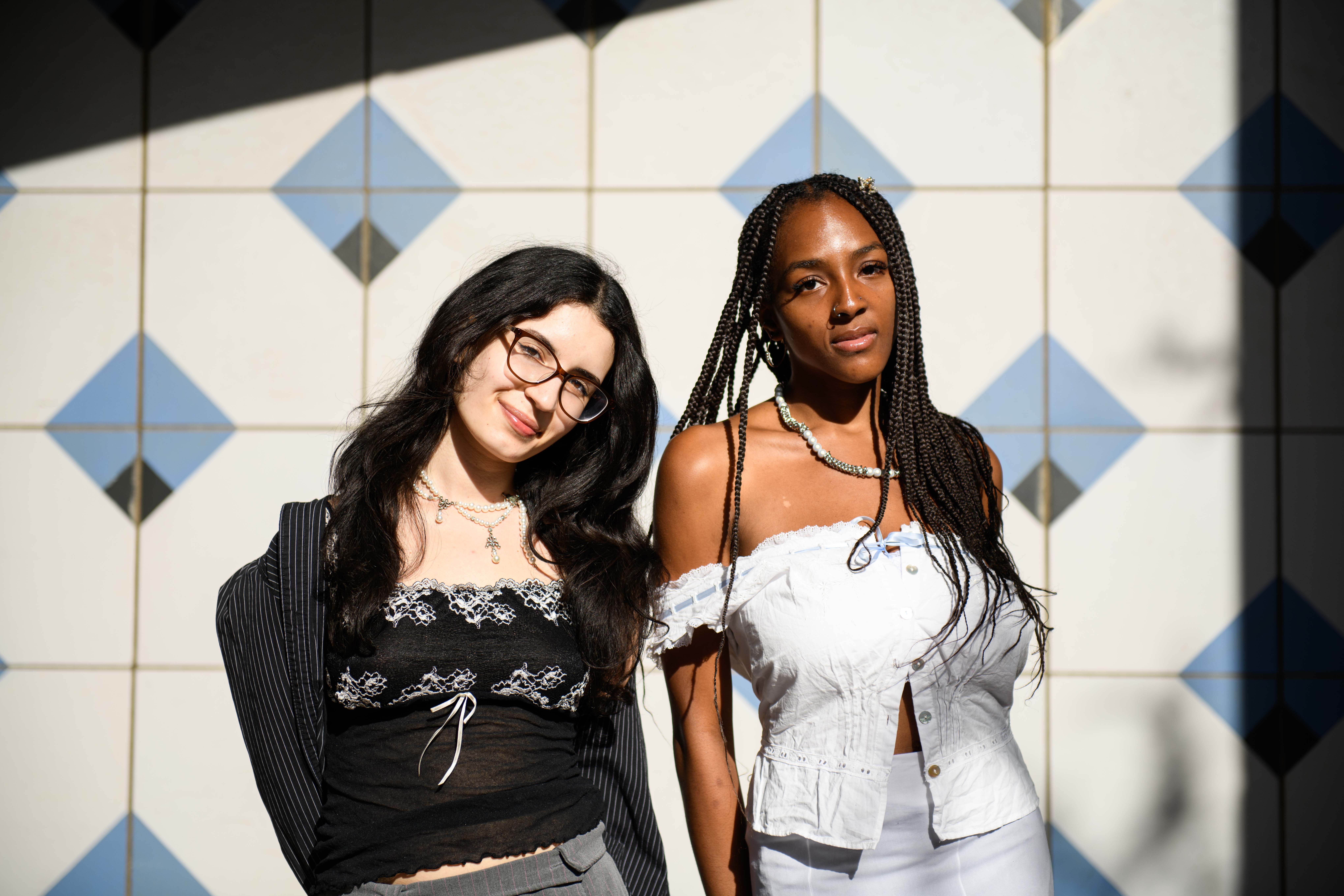 Nane Onanyan (left) and Juwan Madaki (right) stand in front of a tiled wall. The third-year students created the Instagram account spotteducla to showcase students' styles on campus. (Alice Yang/Daily Bruin)
Spotteducla is fostering a safe place to step out of fashion norms.
Juwan Madaki, a third-year cognitive science student, and Nane Onanyan, a third-year biochemistry student, created the Instagram account spotteducla in the fall of 2021. The account was established to highlight students' fashion, Madaki said, and they intended to provide a digital space for their peers to applaud each other's artistry. Since then, Madaki said the account has grown to become a staple of the fashion community at UCLA. Their social media presence has harvested an atmosphere of appreciation for those who step out of their comfort zones and try new looks, Onanyan said.
"We wanted to showcase the original styles that we see on campus, especially when there's so many students," Madaki said. "I feel like people's outfits can get lost in the masses."
Madaki said she started experimenting with fashion at the height of the COVID-19 pandemic. Fashion has always been a shared interest in Madaki's family, as she said she is inspired by her older sister, who first introduced her to thrifting. In refusing to dress solely in one style, she said making bold choices – such as the bright colors seen in her and Onayan's reveal of running the account – reflects the freedom of fashion. Madaki said she hopes their Instagram page influences Bruins to be similarly adventurous with their outfits.
[Related: Student-run startup MySchoolMarket promotes online commerce for UCLA community]
Like Madaki, Onanyan's love of clothing began with family. Her mom always prioritized fashion even when she only had access to second-hand items, Onanyan said. The key to creating an outfit is the intention one puts into their ensemble, she said, noting that she often tailors thrifted items and makes her own clothes. Inspired by figures such as fashion influencer and alumnus Ashley Rous, commonly known as bestdressed, she learned that confidence is the foundation of fashion, Onanyan said. She pushed herself to be courageous in high school by picking a theme for the week and styling her outfits under that specific category, she said.
When she attended high school in Alabama, Onanyan said most people did not step outside of practical fashion, which made it easy to find a community in the group that stood out. People who dared to experiment, she said, often found comfort with one another through compliments. Onanyan said she missed her hometown's support when she came to UCLA, so she aims to create a similar community through spotteducla.
"Sophomore year, I loved getting dressed and going to campus," Onanyan said. "I thought it was so fun. But I always felt like at the end of the day I would waste an outfit because nobody said anything. I just feel like a lot of outfits go unnoticed on campus."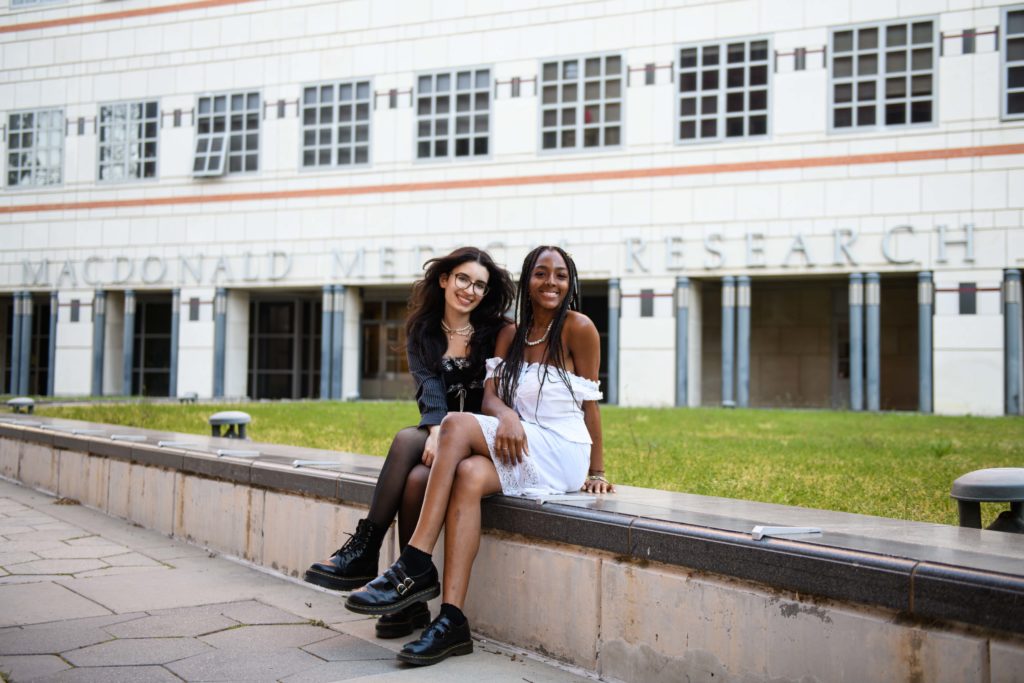 Until last month, Madaki and Onanyan kept their identities hidden, but they were recently motivated to post a reveal because of their short-video collaborations with Fashion and Student Trends at UCLA, Madaki said. Beyond hiding their identities, she said they purposely keep hashtags out of their captions because they have no intention of growing a following – they only want to showcase students' unique styles. Nevertheless, the account has grown within and beyond the Bruin community since its creation. Its UC Irvine counterpart, fits.uci, has reached out to collaborate, Madaki said.
"This is just a really intimate space where we can appreciate each other's outfits," Onanyan said. " If you want to be a part of it, be a part of it. I don't want it to show up on someone's feed by chance. I want the people who want to be a part of this to actively choose to be a part of this."
[Related: Q&A: Alumnus Zuhairah Washington talks role at Otrium fashion marketplace]
Moremi Olora, a third-year sociology student and Madaki's friend, said she admires the account because it fosters an accepting space for creative minds. As one of the first people to know that Madaki and Onanyan run the account, she said the reveal was particularly exciting because she was able to witness her peers' surprise and watch her best friend be showered with love.
When they began spotteducla, Onanyan said they were nervous to approach people who they wanted to post on their account. Throughout the last year, she said they have grown in their confidence and treat their account as a way to make friends. Madaki said she always starts by complimenting the people she spots.
As for finding people to feature on their account, Onanyan said her only criterion is that each person put effort into their outfits. Madaki said the pair prides themselves on posting students who have styles unlike their own, hoping to give representation to an array of tastes and encourage their peers to experiment with outfits they've been too scared to try in the past.
Miles Garofola-Lam, a second-year cognitive science student, said he was recently featured on spotteducla. Prior to being photographed, Garofola-Lam said he was not a follower but soon realized that many of his friends were already featured on the account. He said he appreciates that the account keeps a record of student fashion because he has found camaraderie in seeing other students defy convention, and it has motivated him to continue experimenting with his own style.
"I grew up in a small area, so going to UCLA, I really wanted to have fun with my outfits and be fitted every day when I go to school," Garofola-Lam said. "And I was kind of shook that there weren't as many people doing that."
Since they will be graduating next year, Madaki and Onanyan plan to hand over the account to another fashion enthusiast at UCLA, Madaki said. In the future, she said neither of them plan on going into fashion careers, and instead want to express creativity. For instance, Onanyan, who aspires to attend medical school, said she dreams of designing her own scrubs. Ultimately, through their efforts, Madaki said they hope that spotteducla will continue to be a space for students to recognize the efforts of their peers.
"I love hearing things like, 'Oh, you made my day,'" Onanyan said. "That is my goal. I want you to feel appreciated and I want you to feel seen."