Study from UCLA Department of Sociology finds rise in excess death rates in US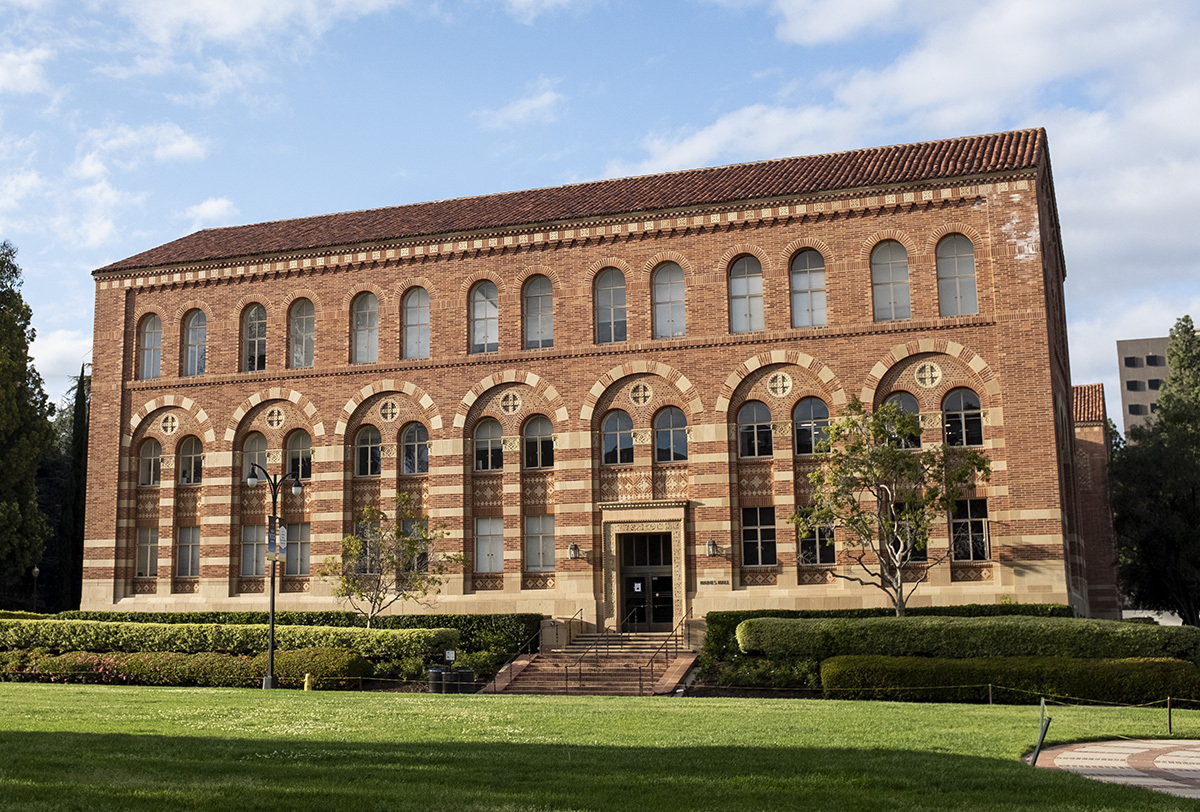 Haines Hall is pictured. A recent UCLA sociology study found the gap in excess deaths between the United States and some European countries to be increasing. (David Rimer/Daily Bruin senior staff)
A UCLA Department of Sociology study found a widening gap in excess deaths between the United States and Europe, with the U.S. having the highest rates.
The study, conducted by sociology professor Patrick Heuveline, aimed to compare U.S. excess death rates with rates in five peer countries in Europe: England and Wales, France, Germany, Italy and Spain. Excess deaths occur when the actual number of deaths in a nation is higher than the expected number of deaths under normal conditions, such as during a period without the COVID-19 pandemic.
The number of excess deaths was calculated based on the number of deaths that occurred in the U.S. over past pre-pandemic years, Heuveline said. Study findings showed there was a significant gap in mortality rates between the U.S. and peer countries.
The study reported that 45% of the rise in U.S. deaths was because of reasons other than deaths directly from COVID-19, such as health care. In 2017, the number of excess deaths in the U.S. totaled 465,617, accounting for 18.7% of all deaths that year. In 2021, the number of excess deaths doubled, totaling to 892,491 and accounting for 34.8% of all deaths.
"We don't have universal health care coverage in this country still, and we've seen also during the COVID-19 pandemic a kind of defiance of general public for some of the recommendations of public health specialists that I assume are not as strong in other countries," Heuveline said.
The study, which was conducted from 2017 to 2021, included the COVID-19 pandemic as a factor, which Heuveline said was an introduction to crisis mortality, the difference between the rate of deaths that occur during and outside a crisis.
Heuveline said he thinks the U.S. government needs to take new political measures in order to see the number of excess deaths fall. He added that it's not that countries in Europe have access to different resources or have more money than the US, but instead, it's the limited access to health care and public defiance regarding recommendations of public health specialists that does more harm than good.
The study encourages more research on the social, political and economic measures that factor into increasing mortality and excess death rates in the U.S. and other countries, Heuveline said.
Yea-Hung Chen, a UC San Francisco epidemiologist, studies disparities in COVID-19 deaths and excess mortality. Chen recently conducted a study analyzing the relationship between occupation and mortality during the pandemic. The study found that, despite there being a strong priority on workers in essential sectors, this population still had the highest COVID-19 mortality rate. Moreover, the data collected revealed that workers in the emergency sector had the highest per-capita COVID-19 mortality.
He added he believes the reason the U.S. had high mortality rates during, before and after the pandemic is not solely because of issues in health care. Chen's study found that vaccines have critically helped reduce COVID-19 mortality rates, and, amid legal issues such as there being no national vaccine mandate in the U.S., private vaccine mandates and extensive measures to limit COVID-19 transmission in the workplace are of utmost importance.
Chen's study concluded that fair policies must be implemented to ensure that all workers have equal access to protective health measures and guidelines.
"It's fundamental inequity in the country," Chen said. "The U.S. spends so much money in health care, and yet we still have a lot of really poor health outcomes."
When a nation's mortality rates begin to decline, they typically continue to do so, said Anne Pebley, a social demographer and professor of community health sciences at the Fielding School of Public Health. However, even before the start of the COVID-19 pandemic, mortality rates in the U.S. had flattened and then increased, which could be due to the inaccessibility of health care in the country, Pebley added.
She cited a lack of good and accessible health care as a major contributing factor to rising mortality rates. The Affordable Care Act, which aimed to expand health care coverage across the population, was particularly helpful but didn't solve the problem the country was facing, Pebley said. This was partly because of the fact that, despite being offered the opportunity to expand their Medicaid program, which is called Medi-Cal in California, many U.S. states simply chose not to do so, Pebley said.
Social and economic disparities that racial and ethnic groups experience in the U.S. could also contribute to rising mortality rates, as could economic change because of decreasing wages and job losses, Pebley said.
"We have a lot more people who fall through the safety net because we don't have a very good safety net relative to European countries," Pebley said.
Pebley also said economic change is a contributing factor to excess mortality.
"A lot of those what used to be kind of working-class or middle-class jobs that paid a decent salary have kind of gone away – either they're no longer necessary because they're automated or because the economy is changing in a big way," she said. "So, there are lots of the so-called deaths of despair."
Pebley said she feels that the government should come up with new solutions to provide a better social safety net and give people the help they need when they find themselves in times of hardship.
Pebley said she hopes the government will prioritize establishing good, universal health care and investing in welfare and job creation as steps to work toward mitigating this national health crisis.
"I think until we solve that, or sort through that political problem, we're mostly going to be working on the edges of this issue," Pebley said.