Editorial: Relocation of USC's Daily Trojan displays devaluation of student media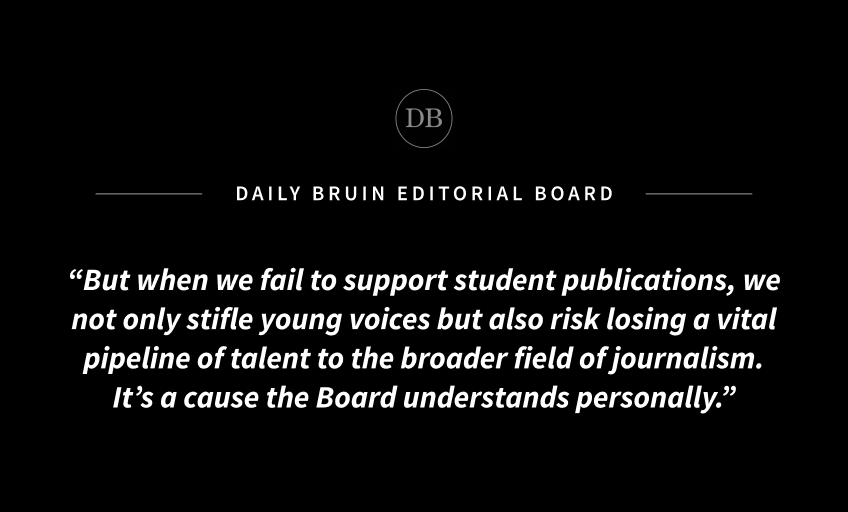 Editor's note: Editorials do not represent the views of the Daily Bruin as a whole. The Board encourages readers to respond to our editorials at dailybruin.com/submit.
Across town, student media is being devalued.
This fall, the Daily Trojan – the independent, student-run newspaper at the University of Southern California – will be relocating its current headquarters on the fourth floor of the Student Union building to another office space that is 40% smaller. This comes as a result of the university's order to utilize this space for the expansion of student cultural spaces, such as the Latinx/Chicanx Center for Advocacy and Student Affairs and Asian Pacific American Student Services.
Make no mistake, the Board applauds the strides made by universities to create space for historically marginalized communities.
But when we fail to support student publications, we not only stifle young voices but also risk losing a vital pipeline of talent to the broader field of journalism. It's a cause the Board understands personally.
UCLA Student Media rented out a portion of what was once part of the Daily Bruin office for the Transfer Student and Veterans Resource Center, which opened in 2017. Transfer and veteran students had long needed dedicated spaces to access centralized and specific resources. Meanwhile, UCLA Student Media was experiencing an increasingly large financial deficit – which giving the space to the resource center helped alleviate.
It was an arrangement that all parties agreed upon, but this was not the case for the Daily Trojan.
USC administrators must reconsider this decision and how to go about making such decisions in the future to be fair and ethical to all parties involved. According to the Daily Trojan, its staff presented multiple counter-plans to prevent them from losing their current space entirely, but to no avail.
It's contradictory to allocate space for a group at the expense of diminishing another's, especially for a newspaper that has been upholding the "free, responsible discussion" of USC affairs since 1912. These are individuals who advocate for marginalized communities at USC, and to create space for others at their expense is counterproductive, especially with alternate solutions on the table.
The Board believes that USC, a private university with the second-largest endowment in California, has far more than enough resources to guarantee adequate space for every student group on campus. It's a question of whether USC believes that independent student journalism is worthwhile and should have space to continue.
Although USC has its own expensive undergraduate journalism school in Annenberg School for Communication and Journalism, the Daily Trojan is far more accessible to students from various academic backgrounds.
The journalism industry as a whole has been experiencing loss after loss for the past decade or so. Trust in media is at a near all-time low. Just this month, BuzzFeed News closed its doors despite winning a Pulitzer Prize for its investigation into the Chinese government's mass detention of Muslims. Vice recently announced that it is filing for bankruptcy, and layoffs have become a regular occurrence as publications struggle in the face of economic uncertainty.
By no means do industry pressures excuse media outlets that have refused to change with the times and recognize their own biases, especially when it comes to covering social issues such as race. But universities have a unique responsibility to choose whether they care about the truth and shed light on stories that need to be told from student voices.
Student media is a special place where more empathetic and responsive forms of journalism can evolve. Like many of our readers, we are also students who go to class every day and face the same obstacles they face. We're able to be on the ground when crises happen, and professional outlets look to us for the student perspective.
We live on and near campus, and we know what it's like to have questions about university life and to seek the answers. And we must be able to do so independently without interference from our university's administration.
Even if there's no turning back on the move now, the USC administration must ensure they are doing everything in their power to give the Daily Trojan and the El Rodeo yearbook the space and resources they need to thrive. Student media should not have to be forced out of its home of more than 60 years.
It's one thing to create space for everyone. It's another thing to take it from a deserving organization, without seriously entertaining alternatives, and give it to somebody else.
Nobody needs to lose in this situation. That is, if USC does what's right.