The Quad: Research offers Bruins ways to engage with scientific and career opportunities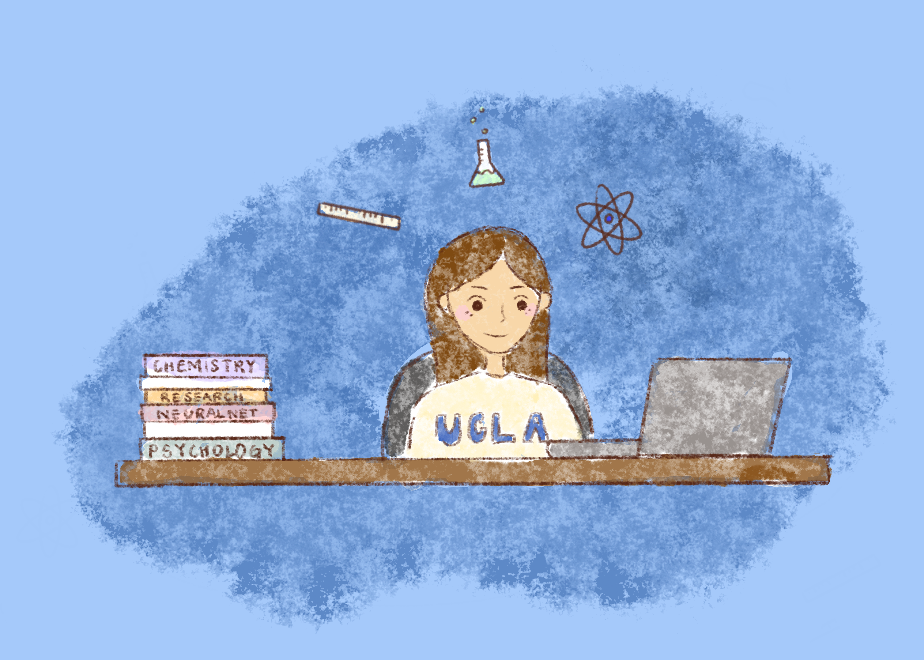 (Nimisha Seshadri/Daily Bruin)
Between classes, clinical volunteering and personal hobbies, pre-health Bruins may have plenty to consider when crafting a well-rounded application for graduate school.
Nowadays, research is often a requirement for students to be competitive for graduate and medical school applications. As summer approaches, many students are looking to fill their time working in labs or in the field. But the extensive process of publishing research, especially in STEM fields, can often be overlooked.
According to the American Psychological Association, a research manuscript is only considered a publication if it has been published in a high-quality, peer-reviewed journal. Additionally, peer-reviewed journals involve a lengthy evaluation process where editors and other scholars analyze the paper to ensure its quality and scientific merit, according to the National Library of Medicine.
The long and arduous process of securing a publication does not even escape experienced principal investigators and researchers.
Carrie Spratford, a lecturer and academic administrator for the biomedical research minor, said compiling data for a manuscript and undergoing the writing process can take months or even years.
"It starts with creating an idea, proposing a research question and designing experiments and a research project to address and answer that question," Spratford said. "This usually takes between months to multiple years to produce enough data."
According to Nature, once a manuscript is submitted, it will undergo a transparent peer-review process with the editor and anonymous reviewers. Spratford said reviewers' comments can range from improving the writing quality to requesting additional experiments be added to the study.
"The original authors will incorporate those suggestions and apply those revisions and submit an updated manuscript, which will go under another round of review. And hopefully, at the end, it gets published," Spratford added.
Additionally, a manuscript can still be rejected after multiple rounds of editing. Reasons for such a rejection often include poor methodology, the authors' failure to disclose a conflict of interest or simply that the article is not the right fit for the journal's audience, according to the National Center for Biotechnology Information.
Despite these hurdles, fourth-year biology student Sophia Ibargüen said pre-health students place immense pressure on themselves to secure at least one publication by the time they apply to graduate schools.
"A lot of students think that if you don't have the paper by the time you leave whatever lab you're working in, you did nothing right, and it's as if your work didn't matter," Ibargüen said.
However, some Bruins believe that publications are a bonus. Instead, the quality of research done is much more important in the eyes of admissions committees.
Shujing Guo, a second-year neuroscience student, said she believes publications do carry weight among students, but that the quality and learning experiences from research projects matter much more.
"Their (People's) respect for you is immediately going to be set at a certain high standard," Guo said. "The title will only get you so much respect, but actually knowing how to apply the biology, that is the part that will actually get you the grades, get you the later accomplishments."
Spratford added that the lengthy timeframe of research projects may not fully permit an opportunity for publication during a student's time at a given lab.
"Because the manuscript writing process and revision and review process takes so much time, sometimes those papers don't actually get published until after that student graduates – maybe two, three, sometimes five years down the line after they graduate," Spratford said.
There are also many opportunities for pre-health Bruins to showcase their research outside of publications. One of the most common avenues undergraduate students take is poster presentations.
As an experienced poster presenter herself, Shujing added that it can be gratifying to interact with other scientists to discuss each other's work in person.
"If you can attend a conference and then get an abstract out there or get a poster at the conference, that will be a really great way to showcase your skills in research," Shujing said.
Not only can research largely impact the realm of scientific knowledge, but it can also equip Bruins with the necessary skills to succeed in academia.
"Whatever work we put into our projects, we are quite literally helping science advance and helping innovation take place at the UCLA campus," Ibargüen said.