The Quad: International Bruins face unique challenges approaching graduation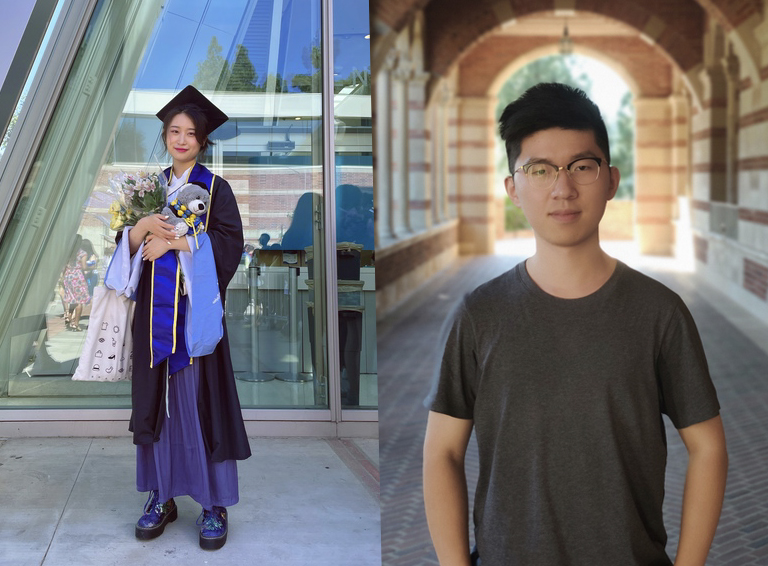 Pictured are alumni Siyi Gong and Tristan Que who reflect on their past experiences as international students. (Courtesy of Siyi Gong and Tristan Que)
As senior Bruins juggle upcoming job opportunities and graduate offers, they may feel anywhere from elation to fear with graduation around the corner. For some international Bruins, the prospect of graduation and the uncertainty that follows may be especially daunting.
Some international students may choose to pursue graduate degrees or head into a professional field, owing to the terms of the F-1 student visa. Students must depart within 60 days after graduation listed on the I-20 form, which is a form issued by UCLA to demonstrate eligibility for the F-1 student visa. They may only extend their visa start date if employers or schools sponsor their visa, according to the United States Bureau of Consular Affairs.
UCLA alumnus Tristan Que, who graduated in winter 2023, said he will be making a choice between continuing work or entering graduate school in the next year during his upcoming internship at a start-up in the Bay Area.
"My current future plan is that I'll be using my OPT (Optional Practical Training) starting from this May to do another internship," Que said. "Afterwards, I'm deciding on whether to pursue a graduate school here at UCLA or maybe doing a full-time job after my current internship if they want to cover me as a full-time."
Que added that the UCLA Dashew Center for International Students and Scholars is a great resource for clarifying the legal aspects of Circular Practical Training and OPT, both of which are necessary for F-1 students seeking employment.
The Dashew Center is UCLA's center for international students and scholars, where it offers visa services, resources, support and advocacy on campus.
Another challenge for international Bruins may be adapting to the job-hunting process in the U.S., such as in interviews or during recruitment processes. Que said he was unprepared for the U.S. job recruiting system and felt an added difficulty in interviews as an international candidate.
"They might be asking me technical questions, they might be asking me behavioral questions," Que said. "And I think this international student aspect makes it especially harder because if you really don't know the technical aspects or the stuff that they are asking, they might think that you don't really understand their questions because you are not a local student."
For other international Bruins, a lack of support and resources on and off campus tailored to their identities can be a challenge.
Doctoral student in comunication Siyi Gong said there are clear disparities in financial support for international and local students, because a lot of resources, including general information on filing taxes and certain jobs, automatically deny international students.
According to a study published in the Journal of International Students, social adaptability, language barriers, academic ability and financial need were the main factors impeding students' success in universities. For international Bruins, such difficulties can be significant enough to negatively impact the completion of university studies.
The Dashew Center said in an emailed statement that its ongoing counseling appointments and informational sessions can serve as a resource for international students as they navigate their college journies.
For some international students, it may also be important to decide their career plans early, as some Bruins may face a time crunch due to student visas' temporal constraints.
Gong added that when striking a work-life balance, international students may have to sacrifice or prioritize research over professional job seeking.
"Simultaneously, you really have to consider … whether you really have the time and energy to explore both options at the same time. If not, then space your time well or make a trade-off there," Gong said.
A gap year may also be rewarding for international students as a time to recharge from school and consider future plans at a slower pace.
During the academic year, the Dashew Center and Career Center can serve as resources for international Bruins. The Career Center said in a written statement that attending Handshake events and checking the Events tab on the Career Center website can ease pressures in job searching.
Que said carefully planning out summers can help compensate for the lack of opportunities during fall, winter and spring quarters.
"Really budget your summer and try to find good other opportunities during the summertime," Que said. "Because you as an international student, you were given fewer opportunities compared to maybe your American student counterpart."
Along with dealing with the stress involved with academic and career success, international Bruins can face challenges with their mental well-being.
Gong added that international Bruins can look after themselves by being mindful of burnout and having faith that opportunities will present themselves.
"I know It's very stressful to be an international student. … It's just very stressful because you have so much uncertainty beyond you," Gong said. "(Don't) make yourself too stressed about that if you haven't found opportunities early enough. As you progress, more opportunities will come at unexpected timing, but start planning out for those opportunities early enough."