Bad Bunny, BLACKPINK and Frank Ocean cap off 1st weekend of Coachella 2023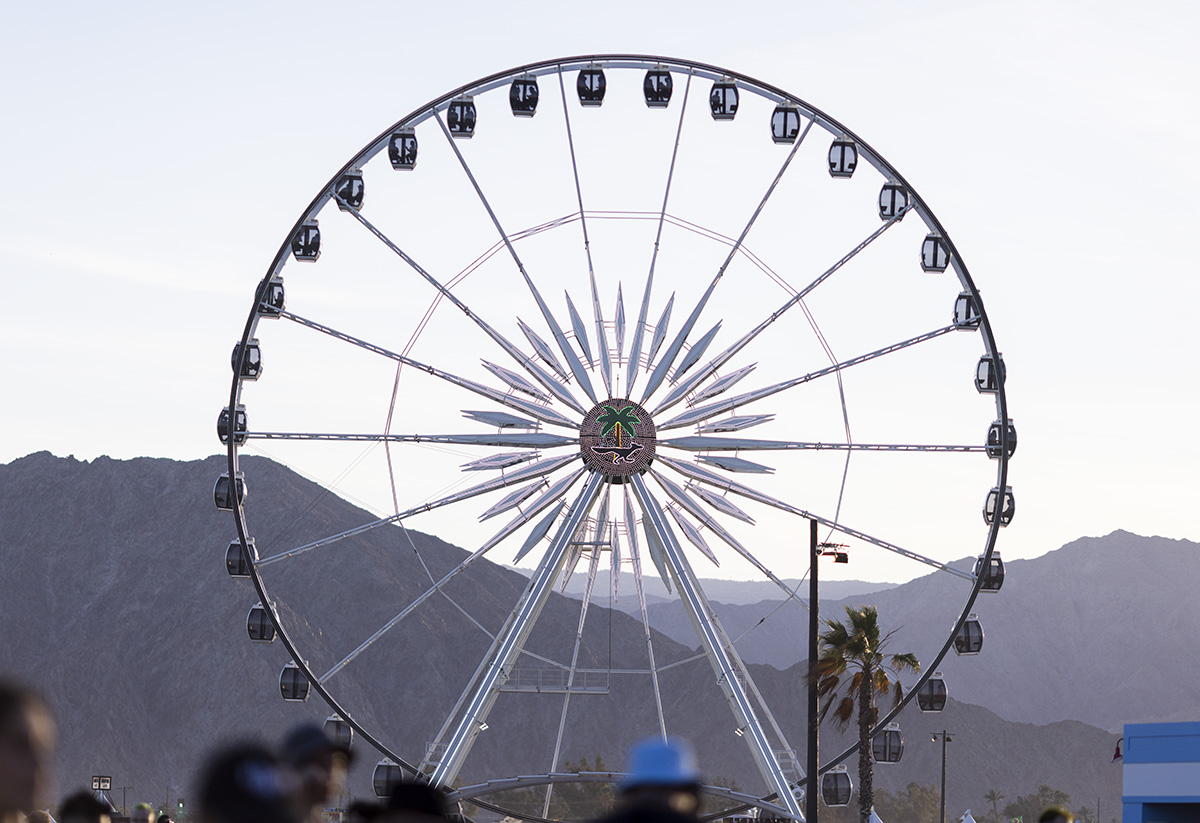 A large Ferris wheel with a palm tree at the center sits in the Coachella Valley at the annual Coachella Valley Music and Arts Festival. This year's headliners included Bad Bunny, BLACKPINK and Frank Ocean. (Daily Bruin file photo)
This post was updated April 18 at 9:22 p.m.
Indio is welcoming music back to the valley.
The Empire Polo Fields were once again filled with excited festivalgoers this weekend for the annual Coachella Valley Music and Arts Festival. In addition to six stages featuring a variety of artists, this year's headlining performances included Bad Bunny, BLACKPINK and Frank Ocean, who will all return April 21-23 for the second weekend of the festival.
Read on for the Daily Bruin's coverage of Coachella weekend one's most notable moments and performances.
[Related: Coachella 2022]
Bad Bunny
Bad Bunny made history Friday night as Coachella's first-ever Latino headliner. Wearing a rainbow puffer jacket with matching pants, Bad Bunny's set was upbeat from his start time of 11:35 p.m. Also known as Benito Antonio Martínez Ocasio, the artist opened the show with "Tití Me Preguntó," a song from his latest album, "Un Verano Sin Ti." He appeared to reference his 2022 surprise concert atop a gas station in Puerto Rico, as he danced on a similarly structured glowing platform alongside many synchronized dancers on the stage below.
Despite some technical difficulties, Post Malone joined Bad Bunny on stage and performed guitar renditions of "LA CANCIÓN" and "Yonaguni." Fans were excited to see the duo, who has not released anything together yet. Throughout the almost two-hour performance, Bad Bunny sang other songs from "Un Verano Sin Ti," including "Moscow Mule," and "Estamos Bien" from his debut album "X100PRE."
With fireworks on display throughout the show, each song compelled the crowd to jump, dance and sing along. He also sat on a bright yellow jet ski to sing hits such as "Tarot" and "No Me Conoce." During the show, Bad Bunny asked the audience if it would rather him speak in English or Spanish. The crowd cheered to signal they wanted him to continue in Spanish. He played "Después De La Playa" to close the show before festivalgoers made their way home.
BLACKPINK
After starting late, BLACKPINK's set inspired a very dedicated, energetic crowd. But before the K-pop girl group performed, there was a drone show creating images out of lights in the sky, such as a butterfly and a Ferris wheel, a symbol of Coachella.
From the moment the group stepped on stage, their energy was visible in the crowd's cheering and dancing, some with glowing bracelets and pink lights in their hands. Dressed in glittering pink-and-black outfits, the group danced in sync to their upbeat pop songs, starting with "Pink Venom," and later introduced themselves to the crowd – Rosé, Jennie, Lisa and Jisoo.
Each member of the group sang a solo, and together they performed other hits such as "How You Like That," which elicited singing and dancing from their fanbase – known as the Blinks – whose energy translated to the rest of the crowd. Many fans also dressed in the colors black and pink to show their support of the group.
Addressing the crowd, Rosé reminisced on the group's first Coachella performance in the Sahara tent, calling the experience of headlining the festival four years later a "dream come true." With no set changes or guest appearances, the set ended with fireworks, and BLACKPINK kept the audience entertained and eager for more.
[Related: Q&A: K-pop group NCT DREAM talks 1st US headlining tour ahead of LA show]
Frank Ocean
After not livestreaming his set or offering any merchandise, Sunday's headliner Frank Ocean was almost an hour late, causing high anticipation from fans, before he opened with an upbeat rendition of "Novacane." With his head hidden under the hood of a blue puffer jacket, the audience could hardly see the singer, as his face was barely shown on the large screen behind the stage.
Many fans seemed confused by the absence of his classic songs, as he abridged and reimagined several tracks – for instance, by not singing most of the chorus to "Crack Rock" and adding beats behind others. Ocean's set marked the alternative R&B artist's first performance in about six years, drawing a large crowd that ultimately trickled out throughout his set.
During the show, he frequently turned over the stage to his DJ with long, silent pauses between songs. Partway through the set, he announced that he was there "not because of the new album," but also that it was "not not because of the new album, but there's not a new album," further confusing fans.
Ocean's vocals remained strong as he introduced a young boy named Josiah as his inner child, who played the piano while Ocean sang Willie Nelson's "Night Life." Additionally, he dedicated "Pink + White" to his younger brother who died in a car accident in 2020, sharing that they attended Coachella together many times.
Throughout the show, he whispered with someone onstage, and after playing a cover of "At Your Best (You Are Love)" by Aaliyah, he abruptly ended his performance, saying it was his curfew. However, this prompted groans from audience members due to the set's relatively short length.