Letter to the Editor: Ashe Center offers substantial medical resources to students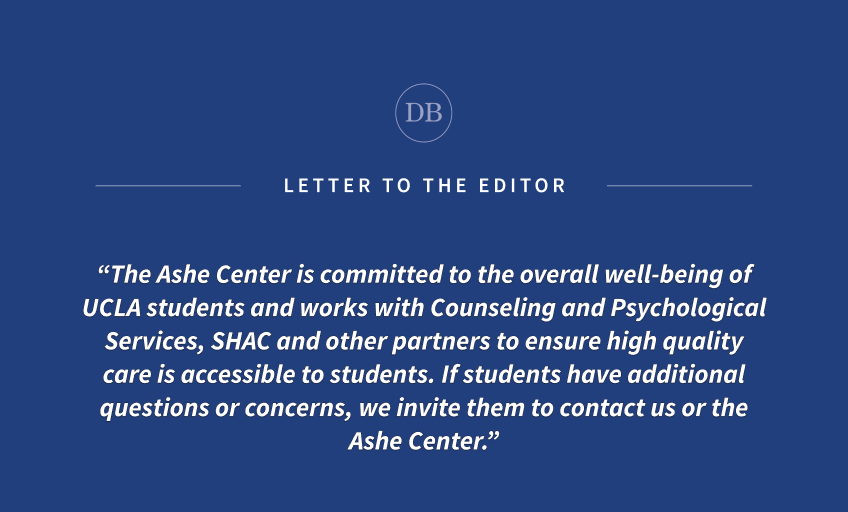 Dear Editor,
As members of the Student Health Advisory Committee, we are writing in response to your op-ed on telehealth services at the Arthur Ashe Student Health and Wellness Center. As students, we understand how difficult it can be to navigate health services on campus. We appreciate the feedback on this important topic, and we would like to provide crucial information that could help students access the care that they need.
Telehealth is a great resource, and the Ashe Center works to balance the allotted appointments for in-person and telehealth services based on student demand. Students can log into their Ashe Center portal and schedule in-person or telehealth appointments. The Ashe Center hired multiple new providers in the past few months to combat wait times and increase accessibility to these appointments.
For students who may have a difficult time getting to the Ashe Center, Ride N Shine Transportation provides rides to appointments from the residence halls or the Court of Sciences. The Ashe Center is also launching a pilot program that provides free Lyft rides to nonurgent medical appointments for students with the UC Student Health Insurance Plan.
When appointments are not available or the Ashe Center is closed, there are many other options for students. If students would like to speak with a provider day of or outside of business hours, LiveHealth Online is a telehealth service that is free for UCSHIP students and $59 for those without. The Ashe Center also has a nurse line available 24 hours a day, seven days a week, and students can message their provider on the patient portal with nonurgent medical questions at any time and should receive a response within two business days. Students can also visit the UCLA Health Century City Immediate Care center to receive in-person care outside of Ashe Center hours. Students with UCSHIP can also visit an urgent care for a $25 copay if they are in need of more immediate medical care.
The Ashe Center is committed to the overall well-being of UCLA students and works with UCLA Counseling and Psychological Services, SHAC and other partners to ensure high-quality care is accessible to students. If students have additional questions or concerns, we invite them to contact us or the Ashe Center.
Becca Nelson is a third-year molecular, cell and developmental biology student at UCLA.
Lauren Heiberg is a third-year history student at UCLA.