Op-ed: Ashe Center should offer telehealth appointments to meet health care demands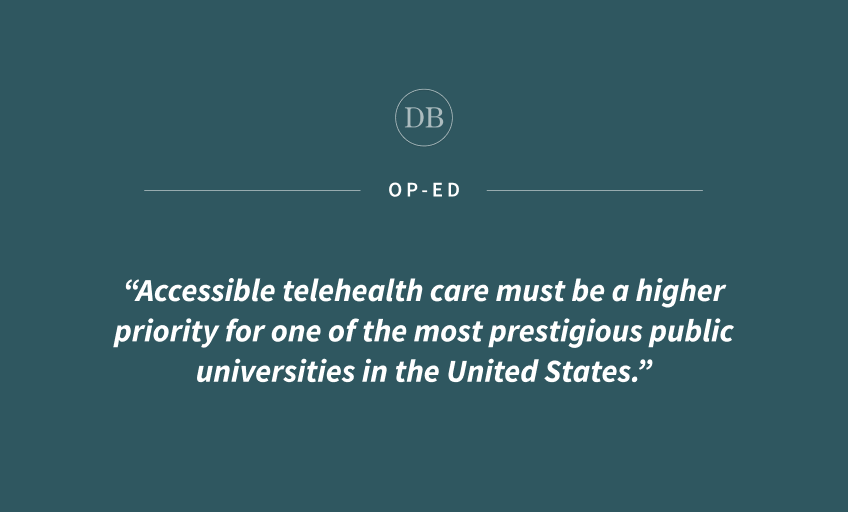 For a university with one of the nation's top hospitals, UCLA students face increasing battles accessing on-campus medical care.
One UCLA soccer player told us he waited over two weeks for an appointment at the UCLA Arthur Ashe Student Health and Wellness Center after breaking his arm during practice. The experience of having to seek treatment at a local urgent care and paying out of pocket for his expenses due to limited UC Student Health Insurance Plan coverage was daunting – and something no student should ever have to experience.
His experience parallels those of other UCLA students, with some individuals reporting having to delay care for over a month to obtain in-person treatment.
While the Ashe Center has attempted to offer walk-in services to Bruins at its partner facilities, such as nearby urgent care centers or emergency rooms, in practice, it is all too common for Ashe's external partners to be unreliable or overly bureaucratic.
Another Bruin told us that upon being referred to Apria Healthcare – a provider of home medical equipment – by the Ashe Center to purchase an arm fracture cast, they were shocked to discover that Apria never sold such products.
In addition, Abigail Murphy, a first-year physiological sciences student, said it was unfeasible for students to go to an urgent care center miles away from campus merely because the Ashe Center does not have appointment availability.
From a lack of available appointments to unclear communication regarding care, it's evident that an expansion of telehealth – which allows patients to speak with a health care provider through a computer, tablet or smartphone – would be a valuable resource for people across campus.
Most notably, the convenience of logging onto your computer or smartphone to contact a medical professional is a necessity in a college student's busy schedule. Many students report that the only available in-person appointments are during class hours. For students living on the Hill, as well as for the students living off-campus and commuter students, an arduous trip to the Ashe Center may dissuade many from seeking the medical care they require, especially when one is lethargic from illnesses.
Particularly for immunocompromised students, it can be challenging to enter a doctor's office during the ongoing pandemic, especially in light of rising influenza cases emerging on campus. Remote visits not only limit exposure to the illnesses of others, but prevent one from spreading viruses to students, faculty and staff.
However, we believe that telehealth should not be regarded as a substitute for walk-in services. Conducting any form of physical examination over Zoom may be ineffective when attempting to diagnose conditions such as sports injuries or checking vital signs – such as blood pressure and breathing rate – which can be critical in diagnosing underlying conditions such as heart disease.
Nonetheless, telehealth visits offer unique benefits by allowing physicians to observe their patients within their home environments. According to Johns Hopkins Medicine, allergists use remote appointments to identify possible perpetrators of a patient's allergies within their home. Moreover, physical therapists can discern how a patient maneuvers through their house doing daily tasks in order to prescribe ongoing treatment interventions.
Because of Ashe Center policy, students also cannot receive in-person care without a pre-screening telehealth appointment. Accordingly, Ashe must expand telemedical appointments as a prerequisite to increasing in-person options.
As the university continues to expand enrollment and off-campus housing, all students deserve to have access to telehealth medicine. As in-person options may inhibit commuters, the immunocompromised and students who are ill and injured from receiving medical attention, the Ashe Center ought to prioritize an expansion of all telemedicine, especially as the pandemic continues to impact campus.
Accessible telehealth care must be a higher priority for one of the most prestigious public universities in the United States.
Zoe Rosenberg is a third-year political science student.
Cheng Wan Jun is a first-year business economics student.
Aatmi Mehta is a first-year economics and public health student.
Meraal Ovais is a second-year biology student.