Heartfelt vigil shines light on HIV/AIDS community during UCLA Dance Marathon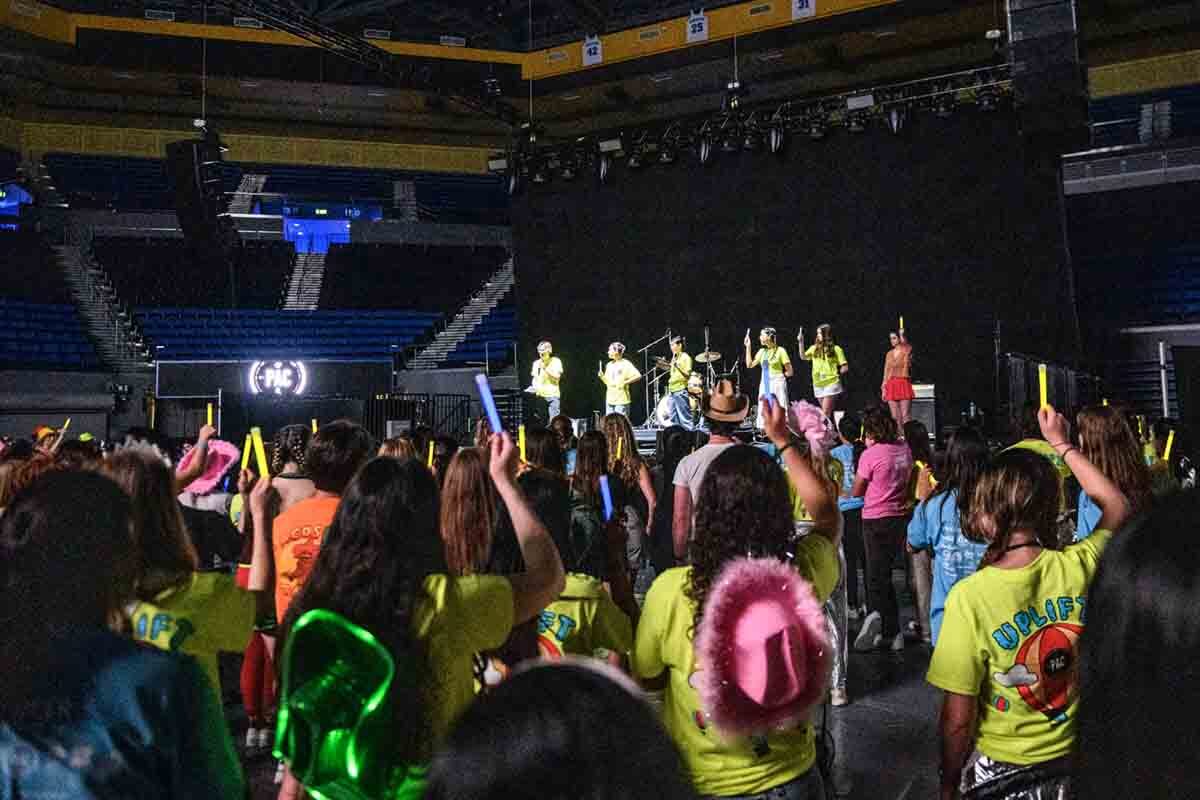 Dance Marathoners hold up glow sticks in Pauley Pavillion. At the seven-hour mark, the Pediatric AIDS Coalition at UCLA hosted a vigil and introduced beneficiary speakers from The Laurel Foundation who spoke about their own personal experience with pediatric AIDS while educating participants about the foundation's mission. (Alex Driscoll/Daily Bruin staff)
This post was updated April 9 at 8:51 p.m.
The annual Dance Marathon hosted by the Pediatric AIDS Coalition at UCLA highlighted the lives of those with HIV/AIDS during an illuminating vigil.
After seven hours of dancing and fundraising, the vigil showcased stories from advocates and first-hand survivors of pediatric AIDS. Ashley Rose Murphy, an ambassador for the Elizabeth Glaser Pediatric AIDS Foundation, led the series of youth beneficiary speakers, followed by members and beneficiaries of The Laurel Foundation. The vigil ended with an audience-engaging activity led by fourth-year integrative biology and physiology student and PAC's Director of Engagement Jack Colby regarding the impact, prevalence and harmful stigmatization of HIV/AIDS.
"HIV is not something of our past. HIV is something of our present. We're here to bring voices to the 400 children born every single day with HIV or AIDS," Colby said.
Murphy spoke about her personal experiences as a survivor of AIDS. Being born HIV positive and later learning of her diagnosis at age seven, now 25-year-old Murphy reflected on the conversation surrounding HIV/AIDS and hopes to destigmatize the illness through her work with EGPAF. She said she became an ambassador for the foundation when she was 15 to challenge the taboo associated with the illness by teaching individuals and families about HIV/AIDS.
Murphy said EGPAF has made strides toward combating AIDS through its support for HIV transmission prevention and treatments as well as medical advancements and educational programs. Events and programs like Dance Marathon help contribute to educational outreach by informing the public about their mission to support AIDS research and treatment, Murphy said.
"We've come a long way since I was that seven-year-old girl who was told about (her) HIV status and was told, 'You shouldn't talk about it,'" she said. "(As an EGPAF ambassador,) I realized just how important it is to have these conversations."
Jayden Tan, a second-year human biology and society student and PAC's director of family relations, introduced youth beneficiaries to the stage to share their experiences with the camps and programs hosted by The Laurel Foundation. Tan said PAC uses the funds collected from Dance Marathon to support programs that provide youth HIV/AIDS survivors with social and educational resources, such as mentorships, programs that teach life skills, tutoring and other activities.
The Laurel Foundation's camp director, Lorenzo Diaz, continued to highlight the importance of supporting and learning more about HIV/AIDS programs in his speech during the vigil. He said The Laurel Foundation gives children with HIV/AIDS opportunities to succeed in adulthood through support programs.
"There's a whole generation of kids who weren't set up for any sort of success, (who) weren't given the life skills of how to become adults in this world," Diaz said.
Colby ended the vigil by leading the audience through a memorial, asking them to raise glow sticks to signify their identification with various statements about stigmatization and the impact of HIV/AIDS on their lives and to honor the lives of those lost to HIV/AIDS.
Audience member Emily St. Diaz, a fourth-year human biology and society student and PAC's design steering director, said Dance Marathon reminds her of the supportive community at UCLA and the impact that the student body can make.
"The vigil is one of my favorite parts of the Dance Marathon," she said. "When you hear all the stories of how impacted people are and how real the stigma still is, it really brings the cause back to heart and reminds me of why we're here."