Christon Chronicles: Mick Cronin 'needs reinforcements' in face of UCLA men's basketball departures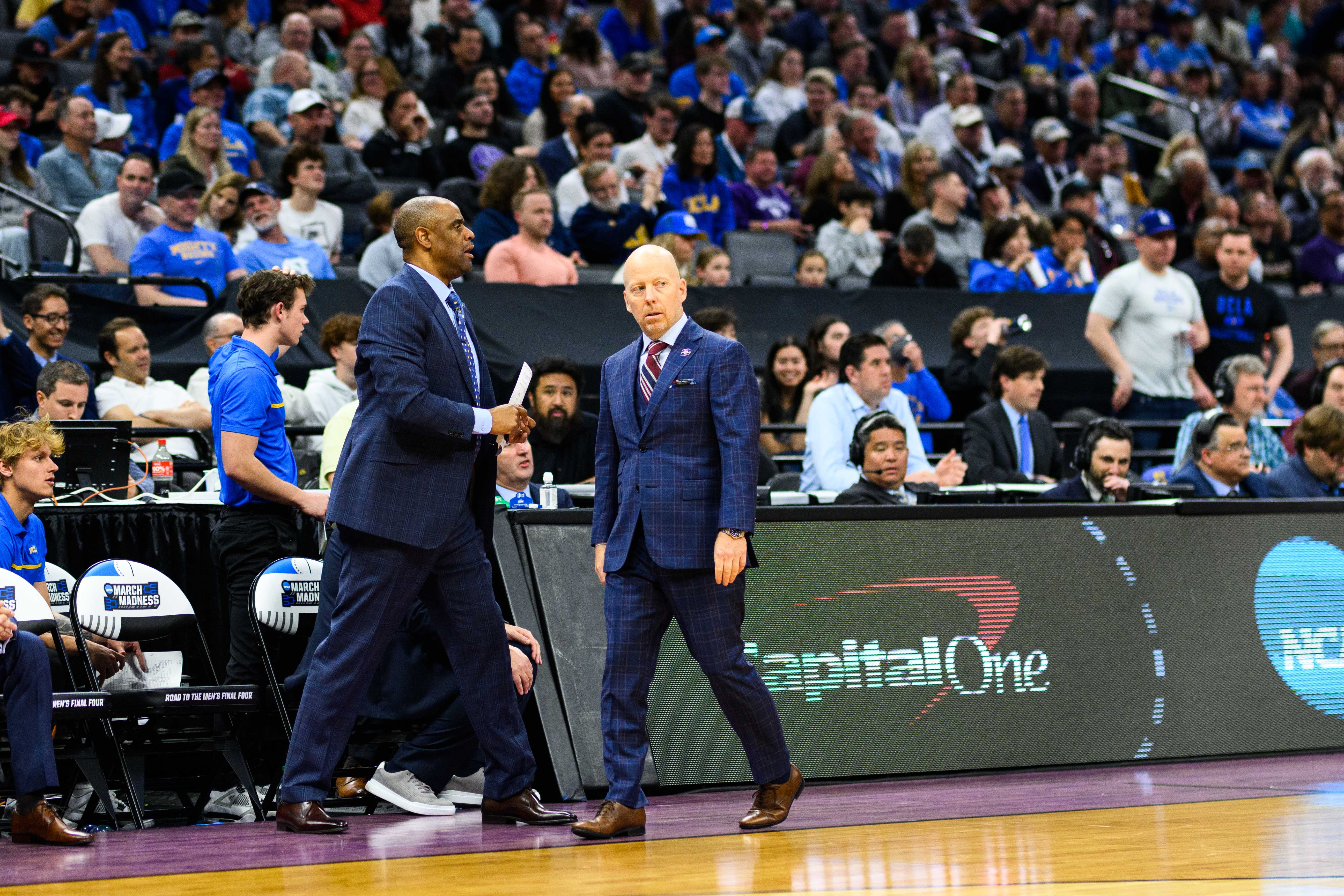 Coach Mick Cronin walks on the sidelines during a game. Cronin could lose a sizable chunk of his UCLA men's basketball's roster before the 2023-2024 season. (Anika Chakrabarti/Photo editor)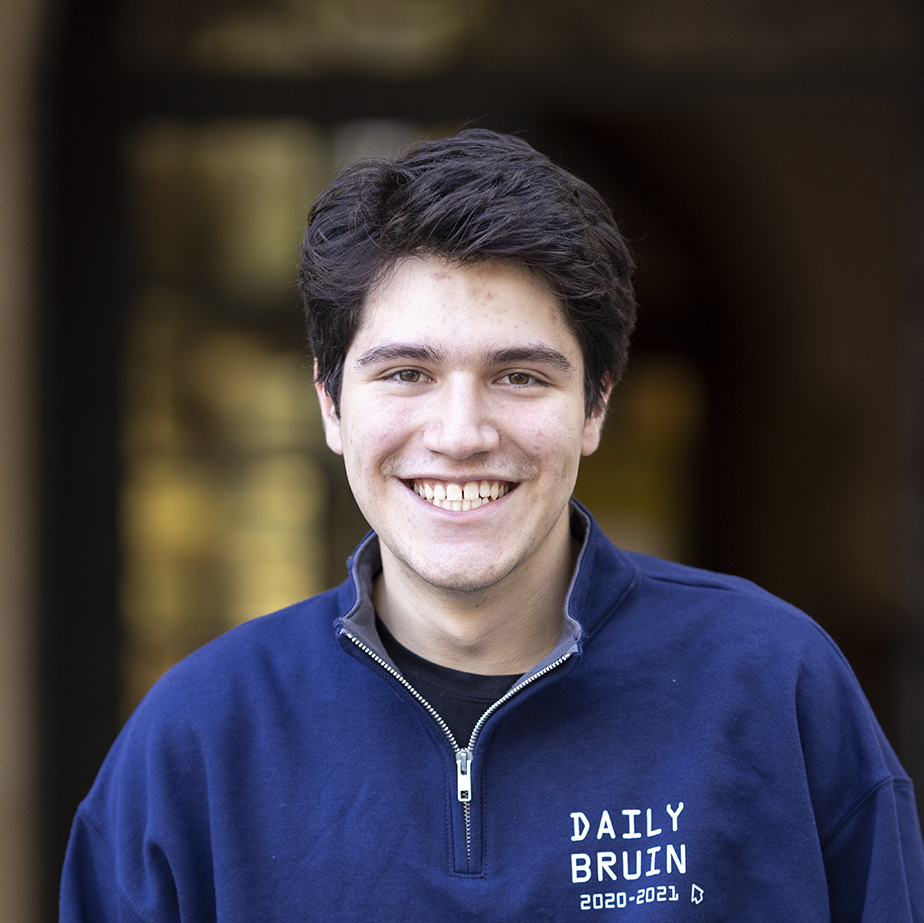 This post was updated April 2 at 10:35 p.m.
UCLA men's basketball's season is over.
Now what?
The Bruins' 2022-2023 campaign ended a week ago with a heartbreaking Sweet 16 loss to Gonzaga, and an uncertain future now awaits the blue and gold.
Only two Bruins – fifth-year guards David Singleton and Russell Stong – are without another season of eligibility, though the roster will almost assuredly see more departures than that in the coming weeks.
Junior guard Jaylen Clark already announced Wednesday that he was declaring for the 2023 NBA Draft, likely forgoing his two remaining years of collegiate eligibility. Senior guard/forward Jaime Jaquez Jr. all but directly said this would be his final season in Westwood, and redshirt senior guard Tyger Campbell is likely right behind them after five years with the program.
The two major question marks come from the freshman class. Forward Adem Bona and guard Amari Bailey both have NBA potential, but it remains to be seen if they want to spend another year or two in college before turning professional.
Regardless of what Bona and Bailey decide, the Bruins' roster will have holes aplenty, to say the least.
Coach Mick Cronin has never faced a roster overhaul of this magnitude as UCLA's coach. He's generally had the same core of players over his four seasons with the program.
But not next year.
The Bruins will have to replace nearly 60% of their minutes and 70% of their scoring in the 2023-2024 season, and that's just counting the presumed departures of Jaquez, Campbell, Singleton and Clark. Those numbers grow even more if Bona and Bailey bid Westwood goodbye, a scenario in which UCLA would have to replace its six leading scorers.
If UCLA is to compete at the same level next season, it'll likely be with a brand new roster.
Cronin, therefore, must be uncharacteristically creative – if not a little desperate – in the transfer portal.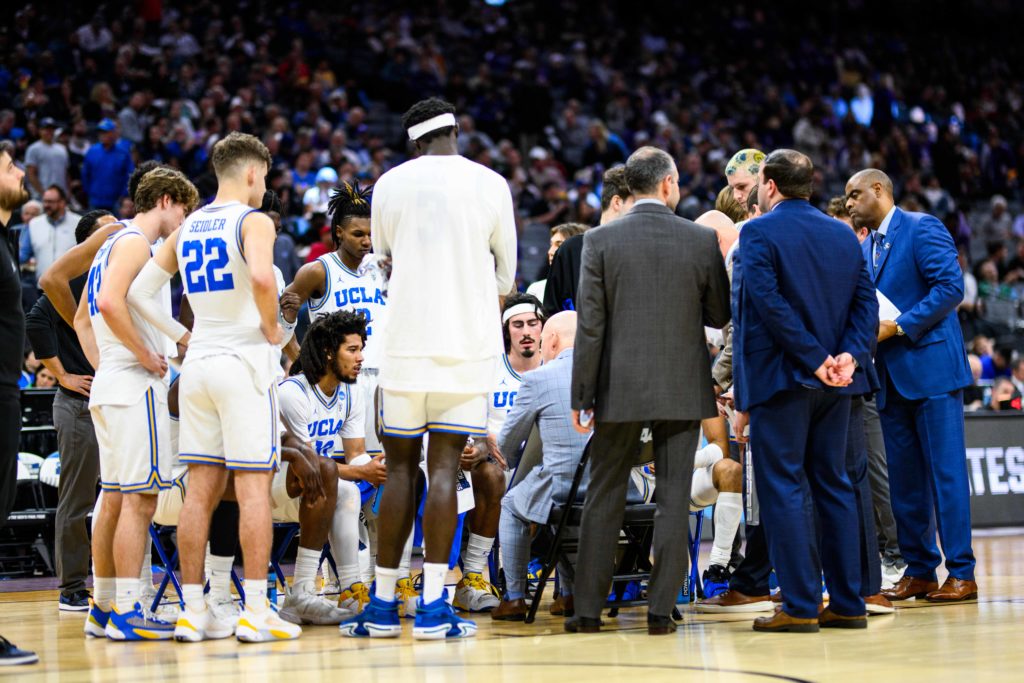 That is not to say there aren't internal options to fill the voids. Bailey and Bona both would be All-Pac-12 First Team candidates upon return and can shoulder a lion's share of the production. Freshman guard Dylan Andrews is a prime breakout candidate for next season, and a trio of incoming four-star recruits could also bolster the rotation if Cronin wants to play them.
But, outside of those options, the roster outlook is a little grim. Redshirt freshmen guard Will McClendon and forward Mac Etienne were both coming off injuries going into 2022-2023, but neither looked like high-major starters in limited minutes. Freshman guard/forward Abramo Canka is still an unknown at this point after playing 120 total minutes in his first season in Westwood, while we know all too much of the limitations of redshirt senior forward/center Kenneth Nwuba – who announced Friday that he is returning for his sixth season with the Bruins.
In short, UCLA needs reinforcements – and Cronin can't afford to wait and see how the offseason shakes out.
The college basketball offseason, in an age of NIL and delayed draft decisions, is a bit like the Wild West. Wait a beat to see what's happening to your own roster, and all of a sudden you're playing catch up.
Cronin knows that reality all too well. A year ago, the late draft decision of Jules Bernard and the unexpected retirement of Myles Johnson left the Bruins with roster deficiencies and not enough time to cover them up.
That can't happen again next season.
Assuming anything in this day and age of college basketball is a fool's errand. If Bona and Bailey decide to return, that's a win for the Bruins. But that should be far from a sure thing for Cronin as he builds out the roster for the new campaign. It's easier to build an elite rotation with too many players than it is with too few.
Just look at this season's Final Four. Three of the four teams have no players playing more than 30 minutes per game, and all of the programs feature three or more transfers in their respective postseason rotations. Miami, San Diego State and Florida Atlantic, in particular, all start multiple transfers.
As such, Cronin should be focused on adding as much talent as possible this offseason – no matter what Bona and Bailey decide. He's shown the transfer recruiting chops in the past, getting Johnny Juzang from Kentucky in 2020 and Johnson from Rutgers in 2021. But UCLA was the only Power Five team without a transfer on the roster this past season.
There is too much talent already in the transfer portal for that to be the case again next season.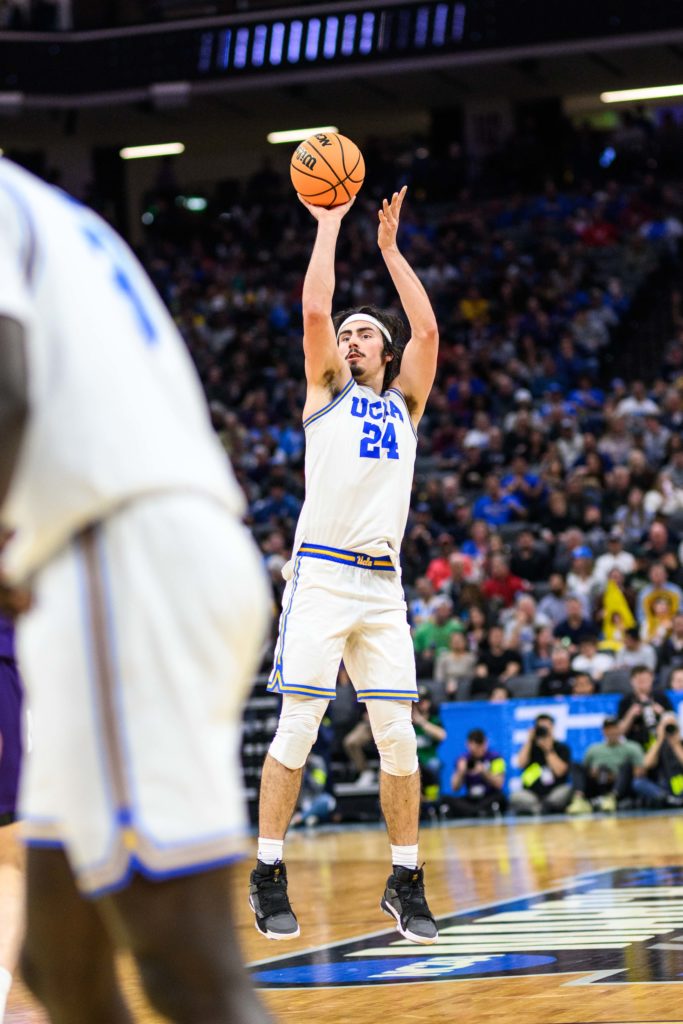 More than 1,000 men's college basketball players are already in the transfer portal, ranging from fifth-year graduate transfers to former elite recruits looking to restart their college careers. Given UCLA's brand and recent success, it should have no problem attracting any top-end talent to Westwood.
The Bruins should look to beef up on the wing, first and foremost. UCLA is losing all three of its primary options there in Jaquez, Clark and Singleton, with Canka the only scholarship wing taller than 6-foot-4 on the roster. It'll be a plus if Cronin can add a shooter on the wing as well given the loss of Singleton and his conference-leading 3-point shooting.
UCLA has already sniffed around, reportedly talking to 6-foot-5 Temple guard Khalif Battle – who shot 36% from deep in three seasons in Philadelphia – and 6-foot-6 Harvard guard/forward Chris Ledlum. USC's 6-foot-5 guard Reese Dixon-Waters – the reigning Pac-12 Sixth Man of the Year – also seems like a logical fit here.
Adding a veteran ball-handler and an experienced big should also be priorities. While Andrews being the primary point guard next season excites many Bruin fans, he can't be the only true one on the roster. The same goes for Bona at the center position.
And yet, no matter what the roster turnover looks like, UCLA should have a relatively high floor for years to come with Cronin on the sidelines.
But this is Cronin's first true offseason in flux in Westwood, and the floor may give out on the soon-to-be fifth-year coach with a plethora of potential departures. It'll be imperative for him to be proactive in building next year's roster.
If he isn't, he could be left with a middling, inexperienced team entering a turning point for the program.
Christon is currently a Sports senior staff writer. He was previously the Sports editor on the men's basketball and football beats and the assistant Sports editor on the women's basketball, softball, men's tennis and women's tennis beats. Christon was previously a contributor on the women's basketball and softball beats.
Christon is currently a Sports senior staff writer. He was previously the Sports editor on the men's basketball and football beats and the assistant Sports editor on the women's basketball, softball, men's tennis and women's tennis beats. Christon was previously a contributor on the women's basketball and softball beats.