Candid Carlson: UCLA women's basketball must improve to gain more attention in LA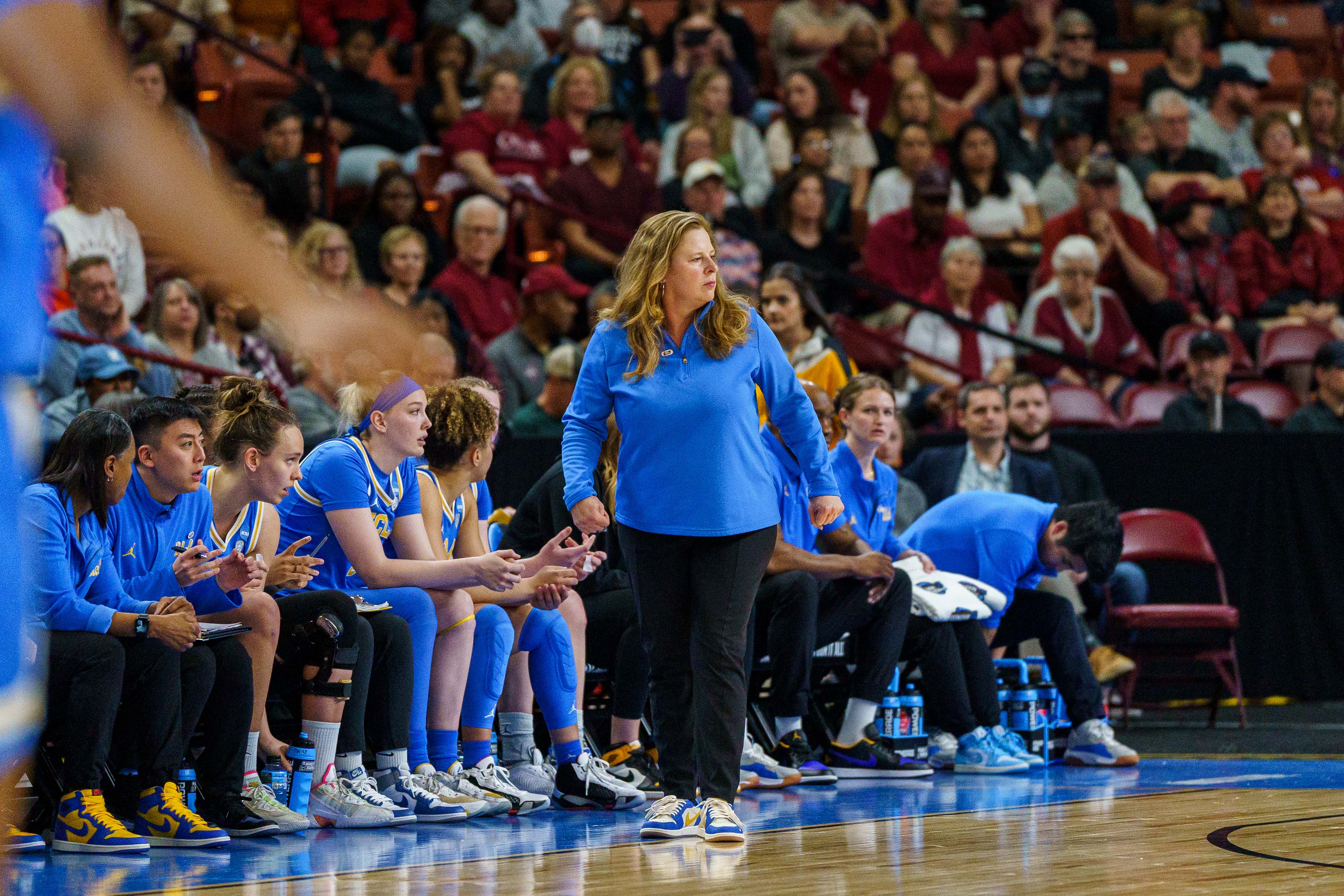 UCLA women's basketball Cori Close watches her team compete from the sidelines during the Sweet 16 matchup. (Brandon Morquecho/Daily Bruin)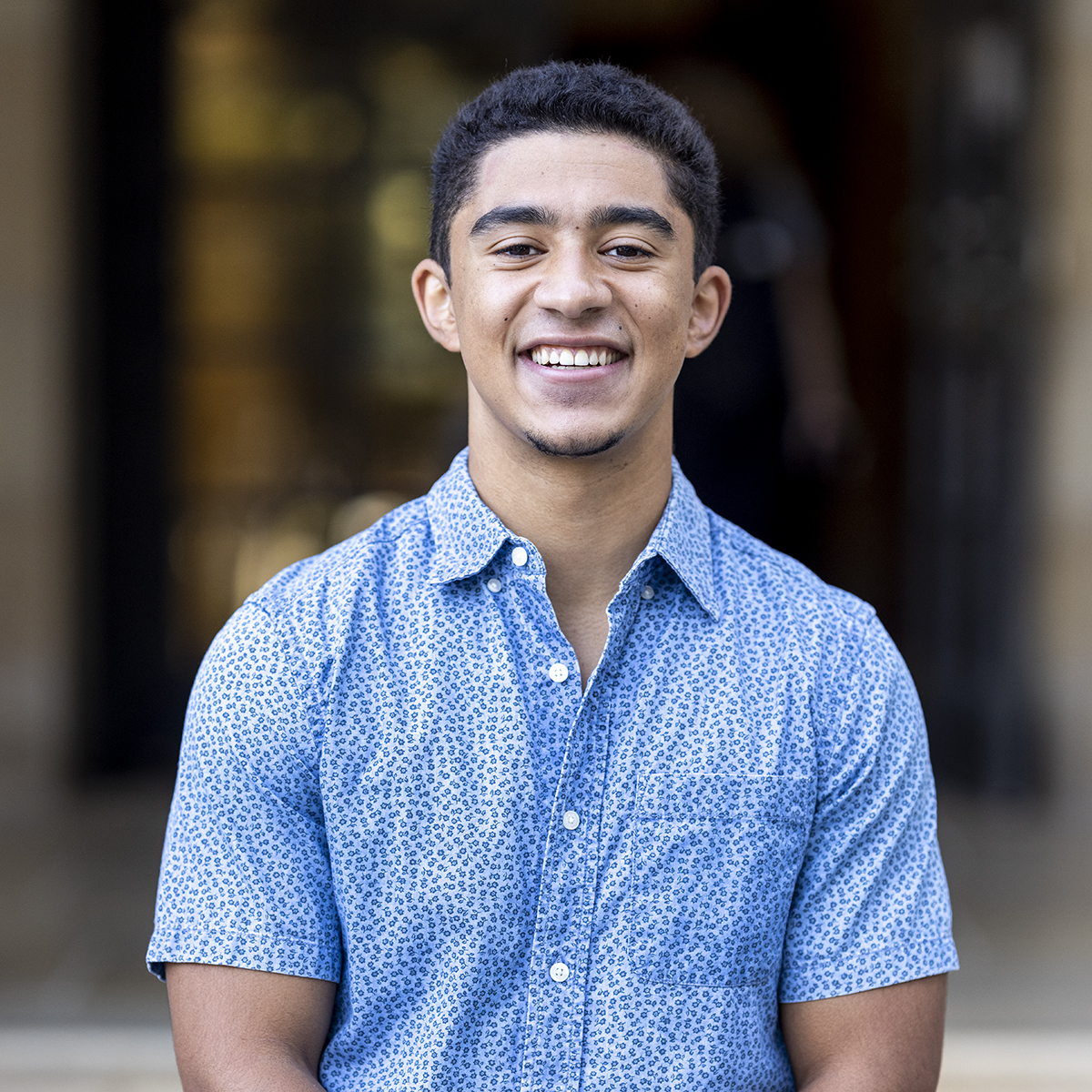 Coach Cori Close ends every postgame press conference by thanking the media.
During the 2021-22 campaign, that meant thanking the few reporters that showed up at Pauley Pavilion.
Few outlets consistently covered the nearly sub .500 UCLA women's basketball team that ultimately stumbled into the Women's National Invitational Tournament last season. With a roster headlined by unfamiliar one-and-done graduate transfers and underperforming returners, both media and fan attention was at an all-time low.
That rightfully bothered Close, who's always working to increase engagement with her team.
But in a city full of storylines and success stories, the Bruins presented neither in the eyes of many.
Luckily for most parties involved, this season was far different on all fronts. Even before its eventual success in the Pac-12 tournament and its Sweet 16 appearance in the NCAA Tournament, UCLA brought in an intriguing new cast of characters on its roster.
Close had attracted the nation's No. 1 recruiting class to Westwood, headlined by the Gatorade Female High School Athlete of the Year and No. 2 overall recruit in freshman guard Kiki Rice. A few weeks into her time in Los Angeles, the Washington, D.C. native signed an name, image and likeness deal to become Jordan Brand's first collegiate partner.
Just like that, Hollywood had its newest protagonist.
In addition to Rice, the class also featured a second McDonald's All American in forward Gabriela Jaquez – who happened to be the sister of the poster boy for collegiate basketball in LA. Now this was something local news outlets could headline.
During a women's and men's doubleheader at Pauley Pavilion, Jaime Jaquez Jr. was in the crowd to watch his sister's debut before kicking off his senior season hours later. Suddenly reporters who only covered the men's team were packed inside Pauley Pavilion's press room asking the freshman about her relationship with her brother and her own skills on the court.
Sure, for those who have followed this program closely in recent years, it felt somewhat ridiculous that it took a sibling story for LA news outlets to cover the team. The same press conference room that had been empty since Michaela Onyenwere left was now asking Gabriela what Jaime made her for lunch prior to the game or where her parents would be sitting.
But at the same time, this is LA. Spectacles are everywhere. Expectations here are like nowhere else.
If UCLA football's best season in years can't fill the Rose Bowl, a team coming off an 8-8 performance in conference play last season wouldn't be able to help collegiate women's basketball suddenly break barriers in LA.
But then, with eyes beginning to watch, the 2022-23 season returned to a respectable level of success.
The Bruins started the season 6-0 and nearly upset the one of the best teams in collegiate sports – Dawn Staley's South Carolina – in front of over 12,000 fans.
Then the Bruins won seven straight more to move to 13-1 and ascend to the top 10 of the AP Poll.
Local outlets starting talking, the AP began sending reporters to Westwood, and employees of ESPN were suddenly courtside taking videos of Rice for their social media outlets. WNBA legend Sue Bird and US Women's National Team soccer star Megan Rapinoe even came to Pauley Pavilion to watch a game.
Close's program was growing closer to the center of the spotlight.
But despite the added attention and clear turnaround from last season's struggles, the Bruins fell short of box-office status.
UCLA ultimately lost a star-studded showdown against Stanford. Then the Bruins conceded three straight games that contributed to their inability to secure a top-four finish in the conference and first round bye in the Pac-12 tournament.
The mood unofficially shifted from dazzling to doubtful.
Now of course, UCLA still had a more than respectable end to the season.
Winning three straight win-or-go-home games in the Pac-12 tournament – including a stunning 16-point comeback against No. 1 seed Stanford – certainly is significant. Earning a trip to the NCAA Tournament's Sweet 16 in front of the largest Pauley Pavilion crowd of the season is huge.
And Charisma Osborne's UCLA postseason-record 36 points in that game, her final outing at Pauley Pavilion, was nothing short of a Hollywood-level script.
But UCLA did ultimately fall short in the Pac-12 tournament championship game to a No. 7 seed it was favored to beat. As special as the run was and as cruel as it may be, basketball fans in Westwood don't celebrate almost-champions.
And though a win was unlikely against South Carolina in the Sweet 16, the Bruins' season felt over early in the third quarter.
Despite all the success, and there was plenty, nobody associated with the program should be completely satisfied by the results of this season.
For many reasons, Close is well respected in the world of women's college basketball.
She helped turn UCLA into a consistently solid program and has developed relationships with coaching legends such as Stanford's Tara Vanderveer and South Carolina's Dawn Staley. She even helped the Bruins secure the first-ever regular season collegiate women's basketball game to be nationally-televised on ABC against Connecticut last season and scheduled nonconference games against South Carolina – the sport's powerhouse across the country.
Close deserves all the credit and praise she receives for the success she's achieved and the attention she's brought to the sport.
But her team still lost both of those nationally-televised games.
UCLA still hasn't won a conference tournament championship since 2006. The Bruins still haven't won a Pac-12 regular season title after the turn of the century. They've still never made it to a Final Four.
If you want collegiate women's basketball to grow, you want Close to achieve her lofty goals when it comes to UCLA's success and expanding the game in Southern California and beyond.
But in order for the blue and gold to reach the standard its fans, the media, and Close herself set, the Bruins' 2022-23 season must be viewed as a building block, not a breakthrough.
UCLA's No. 1 class is now one year older. Another All-American in forward Amanda Muse is joining the squad next year. There's plenty of reason to project greatness.
And with a move to the Big Ten – which just sent three teams to the Elite Eight despite having its No. 1 seed upset earlier in the Tournament – looming, greatness is almost required.
Before the credits roll on their Pac-12 tenure, Close and the Bruins must be thinking about conference championships and the Elite Eight. Anything else is a box-office bust.
Carlson is currently a staff writer on the football, men's basketball and women's basketball beats. He was previously a reporter on the softball and men's golf beats.
Carlson is currently a staff writer on the football, men's basketball and women's basketball beats. He was previously a reporter on the softball and men's golf beats.