UC sexual violence survivors face inadequate support, survey finds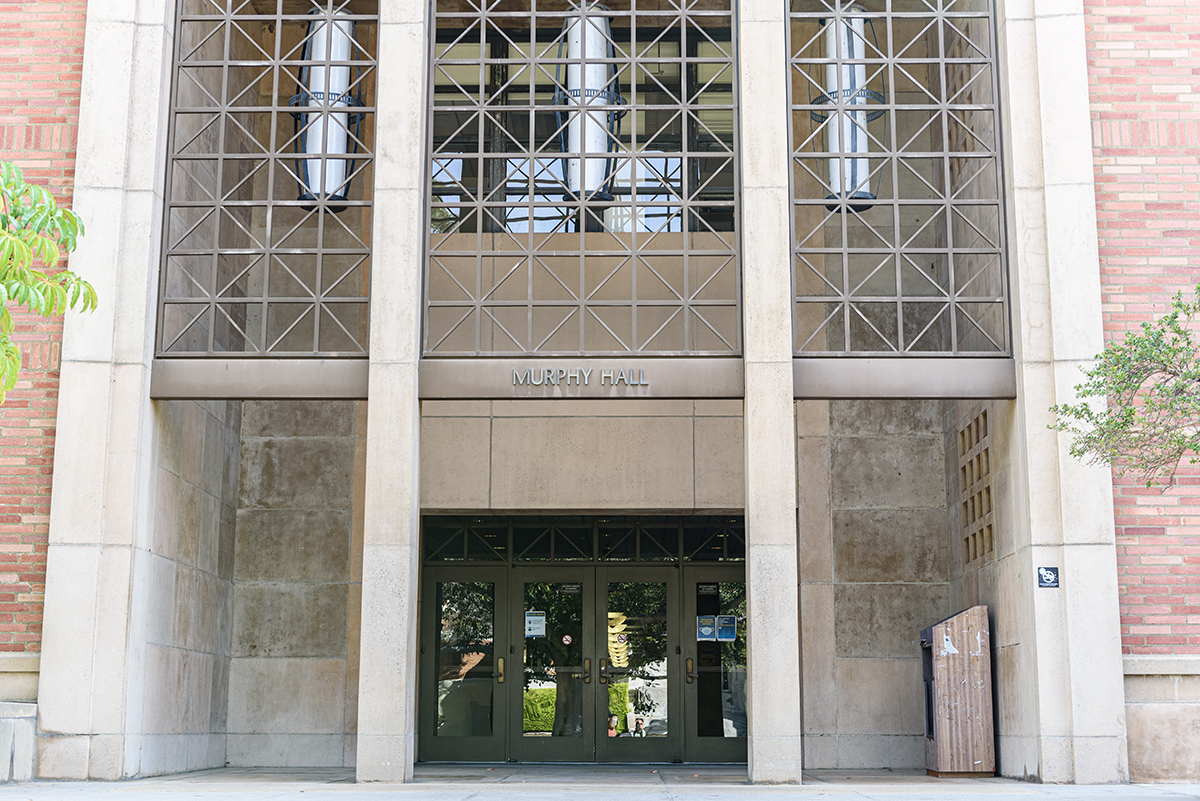 Murphy Hall, which houses the UCLA Title IX Office, is pictured. A study from a collective formed through UC Survivors and Allies found that the UC system lacks proper resources and outreach for sexual violence survivors. (Daily Bruin file photo)
Correction: The original version of this article incorrectly stated the survey found that 12% of international students who survived sexual violence were not aware they were covered by Title IX. In fact, the survey found that 12% of all international students who responded were not aware they were covered by Title IX.
This post was updated March 27 at 12:21 a.m.
A UC student research collective found that survivors of sexual violence are dissatisfied with resources across all 10 campuses.
The collective presented their findings from a 1,250-response UC-wide survey Jan. 15 in Phoenix, Arizona, at the Society for Social Work's annual conference. The survey assessed how undergraduate and graduate sexual violence survivors navigate resources at the UCs. It also collected data on the differences in survivors' experiences across various identity groups, such as ethnicity, nationality and those seeking graduate degrees.
The survey asked respondents if they were aware of Campus Assault Resources and Education advocates, a support resource for sexual violence survivors across all 10 UC campuses. UCLA students who survive sexual violence can also seek confidential counseling at UCLA Health's Rape Treatment Center in Santa Monica. The group conducted the survey to see if survivors of sexual violence in the UC system were aware of the resources provided and were able to receive comprehensive support, said Sara Wilf, a social welfare doctoral student who worked on the survey.
The group started their research after the UC Office of the President declined UC Survivors and Allies' requests for University research to evaluate Title IX services on its campuses, she said.
"They told us that evaluation would be demoralizing to Title IX employees, and they weren't willing to do an evaluation," Wilf said. "So we decided to do our own evaluation in the form of this survey."
Jianchao Lai, a social welfare doctoral student who served as a researcher on the study, said in an emailed statement that, based on the results, the UC system should work on providing trauma-responsive services for survivors. Lai added that counselors should not just be aware of the trauma that survivors have, but also be able to work with their specific needs.
Wilf said that several respondents of the survey used the word "retraumatizing" to describe their experiences with Title IX. Since resources under Title IX are designated for healing, survivors of sexual violence in the UC system were often unaware of counseling options, she added.
The group found that half of respondents were aware that CARE and Counseling and Psychological Services were confidential services, while over a third of respondents believed that Title IX, a nonconfidential office, was confidential.
In a report shared with the UCOP, the researchers suggested that the UC system publish its annual budget for CARE and CAPS, as well as increase the number of CARE advocates and outreach efforts.
The report also suggested that UCLA should hire more diverse Title IX staff to serve students with different cultural backgrounds. The survey found disparities in the resources sought by UC survivors of sexual violence who came from marginalized groups. Specifically, Black and Latinx students were four times less likely to reach out to their professors about Title IX violations compared to their white counterparts. Black and Latinx students face higher waiting times to match with counselors of color at CAPS, according to the report.
"Probably this is because of structural disparities," Wilf said. "But what that means is that Black and Latinx student survivors need additional resources at the UCs."
Ryan King, the associate director of media relations for UCOP, said in an emailed statement that UCOP Title IX offices invited the researchers on the survey to share their findings with the Systemwide Title IX Student Advisory Board and Title IX officers. The changes suggested by the survey authors aligned with UCOP's goals of improving access to resources for sexual assault survivors within higher education institutions, King said.
Wilf said the survey also found that 12% of all international students who responded were not aware they were covered by Title IX. International students were also more likely to seek more punitive resources through Title IX instead of counseling, according to the report.
King said following the survey's findings, the UC Systemwide Title IX Office revised its website to specify international and undocumented students are included in Title IX coverage.
Additionally, Wilf added that she believes communication with students about resources for sexual violence survivors is imperative to improve future support. Since there was no official syllabus statement for sexual violence survivors, the survey researchers chose to author their own for teaching assistants and professors to add, she added.
"We're just going to start communicating on our own the things that we need (and) we think students need to know," Wilf said.