Jordan Chiles posts country's top all-around in UCLA gymnastics' senior meet win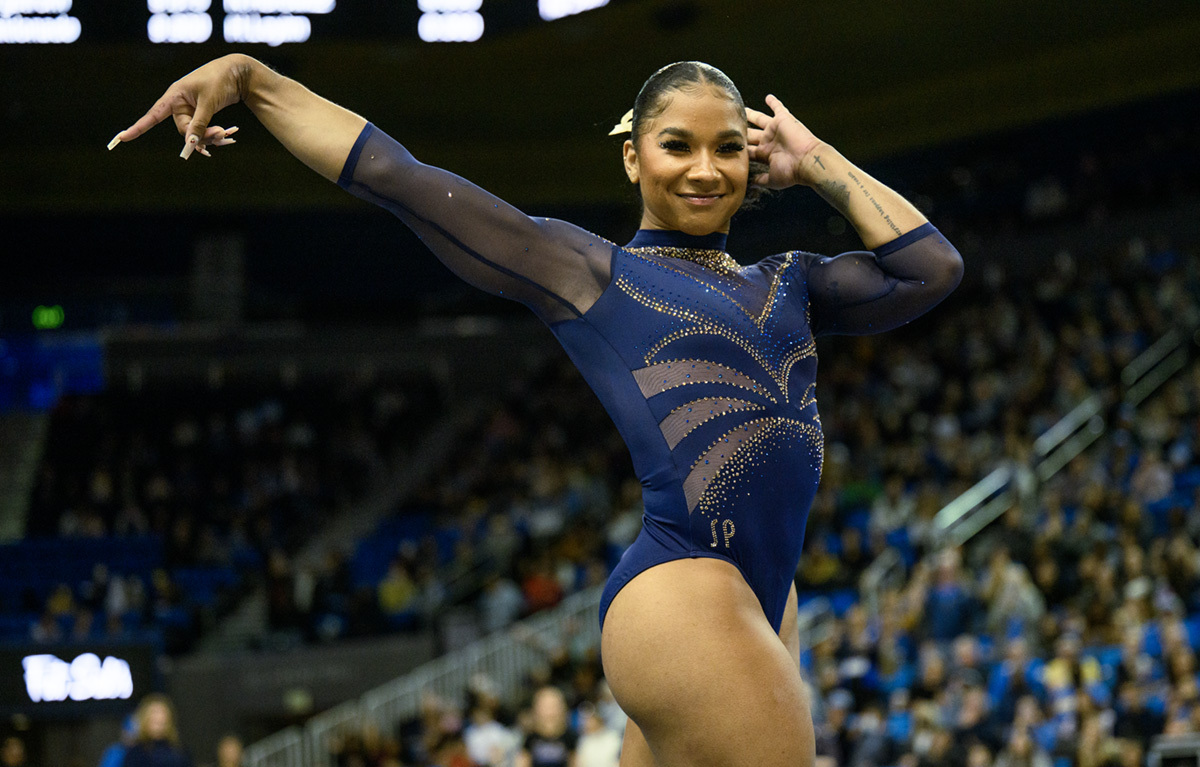 Sophomore Jordan Chiles smiles during her floor routine. Chiles posted the top all-around score of any gymnast in the nation Saturday with a 39.900 as No. 5 UCLA gymnastics put up its top team score of the season. (Amelie Ionescu/Daily Bruin senior staff)
Gymnastics
---
| | |
| --- | --- |
| Iowa State | 195.550 |
| No. 5 UCLA | 198.275 |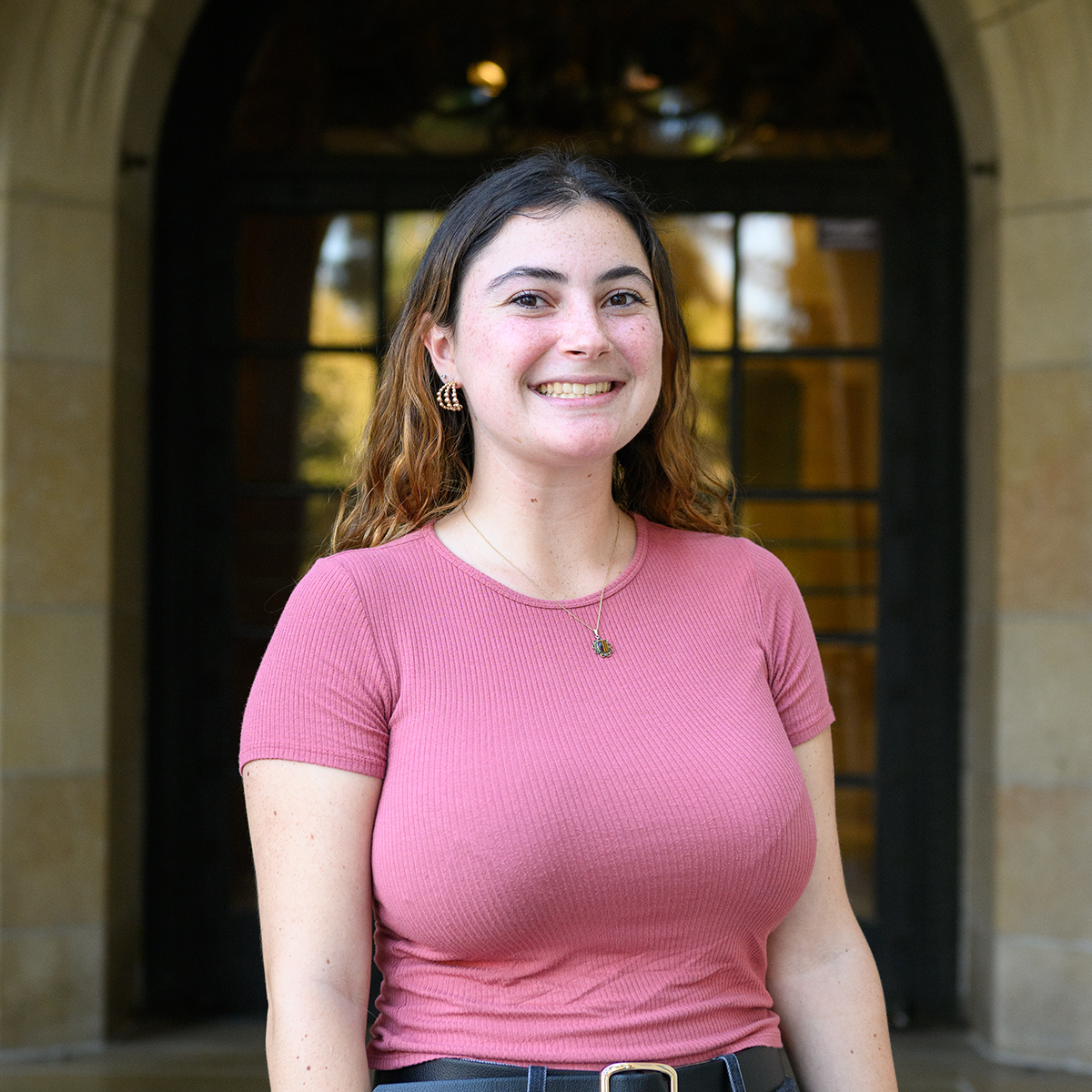 This post was updated March 12 at 10:54 p.m.
There's a new highest all-around score to beat in the NCAA.
And it belongs to Jordan Chiles.
With a 39.900, the sophomore broke the top all-around score in the country this season, beating out her own 39.875 from a week ago while recording the second-highest score in program history. The Olympic silver medalist is the only gymnast to reach the 39.900 mark since Florida's Trinity Thomas accomplished the same score last year.
"I felt something in me knowing that this meet was going to be really good," Chiles said.
Led by Chiles' historic feat, No. 5 UCLA gymnastics pulled off a season-high 198.275 to beat out Iowa State's 195.550 on Saturday. Concluding their last regular-season meet of 2023, the Bruins honored their senior class in front of the Pauley Pavilion home crowd.
Redshirt senior Margzetta Frazier, the longest-tenured Bruin among the staff and student-athletes alike, said she was especially thankful for her teammates that have gotten her through the past five years.
"There's something so special about Pauley. I'm never going to find anything like it again," Frazier said. "It's emotional being in there to begin with but the fact that last year was very difficult for me, and this time, I'm crying tears of joy."
Chiles was initially recruited as part of the 2023 senior class, and even though she's the same age as many of them, she considers the seniors to be role models.
A 9.975 on vault kicked off Chiles' road to the record books. The blue and gold saw two 10s flash across the judges' scorecards courtesy of Chiles' and freshman Selena Harris' event-winning numbers, but both settled for 9.975s. The score set a new career high for Harris and matched that of Chiles, who reached the mark two weeks ago.
With a season average of 49.275 on the event heading into the meet, vault has been the weakest event for UCLA this season. But the Bruins exceeded expectations Saturday, breaking their season high on the event and nailing a 49.475.
But Chiles and the Bruins were only getting started.
Two more judges raised 10s during UCLA's bars rotation – this time for the same routine. Chiles earned her second straight perfect 10 on the event.
After landing her first perfect bars score of the season last weekend and helping the Bruins shatter their season high on bars, Chiles came back to Pauley Pavilion and pulled off the feat for the second week in a row.
As a team, UCLA managed a 49.575 on bars to tie its second-highest score of the season in the second rotation. Back-to-back-to-back 9.900s from sophomore Ana Padurariu, Harris and Frazier set the tone before Chiles' perfect routine.
"​​I just fully believe that they're prepared, and I know that they're just going to show up and enjoy their moment," coach Janelle McDonald said. "That's really what this season is about for me, is having a team that loves the sport they're doing, that shows up for each other and is in it together."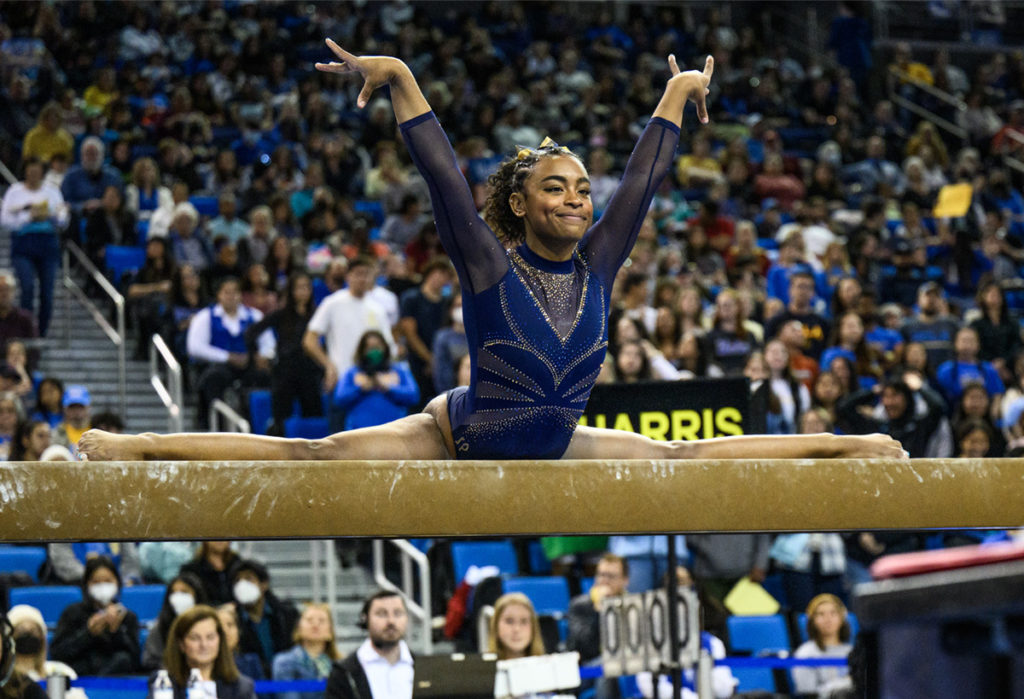 What started out as one of UCLA's weakest events has now proven to be one of its strongest as the Bruins reached a season-high-tying 49.625 on beam. Chiles grabbed a third 9.950-plus score of the day, matched by Harris and sophomore Emily Lee, as all three would share the event title.
Saturday marked Lee's first career all-around appearance donning the blue and gold. After injuring her Achilles at the 2021 U.S. Olympic Trials, Lee was unable to compete her freshman season but has since made her way into the regular Bruin lineup. She finished with a 39.500 on Saturday.
"It was really special for her not just to go out there but to hit this season high on that event and to be back in the all-around," McDonald said. "It's just a testament to her love for the sport and her love for hard work."
The Bruins ended the meet with a floor party, and Chiles nearly reached perfection yet again. Her 9.950/10 split earned her a second 9.975 on the day and was enough to tie the second-highest all-around score in UCLA history. Jamie Dantzscher also reached 39.900 in 2002, while Mohini Bhardwaj's 39.975 in 2001 currently holds the program record.
With UCLA's regular anchor on floor, junior Chae Campbell, out on the event, Chiles stepped up as the team's final competitor.
But competing right before her was Frazier, and Chiles promised the fifth-year gymnast that she would be running to each corner during Frazier's routine to cheer her on – despite needing to get ready for her own routine right after.
Chiles said she told Frazier to think of former UCLA gymnasts Norah Flatley and Sekai Wright, with whom she had started her Bruin journey.
"I told her to do it for Norah because we were wearing her leo today," Chiles said. "They were always always there for us, no matter what. So I just kind of told her to do it for them."
UCLA secured a share of the regular-season conference title Saturday, but the Bruins will travel to Utah next weekend for the Pac-12 championships.
Friedman is the 2023-2024 editor in chief. She was previously the Copy chief, a Slot editor and a Copy intern. She also contributes as a Sports reporter to the women's soccer and gymnastics beats.
Friedman is the 2023-2024 editor in chief. She was previously the Copy chief, a Slot editor and a Copy intern. She also contributes as a Sports reporter to the women's soccer and gymnastics beats.