UCLA student-run label Cherry Pop Records is innovating Westwood's music scene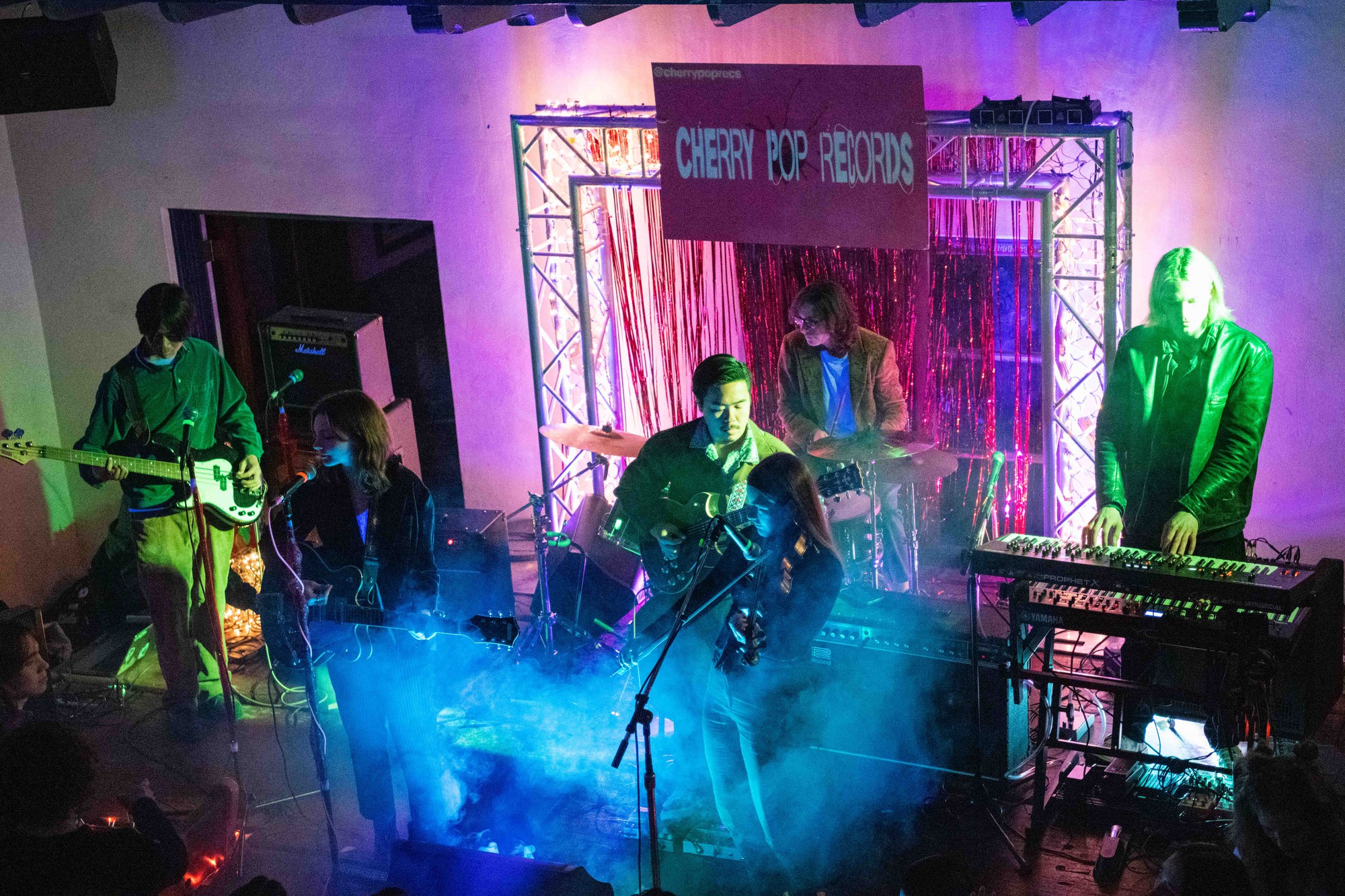 Underneath a pink sign reading "Cherry Pop Records" and lit by blue and green lighting, Katrina Weissman and band members perform on stage at Cherry Pop Records' Cherry Pit show. The event featured performances from artists signed to the label, which is UCLA's first student-run record label. (Amelie Ionescu/Daily Bruin senior staff)
Correction: The original version of this article misspelled Aliah Gaoteote's name.
This post was updated March 6 at 9:10 p.m.
Cherry Pop Records is bursting the bubble of what it means to be a record label.
UCLA's first student-run record label Cherry Pop Records was founded in October by Aliah Gaoteote, a fourth-year music history and industry student. Also the label's president, Gaoteote said starting Cherry Pop has shown her that she has the power to create her own opportunities. The label has jumpstarted her own career within the music industry, she said, while also supplementing the rich music scene at UCLA.
"We want to bring together the music community of UCLA," Gaoteote said. "Not only be a record label."
The process to sign artists to their label began with Cherry Pop's artists & repertoire department, Gaoteote said. While getting artists' attention was initially difficult, she said their outreach efforts proved to be fruitful when artists began signing with the label. The label focused on signing student artists living in the Westwood area within the pop, rock and hip-hop genres, she said. However, she added that the genres are nonbinding for the artists that sign with them.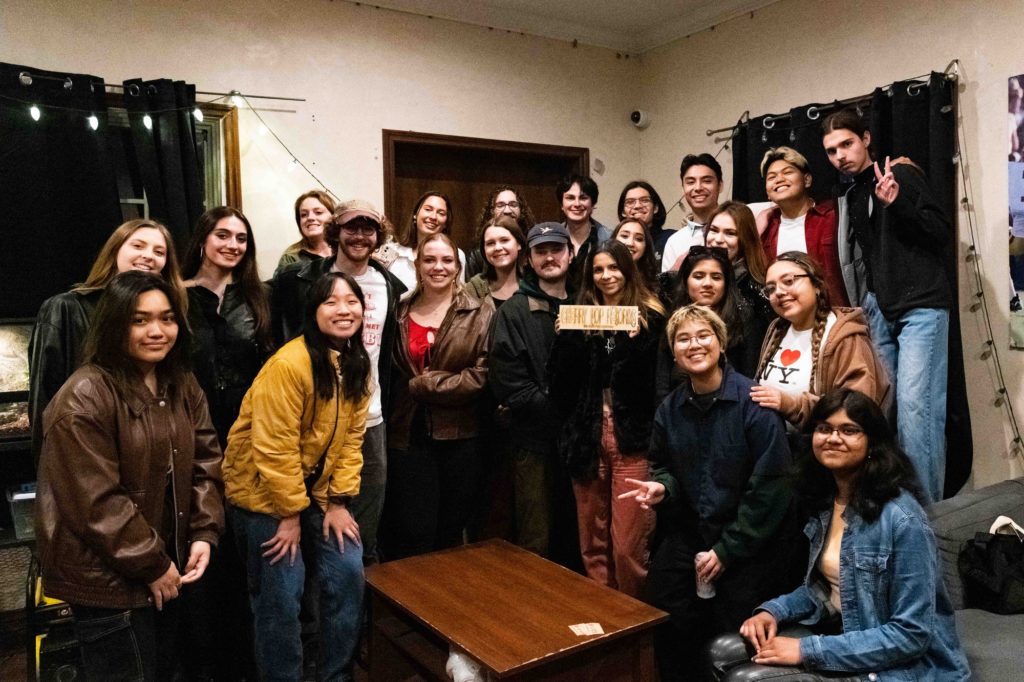 [Related: Student Gavin Hudner finds creative freedom, fulfillment through music production]
Luke Leiato, a fourth-year political science student and member of both Cherry Pop-signed band Club Kona and the Cherry Pop marketing team, said signing with the label has already impacted the path of the band. Taking inspiration from indie artists such as Anderson .Paak and Polyphia, he said the band began as friends coming together for a passion project. Now, the group has scheduled times to record its upcoming album, with a release date in the works. Cherry Pop has also provided the band with designated managers from each department for events and production, Leiato said.
"Cherry Pop was the first decision we made actually wanting to move forward with the band," Leiato said. "We weren't necessarily that familiar with the music scene, so we really wanted to have people that were familiar with it and (could) help us navigate it."
Currently, Cherry Pop is working toward releasing its first compilation album titled "Cherry Pop Vol. 1" in May, Gaoteote said. The album will feature Cherry Pop's five artists – Club Kona, Infrared, Lot 3, The Band Called Sex and Katrina Weissman – each of which will record one single. While producing the album, the label's main focus is to ensure each artist feels satisfied with what they record in addition to creating a relatively sonically cohesive album, Gaoteote said.
As for Club Kona, Leiato said crafting a compilation album shifted the band's approach to the music they create. After witnessing the distinctiveness of the other Cherry Pop artists' music, he said the group evolved their sound with the hope that listeners can easily recognize their work. The band's current demo takes inspiration from the work of Mac DeMarco and contains a number of guitar licks, which have since become a staple of Club Kona's music, Leiato said.
Looking into the bustling music industry of Los Angeles, Gaoteote said she hopes Cherry Pop can establish a working relationship with a major record label or music group in the future. Part of this process, she said, involves getting their artists more exposure outside of UCLA and Westwood to increase their perceived credibility and legitimacy in the music world.
In addition to working on "Cherry Pop Vol. 1" and looking for ways to break into the LA music scene, the label is working on expanding its reach, said fourth-year English and global studies student Bailey Meyers, who is also the vice president and press manager of Cherry Pop. Avenues the label is exploring, he said, include increasing Cherry Pop's press and public relations presence, hosting more concerts, and running a blog that publishes features on local artists and editorial content about the music scene at large.
[Related: Flamango Bay explores youthful, personal themes in debut EP 'The Fool']
Part of the label's goal is to not only gain more exposure on campus, but to use their growth to create a more communal atmosphere within the UCLA and Westwood music scene, Gaoteote said. Meyers said Cherry Pop hosted an open mic sponsored by Guayaki Yerba Mate and Warner Music U in Bruin Plaza on Feb. 13.
"A ton of people performed (from) all different genres," Meyers said. "It was really cool to see the whole diversity of the Westwood scene coalescing around one of our events."
As a soon-to-be graduate preparing for life post-college, Leiato said Cherry Pop has changed the trajectory of his professional career. Prior to joining the label, he said he was set on pursuing political science by attending law school. Today, he hopes to venture into the music business using the connections he said Cherry Pop has provided him with.
"Now I see a career in something I'm not only passionate about but (can do) professionally," Leiato said. "(Cherry Pop) gives me more confidence that this is something I can do in the future."