UCLA beach volleyball crowned Outrigger Duke Kahanamoku Beach Classic champions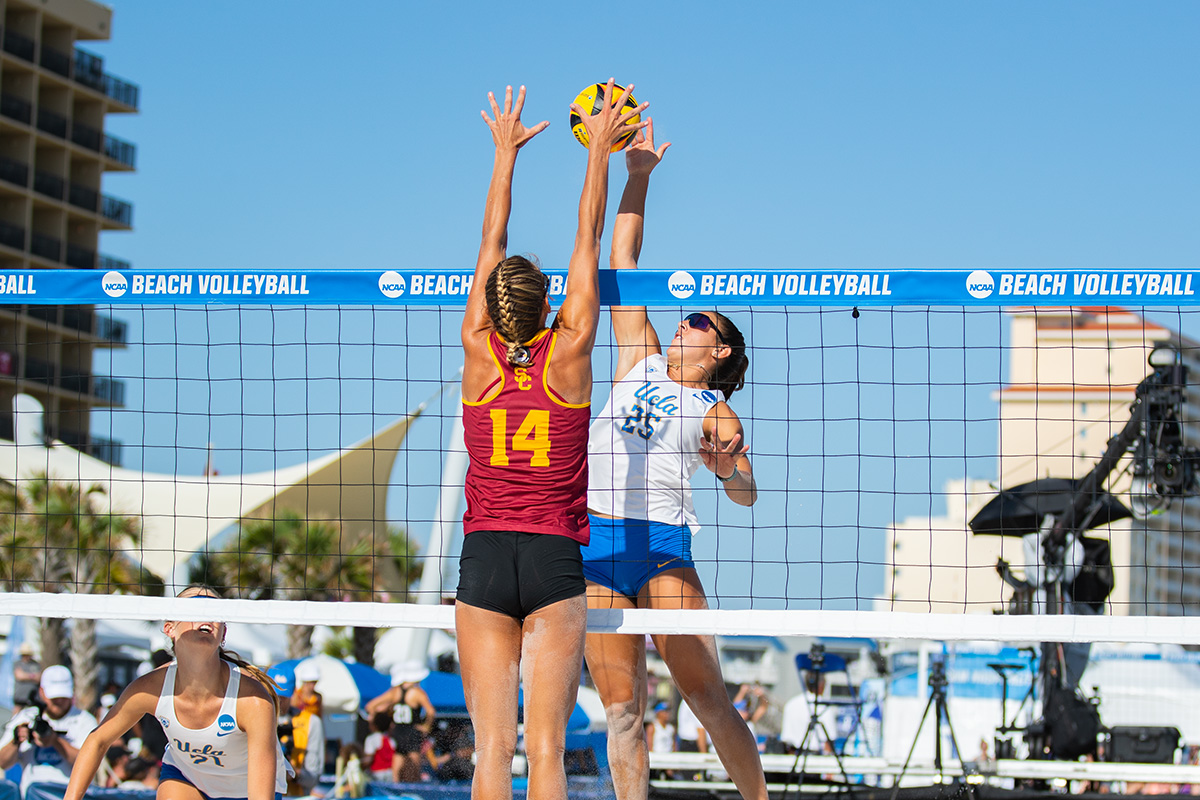 Senior Lexy Denaburg spikes the ball over the net. Denaburg took home Most Outstanding Player in the Bruins first tournament of the season this weekend. (Joseph Jimenez/Assistant Photo editor)
This post was updated Feb. at 8:44 p.m.
Braving the elements of windy Queen's Beach, the Bruins staked their claim in the sand of NCAA Beach Volleyball.
No. 1 UCLA beach volleyball (6-0) flew to the Aloha State to compete in the Outrigger Duke Kahanamoku Beach Classic in Honolulu, Hawaii. The three-day tournament pitted the blue and gold against St. Mary's (2-4), Stephen F. Austin (0-5), No. 9 Stanford (4-2) and No. 10 Hawai'i (3-3) in round robin style with two back-to-back double headers Thursday and Friday.
After the initial matchups, the four teams were seeded and competed in a tournament style bracket on Saturday. The Bruins swept the competition and collected the tournament crown for the second year in a row.
Senior Lexy Denaburg said the squad stayed focused on its own play in order to emerge victorious against the other three teams.
"For us, going into a lot of the games we just focused on our side and playing good wind ball and serving aggressive, just controlling our side. And then once we got film on a couple of the teams, we watched film on ourselves and just figured out what we could do better," Denaburg said. "Controlling our side was just most important."
The blue and gold took on St. Mary's and Stephen F. Austin on Thursday, concluding with a 10-1 sweep against the Gaels and a 5-0 defeat against the Lumberjacks.
Freshman Maggie Boyd echoed Denaburg's emphasis on team togetherness to tackle the tournament.
"Our mentality stayed the same through the whole tournament," Boyd said. "We really wanted to come out here and show what we have been working on the past months and really just show what's in store for us this season and not take any team lightly."
Friday's foray included what coach Stein Metzger said was a tough battle to defeat Stanford 3-2 and Hawai'i 4-1.
"There's always room for improvement. We played well enough to win this weekend. I still feel like there are areas where we can get better," Metzger said. "We're still taking a look at some different partnerships. So there may still be some movement."
One duo that ended up working out – Boyd and Denaburg – began their partnership by securing a win for the Bruins in Thursday and Friday's matches. The duo paired up again on Saturday for tournament style play to win their respective matches against St. Mary's 5-0 and Stanford 4-1.
"She's (Boyd) a little baller," Denaburg said. "It was obviously her first game this weekend, but she doesn't play her age at all. And she's such a good partner and I had a great time."
Boyd and Denaburg were rewarded with tournament honors, with the freshman claiming Best Defender in the first tournament of her college career and the veteran senior being named Most Outstanding player.
Metzger described Boyd as a player beyond her years, bringing high levels of athleticism to the team.
"I've been watching her since she was 14 years old. Somebody clued me into this kid out of Flower Mound, Texas, and I decided to take a trip to Dallas," Metzger said. "Right away, I recognized just the way she moves, her body control. She looked like a miniature professional beach volleyball player at a young age."
Following their first tournament of the season, the Bruins want to continue building on their initial victory, according to Metzger.
Metzger added that the importance of the tournament was a means for the Bruins to see what works for the team and where it needs to improve.
"I feel like this is a great start. There were times where we weren't playing great. Some of our peers did what we call win ugly and dealt with the pressure and were successful at the end of the day," Metzger said. "It was a great opportunity for us to learn and for them to learn about themselves. And like I said, we've got room to grow and we're looking forward to next weekend, Pac-12."
After starting off strong, Boyd said she wants to continue her momentum.
"I'm just even more pumped up now," Boyd said. "I think I had a little bit of nerves going in, just like my first collegiate game, but now it's just kind of getting more comfortable and (I'm) really just growing my game even more."
The Bruins are set to play in the Pac-12 South Tournament next weekend, facing off against Oregon, Arizona State, Utah and No. 4 USC Saturday and Sunday with the first three at UCLA's Mapes Beach and the final rivalry contest at Merle Norman Stadium.