Seasonal Affective Disorder, winter fatigue affects Bruins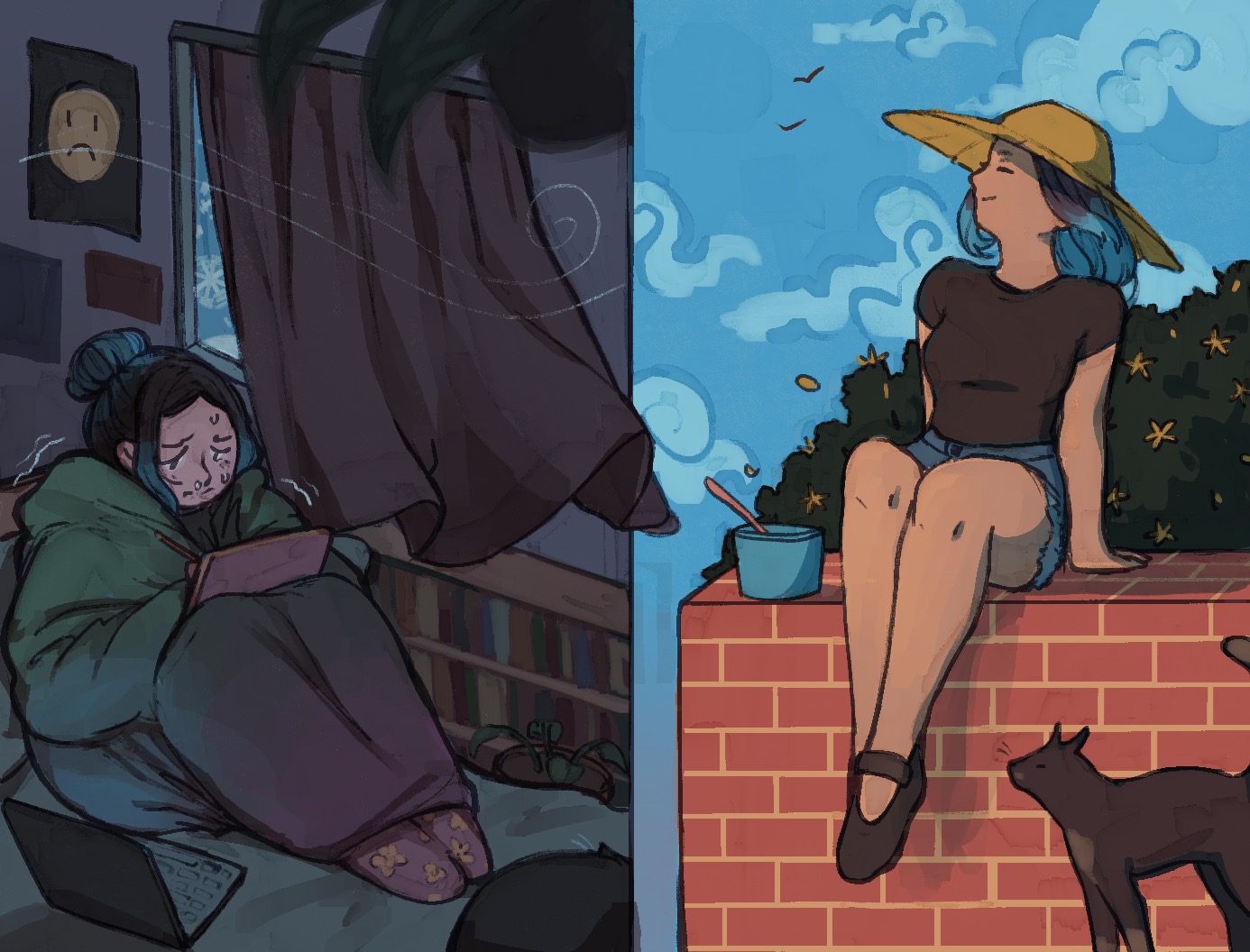 (Anna Richardson/Daily Bruin)
While living in typically mild-weathered southern California may reduce the severity of seasonal mood swings for Bruins, having this advantage may not be a reason to neglect the impact winter can have on mental, and even physical, health.
Seasonal Affective Disorder occurs when individuals experience enduring fatigue and mood swings due to seasonal changes, according to National Institute of Mental Health. While SAD is commonly associated with winter, it can take root when our bodies need to adjust their circadian rhythms to changes in hours of daylight and average temperatures, according to the National Institute of General Medical Sciences.
Kathleen Lambird, the Quality, Client Safety and Risk Manager at UCLA Counseling and Psychology Services said the primary biological cause of winter fatigue is the difference in the amount of sunlight that people are exposed to between warm and cold months.
"People think of Los Angeles as a warm place, … but we still do have a significant drop in the number of hours of daylight," Lambird said. "In December, we're only getting less than 10 hours of daylight, whereas in May, June and July, we're getting more like 14 hours of daylight per day. And so, that affects our body clocks."
The human body reacts to decreased durations of natural light exposure by producing melatonin, hormones that respond to darkness and trigger sleep, at earlier times of the day, according to Johns Hopkins Medicine. This can increase feelings of tiredness before bedtime and frustration due to the human body's signal to rest when there is still work to complete, according to the same source.
First-year electrical engineering student Matthew Chandler said he experiences winter fatigue as a series of behavioral changes, which he is hardly aware of until after the season passes.
"My main experience with it was like last year during the college application season, where it was really hard to get off my bed and actually write stuff. And I ended up procrastinating a lot … because I just had so little motivation," Chandler said. "I'm kind of feeling (it) now as well. I don't think I go to a lot of my classes, it's always cloudy outside."
Psychology professor Carrie Bearden said it is important to distinguish end-of-quarter burnout from seasonal disorders because a clinical diagnosis of mental illnesses entails more severe distress and impairment to health.
"Low mood, loss of interest in things that you normally enjoy, feeling like you don't want to get out of bed, you're sleeping or eating a lot, either more or less than normal, you're moving slowly, you're having trouble thinking, concentrating; These are all symptoms of depression," Bearden said.
Lambird added that while winter fatigue and SAD impact many people, both can be treated with proper care.
"There's natural reasons why we might be feeling less energy in the winter, but there's also still things that we want to accomplish and that are valuable to us," Lambird said. "I think some combination of being patient and gentle with yourself, and also figuring out how to work with natural rhythms rather than against them (can help)."
Light therapy is a common treatment for SAD, which aims to increase alertness by using artificial therapy light as a substitute, according to Harvard Medical School. Bright light exposure may also be paired with other methods such as meditation, exercise and psychotherapy to improve treatment outcomes, according to Mayo Clinic.
"Talk to friends, study with other people, just make sure you're not spending too much time alone," Bearden said. "I think that's a big thing that you can really get caught up in your own head if you're not checking in with other people."
Third-year human biology and society student Mahnoor Wani said from personal experience that adopting balanced, healthy living habits has helped her overcome her symptoms of mood swings and lethargy.
"Being more organized in the winter time, like having a planner or something, would be helpful so you know you don't miss out on anything," Wani said. "Getting more physical activity done during this time, … finding a gym buddy is also good."
As the winter season wraps up, it may not be too late for Bruins to become aware of seasonal productivity and adjust their habits to finish the winter quarter strong.
"Hang in there!" Bearden said. "It's probably the toughest quarter. … Every day, the days are getting longer, so you start to really see that light at the end of the tunnel."