UCLA researchers identify gene with potential to treat white-fat-related diseases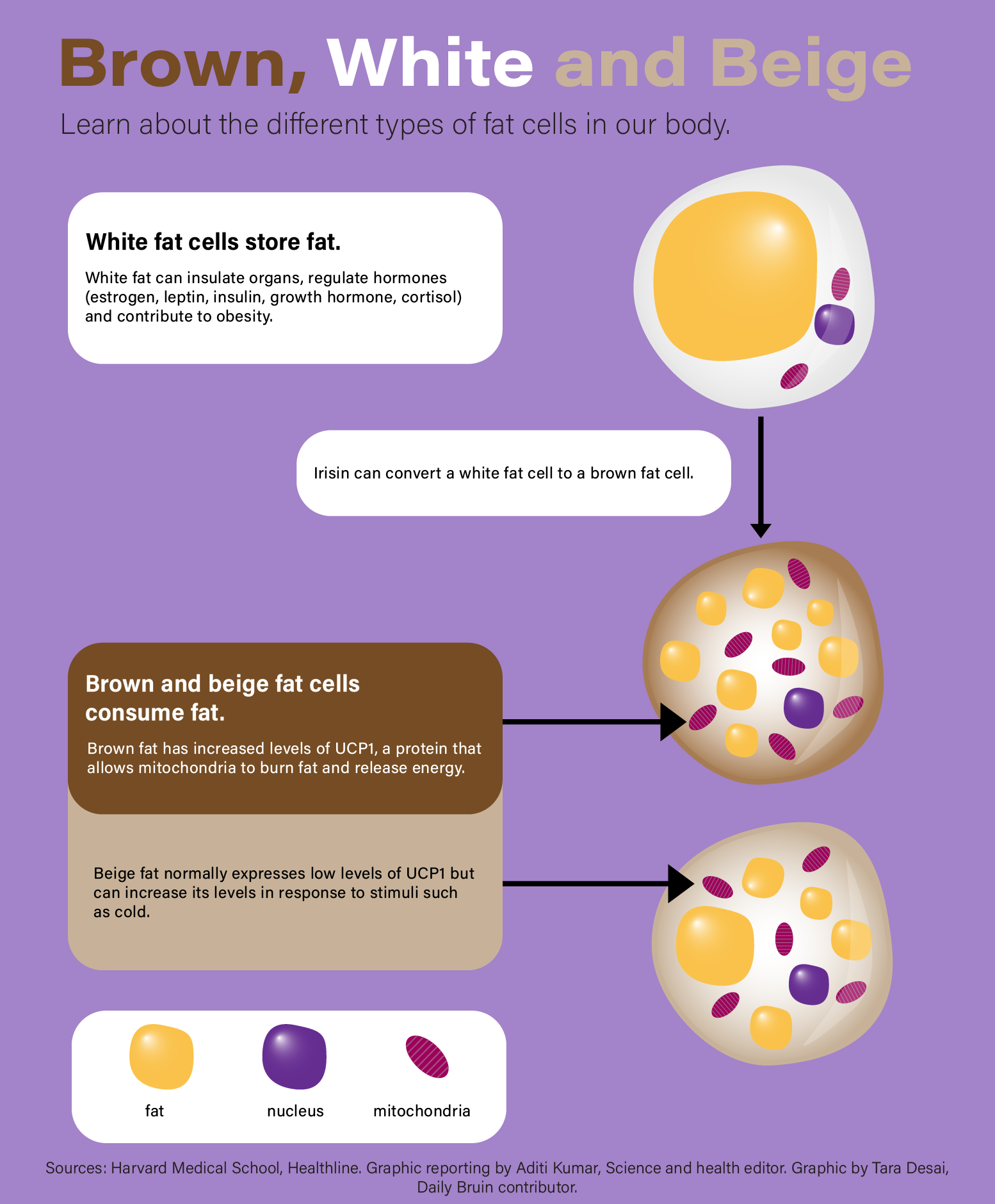 UCLA researchers have discovered a gene responsible for producing different traits in brown and white fat cells, which may have implications for the treatment of diabetes and obesity.
Brown fat cells generate heat and maintain body temperature in cold environments while white fat cells store fat, according to a paper from Comprehensive Physiology. Brown fat is the type of fat cell that helps people burn fat, while white fat is the type of fat associated with disease, said Claudio Villanueva, a professor in the Department of Integrative Biology and Physiology.
As humans grow, they slowly lose their brown fat, said Kevin Qian, a medical student, pathology doctoral student, and an author of the paper published in January. The ability to regenerate this brown fat in adults could potentially lead to treatments for diseases caused by an accumulation of white fat cells, such as diabetes or obesity, he said.
"It's been shown that there's at least a correlation between the presence of brown fat and decreased blood sugar, decreased incidence of diabetes and other metabolic benefits," Qian said.
Brown fat cells have a different appearance than white fat cells. Fat is packaged into organelles called lipid droplets in cells – brown fat cells have many tiny lipid droplets, whereas white fat cells have one giant lipid droplet, Qian said.
The fact that brown fat cells have many tiny lipid droplets is important because there is a trade-off between surface area and volume, he said, adding that the more surface area a cell has, the easier it is for the cell to send enzymes to use the fat.
Peter Tontonoz, a professor of pathology and laboratory medicine and corresponding author of the paper, said researchers discovered the mechanism that controls lipid droplet size in fat cells.
The researchers found a gene producing a protein called CLSTN3β, which is highly expressed in brown fat cells, Qian said.
"We actually discovered this gene hidden inside of another gene," Qian said. "It's like a secret protein that's hidden inside of our genome."
In the study, the researchers proposed that the gene limits lipid droplet size by preventing them from merging. Tontonoz said a piece of compelling evidence for this hypothesis was an experiment in which expression of this gene inside fat cell precursors on cell culture dishes resulted in the development of fat cells that contained small lipid droplets.
The researchers also removed the gene in mice, resulting in the accumulation of large lipid droplets in brown fat cells and greater usage of carbohydrates rather than lipids – meaning that the lack of this gene decreased the cell's ability to use lipids, likely because it led to a change in lipid droplet size, according to the study.
Qian said removing the gene also impacted the mice's ability to maintain their temperature in cold environments.
"​​We found that when you knock out the protein, … the mouse is not quite as able to use lipids on its brown fat, and as a result, it's got some deficits in its ability to stay warm," Qian said.
When the researchers expressed the gene in white fat cells in mice, it was able to prevent the lipid droplets from merging into one large lipid droplet, according to the study.
They further found that CLSTN3β protein keeps the lipid droplets small by inhibiting a protein involved in the fusion of lipid droplets.
These experiments were conducted in mice, but the results may be relevant to humans because the authors found that the CLSTN3β protein is conserved in humans and also enriched in fat with many tiny lipid droplets, Qian said.
Qian said this is the first paper to uncover the mechanism of how lipid droplets are organized in brown and white fat cells.
Villanueva said he is interested in researching converting white fat cells into heat-producing fat cells. This study has opened up a new potential avenue, he said.
"Brown fat can burn energy, and so understanding the balance between fat burning and fat storage is obviously of relevance to humans," Tontonoz said.
Although they lie farther ahead in the future, there are some ideas for targeting this gene as a therapy for obesity, Tontonoz said.
"What we're fundamentally studying is how cells decide whether to store or whether to use their lipid," Tontonoz said. "In the long term, if we understand that mechanism better, we might be able to develop drugs that tell cells to use lipids."