Students criticize international response to earthquakes in Turkey, Syria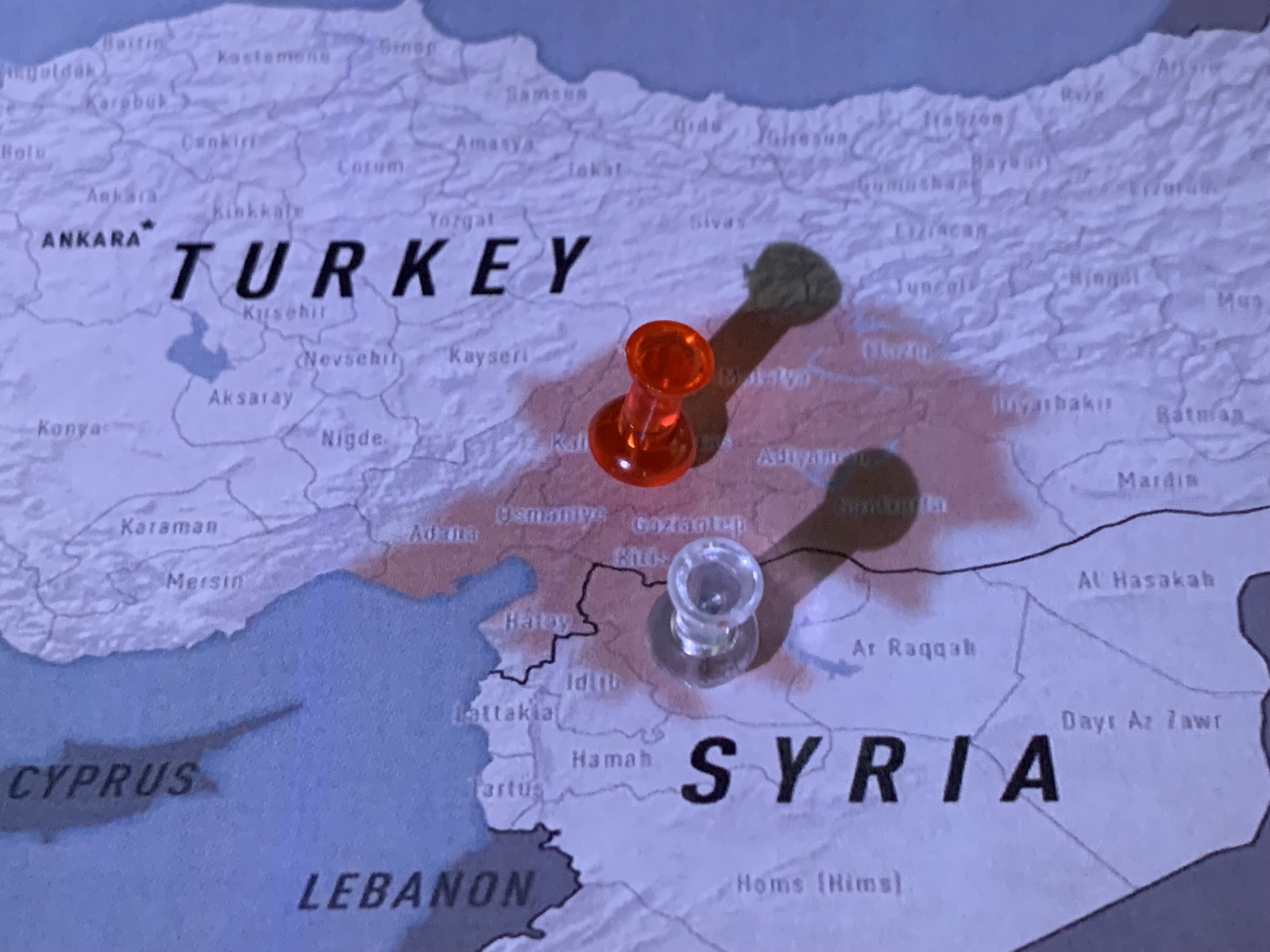 A map of Turkey and Syria is pictured. Turkish and Syrian students expressed frustration with the lack of international support and humanitarian aid following the Feb. 6 earthquakes in the area. (Constanza Montemayor/Daily Bruin senior staff)
Turkish and Syrian students said they have felt neglected by the international community following devastating earthquakes on Feb. 6.
As of Tuesday, government officials have reported more than 40,000 deaths and the estimated economic loss is more than $1 billion, according to the World Bank. Community members held a vigil Thursday – organized by the Middle Eastern Student Association at UCLA – to pay their respects for those killed by the earthquakes.
[Related: Bruins mourn lives lost in earthquake impacting Turkey and Syria]
The region was unprepared to deal with the aftermath of such a large-scale earthquake, said Aysu Buldaç, a first-year psychology student from Turkey, adding that, when the earthquake struck, many families were overcome with confusion and helplessness.
Kaan Malta, a spokesperson for the Turkish Student Association and a second-year mathematics/economics student from Turkey, said the Hatay province, where the earthquakes have caused heavy damage, has needed improvement in its planning to address natural disasters for a while.
Buldaç added that current locations of infrastructure contributed to the difficulty of local relief efforts, such as having airports built in perilous areas that blocked rescue teams from reaching survivors.
"In some cities, they still can't get to them because the airports collapsed because they were built on the fault lines," Buldaç said.
The lack of electricity has hindered national and international communication, particularly in certain cities near the earthquake's epicenter, she said.
"There's no way of contacting the people in those cities," Buldaç said. "The only way we get any updates on them is (if) some of the survivors go to the border of that city to the next city."
Beyond infrastructure deficiencies, Buldaç said extreme cold weather and lack of access to food have exacerbated the casualties.
Lara Elhassan, a Syrian American and third-year public affairs student, said those regions also suffered great cultural losses, noting the damage to the Citadel of Aleppo, a UNESCO World Heritage site.
Buldaç said in an emailed statement that she hopes the international community will continue to follow news in the area and contribute in any way possible.
"This earthquake is not a trend that will go away in a week, but rather a tragedy that will continue to impact people's lives," she said in the statement.
Elhassan said she has felt helpless and unmotivated in her everyday life in the aftermath, especially hearing from family of the destruction in Mersin, Turkey.
"You feel feelings of guilt, you know? Because you're like, 'What am I supposed to do? It's my family that's there,'" Elhassan said.
As Turkey and Syria are recovering and repairing the damage in the affected regions, Malta said he is grateful for countries such as Greece that put usual politics aside to send aid to Turkish regions.
However, he added that much of the world responded in a delayed manner and seemed ignorant of the resulting humanitarian crisis.
"Local campaigns have created a massive flow out of tweets and calls for help, … but the international media outlets were a bit more slow on response," Malta said. "It was days after when they also understood the major-scale humanitarian crisis going on."
Malta added that he felt some of the first articles from international news outlets were disrespectful, redirecting attention away from the crisis and onto the interests of Californians instead. Some students have expressed dissatisfaction with the insensitivity and unsympathetic tone of an article by the Los Angeles Times, saying it detracts from discussion of the destruction in Turkish and Syrian regions.
Elhassan said she was also shocked to find the broader UCLA community seemed unaware of the earthquake and its effects. She added that she did not receive support from faculty until she reached out first because they were unaware of the situation.
Malta said he hopes to see more of a response from the UCLA administration, considering the social influence of the public institution.
"I would expect more official announcements and clarifications regarding the events from UCLA's own social media outreach," Malta said.
UCLA issued a statement Friday offering psychological resources and sympathy to those affected in the earthquakes.
The Turkish Student Association has set up an avenue for donations, and UNICEF at UCLA has reposted resources to support the recovery movement.
Buldaç said the UCLA administration and community should be sympathetic and supportive and demonstrate to these students that they have a reliable support system moving forward.
"UCLA needs to recognize their international community," Buldaç said. "UCLA needs to recognize that, … even if it's one person from a different country, they matter because they're a part of this community."