Bruins mourn lives lost in earthquake impacting Turkey and Syria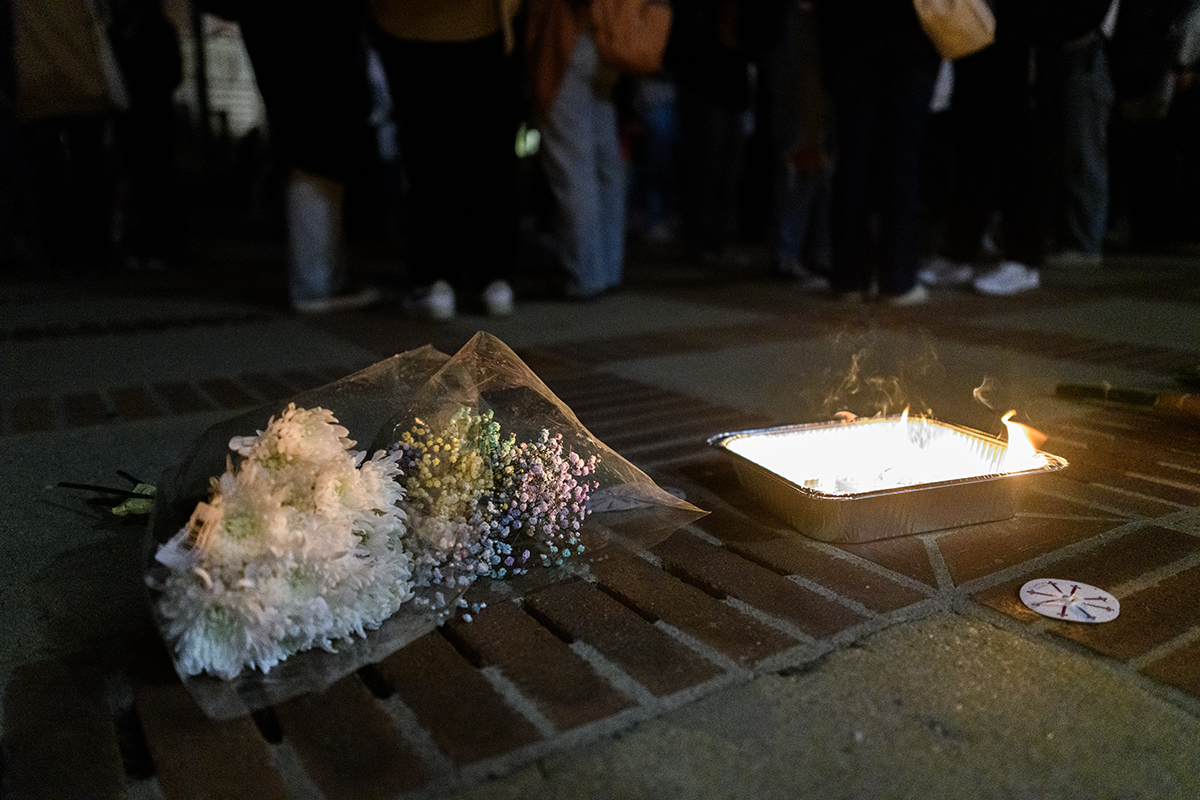 A bouquet of flowers is placed on the ground. The Middle Eastern Student Association at UCLA organized a vigil to mourn the lives lost in a recent earthquake affecting Turkey and Syria. (Megan Cai/Assistant Photo editor)
Correction: The original version of this article incorrectly stated the capital of Syria is Aleppo. In fact, the capital is Damascus.
This post was updated Feb. 13 at 10:28 p.m.
Editor's note: this article was updated to retroactively remove the names of two students out of concern for their safety, as well as to clarify a source's statement regarding the current political and economic climate in Syria.
Around 100 people gathered in front of Royce Hall on Thursday evening to mourn lives lost following a recent earthquake affecting Turkey and Syria.
The magnitude 7.8 earthquake struck southern Turkey near the northern border of Syria around 4 a.m. on Feb. 6. Nine hours after the main shock, a magnitude 7.5 earthquake occurred 60 miles north of the first quake. More than 10 aftershocks have also occurred in the region since, according to the Associated Press. More than 25,000 people have died as a result of the earthquake, leaving millions without shelter and thousands injured, according to NPR.
Organized by the Middle Eastern Student Association at UCLA, the vigil featured multiple student speeches, flowers, candles and a clothing drive. MESA collected items such as winter clothes, equipment and canned food to donate to relief efforts.
Students and community members paid their respects to those affected by the disaster, placing lit candles in front of Royce Hall. MESA said it is also donating the proceeds from the vigil to families of the victims.
The vigil served as a way to give the Middle Eastern community on campus and the rest of UCLA a space to grieve, said a student and member of MESA who wished to remain anonymous. They added that it is important for people who are able to donate to consider doing so.
Arin Akcura, a third-year computational and systems biology student, said he lived in Turkey most of his life and has relatives affected by the earthquake on the southern border of Turkey.
Akcura said he believes Turkey's government could have prepared more for and responded better to the natural disaster. Turkey has failed to enforce existing construction guidelines and protection measures after previous earthquakes, according to ABC News. He added that the effects have been saddening, as many people who are economically vulnerable were also impacted by the earthquakes.
Another student who is a member of MESA and a second-year Middle Eastern studies and political science student – and wished to remain anonymous due to safety concerns – said that as a Syrian American, they have witnessed the country experience internal conflict and economic turmoil. They added that it is heartbreaking to see an additional catastrophe affect their home country, and that people should remember to keep in mind the humanity of those impacted by these events.
The country has been experiencing an ongoing civil war for nearly 12 years, which has led to it being split between opposition and government-held territories, according to the Associated Press.
"We're still people, and we're still being affected by one hit after another and it's painful, all the same each time," the second-year student said.
Dozens of countries, as well as the European Union and the United Nations, have primarily pledged assistance to Turkey, with some calling for aid to Syria as well. The United States government voiced support for aid to both countries but called on the Syrian government to expand available routes for relief.
Celine Mallouhi, a first-year psychobiology student and vigil attendee, said people should educate themselves about the history of Syria to understand the gravity of the situation.
"I felt the effects of civil war firsthand, the sanctions on Syria and the effect that the war has had on its people," Mallouhi said. "Knowing that this is another event they're going to have to conquer is a pain that's difficult to describe."
The rebel-held territories in Syria, which have experienced hundreds of deaths and casualties, have received little aid on the ground, as the earthquakes damaged the one route through which these territories traditionally receive assistance, according to NPR. The Syrian government's allies on the UN security council have also vetoed previous attempts to secure pathways for aid to opposition-held territories.
Mallouhi, who is also a first-generation Syrian-American, said the recent earthquake is devastating, as it follows the damage resulting from the country's ongoing civil war. According to NPR, the war has destroyed one-third of all homes in Aleppo, one of the largest cities in Syria, and has displaced half the population.
Mallouhi said the vigil was beautiful and fostered a sense of community, which is important following such difficult times.
Tragedies of violence and catastrophe are often stereotypically associated with the Middle East, the second-year student said, but there are real people and lives negatively impacted by them. Many of those who died in the earthquake were asleep and instantly crushed by the rubble, she added.
"As the earthquakes are happening, they're in the middle of winter. … There's snow, it's freezing and they're cold," the second-year student said. "Not only as the buildings are falling, they don't have clothing on their backs."
Akcura said the vigil gave people a collective space to share their sentiments and be vulnerable with one another. It was a unifying moment where people could be candid about how the earthquake has impacted the lives of many across the world, he added.
"It's not just the Turkey and Syria issue; it's not just a Middle Eastern issue," Akcura said. "These are humans as well. … It's a humanitarian issue."