The Quad: How accessibility accommodations benefit students, what UCLA can improve on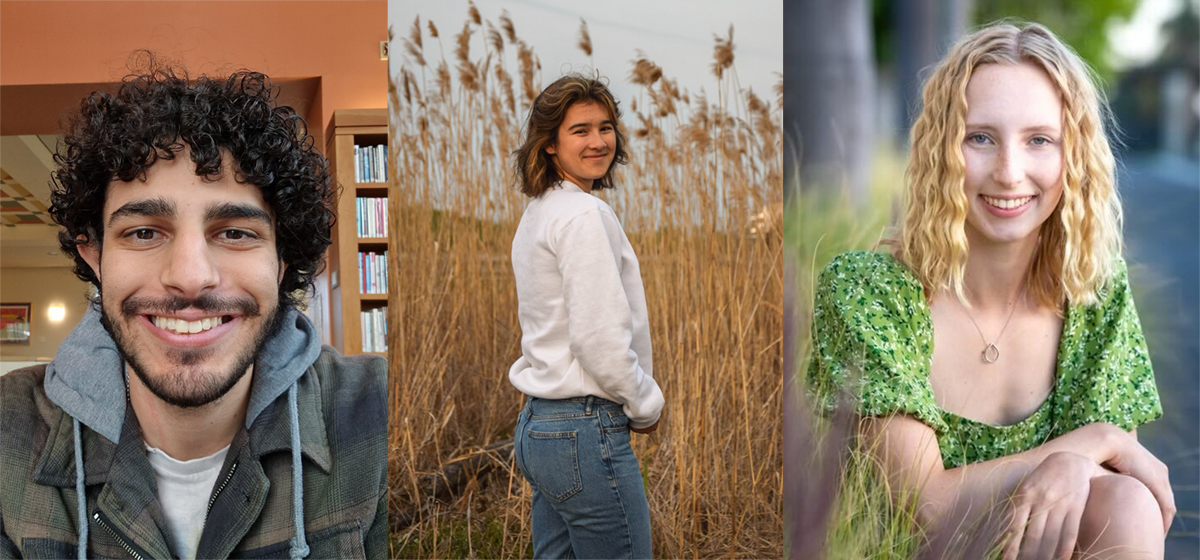 (From left to right: Courtesy of Issa Aboudi, Courtesy of Isaac Wetzel, Courtesy of Deborah Cartright)
This post was updated Feb. 7 at 8:22 p.m.
While college is a place for students to learn to live and study more independently than ever before, this newfound independence can also be a source of stress.
And for Bruins with disabilities, navigating getting to and from classes can be even more challenging.
UCLA has vouched to provide support for students with disabilities in collaboration with faculty, staff and students through the Center for Accessible Education. CAE aims to create an accessible, inclusive and supportive learning environment by offering accommodations ranging from academic assistance to housing arrangements, according to its website.
CAE Director Spencer Scruggs said CAE aims to understand the different needs and experiences of faculty and students with disabilities alike.
"Our office … seeks to support faculty and the campus community and understanding different needs, and how can we create an enriching educational community that respects disability and also provide those opportunities that students feel like they need," Scruggs said.
For some Bruins, the accessibility and empathy that CAE staff shows create a safe and welcoming space to seek consultation for accommodations.
Second-year chemistry student Giselle Brown said she appreciates how open CAE is to discussing possible accommodation options, even in the case of a change in diagnostic criteria.
"A few years ago, the criteria changed so that I no longer qualified for it," Brown said. "But I still met with the officer and they gave me more options of … getting my accommodations through a different diagnosis."
Chloe Gonzalez, a second-year psychobiology and sociology student, said having an advisor to guide her through the process was reassuring and validated her feelings toward her IBS diagnosis as well.
"I didn't even think I can get accommodations for something like this, even though it affected me with my school and my work," Gonzalez said. "But after going through CAE, … (I felt) validated within my disability and realizing, 'Oh, it is something that can inhibit you.'"
Gonzalez isn't the only one that faces internalized invalidation and insecurity about having a disability.
Linda Demer, a medicine, physiology and bioengineering professor, said students who are neurodiverse – those with autism spectrum disorder, learning disabilities or other neurological or developmental conditions like ADHD – in particular may feel reluctant to seek additional assistance.
"Neurodiversity, … it's generally an invisible disability," Demer said. "They think of it (accommodations) as a crutch or they think that other people would see it that way."
However, Demer added that accommodations should not be seen as unfair and gave an analogy she heard in hopes of easing students' shame around seeking accommodations, explaining how it is fair to give special attention to those who need it.
"If one of the children or one of the people in the school were to have a heart attack and need cardiopulmonary resuscitation, they would give CPR only to that person and not to the other people around. And that's because that person is the one who needed it," Demer said.
Issa Aboudi, a third-year linguistics and computer science student, said CAE provided him with the assistance he never had growing up.
"I think the interpreter is the best part because when I when I was in elementary school, middle school and high school, my school district did not provide interpreters," Aboudi said. "Like I can go to class without my implant and I'm good, … I'm not missing anything."
However, some Bruins believe UCLA's accessibility efforts have room to improve.
Gonzalez said those with physical disabilities experience frustration with movement barriers.
"UCLA, like the campus itself, and some of (its) structures aren't very accommodating, especially when you have a disability," Gonzales said.
Brown added that staffing problems within CAE also led to an inability to connect with disability officers.
"I think the only thing is that the officers often change a lot," Brown said. So it's hard to have consistency and develop a relationship with your disability officer."
Increasing education can also play a role in dispelling misconceptions and stigma regarding disabilities among students.
Demer said there needs to be more awareness among UCLA undergraduates about disability accommodations and she remains hopeful about efforts in recent years to expand discussions on neurodiversity.
"I think hopefully more is coming out – movies, podcasts, things to familiarize people with neurodiversity," Demer said. "Because of it, an online group called Different Brains … covers all kinds of diversity and the intersectionality with marginalized conditions."
Scruggs added that legal protections help strengthen the provision of disability services in educational institutions in the country.
"It's really important that we see that legal constructs around disability access, and inclusion and whatnot, gets stronger over time," Scruggs said. "In 2008, we had the passing of the ADA Amendments Act, and subsequently, the Department of Education released further guidance … that has really strongly advocated for the university's responsibility in providing accommodations and engaging through that interactive process."
As such, UCLA provides a wide array of services and programs for students who may feel that they need help. Demer added that Bruins should not feel ashamed for contacting CAE.
"Just talking to one of the counselors doesn't commit to anything," Demer said. "It doesn't label a person."