UCLA student elevates banana bread with small business BBL by Zoë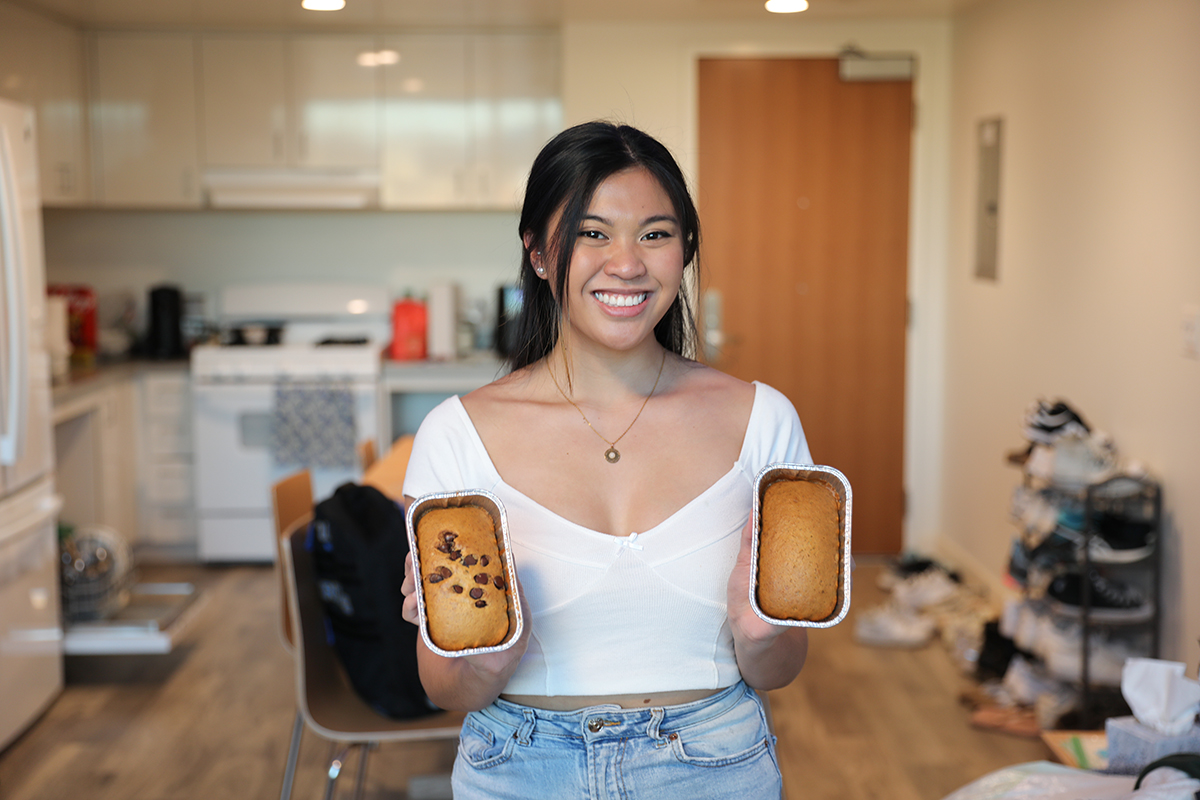 Zoë Madarang smiles in her kitchen while holding up loaves of banana bread. Through her business, BBL by Zoe, the fourth-year economics student sells different flavors of banana bread. (Grace Wilson/Daily Bruin)
This post was updated Feb. 14 at 7:31 p.m.
Zoë Madarang is giving banana bread a lift.

In March, the fourth-year economics student started her small business, Banana Bread Love by Zoë, also known as BBL. Madarang said BBL was named as such for two purposes: to turn heads on Bruin Walk and to express her mission of spreading love through baked goods. This mission was passed down to her from her grandmother, who originally taught her how to bake and created BBL's signature banana bread recipe, she said.
"I still have her original recipe book, and it's old. It's like '80s old," Madarang said. "It's torn. There are streaks of flour and batter all over the pages. It's really been through a lot, and I guess you can tell how much love has been put into it."
Madarang's passion for baking started when she was eight, and her grandmother's banana bread was her favorite recipe, she said. Now, Madarang said she uses her grandmother's banana bread recipe as the base and incorporates new flavors. Drawing inspiration from other desserts and experimenting in the kitchen, Madarang said she likes to create new flavors and often asks her friends to taste test so she can perfect her recipes.
Madarang said her grandmother knows about her business and supports her by sending her various dessert recipes to inspire new flavors. The banana bread recipe has moved through generations and across the world, but the tropical fruits of the Philippines and her grandmother's love always seem to travel with it, she said.
"Back in the '80s, her and my mom moved (from the Philippines) to Nigeria, and I guess this was her way of bringing a little bit of home with them," Madarang said.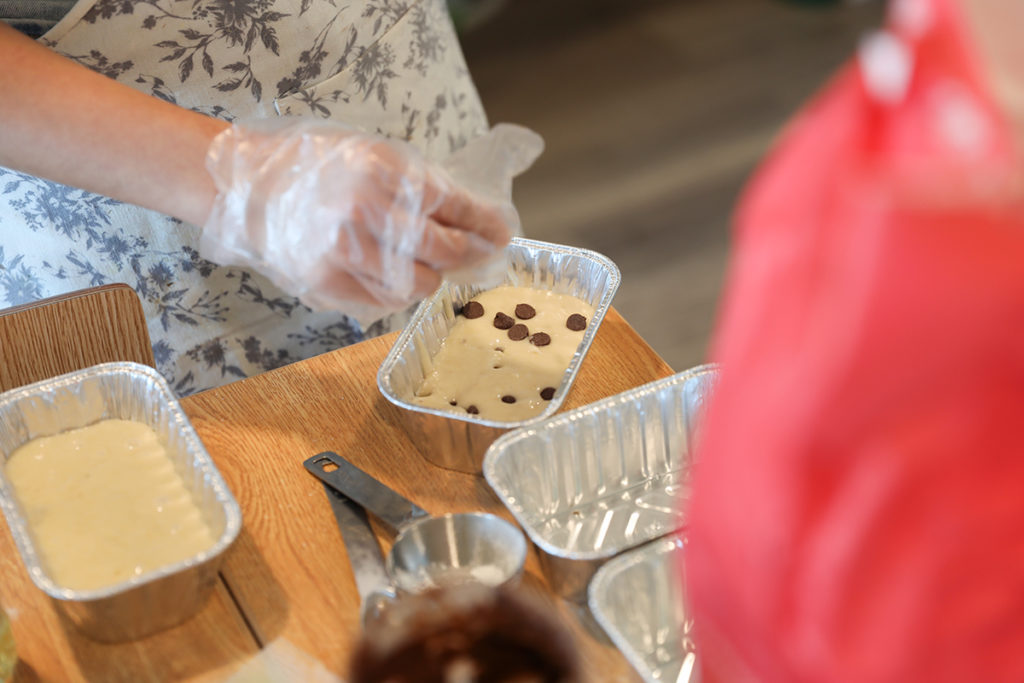 Madarang said she hopes to do the same by bringing the recipe to UCLA. Madarang said when she bakes in her apartment, the room fills with warmth and smells like bananas for days afterward. Fourth-year Asian humanities student and customer Toni Enriquez said Madarang started giving out banana bread to her friends long before she made it a business.
"The name Banana Bread Love is very on brand for her as a person," Enriquez said. "It's like a love language, giving food to other people. She just wants to spread the love and joy of banana bread. That's why she does what she does."
[Related: UCLA student starts food blog centered around dining hall delights]
At first, Madarang said she only gave away banana bread when she had overripe bananas and eventually began asking her friends if they wanted to buy some. Her friends in her sorority and the transfer community constantly told her to make it a business, and Madarang said she finally decided to do so when she thought of a new meaning for BBL.
Madarang said she started advertising her business by posting on Instagram and texting her friends. Fourth-year statistics student and customer Isabelle Supandji said Madarang did not want to heavily advertise on social media because she preferred connecting with people in person, so she started selling on Bruin Walk.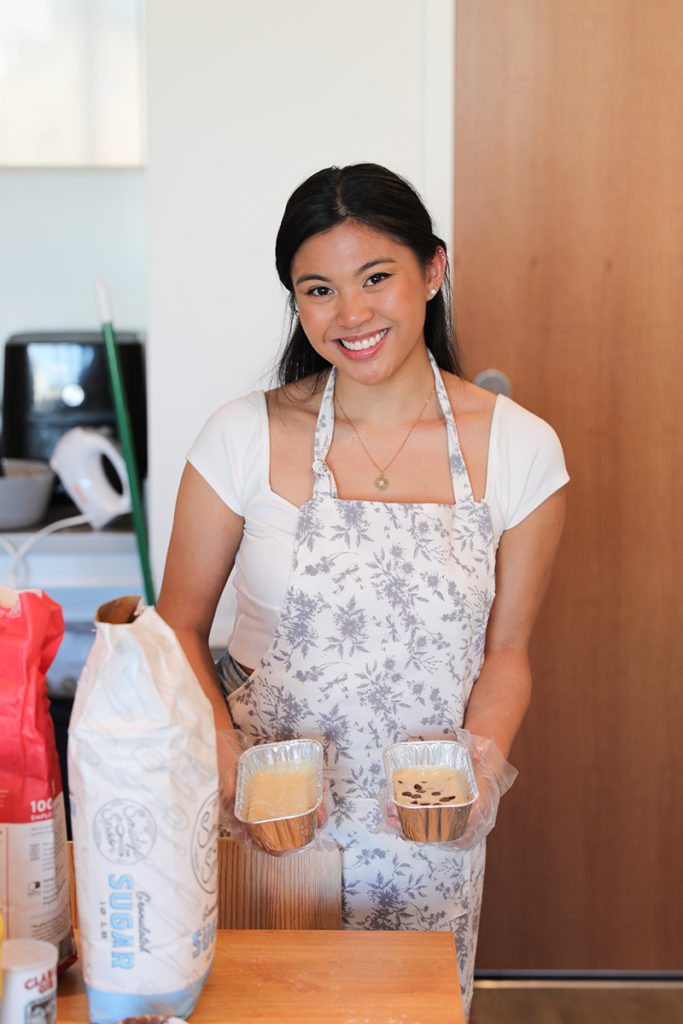 "The first time she decided to sell on Bruin Walk, she brought 15 pieces of banana bread," Supandji said. "We do a lot of fundraising on Bruin Walk (for the sorority), and it is usually hard, so she didn't want to bring too many. And she sold out in 30 minutes. … We were all so surprised."
Madarang said her banana bread can be bought through pre-orders over a Google Form on Instagram or in person on Bruin Walk. Now, she said, she can get orders of 40 to 50 loaves. Because of high demand, Madarang said she has developed a strategic process for completing orders. She said she bakes the loaves in batches so she can clear space in her kitchen for new loaves while ensuring each customer gets the freshest bread possible.
With more complex loaves, such as her coffee cake flavor, Madarang said she has to plan and prepare multiple mixtures. Most days, no matter the strategy, she said she has banana bread loaves living on her counter. Madarang said she refers to the loaves as her babies and bakes them with love, even saying words of affirmation while they are in the oven to help them rise.
[Related: UCLA student Colin Curtis' Bussin Bread builds community 1 loaf at a time]
In terms of the future, Madarang said her main plan was to use her degree to go into entertainment finance, but she is now considering expanding her business. Recently, Madarang said she has developed a dream of opening a cafe with her banana bread as her signature dish. This dream started at Bing Haus, a dessert cafe where she worked at before transferring to UCLA. Madarang said she was inspired by how the cafe's owner was able to make her business feel like a home for her employees and customers.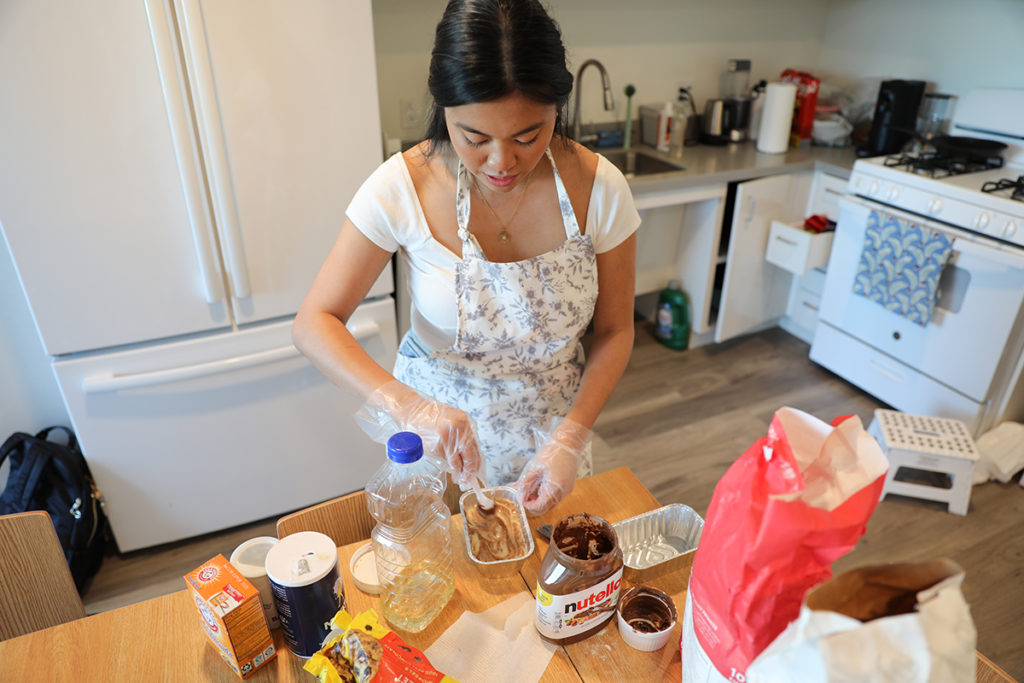 From the outside, Madarang seemingly operates like a one-woman show, as she said she is very particular about baking alone. However, she said she believes the communities around her are the foundation of BBL by Zoë, as they taught her how to bake, connected her to her roots and encouraged her. Madarang said she could not have started and grown her business without the help of her friends and fellow Bruins.
"I want to inspire people," Madarang said. "This is the best time to start developing your business because you have so many peers to give you critiques and support you."