Opinion: UCLA should provide on-campus kitchen options for student chefs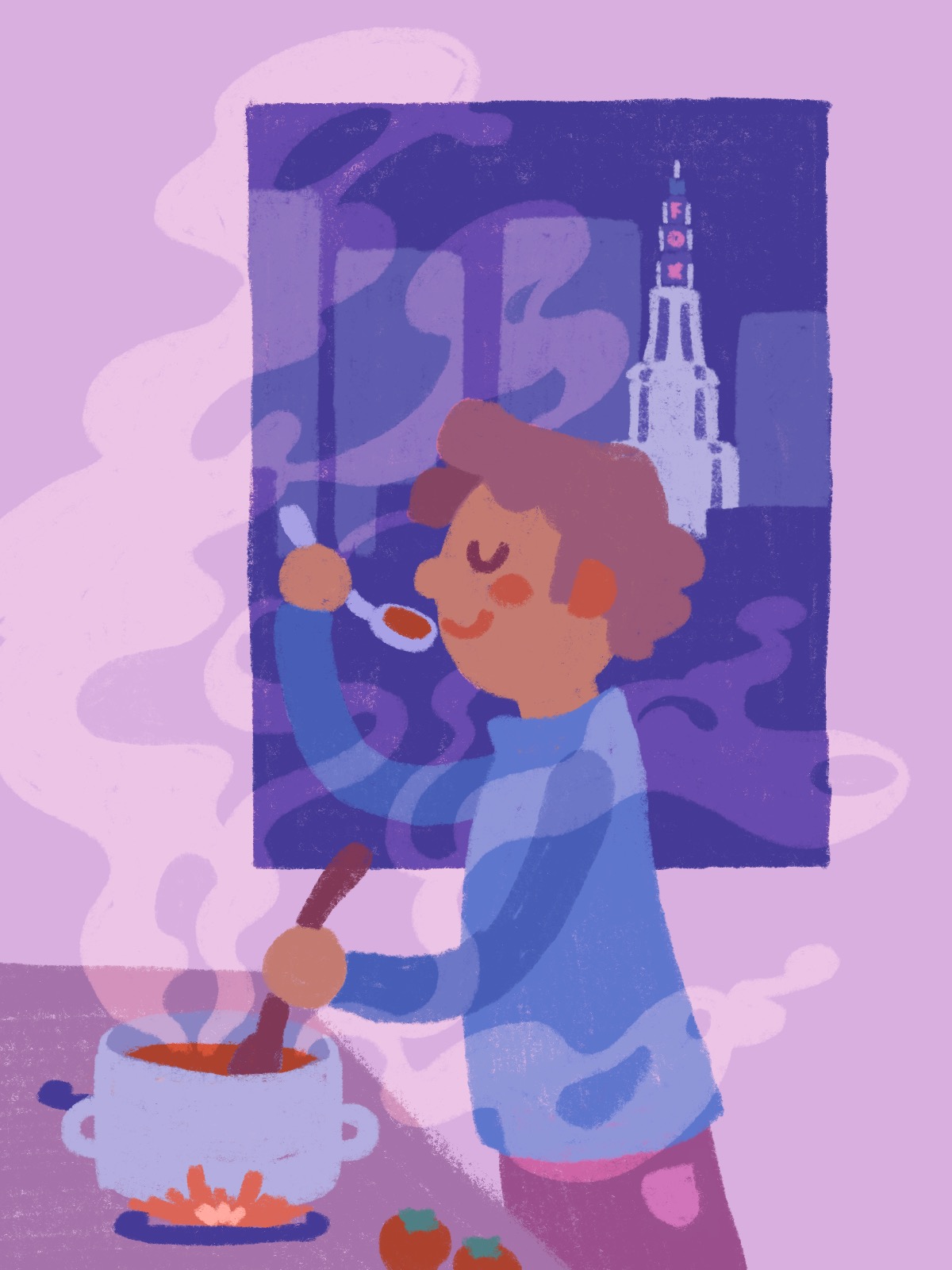 (Isabella Lee/Illustrations Director)
It's a rare day that I make it to the afternoon and find myself ahead of schedule as opposed to behind, with more of my to-do list crossed off than there is left to complete.
In those rare moments, in which the appropriate feeling would be one of happiness or pride in having been productive and efficient in my use of time, I tend to feel bored more than anything else.
Now what's left for me to do?
It amazes me how motivated I am to engage in extracurricular activities when I'm faced with an upcoming academic deadline, yet how uninterested I am in pursuing hobbies when I actually have the free time to do so. On a sunny Saturday afternoon, I have no interest in watching TV, skateboarding or whatever else I may want to do in the middle of a busy and stressful Wednesday.
Fortunately for me, however, I'm always hungry.
No matter the time or when I last ate, it's that constant hunger that keeps me out of the infinite loop of sitting on my couch and scrolling through my phone.
When I leave the house to buy groceries and come back home to spend an hour cooking, I spend at least two hours up and active. Cleaning the kitchen afterward adds an hour to the whole process and suddenly my inability to escape the sit-and-scroll cycle has been broken by a three-hour adventure to obtain a bowl of linguine with homemade vodka sauce.
These three things – the process of cooking – form what has become the most important part of my time at UCLA.
I started cooking before I could see over the stovetop, beginning with the small things like peeling vegetables, making eggs and doing prep work. Over time, these little tasks helped me develop my basic culinary skills and pushed me toward the revelation that the best thing about food is making it.
However, around campus, I constantly seem to hear a theory that cooking is less sensible than tossing something in the microwave or grabbing a bite out.
It may be less efficient than faster or cheaper options, but it is definitely not less sensible.
The path from raw ingredients to a finished product when cooking is so direct that it seems like the most sensible thing in the world. A table sporting tomatoes, peppers, garlic, olive oil, lemons, salt, pepper, flour and eggs is a jigsaw puzzle waiting to be assembled.
Putting the puzzle together, then, becomes a symphony of sounds and smells throughout the kitchen – and the apartment, if you forget to turn the hood on and open the windows. The sound of a sharp knife thwacking against a wooden cutting board, tears welling in your eyes from an especially roughly chopped onion, the click-click-click of a gas burner.
It's an overpowering sensory experience, as if you painted a winter landscape and then stepped right through the frame and into the biting cold.
Cooking for yourself means a trip to the grocery store is a one-way ticket to Tokyo, Moscow or Paris, a route to experiencing another culture through the flavors that it employs.
The jaunt to Tokyo, for example, via your home kitchen, is dependent on the meticulousness of your prep work more so than the quality of your cooking itself. Being able to boil various kinds of white rice to near perfection every time is the underlying and key component, and accepting the superiority of rice cookers over boiling water remains the only real hurdle to overcome.
Cooking is incredibly special to me. Therefore, the news that cooking on campus was essentially forbidden at UCLA was devastating. After all, I'm fairly confident in my ability to use a hot plate without starting a fire, but I was always told the lack of kitchens in college dorms was a liability issue.
UCLA must do more to support Bruins living on the Hill who want to cook.
As a transfer student, I came to UCLA after spending two years as a community college student and living at home through the pandemic. I cooked all the time, usually not because I was hungry but because I needed something to preoccupy myself with.
I remember walking from my dorm to the food trucks or the dining halls and thinking I should make sure not to take the experience for granted – I wouldn't always have such easily accessible food nor would I be able to get away without doing the dishes for a year ever again in my life.
Now that I live in the apartments, I can't seem to escape bi-weekly trips to Ralphs and I spend an embarrassing portion of my days doing dishes and cleaning the kitchen.
And yet there's nothing I would trade it for.
I hope that eventually we see more kitchens on the Hill than just the Hitchen so that all students can experience both the individual joys of cooking and the power a kitchen has to bring people together.