Editorial: Flood preparedness is essential for California amid recent storms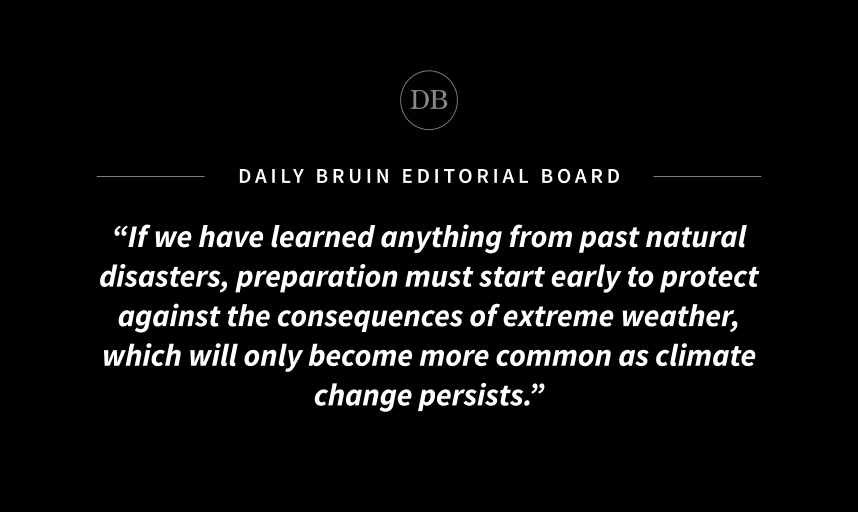 This post was updated Jan. 22 at 2:24 p.m.
Editor's note: Editorials do not represent the Daily Bruin as a whole. The board encourages readers to respond to our editorials at dailybruin.com/submit.
A series of atmospheric rivers – meteorological events that carry massive amounts of water vapor through the air – has brought devastating storms to drought-stricken California. Record-breaking rainfall in many areas has caused widespread flooding across the state, and at least 19 people have lost their lives.
As California continues to struggle with catastrophic weather and millions of residents remain under flood watch, state authorities must act quickly to save lives and prepare the rebuilding process in the areas hit hardest by the recent storms.
However, the deluge facing many areas reflects a greater need to improve flood preparedness policies.
An overdependence on levees and other artificial structures that have shaped the state's water landscape has allowed communities to be built closer and closer to bodies of water, leaving them increasingly vulnerable to disastrous floods, according to the New York Times. Levees also prevent more rainwater from flowing into aquifers and becoming usable water, which is valuable amid the current drought.
President Joe Biden approved California's request Saturday to declare the winter storms a major disaster, securing much-needed federal assistance to individuals and local governments in the counties of Merced, Sacramento and Santa Cruz.
Flood damage may be covered by insurance and relief available through the Federal Emergency Management Agency's National Flood Insurance Program, but FEMA is notorious for its inaccessibility in past disasters. An internal report from the agency found that low-income renters were twice as likely to be denied aid than higher-income renters. Another study also found that, after Hurricane Harvey in 2017, FEMA was less likely to grant aid to residents of neighborhoods in Houston that contained more racial minorities.
Improving flood preparedness measures is particularly vital in light of the increasingly dire consequences of climate change for extreme weather events.
A collaborative study from UCLA's Institute of the Environment and Sustainability and the National Center for Atmospheric Research has found that the risk of a megaflood in California has more than doubled as a consequence of warming global temperatures.
California's low-lying regions, where its population and farming centers are located, are particularly vulnerable to floods. A megaflood in the region, which occurred during the Civil War period, destroyed nearly a quarter of the Californian economy and temporarily turned the Sacramento Valley into a massive inland sea. Despite the lengthy periods of drought that continue to face the most populous state in the United States, it is clear that cataclysmic flooding represents a pressing existential threat to California.
UCLA is itself susceptible to floods. In 2014, a broken water main left much of central campus, including Bruin Walk, Drake Stadium and Pauley Pavilion, flooded for several days.
While the current storms may not have hit Los Angeles as hard as other regions in California, the substantial rainfall highlights the growing threat of extreme weather on campus operations.
In responding to natural phenomena, UCLA ought to take advantage of the infrastructure for virtual classes that was created during the pandemic. While the university has been slow to offer remote class options in general, empowering professors to move classes online in response to extreme weather events would represent a solid step to ensure the safety of the UCLA community.
Such measures would particularly benefit commuter students, who wouldn't have to brave treacherous conditions to reach campus.
But at the state and federal level, addressing income and racial disparities in aid distribution, in addition to more flood-informed water management, will be the next step to ensuring that a future catastrophe does not hit California.
If we have learned anything from past natural disasters, preparation must start early to protect against the consequences of extreme weather, which will only become more common as climate change persists.