UCLA underwater after water main bursts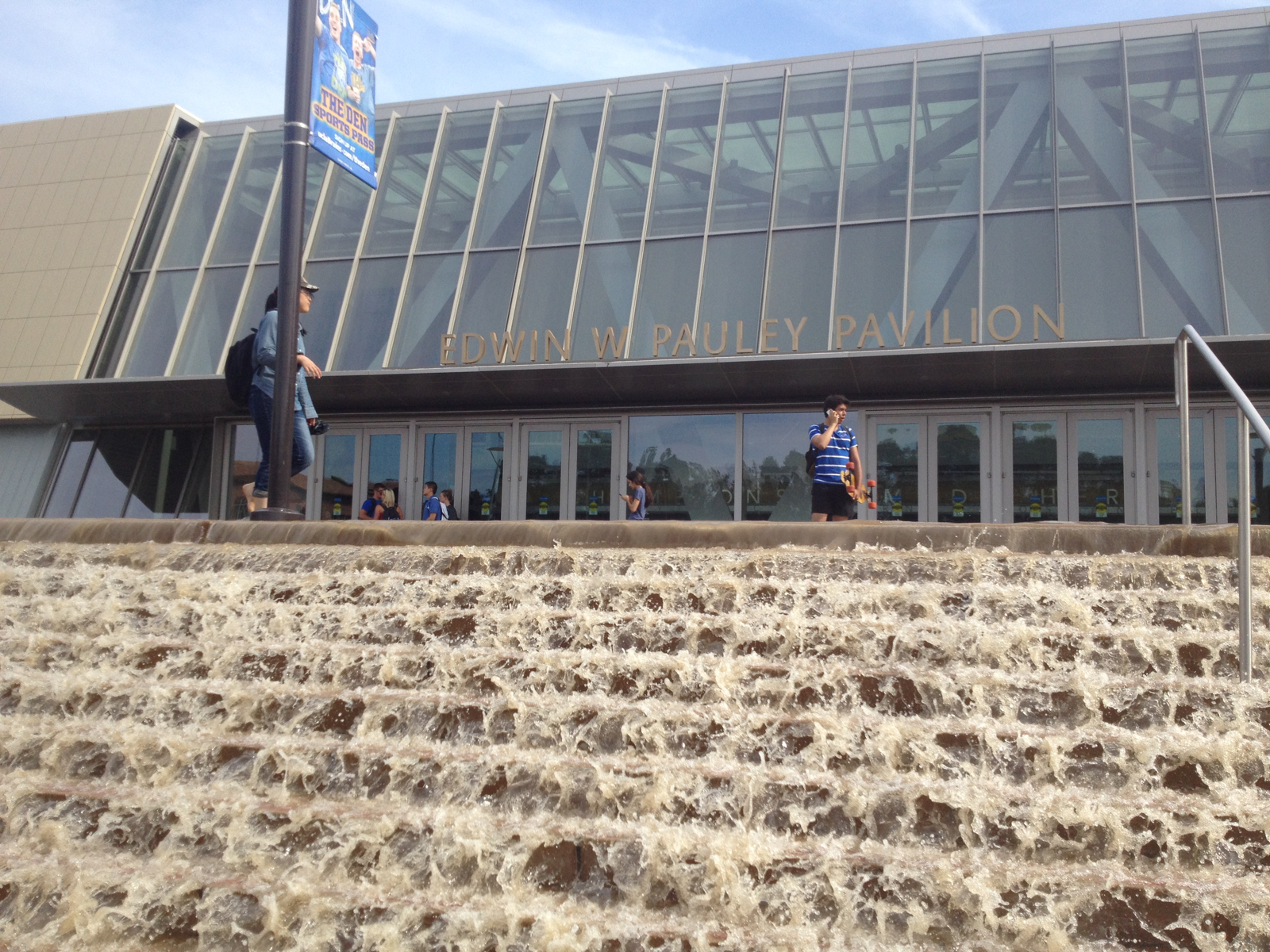 Major areas of campus are flooded after a main water line burst on Sunset Boulevard. (Harrison Liddiard/Daily Bruin senior staff)
This post was updated on July 29 at 9:14 p.m.
The original version of this article contained an error and has been changed. See the bottom of this article for more information.
Several major areas of UCLA's campus, including Bruin Walk, Pauley Pavilion and Drake Stadium, flooded Tuesday after a water main break on Sunset Boulevard near Marymount Place.
Water poured onto UCLA's campus after a 30-inch water main broke Tuesday afternoon around 3:30 p.m, said Jamie Moore, a Los Angeles Fire Department spokesman.
The steel-riveted pipe is more than 90 years old and brought water to the area from the Upper Stone Canyon Reservoir. According to the Los Angeles Department of Water and Power, a rupture of this magnitude has not occurred since 2009 on Coldwater Canyon Avenue.
Despite the flooding, UCLA's campus will stay open, and classes continue as scheduled on Wednesday. The university will close summer camps and the Fernald and Krieger child care centers and will give further updates Wednesday, according to a statement from Chancellor Gene Block.
The cause of the water main break is still unclear, according to LADWP.
About 8-10 million gallons of water were lost from today's break, according to the department. At its peak, water flowed through the pipe at an estimated 75,000 gallons per minute.
LADWP's crews are working immediately to repair the pipe and will continue working tomorrow to fix it. For now, people are advised to stay away from the area of the break.
Around 8 p.m., officials had managed to stop the water flow, according to a LADWP press release. Some areas of campus that were previously flooded, including Bruin Plaza, were also mostly dry.
LADWP said none of its customers are without water and water quality was not compromised, according to preliminary reports.
At Sunset Boulevard near Marymount High School, water rose as high as 30 feet when the main broke, Moore said. He said LAFD is working with university police and officials from LADWP to reroute the water and make sure people leave the flooded areas promptly.
Moore said five people had to be rescued from Parking Structures 4 and 7 after they tried to drive away and were swept up by the water. About 200 cars are estimated to be trapped in the parking lots.
Nobody reported serious injuries from the flood, though those who were rescued are being attended to by paramedics, Moore said.
It will take a long time for officials to reopen Sunset Boulevard because they need to assess damages and make sure no trees were uprooted by the water, Moore said.
Five buildings at UCLA are affected by the flood, with Pauley Pavilion and Wooden Center suffering the worst damage, Moore said. The John Wooden Court at Pauley Pavilion was underwater, according to several social media pictures taken at the scene. The J.D. Morgan Center was also flooded with about a foot of water at the door at around 5 p.m. The Arthur Ashe Student Health and Wellness Center, Acosta Training Center, North Athletic Field, Intramural Field and Bruin Plaza were also affected.
Redshirt junior men's volleyball player Trent Kersten said that he had just left campus before the water main broke. He said he was helping with a UCLA volleyball camp, which will have to be cut short.
"(I) just really kinda (have a) sour taste in the mouth," he said. "Pauley Pavilion is our home and it looks pretty messed up right now from the water."
Junior men's volleyball player Steve O'Dell said he and several teammates and coaches evacuated campers up the Pauley Pavilion stairs and out of the building after being alerted of the flooding.
"There's nothing you can do to prepare for this. Totally random," O'Dell said. "All we need to do is to do our best to move forward, figure it out and adjust. It's going to challenge everyone."
O'Dell added that he thinks several of UCLA's athletic facilities will likely need repair.
"The floor – it's so sad. It's tragic," O'Dell said. "The floor is completely covered in gross water. They're going to have to redo the whole floor. Wooden's Collins Court is completely flooded."
Other UCLA athletes said they were shocked by the damage but are optimistic facilities will be repaired soon.
"I didn't realize it was real until I saw it with my own eyes," said sophomore men's soccer player Nathan Smith. "I saw Drake Stadium. I went into Pauley, and I saw the basketball court being soaked. I was just in awe. I was with a couple of fellow soccer players – the mood was kind of like, 'Wow, this is kind of a setback,' but at the same time, we're going to bounce back even harder."
UCLA Athletic Director Dan Guerrero said in a statement Tuesday that damage to athletic facilities is still being assessed.
"Regarding specific inquiries and concerns about Pauley Pavilion, most people are aware by now that the floor and locker rooms sustained significant flooding," Guerrero said in the statement. "The water will be removed from the floor tonight. We will then reassess the situation tomorrow morning and be able to provide additional information at the appropriate time."
At around 4:28 p.m., UCLA sent out a BruinAlert notification warning students to not go into Parking Structures 4 and 7.
Several firefighters at the scene said no one was stranded because of the flood, but there may be property damage to the buildings on campus. The extent of the damages is still unclear.
Parking Structure 7 and Pauley Pavilion were closed off by police, and staff put sandbags by the door of Pauley Pavilion to try to block water from going inside.
At 5 p.m., the water was about a foot high in areas by Pauley Pavilion.
The water reached the lower and upper ground floor of Parking Structure 7. At 5 p.m., the ground floor of the structure could not be reached because of a high amount of water in the location.
Drake Stadium was closed off and the track was underneath about a foot of water. After 5 p.m., law enforcement officials blocked off Bruin Plaza and the side of Pauley Pavilion facing Bruin Walk.
Via Champ, a 2008 UCLA alumna, said she was in the John Wooden Center and about to use the shower when the fire alarm went off. She said she grabbed some clothes and her wallet before leaving.
"This is a waterfall," Champ said, looking down the stairs outside Parking Structure 7.
UCLA Sustainability is asking individuals whose cars were trapped in Parking Structures 4 and 7 to report their vehicles. It said it will get back to them about how they can access their car.
Individuals driving west on Sunset Boulevard are advised to go south on Beverly Glen Boulevard, west on Wilshire Boulevard, then north on Veteran Avenue and Sepulveda Boulevard to avoid the closure.
Individuals traveling east are encouraged to drive south on Veteran and Sepulveda, east on Wilshire then north on Beverly Glen.
People looking to access UCLA should use Westwood Boulevard.
Correction: The water main has a 30-inch diameter.
Compiled by Sam Hoff and Jeong Park, Bruin senior staff. Contributing reports by Kevin Bowman, Derrek Li and Chris Kalra, Bruin Sports senior staff.