Opinion: Growing up in suburban Ohio, I see how UCLA can serve as a model for my community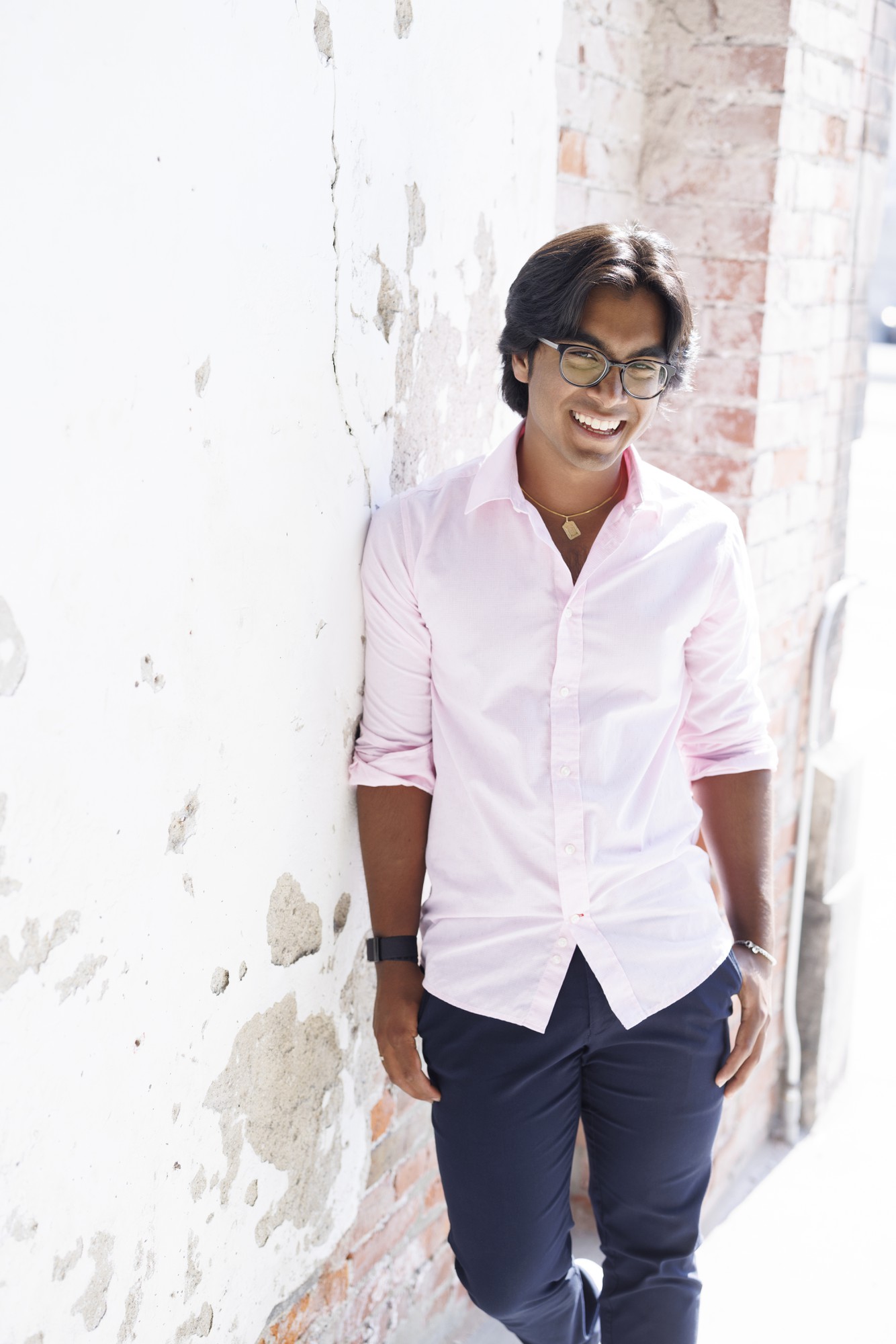 Opinion columnist Russell Ahmed, pictured, leans against a brick wall in downtown Columbus, Ohio. (courtesy of Russell Ahmed)
On the ninth hole of a local golf tournament, my playing partner made an unprompted comment about humanity's good nature.
"Most people aren't racist," he confidently noted.
His offhand remark struck me as out of touch. It was July of 2020 – the height of the nation's civil unrest – and in the face of yet another tragic demonstration of police brutality, only some Americans could afford this amount of baseless optimism.
Perhaps his comment was the product of his life experiences as a white high schooler from one of the most affluent areas outside of Columbus, Ohio. Suburban Ohio, where he and I grew up, is very uniform. Lawns are pristinely kept and neighborhoods are riddled with exclusive country clubs. There are usually quite a few Starbucks locations within a 2-mile radius.
There is an air of superficiality that exists within these communities along with a predictable lack of diversity. In such environments, there is also a distinct lack of empathy.
At times, it feels like each person's problems are their own to deal with. Islamophobia – the problem that my family and I have had to confront over the years – does not seem to worry non-Muslims, for instance.
My last name, Ahmed, is a common Muslim last name, and it often raises the eyebrows of those working in airport security. An unfortunate but always present red flag, this usually results in so-called random pat downs beyond the metal detector. On social media, mentions of Islam spark derogatory comments or jokes that label the religion's followers as terrorists or radicals. Sadly, for some Americans, there is an indestructible connection between Muslim people and the events of 9/11.
"Dang, that's crazy," suburban Ohioans may react – a statement that insinuates their disdain for the unfair bias but nothing that shows that they actually care; a definitive choice to ignore the issue. I still hear jokes, or what are meant to be interpreted as jokes, from people my age about terrorism or mass violence that borrow the Arabic phrase "Allahu akbar" in a demeaning way – a phrase that translates to "God is great."
I usually smile and nod.
Although this is regrettable, many of the non-Muslim individuals I have grown up with, including adults, have higher priorities in their life than educating themselves on the history of race and ethnic relations in the United States. Despite the great freedoms we have in this country, paying the bills and caring for family are usually the main priorities of a household in suburban Ohio.
When there is an opportunity to lay a small brick on the path toward greater equity, financially stable Ohioans focus on their own upward socioeconomic movement instead of choosing sympathy.
Things are different at UCLA, where there exists a higher level of sociopolitical awareness than in the predominantly white communities of Ohio.
This is tangible.
On Nov. 7, I attended the Get Out The Vote rally that featured Aloe Blacc, Sheryl Lee Ralph and Vice President Kamala Harris voicing their support for Karen Bass, the then-candidate in the Los Angeles mayoral race.
The sheer amount of support and energy in the rally's crowd reflected something crucial about the UCLA community: those in attendance held a deep, fundamental empathy for the struggle of others.
According to Politico, Bass' career as a political activist started after she left her role as a physician assistant where she witnessed firsthand how Black and Latino communities were affected by the crack epidemic of the 1980s. Since then, her entire career in politics has been devoted to serving those who have been wronged by the very systems they were told to trust.
Her subsequent victory in the election is reflective of a community that principally believes in putting the needs of others before its own – one that does not function mainly on self-interest. After all, not everyone in the crowd was a member of a group that Bass' policies aim to support.
Where I am from, many people look exclusively to support policies that will either benefit themselves directly or validate their own beliefs. There, it seems that the famous John F. Kennedy quote that asks what we can do for our country and not what our country can do for us has been forgotten.
While I looked upon Bass' victory with relief and optimism for the LA community, I felt a sense of melancholy for my own Ohioans. Apart from the city of Columbus itself, there are not many towns that would get behind a campaign like Bass'.
All I can hope for is that figures like Bass rise in my own communities to elaborate on the importance of empathy, selflessness and understanding when it comes to altering the power structures that suppress the prosperity of many.
It would be nice if "most people" weren't racist, as my golfing partner said. But I think even he knows, deep down, it is not such a simple matter – especially on a private, suburban golf course in Ohio.