UCLA's December First Thursdays ignites holiday spirit in the Westwood community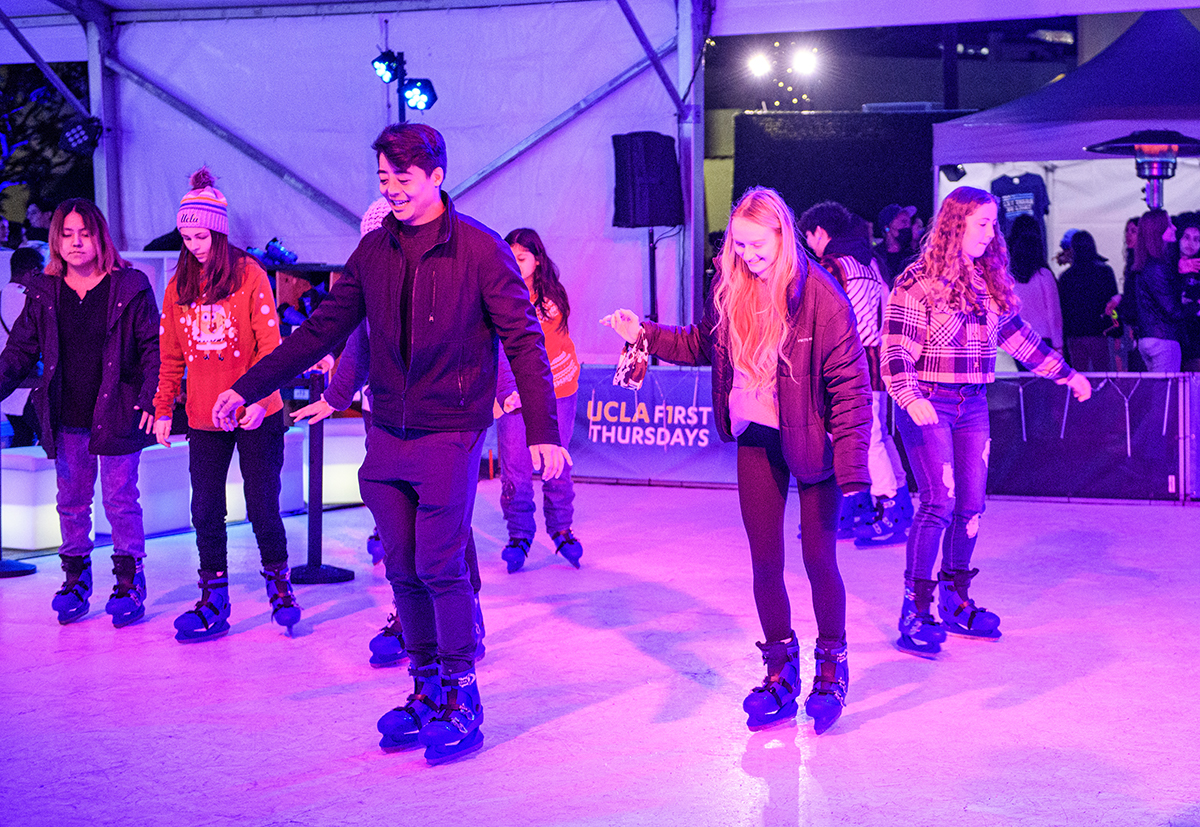 Students skate on an iceless skating rink temporarily installed in Westwood on Dec. 1. December's First Thursdays event featured activities and art celebrating winter and the holiday season. (Brandon Morquecho/Daily Bruin)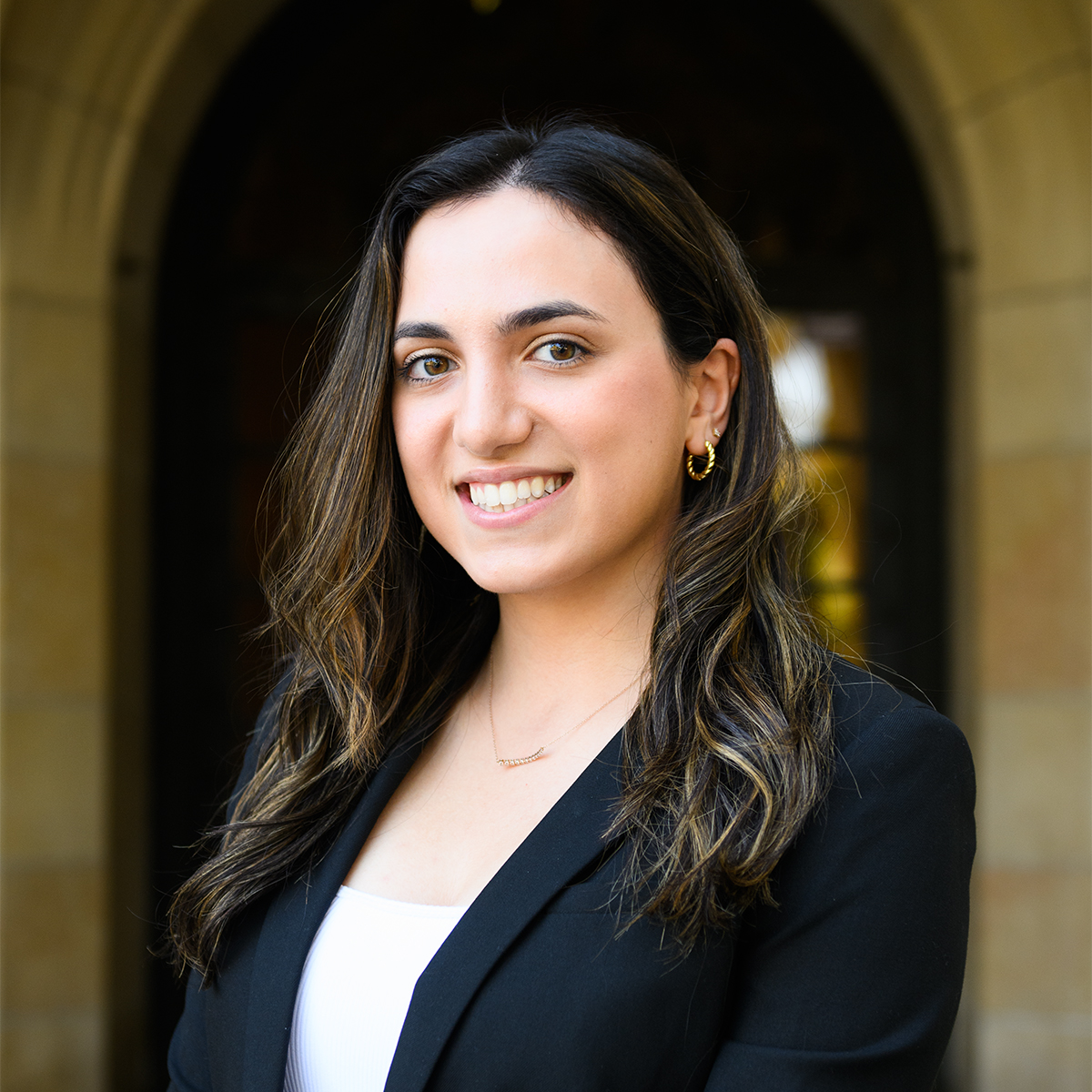 Nearly 2,000 Bruins and Westwood residents gathered on Broxton Avenue to celebrate winter and the holidays at UCLA's December First Thursdays event.
Launched earlier this year, UCLA and the Westwood Village Improvement Association host First Thursdays every month with the aim to strengthen UCLA's connection to the Westwood community. Its first winter-themed event, titled "Let There Be Light," began at noon with the Westwood farmers market featuring a donation drive, stands run by local businesses and a poetry-on-demand booth.
During the farmers market, the UCLA Volunteer Center discussed the importance of giving back to local communities with their Winter Wishlist campaign, a donation drive conducted in partnership with Depaul USA Casa Milagrosa, a nonprofit organization that provides resources and housing for homeless populations.
Alvina Zhan, a student coordinator for the volunteer center, said the campaign has reached success by extending its donation box locations beyond UCLA and into Westwood, adding that much of what is collected, including clothing and food, helps support people actively experiencing homelessness.
"During the holidays, a lot of people are surrounded by family and there's this idea of having a warm meal," Zhan said. "People realize that a lot of people don't have things like shelter and food, and I think just the spirit of giving during the holidays encourages people to donate to people who are less well off or have less access to resources."
At the Wish Upon a Poet booth, attendees spoke with poets about their wishes and goals for the new year and received a real-time personalized poem typed on a typewriter.
At 7 p.m., blue and purple lights began shining in the sky to mark the start of the block party, which featured a student-created snow globe art exhibition, light-up cotton candy and an ugly sweater giveaway, along with the temporary installation of an iceless ice-skating rink.
On Broxton Ave., the jazz ensemble Earth Foundation performed upbeat music throughout the evening. The ensemble was established over the summer to perform at First Thursdays events.
Earth Foundation is led by third-year global jazz studies student Dalton Mumphrey, who said he selected fellow musicians from UCLA to join him in performing for the community.
Kennady Iverson, a first-year undeclared student, has kickstarted a tradition-in-the-making with her family and friends after visiting many First Thursdays events, even before officially becoming a Bruin.
"I love coming down here with friends and celebrating. It's December so we're getting into the holiday spirit," Iverson said. "I think it's a really cool event for everyone to come down and be together."
Throughout the block party, members of UCLA's Figure Skating Team performed routines on the rink. Audrey Lu, a first-year psychobiology student and 2022 Olympic figure skating alternate who performed at the party, said it was different performing in front of her friends and loved ones than in a competition.
"You just want to show them what you've been working on and what you're passionate about," said Lu, who is also a member of Team USA and a national medal holder. "A lot of my friends came and I'm really glad they did."
[Related: UCLA First Thursdays unites community for Spooktacular evening block party]
Mary Osako, vice chancellor for strategic communications, said the First Thursdays series, which started as an experiment to re-vitalize students' connection to Westwood, has driven nearly 35,000 people into the area since its launch in March. She added the farmers market has reported a 13% increase in foot traffic.
"That's really meaningful, especially if you're a merchant or a local business or a small business out there," Osako said. "Anything that we can do to improve businesses and improve lives out there, we are so excited about doing."
First Thursdays events are now confirmed to continue to run from Feb. to Aug. 2023, Osako said, adding that February's event will be space-themed.
"First Thursdays is what we consider to be one of our love letters to Westwood and to the LA community," Osako said. "We love this town. We love the Bruin community. Inventing and being able to execute on UCLA First Thursdays has really been a dream for so many of us here at UCLA."