The Quad: UCLA organizations promote recycling, sustainability on campus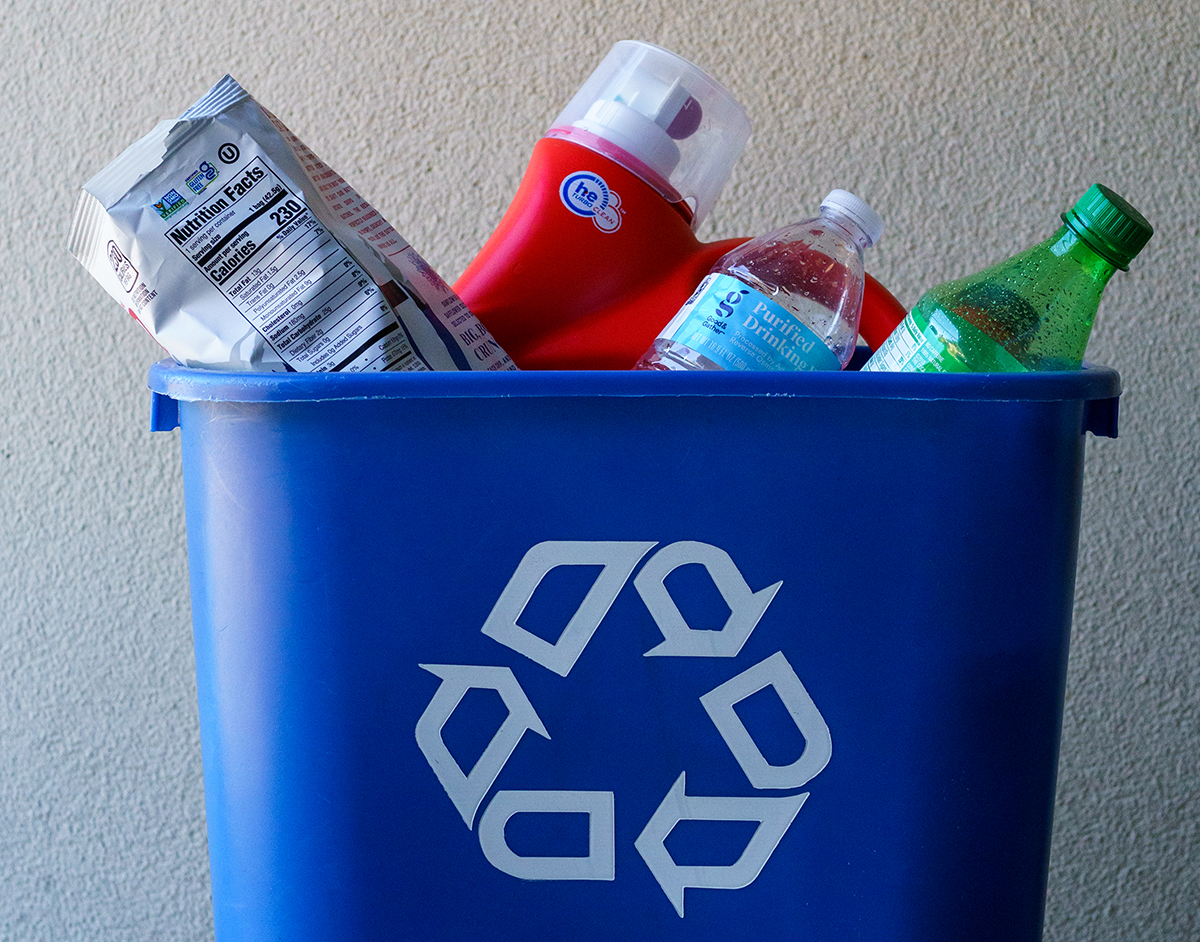 Pictured is a recycling bin. Student organizations have promoted recycling efforts on campus. (Patrick Shao/Daily Bruin)
Every Nov. 15 the United States celebrates America Recycles Day in order to bring more awareness to recycling and promote sustainability.
According to the U.S. Chamber of Commerce Foundation, the idea originated in Texas in 1994 and was proposed at the National Recycling Coalition's congress, officially becoming America Recycles Day in 1997. Keep America Beautiful, a nonprofit organization aimed at promoting sustainability initiatives across the country, has sponsored America Recycles Day since 2009.
Many organizations at UCLA promote recycling throughout the year. One way recycling can help the environment is to reduce the amount of plastic in the oceans.
Christiana Prekopa, a fourth-year neuroscience and marine biology student, is chair of the Ocean Resources for Conservation and Advocacy. She said that plastic can harm marine life because marine species may accidentally ingest plastic, not allowing them to consume actual foods.
According to the Convention on Biological Diversity, over 500 marine species are affected by debris in the ocean through ingestion and entanglement.
In response to these issues, Prekopa said ORCA has found ways to engage with the UCLA community to promote recycling initiatives and organize events for Bruins.
"Our club, ORCA, puts together quarterly beach cleanups that where we just go and try to take some of the trash and plastic off the beaches," Prekopa said.
Despite the many positive impacts that recycling can have on the environment, according to some Bruins, nascent policy measures and program implementation flaws may make it difficult to see the benefits of recycling.
Hana Tomizawa, a second-year environmental science student and president of Be Green Bruin, said some flaws in the recycling system include how recyclables are processed and the lack of financial incentives for companies to implement recycling programs.
"There's a lot of misinformation about where your recycling is going and it's just not implemented correctly in a lot of places, and there's just not enough incentives for companies to support recycling either," Tomizawa said.
Despite efforts towards sustainability, only 27 states and the District of Columbia mandate recycling, according to the National Conference of State Legislatures. Each year, about $8.9 billion worth of recyclables end up in landfills.
However, some states are looking to implement policy measures aimed towards increasing and promoting recycling efforts.
UCLA deputy chief sustainability officer Bonny Bentzin said California is enacting policies to use recycled plastic that would reduce plastic waste and save marine animals. According to the office of Gov. Gavin Newsom, SB 54, a piece of legislation he signed, requires at least 65% of single-use plastic packaging to be recycled by 2032.
"One of the things that the state of California is doing is starting to build policies that require entities that use single-use plastic and sell it in our region, to actually use recycled plastic in the processing of those materials to try to create a market," Bentzin said. "But at the end of the day, plastic is really bad news and we need to sort of move away from that."
Bentzin added that recycled materials must be sorted properly to be recycled at UCLA through Athens Services, a waste collection and recycling company.
"Athens will decline a load that doesn't work if it's too contaminated," Bentzin said. "If you've got a spiral-bound notebook and you put it in the recycle bin because it's got metal and paper, it's not going to get recycled because it's two different materials. If you take the spiral off of it, it will get recycled."
Along with recycling paper and plastic, some Bruins are also recycling through thrifting.
Jordan Dixon, a fourth-year ecology, behavior, and evolution student, said the mission of Good Clothes Good People, an organization Dixon is involved with on campus, is to promote secondhand clothing through a closet of donated clothes for Bruins.
"We have a clothing closet that is filled with donations from UCLA students and faculty even sometimes, and it's a free closet to Bruins and so that's just promoting thrifting," Dixon said.
According to the Environmental Protection Agency, 11.3 million tons of textiles went to landfills in 2018.
Tomizawa said that Bruins can be sustainable in their own lives to bring about positive change in the world.
"At the end of the day, we can start on like an individual scale and work up from that and kind of make changes that we want to see," Tomizawa said.