Editorial: UCLA campus expansion fails to address more immediate concerns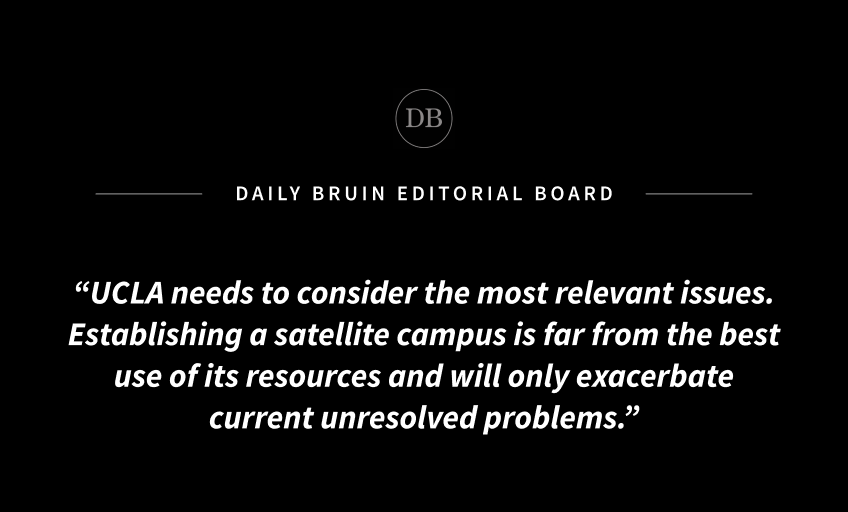 This post was updated Jan. 22 at 2:31 p.m.
Editor's note: Editorials do not represent the Daily Bruin as a whole. The board encourages readers to respond to our editorials at dailybruin.com/submit.
UCLA's focus on linear growth is leaving its community behind.
The university purchased two new sites in Rancho Palos Verdes and San Pedro as part of a plan to address the University of California's wider goal of increased enrollment, Chancellor Gene Block announced in a systemwide email Sept. 27.
The $80 million land acquisition is the largest in UCLA history and is expected to make way for 3,000 more undergraduate students and 350 more graduate students. The UC plans to produce 200,000 more undergraduate and graduate degrees across the system by 2030.
Block added that this purchase will strengthen UCLA's connection with the greater Los Angeles region and widen research and public service offerings.
However, Block failed to address how this growth strategy will help achieve the UC's goal of increased degree attainment, which requires more resources and better support for current students, especially those from historically marginalized communities.
If administrators are not specifically outlining plans to make decisions surrounding capital allocation that help to foster a higher retention rate for underrepresented minorities, increase access to necessary resources like Counseling and Psychological Services, or offer better living conditions for students at UCLA's main campus, expansions like these are not in the best interest of students or the UC's overall goals.
Although it is quite ambitious for the institution to want to increase enrollment, this should not be the UC system's top priority.
The $80 million spent on the acquisition of the 24.5-acre Marymount campus and surrounding residential area in Palos Verdes, which housed the now-defunct Marymount California University, could have gone to addressing other issues at UCLA that are of utmost importance. The ongoing 48,000-person graduate students and academic workers' strike highlights clear faults in the system that have yet to be addressed.
An institution that cannot provide living wages to its graduate students should not be moving forward with an $80 million expenditure to establish a satellite campus.
This is especially true when it has already been made clear that access to physical campus space is not necessary to educate students. Rather than acquiring new land, the university could simply establish robust programs for online learning that would allow Bruins to come to some classes without coming to campus.
As the Disabled Student Union made clear earlier this year, there are many benefits to remote and hybrid course offerings that would allow UCLA to better accommodate students with various needs.
Not only would this allow increased enrollment, but it would do so without the $80 million price tag.
UCLA needs to consider the most relevant issues. Establishing a satellite campus is far from the best use of its resources and will only exacerbate current unresolved problems.
This expansion creates doubt as to what UCLA's priorities truly are.