Alumnus Angel Blue to perform at Schoenberg Hall, host opera master class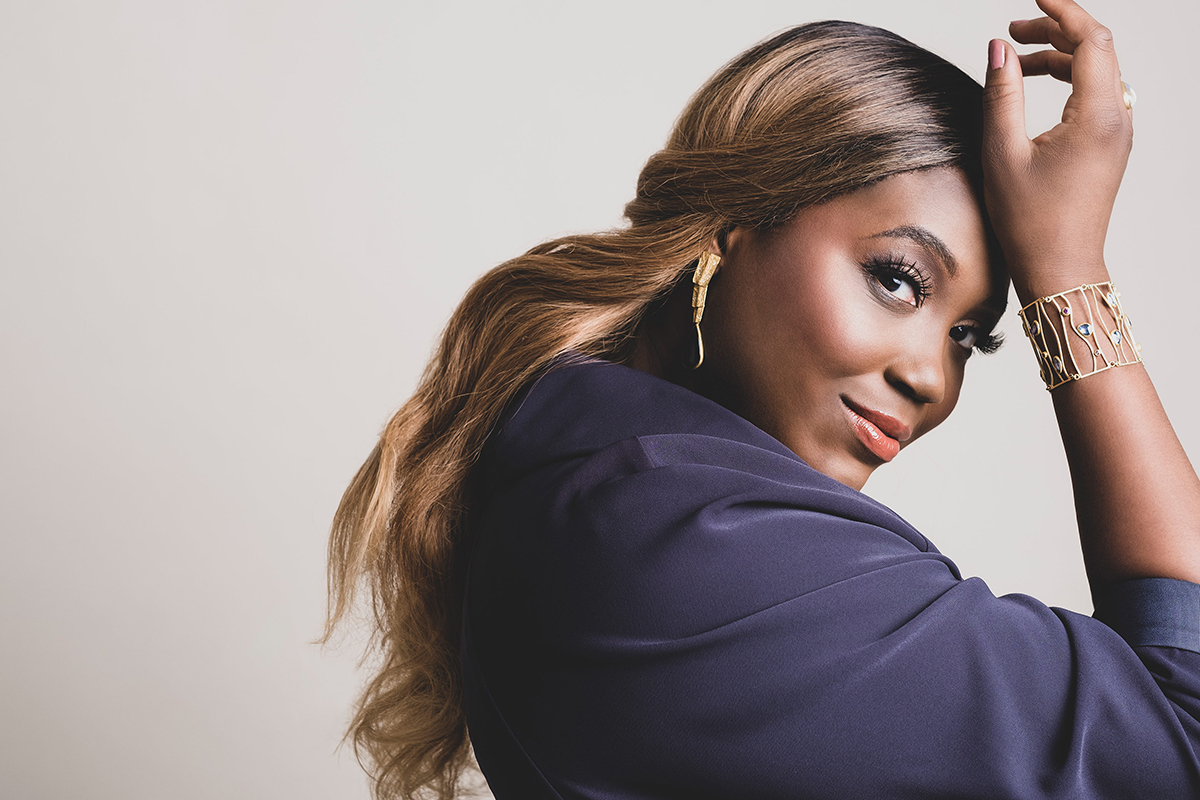 Dressed in navy blue, Angel Blue looks at the camera with a hand on her head. The alumnus and Grammy Award-winning opera soprano will return to UCLA this week for a performance Monday and master class Tuesday. (Courtesy of Angel Blue)
"Inaugural Judith L. Smith Voice Recital"
Angel Blue
Schoenberg Hall
Nov. 21
7 p.m.
Angel Blue is returning to UCLA to help opera students hit the high note.

The Grammy Award-winning opera singer and alumnus will be performing at Schoenberg Hall on Monday, accompanied by pianist Bryan Wagorn of the Metropolitan Opera. Her performance will be followed by a free master class for students in UCLA's opera program Tuesday. Peter Kazaras, a distinguished professor and director of Opera UCLA at the Herb Alpert School of Music, directed Blue's operatic debut during her time as a graduate student at UCLA. Kazaras said Blue's performance will be a great way for the UCLA community to experience Blue's authenticity and talent in person.
"She is a real force for good in the world," Kazaras said. "That's not to say that there aren't other opera singers who are, … but I really think it radiates from her. There's a kind of selflessness about her performing that is very appealing."
On Monday, Blue will be performing songs from her French and German repertoires as well as some operatic renditions of the works of female poets such as Emily Dickinson. Transcripts of the original text as well as English translations will be provided for the audience in the event's digital program. Kazaras said a primary objective was for this performance to be as accessible as possible, which is why the concert will be free to all.
[Related: Grammys 2022: Alumnus shows opera's on-screen potential in film adaptation of 'Soldier Songs']
On Tuesday, students from UCLA's opera program will perform arias – elaborate accompanied pieces for a solo voice – that they have prepared specifically for their master class with Blue, after which they will receive technical and interpretive advice from the singer. Kazaras said he is excited for all of his opera students to hear Blue's advice on interpretation, technique and life as a professional opera singer.
Juliana Gondek, a distinguished professor of voice and opera studies who worked with Blue as her private voice professor during her time at UCLA, said one of the toughest skills to master as an opera singer is expressing the elevated emotions and experiences in service of the piece's narrative. An opera singer needs to be able to connect not just with an audience but with the core meaning of the operatic text they are performing onstage, Gondek said.
"What Angel brought to this process was an ability to understand in a very primal way the emotional content of what she was singing," Gondek said. "And then the imagination to figure out how to color her voice or color her use of language in order to communicate all of those deep emotions."
Regarding Blue's singing career after UCLA, Gondek said it has been wonderful to see Blue's talent recognized, as Blue is asked to perform at opera houses around the world, such as the Teatro alla Scala in Milan and the Vienna State Opera. Through these performances and other national vocal involvements, Gondek said, Blue has become a recognizable face and voice in the opera world, and she credits Blue's success to her ability to enchant audiences.
One of Gondek's students, Sabrina Langlois, will be working with Blue during her master class, and Gondek said Langlois is incredibly excited to be working with a leading talent in the opera world. Gondek said a master class is an important rite of passage for any advanced vocalist, as it is an interaction during which they can receive words of wisdom directly from the artist.
[Related: 'Modern Beauty' music series hopes to engage audience with themes of versatility]
Eileen Strempel, the inaugural dean of music at the Herb Alpert School of Music, said she feels inspired to see a former Bruin performing at such an advanced level on the global stage. Strempel said the pairing of the performance with a master class the following day will encourage students to see past the glamour of the grand concert format and gain an appreciation for the hard work and dedication that go into being an opera singer.
"It can be incredibly illuminating not just for the fortunate student on stage but for all of us lifelong students, including myself, that will be there in the audience," Strempel said. "To see the evergreen joy of learning, of discovery of creative energy and thought in action."
When it comes to putting on a performance, Kazaras said he always reminds his students of the four P's – patience, perseverance, persistence and practice. Kazaras said this event has been almost six years in the making but will be worth every second of the time and effort in planning for his students to get the chance to work with a vocalist like Blue.
"Unamplified human voice performing live right in front of you in a small concert hall is something that you really have to experience to comprehend," said Kazaras. "It can be a life-changing experience."